Built from 1814 to 1820, Gia Long Tomb is a complex of many mausoleums of the royal family, with the center being Gia Long Emperor's grave - the founder of the Nguyen dynasty. Located in a mountainous area and surrounded by pine forests, this work prioritizes minimalism in harmony with nature, but still ensures feng shui elements. In particular, the double burial tomb of Emperor Gia Long and Queen Thua Thien Cao is the most special architecture here, showing their faithful love.
I - Where is Gia Long Tomb?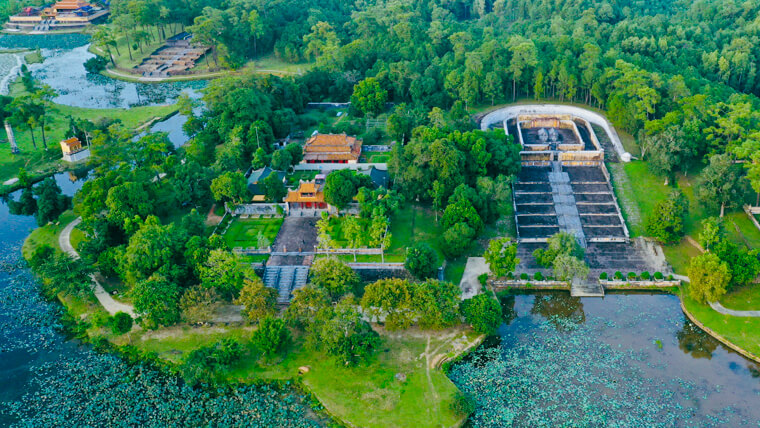 The tomb looked from above - Source: vnexpress
About 20km west of Hue Citadel, Gia Long Mausoleum is located in Huong Tho Commune, Huong Tra Town, in the wild mountains of Thua Thien Hue Province. This place used to be completely isolated and surrounded by immense rivers, accessible only by boat so not many people came to visit.
Currently, a pontoon bridge has been built, so you can get to Tomb of Gia Long by traditional means such as motorbikes, taxis or bicycles with a fee of 5,000 VND / time ($0.2), for maintenance and repair when needed. Another way is the Huu Trach bridge road crossing the river of the same name in Huong Tra Town, but it is quite far with a distance of over 5km to Gia Long Tomb.
Those are not the only ways to travel here, as you can also take a dragon boat down the Perfume River for about 18km. The point of departure is Toa Kham Wharf at No.49 Le Loi Street, Phu Hoi Ward in Hue City. These dragon boats will operate from 8am - 9pm, except from Friday - Sunday they will run until 10pm. The ticket price ranges from 250,000 - 1,600,000 VND / pax ($10.7 - 68.5), depending on the type of trip you choose: single or double boat, the route, the destinations,…
- Admission fee: 50,000 VND / pax ($2.14)
- Opening hours: 7am - 5:30pm
II - The artistic architecture of Gia Long Tomb
1 - Architectural imprint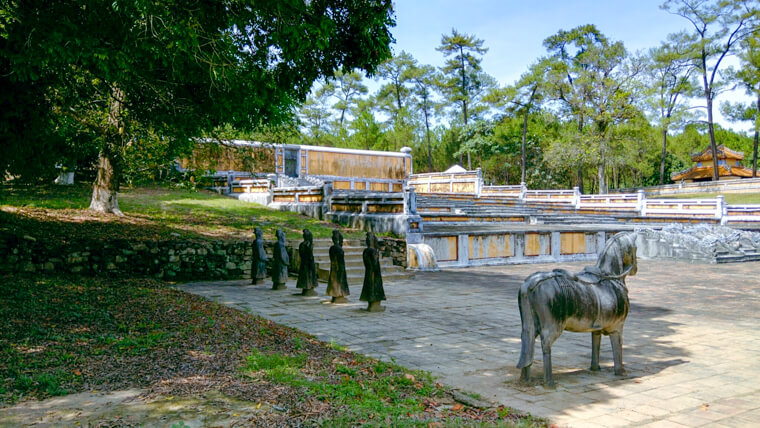 Inside the tomb - Source: Eric Burdette
With an area of about 28km2, Tomb of Gia Long consists of many works located on 42 hills and mountains of different sizes. The largest mountain Dai Thien Tho is in front, with 7 mountains behind, and 14 mountains on the left and right symbolizing Azure Dragon and White Tiger. This is the Mausoleum located farthest from the center of Hue citadel, compared to other royal tombs such as Minh Mang Tomb, or Khai Dinh Tomb.
All works in Gia Long Tomb complex have an old and traditional look, mostly made of stone without being painted with colors, built in accordance with the feng shui elements of that time. For example, right in front of the mausoleum is a lake, which helps circulate air and cool the temperature. Looking towards the largest mountain Dai Thien Tho, you will see two very large stone pillars, which are considered signs of recognition when entering a sacred place. Connecting the different areas of this site are wide roads covered with green pines, creating a fresh and quiet atmosphere.
2 - The main areas of Gia Long Tomb
This place is divided into 3 main areas: in the middle is the tomb of the King and his first wife - Queen Thua Thien Cao, inside Buu Fort, on the right is Minh Thanh Palace and on the left is the Stele House. Near the entrance to the right of the ticket office is the Thien Tho Huu tomb, where lies the emperor's second wife named Tran Thi Dang, titled Queen Thuan Thien Cao, mother of Emperor Minh Mang. On the left is a direct path to Minh Thanh Palace and the sleeping place of King Gia Long, which also connects to the back gate of Tomb of Gia Long.
Thien Tho Tomb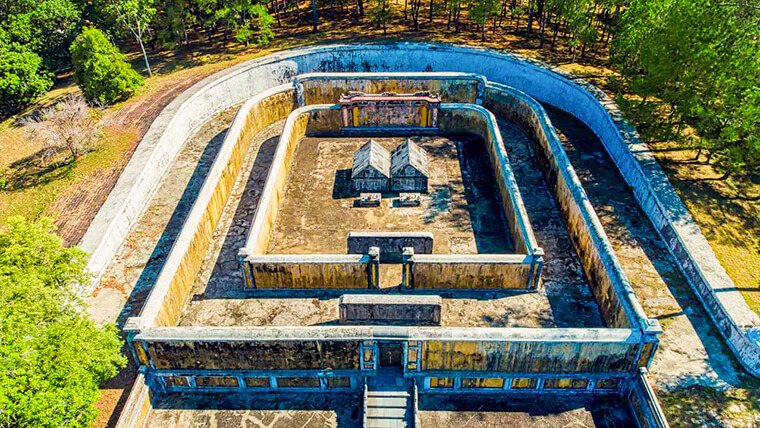 Gia Long Tomb & his first queen's tomb - Source: vietnamtourism
Going straight inside, you will reach Thien Tho Tomb, the resting place of King Gia Long and Queen Thua Thien Cao, the only double burial tomb in the Nguyen Dynasty. It is located in the middle of an empty space, completely relying on nature and not disrupting the general landscape. The large courtyard in front has two rows of stone statues standing on both sides, including mandarins, horses, and elephants sculpted with melancholy expressions.
Buu Thanh Citadel
Visiting Gia Long Tomb, you should spend some time going inside the small Buu Thanh citadel to light an incense for this Vietnamese emperor and his queen. The citadel is closed for conservation, so when you want to enter the security guard will open the door for you. Although this work is tinged with time, showing through the cracked yellow walls covered with green moss, it still retains the solemn and majestic features of the past. Inside is the main grave - two stone tombs have box shapes and a diagonal roof, symbolizing happiness and faithfulness, showing the immortal love of the two.
Stele House
To the left of Gia Long Tomb is Stele House, where now preserving only a large stele "Holy merits of saints" made by Emperor Minh Mang. The content of this epitaph is a tribute to the emperor's father (Emperor Gia Long), telling about his biography and merits in Chinese characters, which are delicately carved. This building has a distinctive royal architecture, with extremely delicate carvings and lapis lazuli gold tiles, painted with vermilion and gilded with gold plates.
Minh Thanh Palace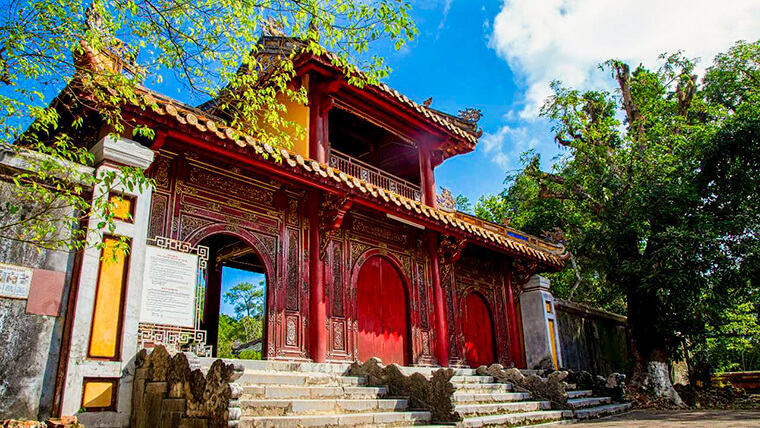 Minh Thanh temple in Tomb of Gia Long - Source: vietnamtourism
To the right of the Gia Long Tomb is Minh Thanh Palace, which worships Emperor Gia Long and his Queen Thua Thien Cao, along with people with great merit. The campus of this building is very large, filled with green trees including the extremely noble corn, which is said to be where phoenix perches. Passing through the huge three-way gate are two small buildings, which worship the tablets of the great mandarins under King Gia Long era. The main building has been renovated, more solid but still retains the traditional architecture with vermilion color and gilded details.
As mentioned above, Gia Long Tomb is actually a complex of many mausoleums, the resting place of numerous royal members or people with great merit to the country at that time. You can go around and burn incense at other tombs of the relatives of King Gia Long, including his mother, sister, grandchildren, uncles, etc.
III - Who is King Gia Long?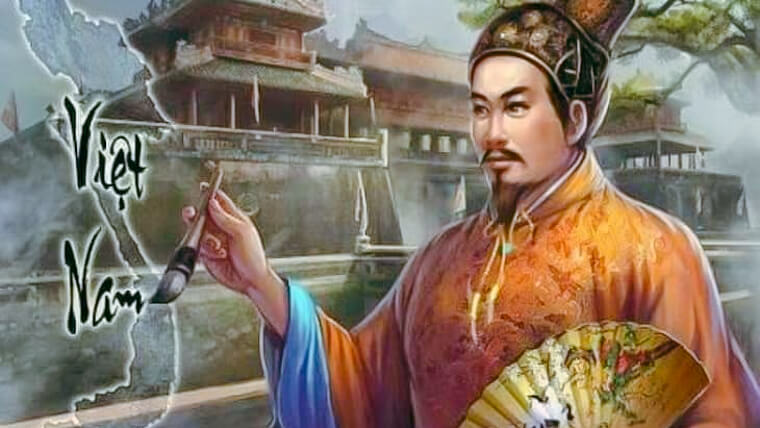 King Gia Long - Source: dinhtamkhang
According to historical documents, Emperor Gia Long was born on February 8, 1762, with his birth name being Nguyen Phuc Anh (commonly called Nguyen Anh). Known as a famous politician and military Vietnamese, he was also the founder of the Nguyen Dynasty, the last monarchy in Vietnam's history. He ascended the throne and reigned for about 18 years, from 1802 until his death on 3 February 1820, during which (in 1804), he also changed the country's name to Vietnam as it is today.
Although there are many controversies surrounding his life and career, King Gia Long's merits are undeniable. He unified the country, expanded its land, and affirmed Vietnam's sovereignty especially over Hoang Sa and Truong Sa archipelagos. He also enacted a series of plans on administrative and social management, building the legal system, boosting academic education, and laying the foundation for socio-economic development. In 1805, King Gia Long ordered the construction of the system of Hue citadel, which is now recognized by UNESCO as a World Cultural Heritage together with the Complex of Hue Monuments.
As an attractive destination in Central Vietnam, Gia Long Tomb is said to have a much simpler and more rustic architecture than other famous tombs in Hue such as Minh Mang, Tu Duc or Khai Dinh. However, the true value of this work lies in the harmonious arrangement with the natural landscape, and its special meaning in representing the precious love between Emperor Gia Long and Queen Thua Thien Cao.