In a bustling city like Saigon, Tao Dan Park is the ideal place for you to stop, relax your soul and breathe in the cool breeze on hot summer days. This is an ideal rendezvous for interesting walks, letting you feel the fresh air amidst the dust of the streets. But not only that, this place also has countless other interesting things that make it stand out from other famous parks in Ho Chi Minh city.
I - Tao Dan Park's quick view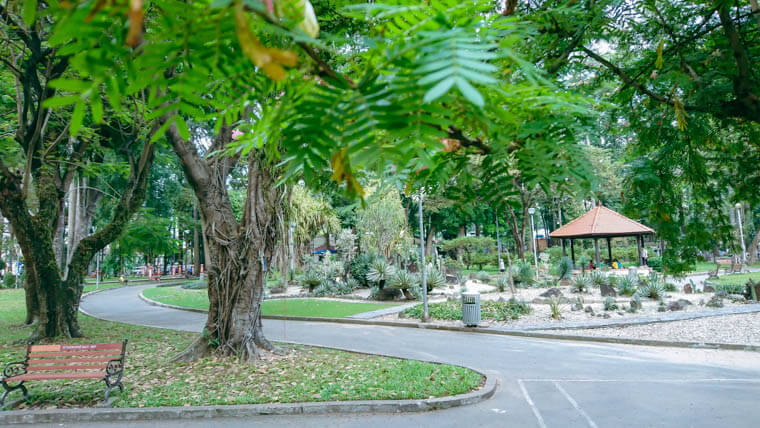 Source: @Trung Nghia Nguyen
Situated in Ho Chi Minh city District 1, the park of Tao Dan is adjacent to major roads including Nguyen Thi Minh Khai, Truong Dinh, Cach Mang Thang Tam and Nguyen Du. This park is open from 4am - 10pm, normally you can enter for free, but when there is a festival or exhibition, there will be an entrance fee depending on the event.
This park has a beautiful location in the center of Saigon, quite close to many famous attractions of the city such as Independence Palace (425m) or War Remnants Museum (475m). A little further there are also Ben Thanh Market, Ho Chi Minh City Opera House, Nguyen Hue and Bui Vien Walking Streets, convenient for you to explore within a trip to Tao Dan Park Saigon. There are also a few good hotels nearby, including:
- Rang Dong Hotel
+ Address: No.83 Cach Mang Thang 8 Street, Pham Ngu Lao Ward, District 1
+ Contact: (+84) 3839 8264
+ Website: rangdonghotel.com.vn/en
- Saigon Central Palace Hotel
+ Address: No.39 Nguyen Trung Truc Street, Ben Thanh Ward, District 1
+ Contact: (+84) 38290029
+ Website: centralpalacesaigon.com
- Edenstar Hotel & Spa Saigon
+ Address: No.38 Bui Thi Xuan Street, Pham Ngu Lao Ward, District 1
+ Contact: (+84) 6291 3371 - (+84) 6298 8388 - (+84) 6257 1818
+ Website: edenstarsaigonhotel.com
II - What's in Tao Dan Park Ho Chi Minh city?
1 - The fresh green space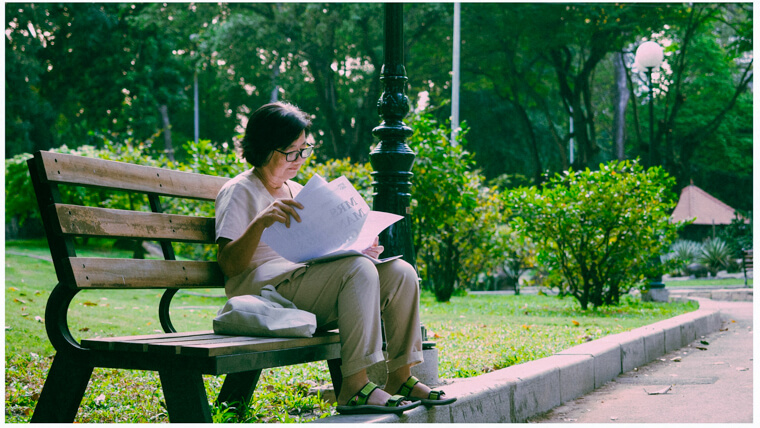 Source: Nguyen Quang Dung
Like a paradise green lung in the heart of the dusty city, the park owns a large campus of more than 10ha, with dense green coverage interspersed with winding asphalt roads. The air here is very fresh with many beautifully designed landscapes, attracting a lot of people and tourists to visit for exercise, walking and playing in the early morning or late afternoon. The cool and clean space here is very suitable for you to gather and chat with friends to sit on the stone benches, have a picnic on the manicured wide green lawns, or bike around checking out the scenery.
Tao Dan Park is also a very safe place, with 30 security guards divided into two shifts, the first of which starts from early morning until 7:30pm, then the second shift starts. Coming here, you can easily catch the sight of locals coming to jog or practice martial arts, singing and dancing groups, and families taking their children over in the afternoon. On the Truong Dinh street side of the park, there is a play area about 300m2 wide, with 8 exciting games for children to freely have fun. Despite the noise out there, Tao Dan is always peaceful, one of the most ideal parks in Saigon for everyone on weekends.
2 - Tao Dan Park famous for many time-stained attractions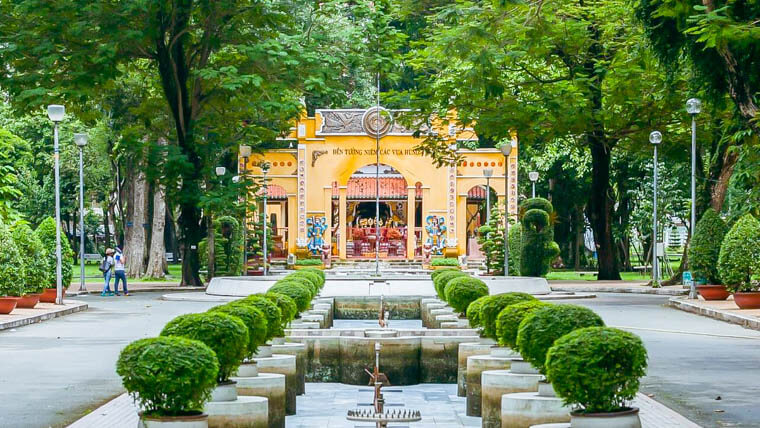 Hung King temple - Source: Tripadvisor
In 1992, the temple commemorating the Hung Kings was built right in the middle of the green campus of the park, according to the prototype of the Hung Temple historical site in Phu Tho Province. Having traditional architecture combined with some modern details, this is one of the three Hung Kings temples in Saigon, a very meaningful memorial place, especially on the Hung King's death anniversary. This work is roofed with orange tiles, with two dragons and two statues of Guardians at the doors, inside there is a statue of Hung King. The temple is always taken care of so it still keeps the ancient beauty and solemnity, in accordance with the traditional spirit.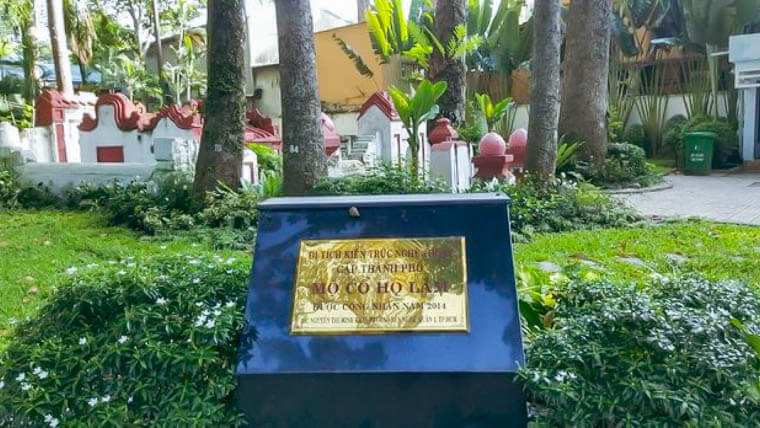 Ancient tombs - Source: tago
Lying under the dense canopies of the green trees inside Tao Dan Park Saigon is a cluster of ancient tombs, which is the resting place of the once illustrious Lam family. Among them are Mr. Lam Tam Lang and his wife Mai Thi Xa - Mr. Lang was a Cantonese who immigrated to Vietnam, and later died in 1795. The information recorded on the stele shows that this complex was built during the reign of King Minh Mang, believed to be in 1895. It was recognized as a city-level architectural monument in 2014.
The whole complex of the Lam family's tombs was built with a mangrove compound, including the vestibule, the church yard, the tomb house, and the surrounding wall. The attraction of this work is the extremely discreet and unique architecture, with screens in front of the tomb gate and behind the tomb. There is also another impressive and attractive construction in Tao Dan Park, which is a reconstruction model of the ancient Cham tower. Built of red bricks, this work looks small but quite similar to the real one, so it is still loved as a check-in place for many tourists.
3 - Exciting cultural events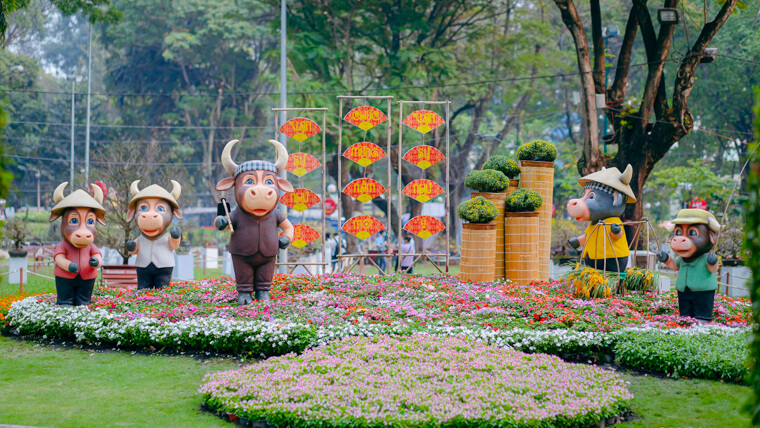 Flower festival at the park - Source: @dulichvietvui
With airy and green space, the park fully converges conditions for city departments and authorities to organize festival activities, annual fairs and exhibitions in medium and large scale. In particular, the Tao Dan Spring Flower Festival takes place every Vietnamese Lunar New Year here, with thousands of unique artworks from flowers and ornamental plants, besides all kinds of colorful exotic flora. There are also many exciting activities, unique performances and interesting contests to introduce new products, attracting not only locals but also tourists from other places.
4 - Tao Dan Park's unique bird cafe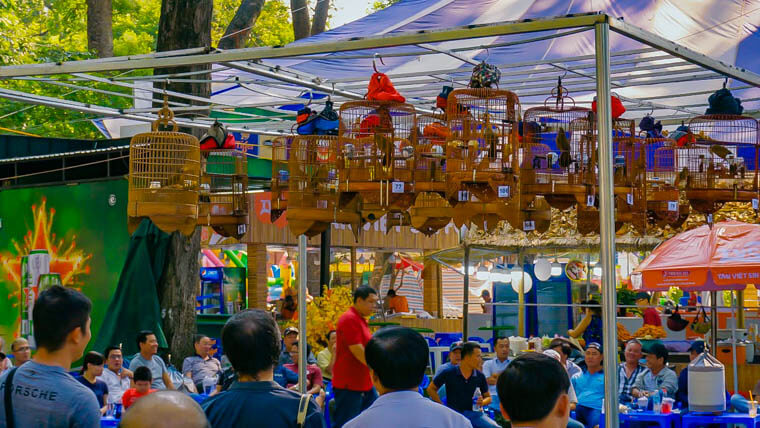 Bird coffee - Source: youtube
If you visit here in the early morning, you will surely be captivated by the chirping of birds coming from the cafe located in the corner of the campus. This rustic and small shop has been around for a long time, gradually becoming a cultural feature of Saigon people, always full of diverse and beautiful birds. Especially on weekend mornings from 6am, this place is covered with bird cages brought by bird artists, who come to interact with people with similar interests. Visiting the park of Tao Dan, sipping fragrant black coffee and listening to birds chirping in the sunlight will definitely be an unforgettable memory in your trip to Ho Chi Minh City.
After tiring days of walking and exploring Saigon, you can spend time relaxing at Tao Dan Park with its green natural space, tinged-with-time historical attractions and many exciting cultural activities. In addition, other famous parks in Saigon that you can choose to fit your staying place, such as Thao Cam Vien, Le Van Tam Park, Le Thi Rieng or Gia Dinh Park.