Located at the gateway to the Mekong Delta region of Vietnam, Long An is a province with an area of 4,494.93 km², including Tan An city, 1 town and 13 districts. Just about 50km from Saigon, you can get here by bus, taxi, or motorbike. In recent years, Long An travel attracts lots of tourists thanks to its ecotourism sites have also sprung up, giving you the experience of being with nature while still getting provided with enough comfort. Vietnam Long An province carries a peaceful and rustic beauty of the river, typical of the Mekong Delta and the Southeast region of Vietnam. Here you can find countless beautiful sceneries, from fragrant lotus fields and cool forest paths, to ancient villages with genuine people.
I - Top 10 attractions in Long An province Vietnam
#Ecotourism
1 - Tan Lap Floating Village - top place to visit in Long An Vietnam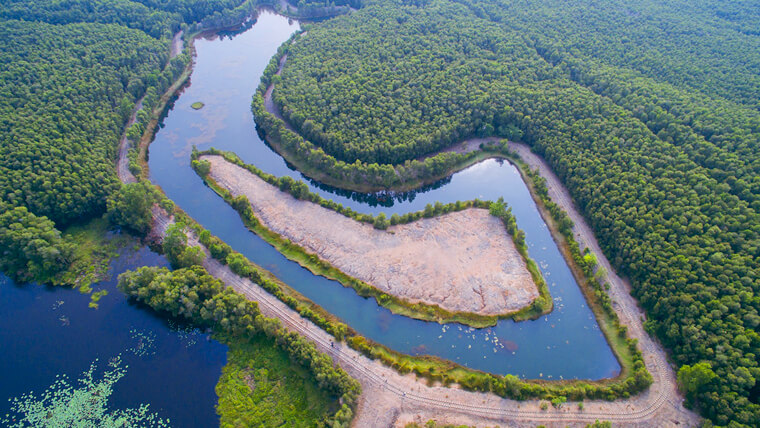 Tan Lap floatng village - Source: langnoitanlap
With an area of about 135ha, Tan Lap floating village is located on the national highway N2, belongs to the commune of the same name in Moc Hoa District. This place used to be a flooded area, so local people had to build very high stilt houses to adapt to the flood, creating a unique feature in harmony with nature. Here you can find dense ancient Melaleuca forests, lotus and water lily lakes, hundreds of species of birds, fish and endemic amphibians creating a rich and diverse ecosystem. Tan Lap village in Vietnam Long An province has now been converted into an eco-tourism area, including many parks, marinas,…
You will definitely find it interesting to sit on a canoe floating on the canal, watch the birds flutter in the blue sky, and walk to explore the Melaleuca forest. You can also admire the panoramic view of the whole ecological area on the observatory, enjoy the specialties of the South, and discover the cultural identity of local residents through traditional crafts of wood carving, boat making in Long An Vietnam.
- Ticket price:
+ Entrance fee & boat ticket: 190,000 VND/person ($8.2)
+ Electric car fee from ticket counter to boat pier: 5,000 VND/person/way ($0.2)
+ Other service packages: https://langnoitanlap.com.vn/
- Opening hours: 8am - 5pm
2 - Vam Co Dong River in Long An province Vietnam
This river has long entered Vietnamese poetry with its peaceful and wild beauty, dotted with floating hyacinth leaves and rows of coconut trees leaning on the bank. Therefore, many river cruises have been developed by local authorities and travel companies, with a variety of attractive experiences. You will be sitting on a boat, admiring the scenery on Vam Co Dong River and breathing in the fresh air, enjoying delicious specialties in Long An Vietnam such as Ben Luc pineapple, Dao Market fragrant rice (Can Duoc), Tan Tru dragon fruit, etc.
This trip also has some stops at famous tourist attractions and historical sites of Long An province. Rach Cat Fort is known as the largest fortress in Indochina, associated with the war against France. You are also taken to the famous House of Hundred Pillars, enjoying a meal at the old house with the locals. Vam Co Dong river also passes through Vam Nhut Tao relic site, giving you a chance to explore the place and try out diverse specialties made from dragon fruit.
3 - Lang Sen Wetland Reserve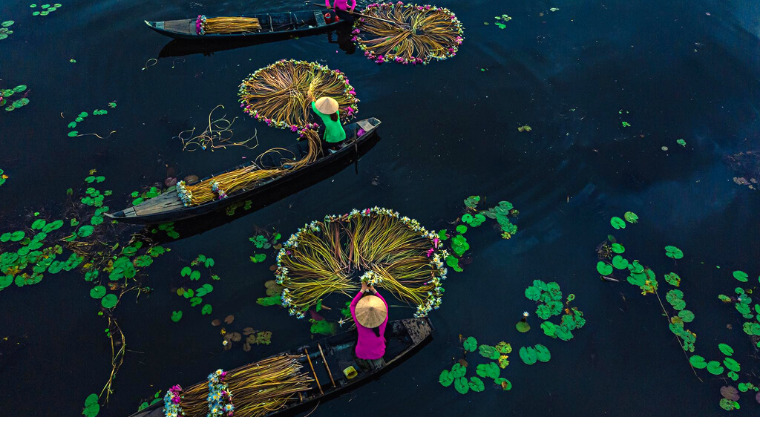 Source: Đình Phong
Dubbed as a typical ecological site of wetlands, Lang Sen Wetland Reserve is located in Vinh Loi - Vinh Dai Commune, Tan Hung District, Long An province. This place possesses a diverse wildlife world with 112 species of birds, 149 species of animals, including many rare species such as pythons, snakes, magpie… Lang Sen in Long An Vietnam also shows off its beauty with the rich riverside vegetation, seasonally flooded grasslands, and hidden swamps. You will have the chance to ride a boat around the lotus fields with an area of ​​up to 50ha, filled with the pink of the lotus and the white color of the storks.
- Ticket price: about 50,000 VND / person ($2.18)
4 - Phuoc Loc Tho Ancient Village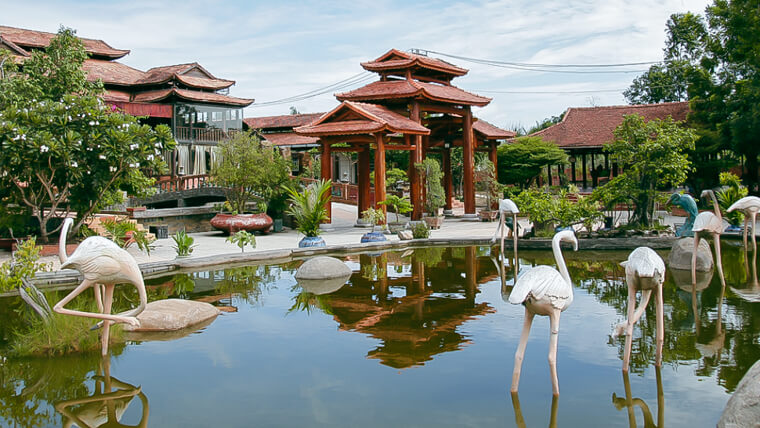 Source: langcophuocloctho
Phuoc Loc Tho ancient village in Huu Thanh commune, Duc Hoa district is home to more than 22 ancient houses over a hundred years old, bearing the identity of the three regions of Vietnam. As a tourist destination in Long An province Vietnam for lovers of ancient space, this place is divided into 2 separate areas: the sightseeing area and the service area. Coming here, you can admire many relics such as King Bao Dai's plank set, the table set of mandarins, the queen's mirror, etc. You also shouldn't forget to enjoy the specialties of the riverland, and listen to sweet and melodic folk songs,…
5 - Endless Field tourist area in Long An Vietnam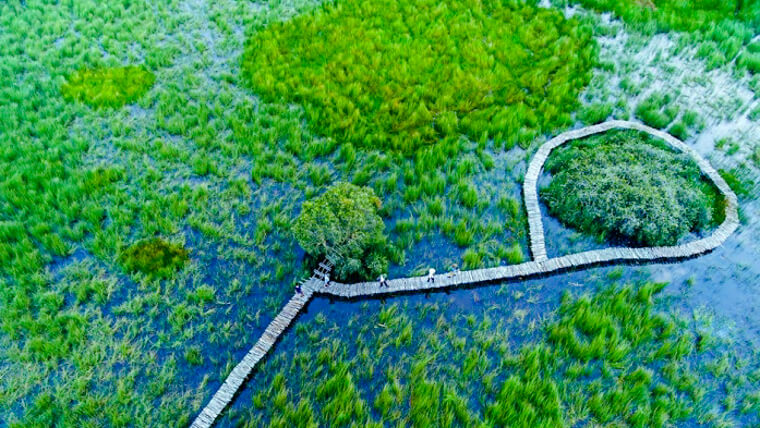 Source: dulichvietnam
Covering an area of 1,000 hectares, Endless Field is a famous eco-tourism area and the only primeval Melaleuca forest in Vietnam. The stunning beauty of landscape and rich biodiversity with primeval melaleuca forests hundreds of years old, countless fields of pink lotus flowers, medicinal herbs,... are the most impressive things to see in Long An province.
In addition to sightseeing by motorboat, you can also visit and learn about medicinal herbs, the essential oil processing factory, and the display area of ​​medicinal products. At noon, you will be provided with a country-style meal, including dishes such as steamed chicken with lotus leaves, braised eel with pepper, frog sour hotpot, and freshly picked fruit. Other interesting activities not to be missed are walking to visit the film set, cajuput wooden bridge and leaf houses; cycling to enjoy the fresh air; kayaking; swimming in the clear rainwater lake.
The most beautiful time to visit the Endless Fields in Long An province Vietnam is in the floating season from September to November. In the floating season, visitors will be immersed in the space of the kingdom of birds & storks, and countless species of plants.
1-day package:
- Adults: 440,000 VND / person ($19.2)
- Children (5 - 10 years old): 220,000 VND / person ($9.6)
2-day 1-night package:
- Adults: 1,200,000 VND / person ($52.4)
- Children (5 - 10 years old): 600,000 VND / person ($26.2)
6 - Chavi Garden ecotourism area of Long An province
#Cultural-historical tourism
Chavi Garden eco-zone is one of the newly opened tourist attractions with a model of agricultural tourism in green space and beautiful design. You will feel the feeling of relaxation among the vast flower gardens, shady rows of green trees, winding green canals, cordyceps cultivation area,… Chavi Garden eco-zone in Long An Vietnam offers a wide range of experiences for different types of guests, from teenagers, groups with team building activities, or customized tours.
- Opening hours: 8am - 4pm
- Contact: 0912345678
- Website: https://chavigarden.com/
7 - Ruins of Rach Cat Fort in Long An province Vietnam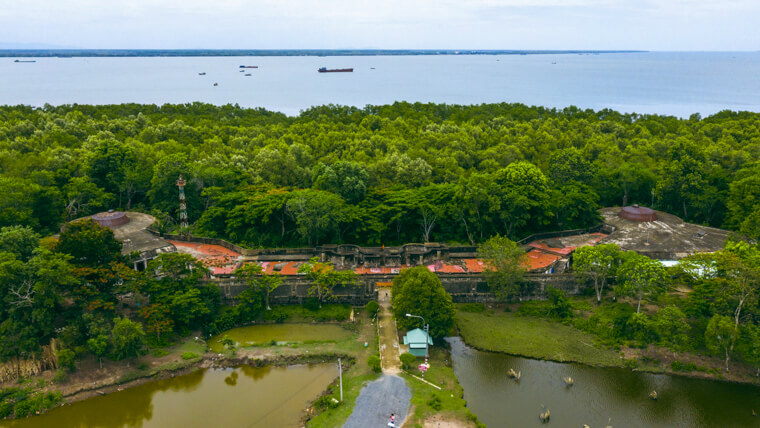 Source: tuoitre
Also known as Rach Coc Fort, this relic was built in 1903, located in Long Huu Dong Commune, Can Duoc District. This has a unique architecture, designed in the shape of a symmetrical bow, with a length of 300m and a width of 100m. It is a solid coastal defense and attack work: it can resist heavy artillery shells and is equipped with the most modern heavy artillery at that time.
The wall is built of bearing green stone with a thickness of 60 - 100cm, with many square holes on the wall, and the floors are poured with reinforced gravel concrete. Rach Cat Fort in Can Giuoc Long An Vietnam consists of 5 floors, in which 2 ground floors contain ammunition, command bunker, living room and food storage, and 3 submerged floors are both the foundation of the building and a freshwater cellar. Up to now, the entire structure of this national monument is still intact, carrying historical and artistic values of ancient fortress architecture in Europe.
8 - Binh Ta archaeological site cluster
Belonging to Duc Hoa Ha Commune, Duc Hoa District, Long An province, Binh Ta archaeological site is a cluster of 17 architectural and residence sites. This large-scale archeological relic cluster is considered as the political - power - religious center of the ancients, and was recognized as a national historical-cultural relic in 1989.
Among them, Go Don relic stands out with its brick towers, recognized as having characteristics of Hinduism - Oc Eo cultural tradition. Meanwhile, Go Xoai relic is identified as a stupa relic of Buddhism due to the discovery of ashes, bones and precious artifacts. There are rings and medallions encrusted with gems, a Sanskrit - Pali inscription, and pieces of gold engraved with lotus flowers and animals such as turtles, snakes, elephants. Finally, the Go Nam Tuoc relic in Long An Vietnam still retains the foundation with the architectural features of the Oc Eo culture - a Hindu temple.
9 - The Hundred Pillar Ancient House in Long An Province
Source: @Dinh Tuan Kiet
As one of the most famous ancient houses in Vietnam, the Hundred-Pillar ancient house is located in Long Huu Dong Commune, Can Duoc District. With the main door facing the Northwest, this nearly 900m2 house is located on the banks of Vam Co Dong River, nestled in the middle of a more than 4ha garden. This is an ancient sculptural work with more than a hundred years of age, classical ingenious and meticulous style combined with the liberality of carved flowers and leaves.
The house of Long An Vietnam is divided into 3 compartments and 2 wings, with roof tiled in yin and yang style and the 0.9m high floor paved with hexagonal tiles. There are a total of 120 large and small columns, including 68 main columns, 52 auxiliary small square columns and a round of cement gable walls. From the pillars to the furniture, such as tables and chairs, beds, cabinets, counters, etc., all are meticulously and elaborately carved with classical themes.
10 - Ton Thanh Pagoda in Long An province Vietnam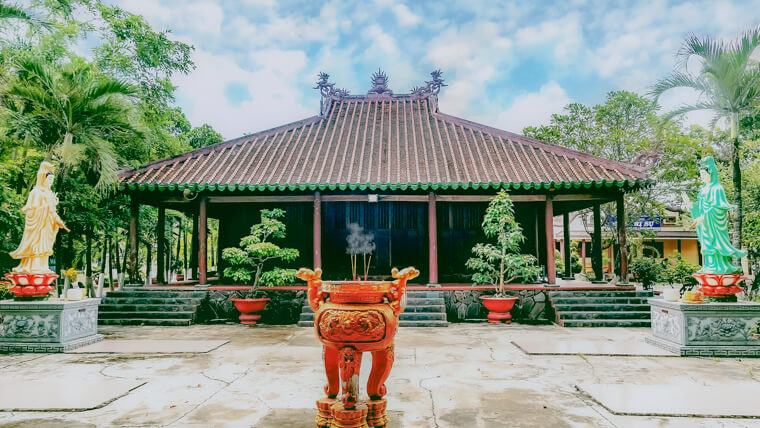 Source: wikipedia
Built in 1808, Ton Thanh Pagoda is the place where poet Nguyen Dinh Chieu wrote "Death oration to the martyrs of Can Giuoc ', honoring the bravery of the peasant martyrs. The work is located in My Loc Commune, Can Giuoc District - about 40km from Tan An Long An city, where you can admire the architecture, the steles keeping historical imprints, and pray for your loved ones.
Through many restorations, today's Ton Thanh Pagoda is no longer intact with its original architecture, however, many ancient features are still retained. Those are the system of columns in the main hall, Buddha statues dating back to the early 19th century, and the parallel lines of Chinese characters painted in gold. The most valuable relic here is the 110cm high statue of Ksitigarbha Bodhisattva, cast in bronze with many intricate carvings.
II - When is the best time to visit Vietnam Long An province?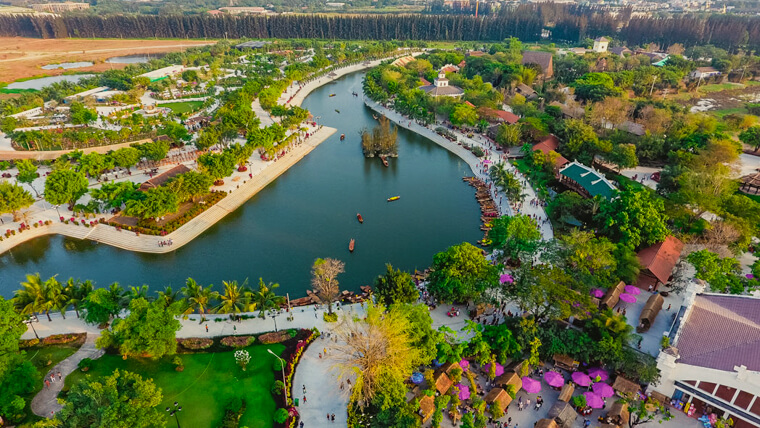 Source: idulic
Located in the sub-equatorial monsoon tropical climate, the weather of Long An Vietnam is characterized by abundant sunshine and long radiation time, high temperature but still quite mild with low fluctuation. The average temperature is 27.2 - 27.7°C, with the dry season lasting from November to April, and the rainy season lasting from May to October. The average annual rainfall ranges from 966 - 1325mm, with rain combined with high tides and floods sometimes causing inundation.
The most ideal time to come to Long An is from September to April when the weather and climate is quite cool and pleasant. Especially, if you want to enjoy the scenery of lotus and water lilies in full bloom, September or October is the best time for traveling.
III - Long An map
Long An province Vietnam is one of the important ecotourism destinations of the South of Vietnam with Melaleuca forests, diverse flora and fauna, ancient relics and interesting culture. Coming here, you will be immersed in nature, admire the peaceful beauty of the countryside, enjoy the specialties and meet up with the friendly locals. The land of Long An with its genuine essence will definitely bring you a memorable trip, give you a chance to forget all the troubles in life.