Traveling from Ha Long to Sapa, you have a chance to experience both the sunny and windy seaside, and the vast and unspoiled mountainous area, having unforgettable memories. Halong Bay and Sapa have long been famous tourist destinations of not only the North but also Vietnam, attracting thousands of visitors every year. One has the beauty of the high mountains, cool atmosphere and unique ethnic culture, the other stands out with the turquoise sea and system of magnificent limestone mountains.
1 - Traveling by bus from Halong Bay to Sapa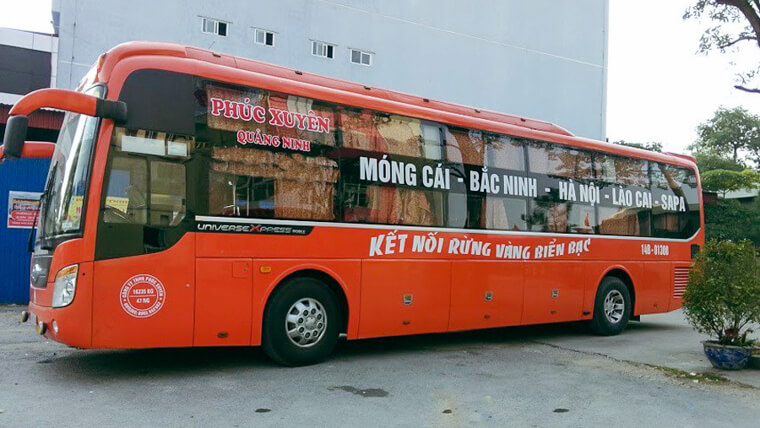 Bus to Sapa - Source: saodieu.vn
Buses are the most suitable means of transportation for you to travel from Ha Long to Sapa, giving you the opportunity to experience a lot of interesting things along the way. The outstanding advantage of this vehicle is that it is economical and convenient, saving travel time with a straight path and no route changes - the average travel time is 8 - 9 hours. Here are some suggestions for reliable Halong Bay to Sapa buses you can choose from:
Phuc Xuyen sleeper bus
- Pick-up point 1: Bai Chay bus station - No.17 Street 279, Bai Chay Ward, Halong City at 12pm
- Pick-up point 2: HaLong office - Giao Thong Slope, Cau Trang Intersection, Column 8, Ha Long City at 11:30am & 8pm & 8:15pm
- Drop-off point: Sapa bus station - No.571 Dien Bien Phu Street, Sapa Town
- Ticket price: 370,000 - 420,000 VND / ticket / person ($16.2 - 18.4)
- Hotline: 1900 6799
- Website: https://phucxuyen.com.vn/
Cuong Lan bus from Halong Bay to Sapa
- Pick-up point: Group 3, Zone 3, Bai Chay Ward, HaLong City at 6pm & 10pm
- Drop-off point: Minh Khai Street, Pho Moi Ward, Lao Cai City
- Ticket price: 400,000 VND / ticket / person ($17.5)
- Hotline: 0963 856 856
- Website: https://xedemquangninh.com/
Hai Van bus
- Pick-up point: Bai Chay bus station
- Drop-off point: No.10A Cao Ba Quat Street, Coc Leu Ward, Lao Cai Province
- Travel time: Depart at 10:50pm & arrive at 8am
- Ticket price: 730,000 VND / ticket / person ($32)
- Hotline: 1900 6776
- Website: https://haivan.com/
In addition, many tourists do not choose to go directly from Halong Bay to Sapa, but go to Hanoi first and then rent a limousine to continue their trip. Although it is time consuming, there will be so many more routes for you to choose from, as well as an opportunity to explore the capital of Vietnam.
2 - Traveling by train from Halong Bay to Sapa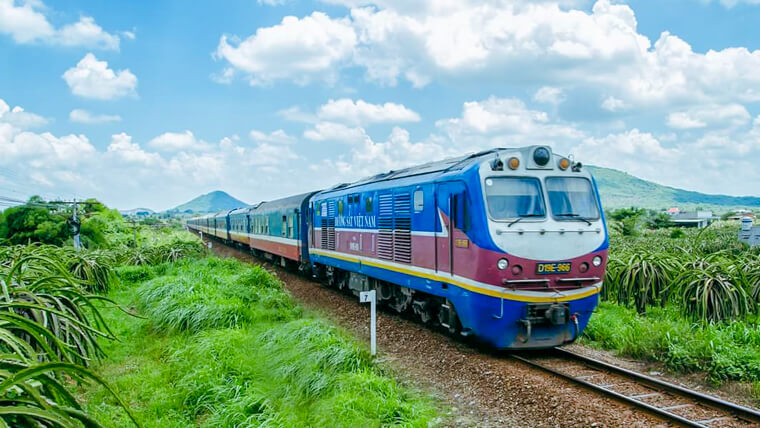 Train to Sapa - Source: phongveadamviet.com
Although you can go by train to Sapa from Halong Bay, this is not really a good way because there is no train station at both places. You have to go from Halong Bay to Hanoi Train Station, usually by motorbike, bus or limousine, then take the train to Lao Cai City and finally take a taxi to get to Sapa.
From Hanoi to Lao Cai City, there are many trains with various types of seats: hard seats, soft seats, VIP beds. They usually leave the train station at around 9pm - 10pm daily and arrive in Lao Cai City early the next morning at 6 - 7am. The ticket price is about 150,000 VND / hard seat ($6.6), 280,000 VND / soft seat ($12.3), and up to 500,000 - 1,000,000 VND / luxury seats ($22 - 43.8).
- Hanoi Train Station: No.120 Le Duan Street, Hoan Kiem District
- Online booking: https://dsvn.vn
3 - Travel experience from Halong Bay to Sapa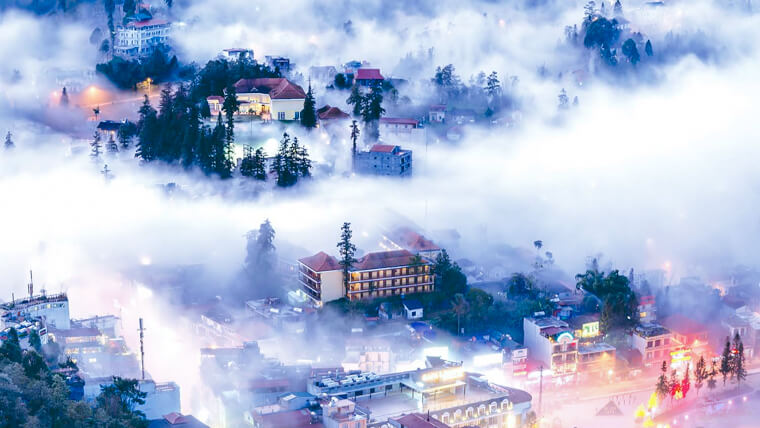 Sapa view - Source: icapi.org
From about April to September, the summer is probably the most ideal time for you to make an attractive Halong Bay - Sapa tour. It's mainly for your stay in Halong, because Sapa weather is pleasant and cool all year round, fluctuating between 17 - 19°C. If in the end you decide to just go to Sapa, then each season this place has its own beauty, with various interesting activities and attractions waiting to be discovered.
Sapa Ancient Stone Church
After traveling from Halong Bay to Sapa, the Sapa Ancient Stone Church is a tourist spot that should not be missed. Built during the French colonial period at the end of the 19th century, this is a unique religious architecture, the only one left bearing the remaining ancient imprint of this period in Sapa. With a total area of ​​more than 6000m2, this Roman gothic styled church is located in the center of town, becoming a beautiful symbol for the romance and poetry of Sapa.
Ham Rong Mountain
Only about 3km from the town center is Ham Rong mountain, which is considered the best sightseeing spot here, where you can see the whole town of Sapa, Muong Hoa Valley, Ta Phin Village,... This is the meeting place of mountains, sky, clouds and thousands of colorful flowers, which will make you think you are lost in a fairyland.
Cat Cat Village
Cat Cat Village is an outstanding tourist spot on a tour from Halong Bay to Sapa. Formed in the 19th century, this ancient village of the H'mong people in Sapa is one of the famous tourist villages, attracting many people to visit and explore the unique ethnic culture here. It still retains a lot of traditional crafts such as cotton and flax cultivation, cloth weaving, brocade embroidery, etc.
Sapa Love Market
Held once a week on Saturday night in the area in front of the Sapa Stone Church, this is considered a place for dating and meeting of ethnic boys and girls, amidst the music of the trumpet and the flute. You can freely buy brocade, jewelry, hats, towels, shirts,... as souvenirs and try the specialties here such as grilled food, Thang Co hot pot, and so on.
Ta Van Village
After a long trip from Halong Bay to Sapa, Ta Van Village is a nice place for relaxing. About 7km from the center of Sapa town, this place is located in the middle of a valley between the Hoang Lien Son mountain range and Ham Rong mountain, surrounded by terraced fields stretching to the top of the mountain. Ta Van Village is the home of the ethnic minorities of the Mong, the Giay, the Dao, the Tay…, who have created a wonderful and majestic natural picture with their diligence and hard work. If you come here in the high water season (April) or ripe rice season (September), you will have a chance to see the most beautiful and splendid scenery.
Fansipan Mountain
Dubbed the roof of Indochina, this legendary mountain is a place to show the bravery and will of those who love climbing. However, if you only stay for a short time or are not healthy enough to participate, you reach the top of Fansipan by cable car. From an altitude of 3,143m above sea level, you will experience the wonderful feeling of standing next to the clouds, and seeing the whole enchanting Hoang Lien Son mountain range.
Halong Bay and Sapa are two very different tourist destinations, one on the mountain and the other under the sea, each with different characteristics. Because of their attractiveness, more and more people choose the tour that connects the two points. Following this need, the plan to build an airport in Sapa was launched, aiming to make traveling from Halong Bay and Sapa town easier.