Ha Long Bay - a world natural wonder recognized by UNESCO, is a great tourist destination not to be missed when traveling to Vietnam. Covering amazing caves and mountains, impressive bays full of cruises and boats, Halong bay offers you great vacations with lots of experiences. So when is the best time to visit Halong bay weather-wise? Halong has frequented all year round thanks to its prime location & nice weather.
Halong weather is influenced by tropical monsoon climate & ocean climate, creating 2 main seasons (winter and summer). Both seasons are a good time to visit and explore the beauty of the best bay in Vietnam.
I - Is summer the best time to visit Halong Bay?
Summer in Halong bay lasts from May to October. The typical weather patterns of this season are hot and rainy. The weather in summer fluctuates from 28°C to 35°C. Rain appears more frequently from late May to August. From late June, the bay can be affected by storms.
1 - May - the best time of year to visit Halong bay to escape from the heat of summer.
May is a good time to visit Halong Bay. The average temperature is about 29°C. The weather is hot and humid. However, do not worry too much, because the breeze on the bay will make you feel more comfortable.
2 - June - favorite time for domestic tourists
The temperature is about 32°C and more rains. But sunshine and blue sea can make your trip perfect.


Ha Long park (Source: Flynow)
3 - July - the hottest month
The temperature can rise up to 35°C. This is not the best time to visit Halong Bay as well as inland. Because July is the wettest month of the year, lots of rainfall and storms often occur.
4 - August
In general, the weather in August in the bay is the same as in July, with heavy rain and occasional storms. Therefore, this is not the appropriate month to visit the bay.
5 - September - the best time to go to Halong bay in the summer months.
The weather is more pleasant, the temperature drops to 28°C, and rainfall decreases as well.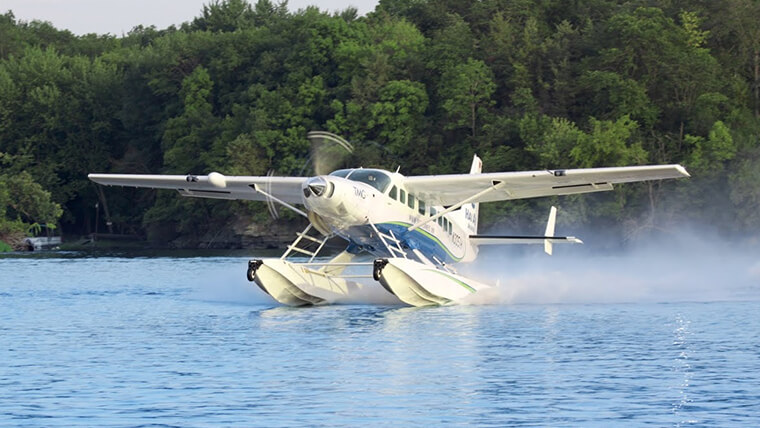 Source: Seaplanes
6 - October
In October, the rainfall is no longer significant, the temperature is only about 26°C. This time is suitable to admire the whole of Ha Long Bay from above by seaplane or visit beautiful stalactite caves and mountains.
You may concern: 7 things to do in HaLong Bay
II - When to visit Halong Bay in the winter?
1 - November
The temperature of Ha Long Bay in November is about 20 - 24°C. The winter wind season affects water activities like swimming & diving, however, sailing on the bay and visiting the Halong caves, islands, and fishing villages are still great.
2 - December
This is not the best time to visit Halong bay for underwater activities because of the low temperature (about 19°C). Visiting the bay this month, remember to take a light jacket.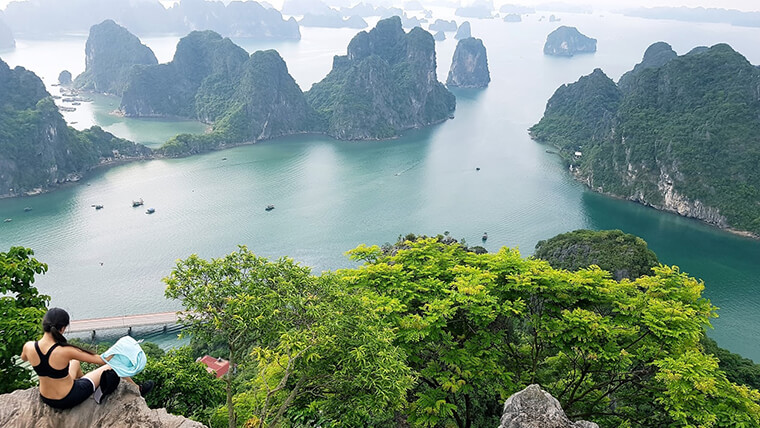 Bai Tho moutain (Source: Foox)
3 - January
The weather in January in Ha Long Bay is quite dry with little rainfall accompanied by low temperatures of about 18°C. This is the best time to visit Halong Bay for sightseeing and experiencing interesting activities such as watching the bay on a cruise or by seaplane, visiting Thien Cung cave, Dau Go cave, Sung Sot cave, climbing Bai Tho mountain.
4 - February
Like January, the February temperature in Ha Long Bay is even lower, only about 16 - 17°C. This time period usually falls during the Tet holiday in Vietnam, you should book tours and travel services in advance.
5 - March - the month of the best season to visit Halong bay
The temperature of March is slightly higher than that of January and February, about 19 - 20°C. The sky is clear, less foggy, and more sunshine.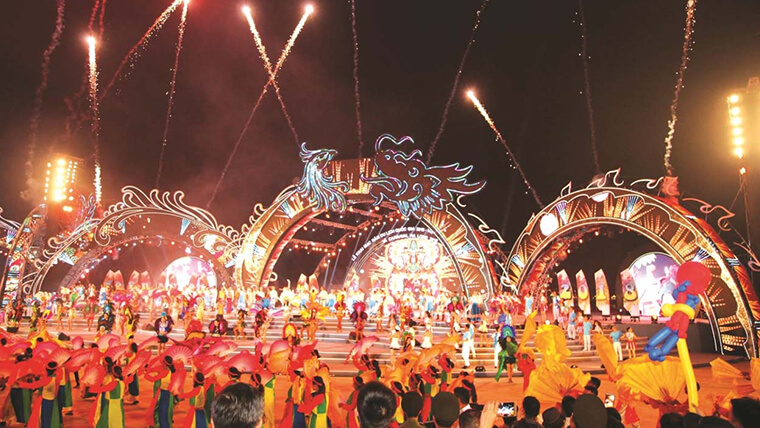 Carnaval in HaLong Bay (Source: Dulichtoday)
6 - April - the best time for Halong Bay
You can participate in relaxing activities such as swimming, kayaking, or diving thanks to the nice weather. Warm and less rainy weather makes your experience wonderful.
Plus, the Carnaval Ha Long festival is held in late April and early May every year with many exciting activities such as fireworks and special music performances.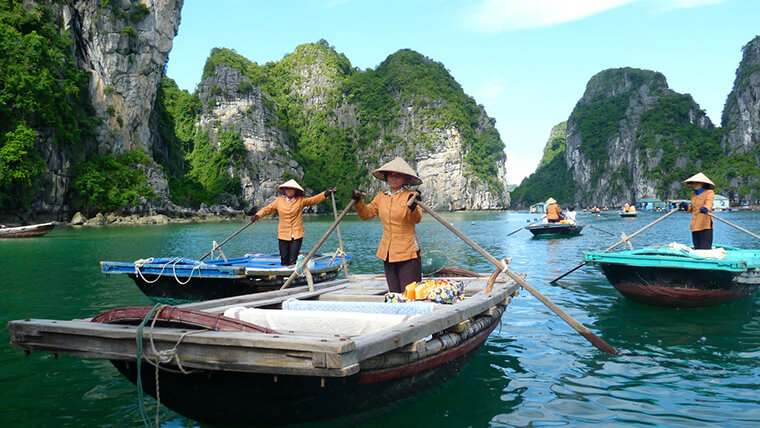 Beauty scene (Source: Gary Cacciatore)
You can visit the bay nearly all year round with lots of interesting things to do. The best time to visit Halong Bay is from September to November and from March to June.