As a ward of Ha Long City in Quang Ninh Province, Tuan Chau Island has an area of 7.6km² and a population of more than 2000 people. There is a bridge connecting directly from the mainland to the island with a length of 2km, and you can also take a boat to combine visiting Halong Bay. It takes only 45 minutes to go from Tuan Chau International Tourist Cruise Port to Gia Luan Ferry Terminal of Cat Ba Island.
I - The best things to do in Tuan Chau Island
1 - Tuan Chau Park
With a total area of ​​​​nearly 100ha, the Tuan Chau entertainment area includes many different sites, such as theme parks, cinemas, water puppet theaters, and performance stages,… with more than hundreds of indoor and outdoor thrilling games. In addition, you definitely should not miss the dolphin, seal, and animal shows, presented with the most modern equipment in Southeast Asia. The ticket price is:
- Group of 20 or more guests: 200,000 VND / person ($8.7)
- Normal guests: 350,000 VND / person ($15.24)
- Children under 1m tall: free
King Kong Park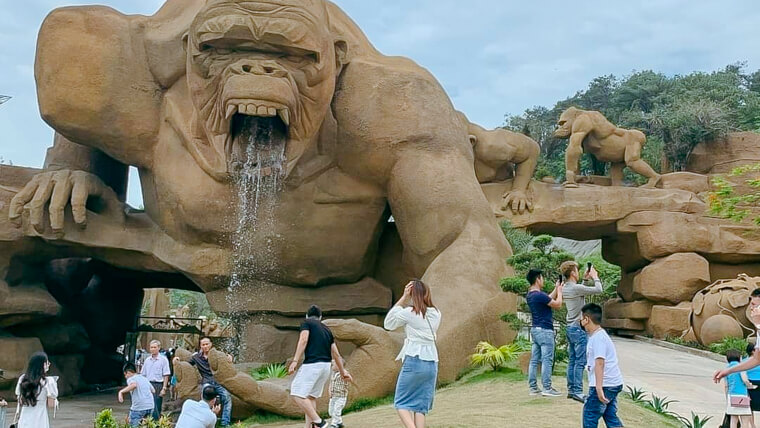 The impressive King Kong Park - Source: baoquangninh
Located right in the center of Tuan Chau Island, this park was built in 2021. Scattered on an area of thousands of square meters are hundreds of sculptures of all sizes, representing prehistoric and mythical animals, and characters in Vietnamese legends and fairy tales,… such as King Kong and Dinosaur giant statues, 18 different types of mythical dragons spitting fire and smoke,...
There is also an extremely large fairy-like waterfall system, cascading from the top of the mountain to the streams flowing around the park. You can also go for a walk in the Ecological Park on a poetic hill in this area. Stretching ​​over 5ha, this place converges with green vegetation, pine forests, colorful flowers, and winding roads.
Performance stages
Traveling to Tuan Chau Island Halong Bay, you also have the chance to admire the interesting performance stages. Covering an area of 10,000m2, the Dolphin, Seal, and Sea Lion Performance Club has a unique architecture that harmonizes natural elements and modern design. Inside is a saltwater tank that meets all international standards, where unique and exciting performances take place daily. You can watch cute dolphins from South Australia competing for the ball, playful seals and sea lions from the Gulf of Alaska acrobatics, painting,... This building with a capacity of more than 2500 people is often also the place to hold large-scale music, fashion, and cultural shows.
Tuan Chau Water Music Performance Palace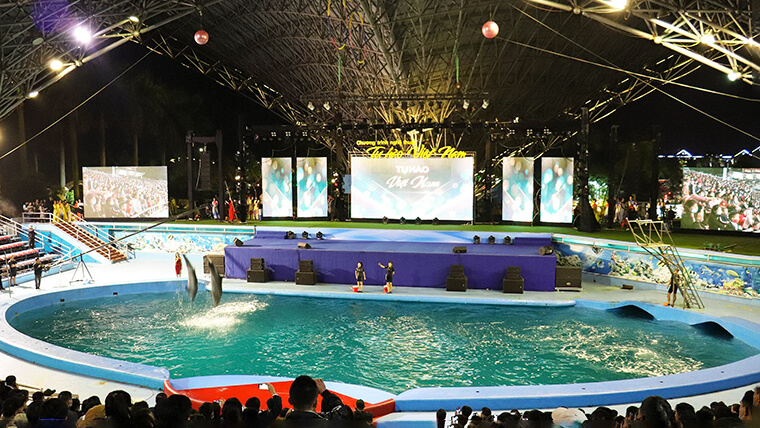 Tuan Chau Water Music Performance Palace - Source: Tripmap
This is one of the highlights of Tuan Chau Island, which is designed like a giant scallop containing magical sparkling gems. Located right in the middle of the green pine hills next to the coast, this 2.5ha large lake is surrounded by a luxurious grandstand with more than 12,000 seats. The space is as beautiful as an ancient Roman arena, where magnificent art performances are held, blending sound and light. Thousands of faucets, colored lights, laser lights, and fire pillars are controlled by state-of-the-art projectors and laser effects technology.
Located right next to the main gate of Tuan Chau Entertainment Tourist and Entertainment Area, Crocodile Performance Club on Tuan Chau Island is designed like a spaceship with many compartments. With a capacity of more than 1,000 people, this is where there are quite scary performances with crocodiles, along with fun ones by mischievous little monkeys.
- Crocodile and monkey circus performances:
+ Show time: 20 minutes/show
+ Show schedule: 09:00 - 09:20, 11:00 - 11:20, 14:30 - 14:50, 16:30 - 16:50, 19:30 - 19:50 & 20:15 - 20:35 (on public holidays)
- Tuan Chau water music performances:
+ Show time: 40 minutes / show
+ Show schedule: 09:15 - 10:00, 07:00 - 07:40 (Friday & Saturday), 08:15 - 08:55 & 09:15 - 10:15
- Performances of dolphins, seals and sea lions:
+ Show time: 30 minutes / show
+ Show schedule: 10:00 - 10:30, 15:30 - 16:00, 20:15 - 20:55 & 21:15 - 22:15.
Tuan Chau game zone on Tuan Chau Island
With a total area of ​​about 5ha, this is a complex amusement park designed in harmony between architecture and natural landscape. You will be able to see firsthand the famous wonders of the World in Miniature, arranged in a style that is both classic and modern. This is also an area that is loved by many children, as many staff members act as characters from Grimm fairy tales, Disney cartoons, etc. In Tuan Chau park, there is also a modern and vibrant Game room with a large size, with all kinds of games that attract young people such as horseback riding, racing, and so on.
2 - Tuan Chau Golf Course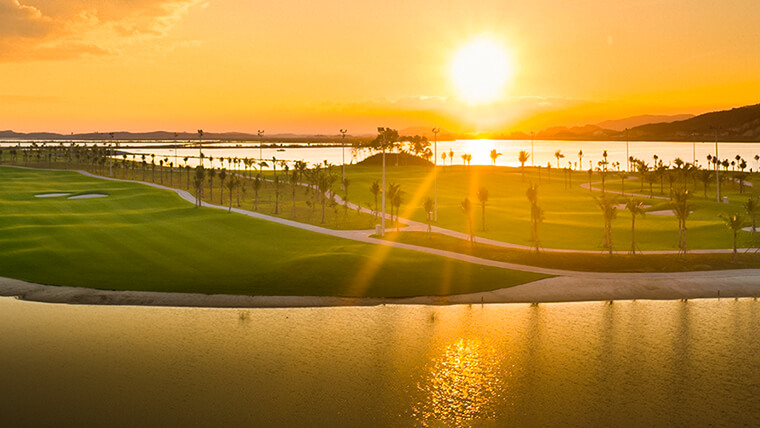 Top things to do in Tuan Chau Island - Source: tuanchaugolfresort
Opened in June of 2021, Tuan Chau Ha Long Golf Course is currently the largest one in the province, with an area of over 140ha. One of the outstanding advantages of the course is that it is designed to serve 24 hours a day, so golfers can experience it at any time. This place has many modern equipment and systems, serving along with functional areas, food and service areas, and a 2-storey tee-house.
- Entrance fee: 500,000 VND / person ($21.78)
- Renting a set of golf clubs: 750,000 VND / person ($32.66)
- Renting a single stick: 80,000 VND / person ($3.48)
3 - Temple of Lady King Tuan Chau - a sacred temple on Tuan Chau Island
Also known as Ba Men Temple, this place is located on a sandy beach on Dau Be Island, about 23km from Tuan Chau Port. Having a history of over 200 years, this temple has long been a cultural and spiritual center for people in the areas of Halong Bay and Cat Ba Island. At the beginning and the end of the year, the full moon, and the first day of every lunar month, locals come here to pray for a safe and good harvest sea trip. The main festival takes place on the 19th - 20th of the first lunar month, with interesting rituals and folk games, notably the tug-of-war contest and the dragon boat swimming competition.
4 - Linh Son Pagoda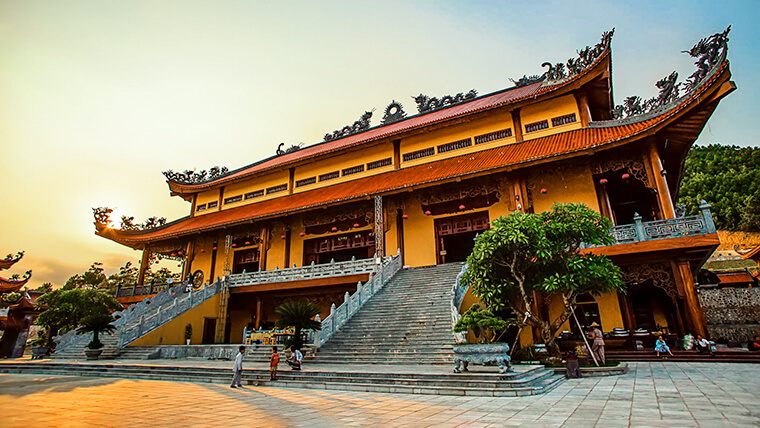 Linh Son Pagoda is an attractive spot in Tuan Chau Island Vietnam - Source: ducvinhtravel
Located right in the heart of the busiest area of the island, Linh Son Pagoda is a new pagoda built less than 10 years ago. Therefore, the architecture here is quite new and has modern features, but still retains the traditional style. In the large courtyard of the temple are very large shaded trees, along with many exquisitely sculpted stone statues of Buddha and Guanyin.
- Opening hours: 8am - 6pm
5 - Admiring the panoramic view of Halong Bay from above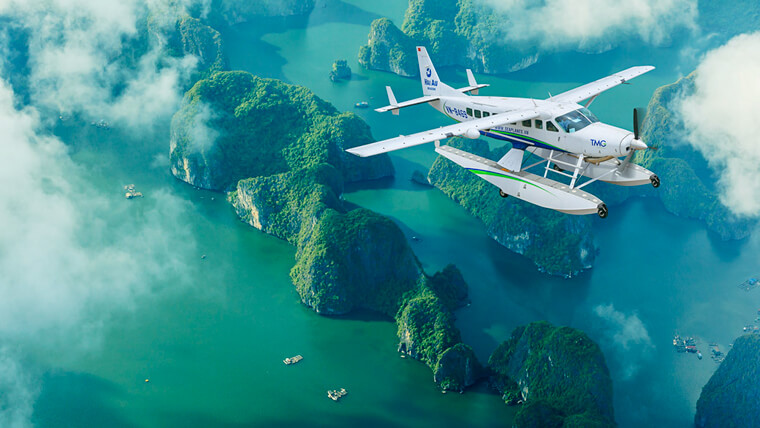 Source: hanoitourist
Currently, there is only Hai Au Airlines that provides seaplane flights in Vietnam. On a 25-minute flight from Tuan Chau Island, you will have an overview of this wonder of nature, with thousands of islands and limestone mountains of various shapes and sizes. The seaplane used is the Cessna Grand Caravan 208B-EX, which is considered one of the safest, flown by an experienced pilot and crew.
- Take-off and landing points: Tuan Chau Port, Villa T7, Ha Long City, Quang Ninh Province.
- Ticket price: 2,040,000 - 2,870,000 VND / person ($88.84 - 125)
- Flight time: 9am, 9:55am, 10:50am, 11:45am, 1:25pm, 2:20pm, 3:15pm & 4:10pm
- Contact: 0962 069 689
- Website: https://www.seaplanes.vn/en
II - What places can be combined with a tour to Tuan Chau Island?
1 - Tuan Chau to Cat Ba island
From Tuan Chau Port, you can completely take a speedboat to Cat Ba Island, where there are many attractive tourist attractions; comfortable resorts, and homestays. The Paradise Express high-speed boat is a new generation with a capacity of 300 passengers, operating extremely stable, departing daily from Tuan Chau Port at 8:30am and 00:30pm, with a travel time of only about 30 minutes.
- Ticket price: 165,000 VND / person / way ($7.2)
- Contact: 0848 244 999 - 098 365 6663
- Website: https://paradisevietnam.com
2 - Tuan Chau Island to Halong Bay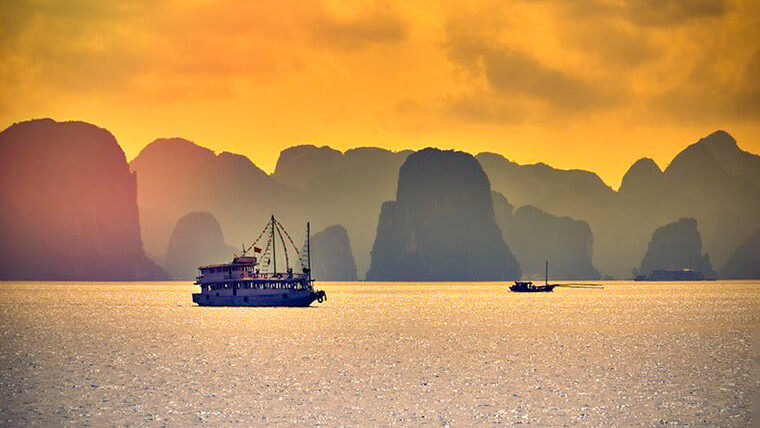 Source: tourscanner
As the largest cruise ship port in Southeast Asia, Tuan Chau International Cruise Port has hundreds of ships departing daily to take tourists to visit Halong Bay. You can fully enjoy a trip to explore this entire scenic area, try to spend a night on the yacht, experience fishing, and enjoy seafood specialties. There are a total of 5 sightsee routes legally allowed to be operated, each with its own theme, duration, and ticket price.
From Tuan Chau Island, you can rent a private boat for about 500,000 - 700,000 VND / hour ($21.78 - 30.5), or join with other loners with a ticket price of 150,000 - 350,000 VND / person ($6.53 - 15.24). Smaller boats with less capacity, such as canoes, will be correspondingly more expensive. If you plan to cruise Halong Bay, you can book through tour and cruise operators, or directly contact the Bay Management Board:
- Halong Bay Management Board: 0904 606 519 - 0911 619 066.
- Thang Loi boat: 0983 824 795
- Bien Ngoc boat: 0914 775 233
- Website: https://halongbay.com.vn
III - Hotels & Resorts on Tuan Chau Island Vietnam
Sunsea Hotel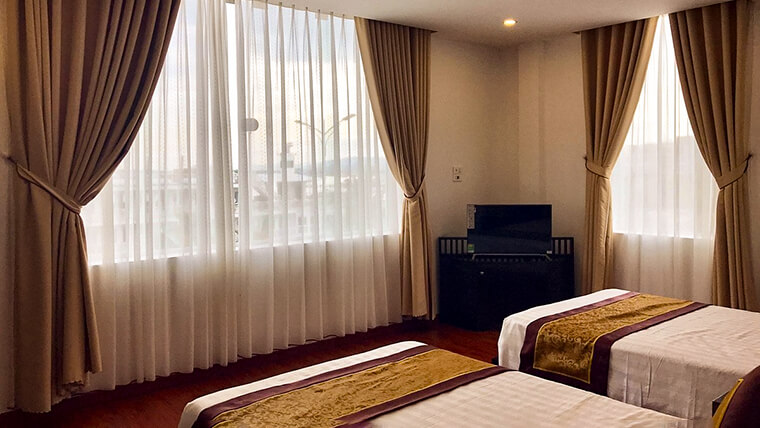 Sunsea Hotel - Source: tripadvisor
This newly built 4-star hotel has intact decoration and equipment, creating a very airy feeling. The highlights here are the diverse service, delicious food, and especially the highly dedicated and professional staff.
- Reference price: 400,000 - 1,500,000 VND / room / night ($17.42 - 65.33)
- Contact: 090 420 60 70
Hidden Charm Hotel
This 3-star hotel is one of the cheapest accommodations on the island, designed in a modern style. This hotel in Tuan Chau Island consists of 50 rooms, each with a beautiful sea view and fully equipped with amenities. Choosing to stay here, you can also experience attractive entertainment activities such as horseback riding, table tennis, fishing, outdoor swimming pool,...
- Reference price: 450,000 - 800,000 VND / room / night ($19.6 - 34.84)
- Contact: 0203 3842 360
Golden Gem Hotel
This hotel does not have impressive architecture or high-class services, but still attracts a huge number of guests each year. The advantage comes from the room rate, which is quite cheap and suitable for everyone's pocket, the rooms are neat and clean, and the location is convenient to other tourist attractions near Tuan Chau Island Vietnam.
- Reference price: 500,000 - 1,500,000 VND / room / night ($21.8 - 65.4)
- Contact: 097 103 36 74
Tuan Chau Resort Ha Long
It has a unique architectural style, the interference between Vietnamese and French cultures, and classical artistic values. There are a total of 247 rooms with full amenities. There are also 2 restaurants, Lagenda and Culinary Garden, serving diverse Asian and European dishes, and spas, and tennis courts,...
- Reference price: 1,082,000 - 1,230,000 VND / room / night ($47.12 - 53.57)
- Contact: 0203 3842 999
Nature has favored Quang Ninh Province with many beautiful scenes, in which Tuan Chau Island has emerged as the most thoroughly renovated tourist destination. In addition to the extremely interesting and modern entertainment areas, this place still retains the beauty of long fine white sand beaches and blue and clear immense water. Surely this place will be the ideal destination for you in the summer, giving you the opportunity to experience the most advanced services.