I - An overview about Halong Bay weather & climate
Located in the hot & humid tropical climate zone, Halong Bay's weather is affected by 2 types of monsoon: the northeast wind in winter and southwest wind in summer. There are 4 seasons in Halong Bay, in which winter and summer are the main seasons, spring and autumn are the transitional seasons lasting for a short time.
- Winter (dry & cold): from November to the end of February, the temperature is about 15 - 20°C
- Spring (warm): from March to the end of April, the temperature is about 23°C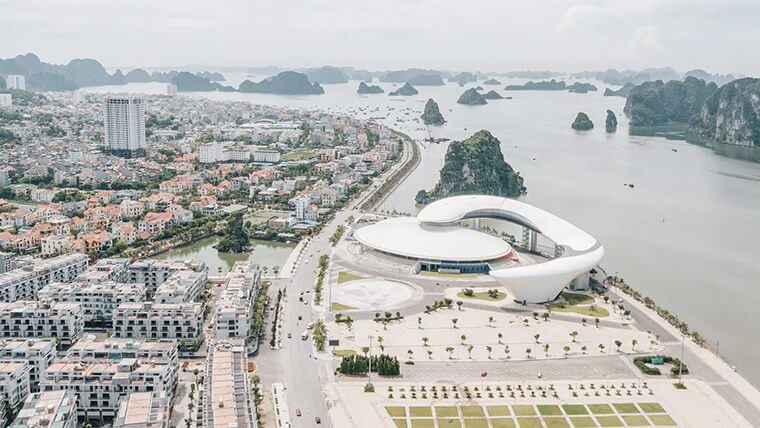 How is the weather in Halong Bay Vietnam? Source: Kenh14
- Summer (hot & wet): from May to the end of August, the average temperature is 28.6°C, the hottest month is August with a peak of the temperature of 38.5°C.
- Autumn (cool): from early September to the end of October, the temperature is about 24.6 - 27.3°C
The average annual temperature in Halong bay is about 24°C, the humidity is 84% and the rainfall is about 1832mm reaching its peak in July & September. Located in an enclosed sea, this area is rarely affected by major storms. The strongest winds in the storms usually reach level 9 and level 10.
II - Halong Bay weather by month
1 - In winter from November to March
Halong Bay in winter is dry & cold with the temperature varying from 8°CC to 20°C. There is little sun and fog sometimes appears. In winter, sea activities such as cruising, kayaking, swimming are more or less hindered and you should check the weather forecast regularly.
Weather in Halong Bay in October
It is dry with a temperature of 24°C. October is also the beginning of the peak season for international tourists to Halong Bay. If you want to travel here during this time, you should make a reservation in advance
In December
It is dry and not too cold in December. The average temperature is about 17°C and decreases at night. This is also the peak of the dry season with about 19mm of rainfall. There are no more sudden rains and the sky is clearer suitable for visiting the bay
Halong Bay weather January
In January, there is much rain and the temperature is lower compared to December.
February
Fog begins to appear over the bay, The temperature is 16°C and rainfall is 22mm
March
The weather in March gradually warms up with the temperature about 19°C. The often-occur fog creates a fanciful and romantic scene. On days without fog, the sky is usually clear, with a lot of sunshine. Mountain climbing is an interesting activity that you should not miss when coming to Ha Long in March.
2 - Halong Bay weather in spring - April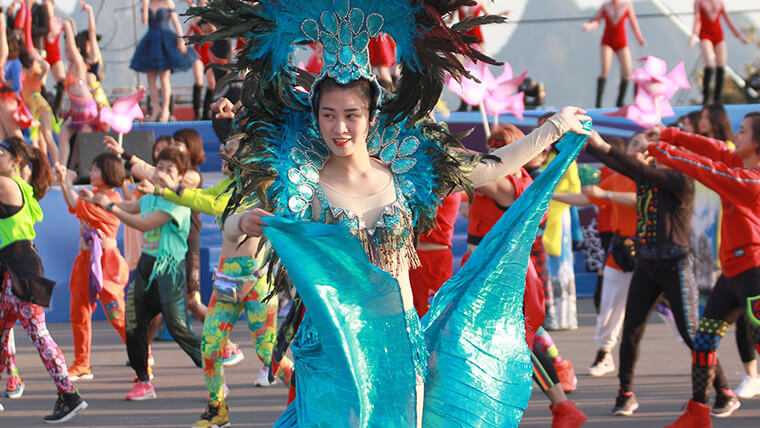 Carnival Ha Long - Source: Internet
April is the transactional time between winter and summer with the temperature being 23°C and rainfall being 90mm. Halong Bay weather in April is so pleasant, facilitating sea tourism, leisure tourism,... The end of April in time for Carnaval Halong - a unique festival to introduce the breathtaking landscape and cultural features in Halong.
2 - Weather in Halong Bay in summer - from May to September
Halong Bay in summer is extremely hot with high temperatures (up to 37°C in July & August) and it's wet due to the heavy rains. The sunshine and no-cloudy days in summer are the best time for outdoor activities such as kayaking, swimming, sunbathing. There is heavy rain and major storms in summer which affects cruise tours.
Coming to Halong Bay in summer, you need to pay more attention to the Halong Bay weather forecast to limit visiting on cloudy & rainy days caused by storms and tropical depressions. Also, you should bring sunscreen, long sleeve shirts with bright colors, and wide-brimmed hats to avoid the harsh sunlight at noon.
May
May is the end of the international tourist season in Halong Bay. The weather in May is a bit hot with an average temperature of 27°C.
June
It welcomes more pouring rains and the temperature in June is getting higher up to 30°C. The Storm season starts in June, so you should be careful and regularly check the weather forecast.
Halong Bay weather in July and August
The temperature and rainfall in Halong Bay reach peaks. It is about 38°C and the monthly rainfall is 350mm. The bad & unstable weather can let you down with outdoor activities.
September
Compared to a couple of months previously, the temperature in September decreased slightly, fluctuating from 24°C to 33°C.
4 - Weather in Halong Bay in autumn - October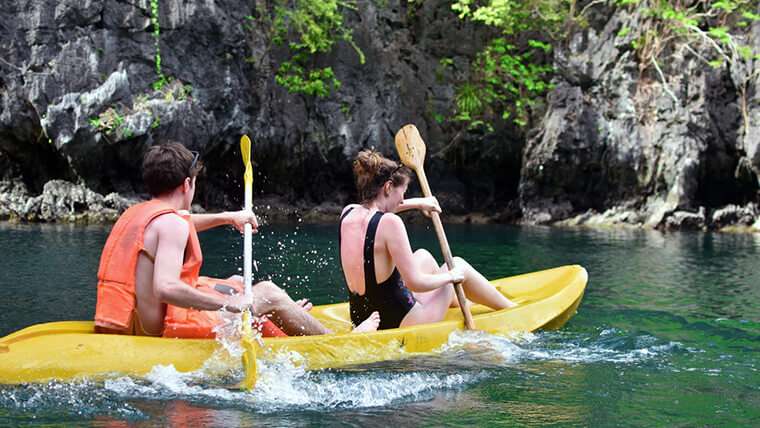 Source: John Mayer
Temperature and rainfall continue to decrease dramatically compared to September. Storms are likely to appear but for less often than in summer.
In general, Halong Bay weather is quite temperate, which is considered as a key pull factor attracting more tourists visiting here all year round. To limit the negative impact of bad weather, the best time to visit Halong Bay is from March to May and from September to November.