Incense in different countries serves different purposes. Incense in Vietnam not only is an important part of traditional rites but also contributes to the diversity of the country's tourism. Vietnamese incense making villages attract more and more tourists, who like to learn more about its making process, take amazing pictures with "big incense flowers" and buy some as a souvenir.
I - Vietnamese incense in the local cultural - spiritual life
1 - The origin of Vietnamese incense burning
Incense burning in Vietnam's temple - Source: bizweb
The custom of burning incense was started in Egypt about 3.500 years ago, then passed through China 2,000 years ago and followed the step of Chinese migrants to other Asian countries, Vietnam is one of which has absorbed that special culture.
In the subconscious of every Vietnamese always exists a belief that somewhere in the infinity, there are powers, invisible "people" who are following them, standing by them to listen to their sincere wishes sent with the smoke of incense once it is burnt. A stick of incense in Vietnam plays the role of a sacred connection between the land of the living and the afterworld.
Therefore, Vietnamese incense sticks burning is considered a traditional rite indispensable on every occasion, especially the death anniversary and the Tet holiday. No matter urban or rural, lowland or highland, whenever New Year comes, all houses light sticks of incense and stick them on the ancestral altar to show respect to the former generations, pray for peace and happiness to everyone and let the atmosphere be more warm and joyful,...
In Vietnam, Spring is a season of festivals. Spring days are also the time for family members to gather and enjoy happy moments together. Incense burnt at this time makes everyone feel warm. incense in Vietnam is now no longer a common commodity but an indispensable spiritual product of the Vietnamese people. Along with other traditional customs, burning incense has contributed to creating and preserving the value of Vietnam's national identity.
2 - How does the burning of incense in Vietnam take place?
Vietnamese incense holder - Source: Jo Ann Tomaselli
Burning incense has become a habit of Vietnamese people. It takes place on every holiday, New Year's day, Full Moon day, the 1st day of the lunar months, and death anniversary because these are the times when the connection between yin and yang is strongest.
The incense must be lit in odd numbers 1,3,5,7,9 since in Oriental culture, odd numbers represent positive energy and good luck while even numbers like 2,4,6,8 represent negativeness, carrying heavy miasma. Incense in Vietnam is burnt in different number with different purpose:
- Burn 1 incense stick to pray for peace, fortune and happiness
- Burn 3 incense sticks to remind themselves of being calm and kind
- Burn 5 incense sticks before big events, needing the observation of sky and earth so that everything can go on in a smooth way.
- Burn 9 incense sticks in an emergency, in a dilemma when you don't know what to do.
II - Top 4 famous Vietnamese incense making villages
Since the photograph of an incense village in Vietnam by photographer Azim Khan Ronnie was honored at the UN climate change conference COP26 in 2021, the great tourism potential of this cultural object has been realized. Long-term incense-making villages in Vietnam have since then attracted many tourists both domestically and internationally.
1 - Phia Thap - a famous village making incense in Vietnam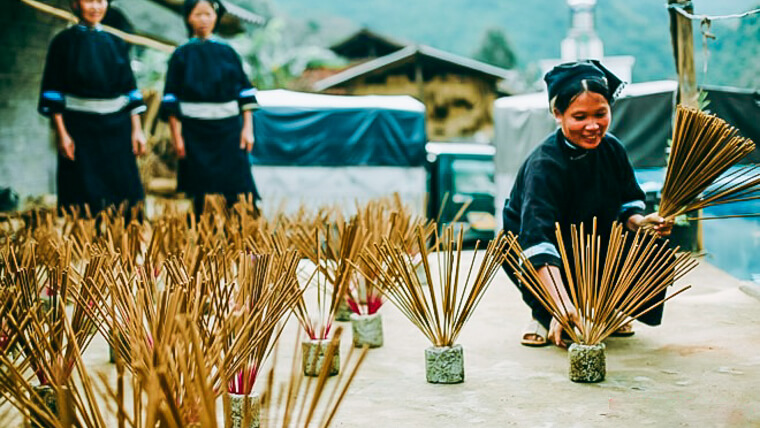 Phia Thap incense village - Source: baoquangninh
Famous for the natural aroma, flammability and the nice shape when burning out and the sustainability, Phia Thap incense is consumed not only by people in Cao Bang province but also neighboring areas such as Bac Kan province and Ha Giang province. The profession of making incense of the Nung An people in Phia Thap village has existed for a long time, but no one knows for sure who was its "father".
The special thing is that 100% of the households in this Vietnamese incense making village get the hang of the job and work hard to maintain it. 53 households of the village are 53 small workshops of incense in Vietnam. In the early morning, small, rustic cottages under the foot of green mountains wake up to prepare for the work. Each person takes over a task, some takes a basket to the forest to find ingredients, some collects dry bark to grind into powder,... The working atmosphere seems so hectic.
To dry incense, the villagers make full use of the vacant places, the rice fields, the main roads, the foot of stilt houses. That's why when traveling to Phia Thap incense village, you will find incense sticks tightened like large flowers everywhere.
- Address: Quang Uyen district, Cao Bang province
2 - Thuy Xuan village - top most well-known Vietnamese incense making village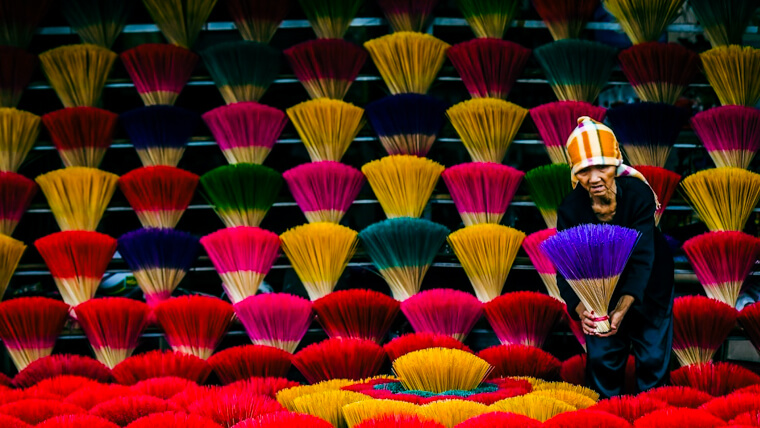 Thuy Xuan incense village in Hue city - Source: ronkaiser
In the list of famous incense villages in Vietnam, Thuy Xuan incense village (Hue city) located right on Huyen Tran Cong Chua street, next to the gentle and poetic Perfume river is one of the outstanding names. Like many other traditional villages making incense in Vietnam, Thuy Xuan village overwhelms visitors with the incense's aroma which brings them relaxation and tranquility even when they have yet to see it. Not only your smell is caressed but our sight is also overwhelmed by the colorful "incense flowers" that are exposed on every road of the village.
With herbal ingredients and a secret formula, Vietnamese incense sticks made in Thuy Xuan village boasts a long lasting fragrance, durable hue and eye-catching beauty. Apart from being picky in ingredient selection, artisans of the village still maintain the traditional manual method instead of adopting technology. Although it is somewhat labor-wasting, the productivity is not high as well, this is the way Thuy Xuan people preserve and treasure values passed down from their fathers.
- Address: No.84 Huyen Tran Cong Chua street, Thuy Xuan, Hue city
3 - Quang Phu Cau incense village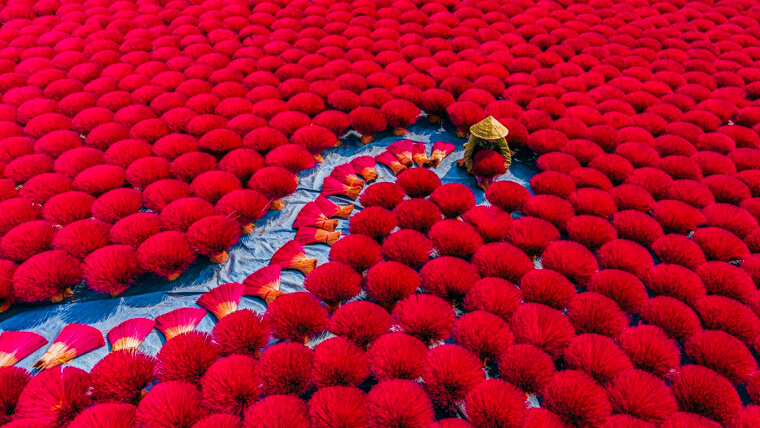 Quang Phu Cau incense village - Source: toquoc
About 36km from the center of Hanoi to the South, Quang Phu Cau, a village producing stick incense in Vietnam has been present for a century. Right from the first step to the village, tourists are attracted by the bright red color of the Vietnamese incense sticks foot which seems a bit more brilliant in the sunlight. Going through the narrow village roads busy with vehicles transporting goods in and out, you may easily find the outstanding color of incense sticks everywhere. They look like "giant bouquets of flowers" stretching along the road, covering all house yards, communal house's yard,..., making visitors astonished.
The profession of making incense is hectic all year round, especially in days near Tet holiday. Every year, in October of the lunar calendar, orders start to flood. That's when manufacturing workshops in the village must operate at a full capacity. At that time, everyone, regardless of owner or worker, has to roll up their sleeves. They work arduously without checking time, and only have a break when their bodies are absolutely exhausted. The work of making Vietnamese incense is busy but because of the happiness and the love for the job, they forget all fatigue.
- Address: Quang Phu Cau commune, Ung Hoa district, Hanoi
4 - Cao Thon incense village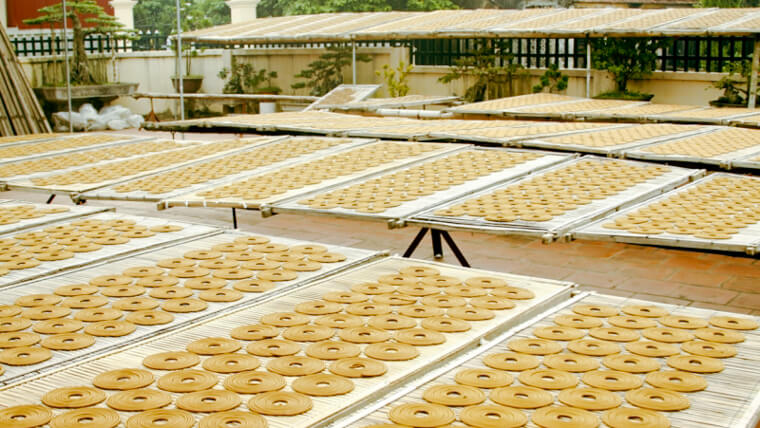 Cao Thong incense making village - Source: tuoitrethudo
Cao Thon village right at the life dyke of the Red river, deserves the first position in the list of the oldest villages making incense in Vietnam. With a history of more than 200 years, this place is considered the cradle of the traditional incense making profession in Vietnam.
Due to industrialization, the number of handmade incense making households in Cao Thon village nowadays is less than fingers on our hands because most of them have made use of machinery to improve productivity and reduce labor force.
However, the quality of Vietnamese incense from Cao Thon village remains unchanged since they still follow the core formula passed down from many generations. The powder to create Cao Thon incense is a combination of several herbs and China medicines including angelica, cypress cypress, agarwood, anise, cinnamon, licorice…
With many variants: ring incense, stick incense, cinnamon incense, black incense, the brand Cao Son incense has become a household name and also found its way to reach foreign markets like India, Japan, Malaysia…
A minor note: Those planning to visit craft villages of this type should remember to wear a mask to prevent allergies to the scents of incense in Vietnam.
- Address: Bao Khe commune, Hung Yen city, Hung Yen province
Vietnamese incense nowadays is not simply a thing associated with tradition but a means to impart the image of a beautiful country to international visitors. That's why it is believed to live and flourish with this nation forever.