In the world and especially in Western countries, Valentine's Day is often seen as a occasion for people to express their affection for each other. Years ago, this holiday was introduced to Vietnam as a result of cultural exchanges with countries around the world. Despite keeping the original meaning, Vietnamese Valentine's Day also has certain changes to suit the personality, customs and ideology of the locals.
I - How is Valentine's Day in Vietnam celebrated?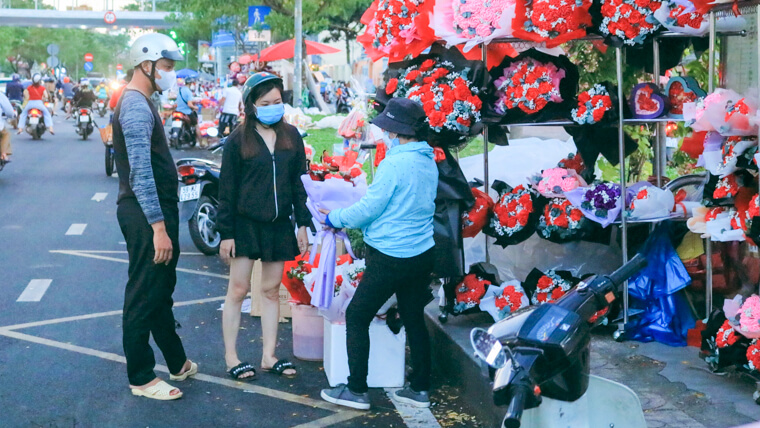 Does Vietnam celebrate Valentine's day? - Source: thanhnien.vn
While countries around the world consider this a day of affection, between lovers, family, friends, and even teachers, Valentine Day in Vietnam is usually reserved for romantic love. Gifts on this day, wherever they are, are usually greeting cards, chocolates, and especially red roses - the flowers symbolizing passionate love. In addition to the traditional gifts as above, each couple also creates new and attractive options to give sweet and meaningful impressions.
Other souvenirs such as teddy bears, pillows, lamps, or couple items such as clothes, necklaces, rings, hats and mugs are also popular on Valentine's Day in Vietnam. There are some people who even buy more luxurious items such as cosmetics, perfume for their girlfriend, and a high-end cravat, or watch for their boyfriend. In Vietnam, girls are often more favored and assumed to be the recipients of gifts, whether they have a lover or not, they will likely be given flowers by male colleagues or friends.
The mixture of Eastern and Western cultures has created a unique Valentine's day in Vietnam, which is loved and participated in by many young people. This is an opportunity for couples to express and foster their true feelings, having fun and memorable moments together. That's why on this occasion, the streets and restaurants are often quite crowded, and hotels and motels are also overloaded. If you intend to have a vacation to Vietnam on this occasion, you need to pay attention to making the reservation in advance to avoid the case that there are no seats when the date arrives.
II - Top 4 best places for Valentine's Day in Vietnam
In general, if you want to come on this occasion, the big tourist cities are the best places to experience Vietnamese Valentine's Day. You can immerse yourself in the bustling atmosphere of the street, filled with lots of colorful flower stalls, couples holding hands, and various gift shops. Many entertainment places or restaurants will also have discounts, interesting activities, and special gifts for couples. Here are a few outstanding destinations in Vietnam that you can refer to:
1 - Hanoi - top 4 places for Valentine's Day in Vietnam
On Valentine's Day, Hanoi Old Quarter and the surrounding area are the ideal entertainment and dining places that couples should not miss. Also known as 36 streets, each street here focuses on selling a different item, especially in the famous Dong Xuan Market. Having a holiday in Hanoi this time, you are able to participate in the busy and bustling shopping scene, buying a variety of gifts for your loved ones.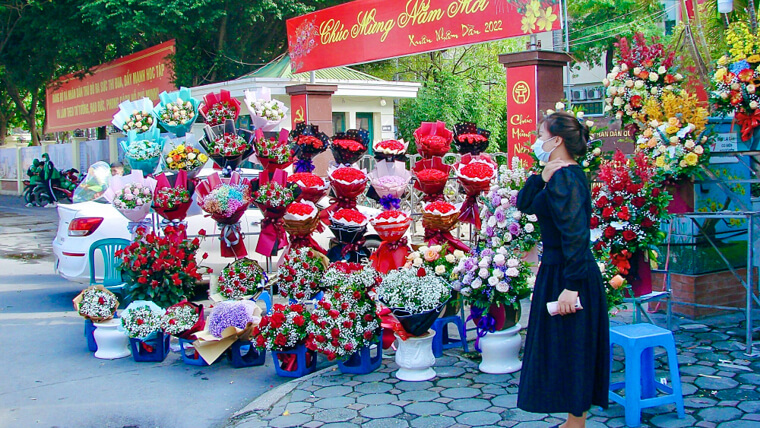 Hanoi is an ideal destination on Valentine's Day in Vietnam - Source: giadinhonline.vn
Not only is it a place of beautiful and unique French architecture, but Hanoi Old Quarter is also a culinary paradise with many mouth-watering dishes that are not expensive. In the chilly atmosphere at the beginning of the year, couples can walk hand in hand to admire the scenery, and enjoy street food and sweet ice cream. By the side of the fanciful Hoan Kiem Lake, you will have extremely romantic moments in the evening, taking pictures together under the shimmering colored lights and next to the flower road.
In the list of ideal places to have a date on Valentine's Day in Vietnam, West Lake Hanoi is definitely indispensable, where on these days it is quite quiet, foggy but still airy. This is a familiar dating place for many couples with rich choices such as walking around the lake, duck riding, cycling, or many cafes with extremely beautiful views, allowing you to freely snuggle, express feelings and check-in. In particular, there are also roads with movie-like beautiful architecture around West Lake, which young people favorably named Korean roads and Japanese roads.
2 - Ho Chi Minh City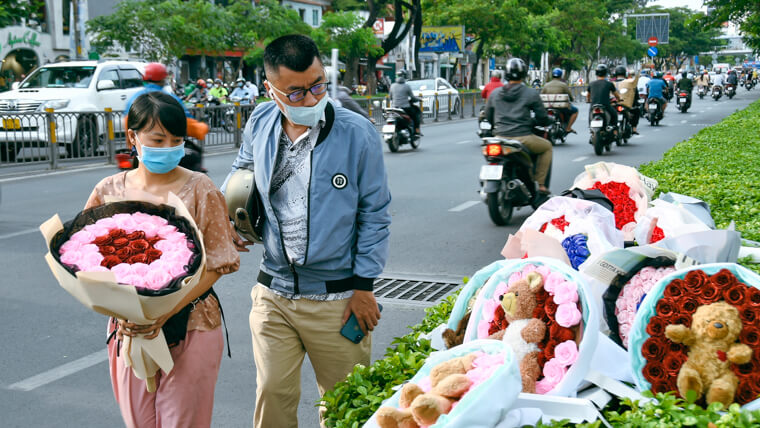 Vietnamese Valentine's Day in Ho Chi Minh City - Source: thanhnien.vn
Ho Chi Minh City has many pedestrian streets such as Bui Vien or Nguyen Hue, the paradise of various activities whether it is a weekday or Valentine's Day in Vietnam. The atmosphere here is extremely bustling, with countless clubs, eateries, performances by artists on the streets and sidewalks, bringing exciting emotions. In particular, on a holiday like this, there will be many attractive programs - perfect places for you to go out with your loved ones and make wonderful memories together.
In addition, Anh Sao Bridge and Ban Nguyet Lake in District 7 Ho Chi Minh City is also one of the most romantic places to celebrate Valentine's Day in Vietnam. From Thursday to Sunday, LED lights and fountains will be turned on, you can watch the twinkling lights and artistic scenery from the bridge. Not many things could be more wonderful than holding hands for a walk around the lake, then taking lots of check-in photos next to this colorful and romantic scenery.
3 - Danang City - top places for Valentine in Vietnam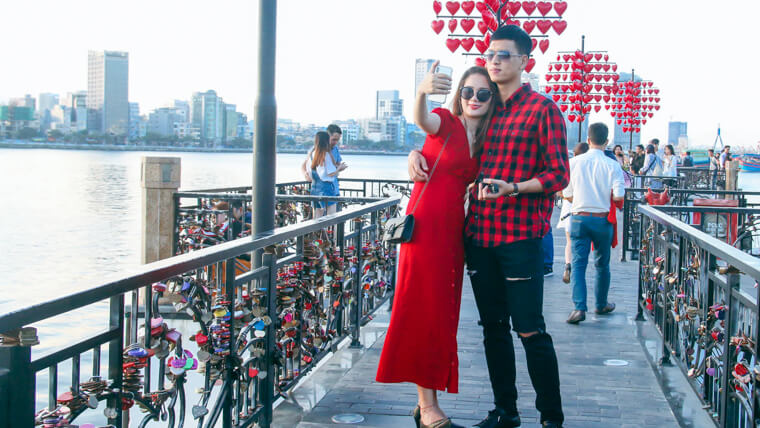 Happy valentine in Danang - Source: thanhnien.vn
As its name suggests, perhaps Love Bridge is one of the famous destinations not to be missed with tourists and residents of Danang City every Valentine's Day in Vietnam. This is considered the most romantic dating mecca in this coastal city, built in European architecture across the romantic Han River. Especially at night, it is lit up with sparkling lights, bringing a shimmering and fanciful beauty that makes the space more romantic. Similar to love bridges in other countries, this Love Bridge also has an area where couples can attach a lock engraved with their names, proving eternal love.
Compared to many other attractions in Danang City, SunWorld Ba Na Hills is an outstandingly impressive tourist complex, welcoming hundreds of couples on Valentine's Day in Vietnam. This is also a rare place that can fully show the characteristics of 4 seasons in one day, sometimes the air is pleasant with hundreds of flowers blooming, and sometimes it is sunny with many outdoor activities. In addition, you can see the whole very romantic city or check in at the Golden Bridge, which is considered as beautiful as the CGI scene of the famous Marvel movie Eternals.
Helio Center is the largest entertainment complex in Damang, selling all items from popular to high-class in a very bustling atmosphere, especially on the occasion of Valentine's Day in Vietnam. This place is divided into many areas such as a children's play area, coffee shops, candy bars, art stages, and especially the famous Helio night market. Coming here, the lovebirds will have wonderful experiences of walking hand in hand, trying attractive snacks, fast food and interesting games. There are a variety of indoor and outdoor games, from ferris wheel, crash tram driving, shooting or bowling, supported by the modern Power Card payment system.
4 - Phan Thiet City on Vietnamese Valentine's Day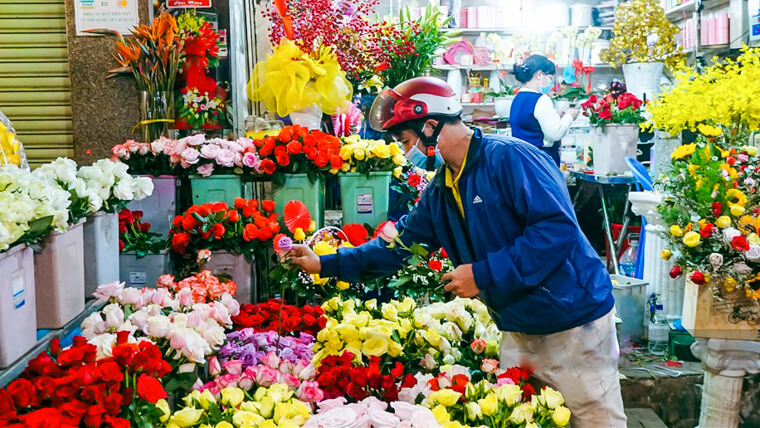 Flowers for valentine day - Source: feed24h.net
As a place famous for its blue sea and white sand, Phan Thiet City of Binh Thuan Province will give you wonderful relaxing moments with your lover on Valentine's Day in Vietnam. There are many resorts here, most of which are thatched-roof houses located right on the beach, seemingly rustic but fully equipped, or luxurious hotels with high-class services. Coming here, couples can also visit and take pictures at famous attractions such as Poshanu Cham Tower, Duc Thanh School, or go sandboarding together at the beautiful Sand Dunes of Mui Ne Cape.
In addition to swimming and visiting interesting tourist sites, you and your partner can also have an interesting discovery trip, and learn and participate in the life of local fishermen. You can enjoy very special and attractive seafood dishes here, walk around the night market and buy small gifts for your loved one.
Valentine's Day in Vietnam is currently a big holiday with various interesting activities, especially for young people in love. In addition to giving each other gifts, chocolates and flowers, this is also an opportunity for Vietnamese couples to express their feelings and spend private time together. Hopefully, the above information has helped you understand more about this special occasion, explaining why Vietnam is a suitable place to visit for Valentine's Day.