Among the crazy traffic in Vietnam, tourists sometimes are impressed by the slow-vibe of the cyclo on the big roads. Cyclo in Vietnam are not only a mode of transportation in the country but also a crucial part of Vietnamese culture. It is a popular and favorite vehicle of foreigners, which brings very impressive and exhilarating experiences on the way discovering Hanoi capital city.
I - The long-standing history of cyclos in Vietnam
1 - Vietnamese rickshaw - the forerunner of cyclos in Vietnam
At the beginning of 1884, two "djinn rickshaws" or "hand-drawn carts" were imported from Japan to Vietnam (called Jinrikisha in Japanese). They were pulled by a porter running in front and gripping the cart's handles. One of the very first two rickshaws was used by Bishop Puginier, a powerful missionary, and the other was used by the envoy, then finally passed to a local envoy to study its manufacture and produce around 50 rickshaws for usage in the North of Vietnam.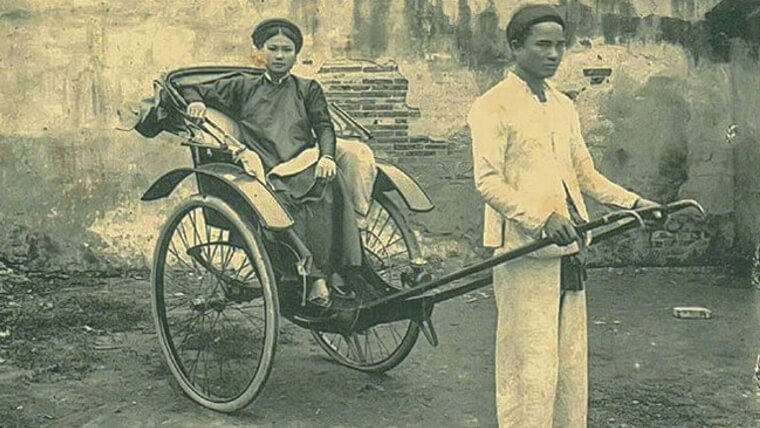 Rickshaws were very popular until the advent of cyclos in Vietnam - Source: baodanang
Since then, the images of Vietnamese rickshaw gradually became familiar on Hanoi's streets. Initially, rickshaws used to serve French authorities and seniors in Hanoi, but later it became the symbol of wealth of Hanoian traders. The advent of the rickshaws changed the way of transportation of the rich and mandarins, who had mainly ridden horses, sat on palanquin or hammock on land.
After Hanoi became a colonial city, rickshaws became the main means of transportation. In the 1930s, cars, bicycles and especially cyclo in Vietnam - an alternative to rickshaws were introduced. Nevertheless, it was not until the period from 1945 to 1946 when rickshaws were considered barbaric and the lives of rickshaw pullers' rose public concern, which led to the gradual disappearance of the rickshaws from the streets of Vietnam in general and Hanoi in particular. This was an important milestone that marked the end of the rickshaw after more than 60 years in Hanoi. Then, cyclos "took the throne" of the rickshaws and dominated the streets in Vietnam.
2 - The prime period of cyclos in Vietnam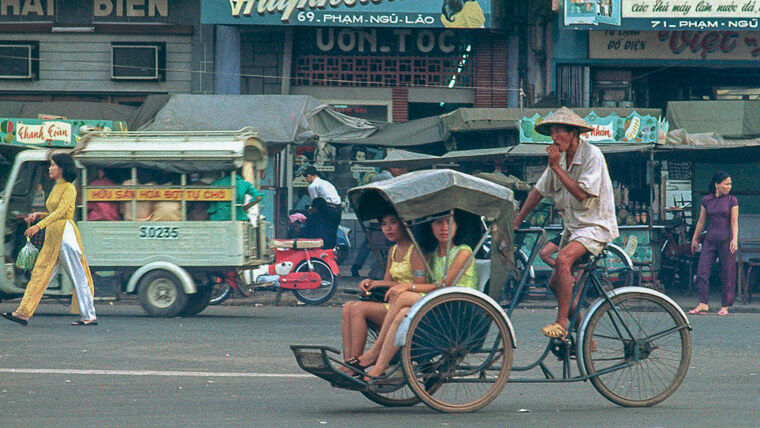 Source: tumblr
After the 1950s, cyclos became a popular commute mode in the streets because of the capacity of transporting goods as well as many people at the same time. The cyclo in Vietnam also played an important role in the wars against Imperialism, which could carry wounded people, evacuate people to safer areas, transport goods, and weapons, and that cars could not carry due to the narrow terrains, etc. A cyclo could carry up to 100 kilograms of goods. These are the reasons for the rapid growth in the number and popularity of the cyclos in Vietnam.
3 - The deterioration of Vietnam cyclos
During the 1970s and 1980s, the advent of motorbikes gradually replaced the "golden" position of cyclos, typically Super Cub of Honda. The development in terms of quantity and styles of cyclos drove rickshaws to the verge of distinction. In the turning point to the 20th century, each person owned a motorbike or took a motorbike taxi for commuting instead of cyclos because of their cost efficiency and high speed compared to cyclos'. Hence, the popularity of xich lo in Vietnam significantly decreased, most of the cyclos were used for carrying heavy and bulky goods that couldn't be carried by motorbike.
4 - Cyclos in Vietnam nowadays
In recent years, Vietnamese cyclos have risen to popularity in significant "tourist" cities such as Hanoi, Hoi An, Hue, Hoi An and Ho Chi Minh city,... Cyclos are considered the special feature in Vietnam tourism that tourists can not only comfortably observe the surrounding landscapes and vehicles on streets but also enjoy open air and the vibrant, hectic pace of life of the locals. Albeit there are no seat belts and there is nothing in front to protect them, it is absolutely safe thanks to its low speed.
Cyclos in Vietnam now are run in fixed routes, strictly controlled by particular enterprises. They have their own number plates, registered by local authorities. In some places, cyclists wear uniforms and they can communicate in English at an intermediate level. Lonely Planet suggests that getting around Vietnam on cyclos on the street is a worthwhile experience in Vietnam. Kuoni, the famous tourist operator in Switzerland also commented that the Hanoi cyclo tour is a unique and once-in-a-lifetime memory for tourists.
II - Top 4 best places to experience cyclos in Vietnam
1 - Experience Vietnam cyclos in Hanoi
Currently in Hanoi, there are 260 licensed cyclos under the management of 4 enterprises, namely: Sans - Souci, Huy Phong Joint Stock Company, Lam Anh Trading and Service Joint Stock Company and Cultural Service Trading Company. To reduce traffic jams, cyclists are allowed to work from: 7am - 8:30am and 4:30pm - 7pm in fixed routes. Price for a tour surrounding Hoan Kiem lake: around 200,000 VND/ tour for 1 or 2 people ($8.75)
Notes:
- There are a maximum of 5 cyclists in a group of tourist cyclos which are at least 100m apart.
- The cyclos operated in other routes will be fined following the law.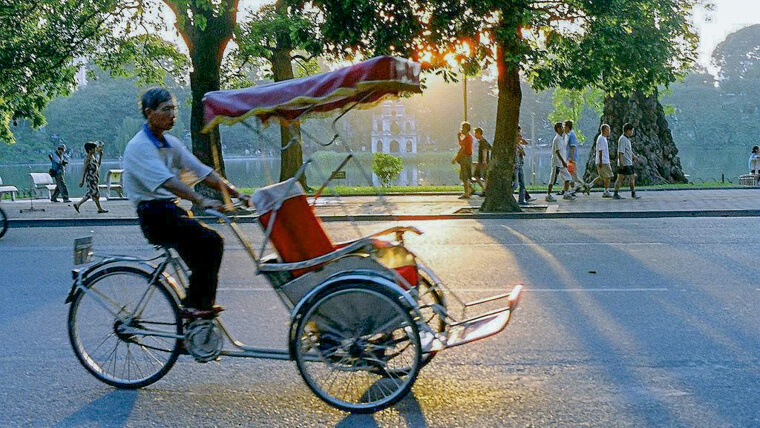 Hanoi is an ideal place to experience cyclos in Vietnam - Source: mytourcdn
Two main cyclo routes in Hanoi which are licensed by the Ministry of Department of Transport:
- Route 1: Yen Phu street - Cua Bac street - Nguyen Tri Phuong street - Thang Long Imperial Citadel (vice versa)
- Route 2: Yen Phu street - Tran Nhat Duat street - Tran Quang Khai street - Le Phung Hieu street - Ngo Quyen street - Trang Tien street - Dinh Tien Hoang street - Le Thai To street - Hang Khay street - Dinh Tien Hoang street - Hang Dau street - Cau Go street - Tran Quang Khai street.
2 - Hue city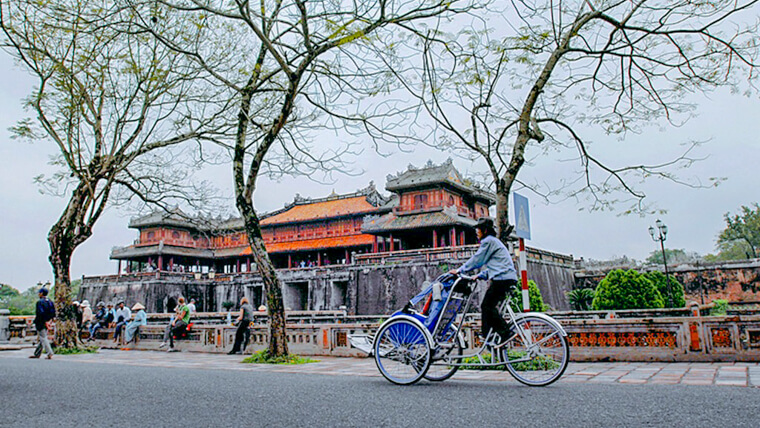 Tourists excitingly experience Vietnam cyclos in Hue - Source: thodiaxuhue
In Hue city, there are five cyclo trade unions, which are named after particular parking locations to wait for guests such as Morin, Huong Giang, Ga Hue, Festival, Dai Noi, and Cua Ngan. Those members of the Hue's Tourism Cyclo Trade Union are well trained in foreign languages as well as manners to create a trademark of professional, reliable, hospitable cyclo services in Hue city as well as cyclos in Vietnam.
There are seven fixed routes:
- Route 1: Hien Nhon gate - bus stop: 40,000 VND/ person ($1.75)
- Route 2: Hien Nhon gate - Dinh Tien Hoang - Le Duan - Kim Long - Thien Mu: 80,000 VND/ person ($3.5)
- Route 3: Hien Nhon gate - Doan Thi Diem - Dang Thai Than - Yet Kieu - Van Xuan bridge - Phu Mong - Thien Mu: 80,000 VND/ person ($3.5)
- Route 4: Hotel - around Hue Imperial City
- Route 5: Hotel - cross Dong Ba market - Mai Thuc Loan - Dang Thai Than - Quang Duc gate: 100,000 VND/ person ($4.37)
- Route 6: Hien Nhon gate - Tinh Tam lake (drop off at Hien Nhon gate): 50,000 VND/ person ($2.2)
- Route 7: Dang Thai Than - Yet Kieu - Nguyen Trai - Nguyen Hoang bus station: 70,000 VND/ person ($3.06)
Note when taking a cyclo ride in Vietnam's Hue city:
- Uniform: The legal cyclists wear the blue uniform with the union's logo and a card issued by the Cyclo Trade Union of Hue city.
- Number plate: 75XL - xxx -xx
- Contact: 0886 284 044 (Mr. Nguyen Tan Xuyen - President of the Tourism Cyclo Trade Union in Hue)
- Website: http://visithue.vn/
3 - Hoi An city - a peaceful place to enjoy cyclos in Vietnam
Hoi An Cyclo Union was founded and operated in 2000, taking guests across Hoi An ancient town, Tra Que vegetable village, Thanh Ha pottery village, and areas near Cua Dai beach. Currently, the Union consists of 102 cyclists, divided into 4 groups with 5 parking locations. The working time ranges from 6am - 5pm (if there is a tour in the evening, it usually lasts until 22pm).
The numbers of the cyclos are counted from 1 to 104 (apart from the numbers 13 and 66). All cyclists must wear uniforms in blue color and printed with the brand of Hoi An Cyclo Trade Union and the red cyclo numbers in the left breast pocket of the uniform together with the red image of the Japanese Covered Bridge in the upper part of the left sleeve.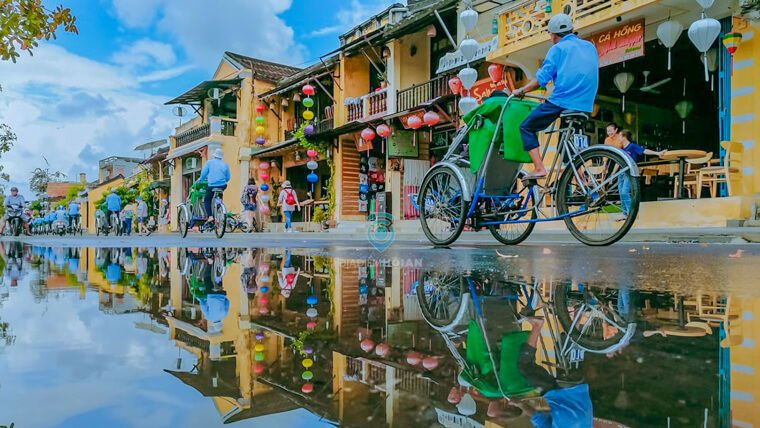 Cyclos in Vietnam - Source: diadiemhoian
The main route: cross 3 streets including Bach Dang - Tran Phu - Nguyen Thai Hoc. Bach Dang street is like a miniature of Hoi An ancient town, which is home to rows of ancient houses with unique architecture, especially Tan Ky old house. Tran Phu street is outstanding with typical old houses, particularly the Assembly Halls constructed by the Chinese. Nguyen Thai Hoc street is characterized by the typical French-designed houses, the most outstanding is the Museum of Folk Culture.
Most cyclists are competent in English and French. The cyclos move in a row on the streets, 5 ones must keep a certain distance to guarantee the safety and street order. They are not allowed to smoke and drink alcohol while driving, so customers can feel worry free once sitting on the Vietnam cyclos.
- Price: 120,000 VND/ way ($5.25)
4 - Cyclos in Vietnam: cyclo tours in Ho Chi Minh city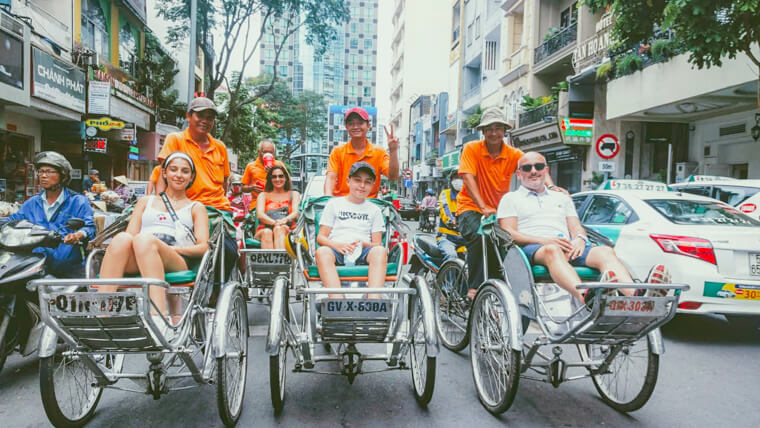 Source: visithcmc
My Myst Dong Khoi is a reputative cyclo-tour provider in Ho Chi Minh city. It provides two types of tours: sightseeing tour and cuisine tour
Option 1: The War Remnants Museum and Independence Palace
- Duration: 3,5 hours
- Price: from $50/ person
Option 2: Navigate the city's tree-lined streets, admire colonial buildings (the Hotel de Ville, Saigon Notre Dame Cathedral, Saigon Central Post Office), sample fresh seasonal fruits (longan, rambutan and mango) at the first culinary stopover, queue up to buy Saigon's best Banh mi (roast pork sandwich) and an authentic egg coffee.
- Duration: 2,5 hours
- Price: $40/ person
- Contact: 0283 520 3040
- Website: https://www.themystdongkhoihotel.com/xich-lo-cuisine-tour
Besides that, you can experience cyclos in Vietnam with Saigon Adventure
- Route 1: Cyclo and markets: Ben Thanh market, Pet street, Thien Hau temple (the Oldest Chinese temple) in Chinatown, Nguyen Thien Thuat Oldest Apartment.
- Route 2: Cyclo and spectacular landmarks: Ward Remnants Museum, Independence Palace, Saigon Notre Dame Cathedral, Saigon Central Post Office, Saigon Opera House, Saigon river, and Ben Thanh market.
- Duration: 3 hours
- Price: from $25/ adult
- Contact: 0977 123 244
- Website: https://www.saigonadventure.com/cyclo-city-tour
The route "Hon Ngoc Phuong Dong" (the Pear of the Orient) held by Cyclo Tour (Xich Lo tour) is an outstanding cyclo tour in Ho Chi Minh City:
- Route: Saigon Opera House - Ben Thanh market - Bitexco tower - Independence Palace - Saigon Notre Dame Cathedral - Saigon Central Post Office
- Duration: 60 minutes
- Length: 4.7km
- Contact: 0902 647 769
- Website: http://xichlotours.com/
If you enjoy the true pace of life of local people in Vietnam, particularly in Hanoi, Hue, Hoi An and Ho Chi Minh city, taking a cyclo tour is an ideal option that promises to give you a wonderful experience. Hopefully, you will have memorable moments on cyclos in Vietnam.