Vietnam is a beautiful country with many interesting natural landscapes stretching along its length, which makes a trip by car extremely memorable. To have a safe and satisfying vacation, it is important to find a reputable address that can provide high quality vehicles at a reasonable price. If you still have questions about car rental in Vietnam, you can immediately refer to the information in the article of Vietnamtrips below.
I - How to get a car rental in Vietnam?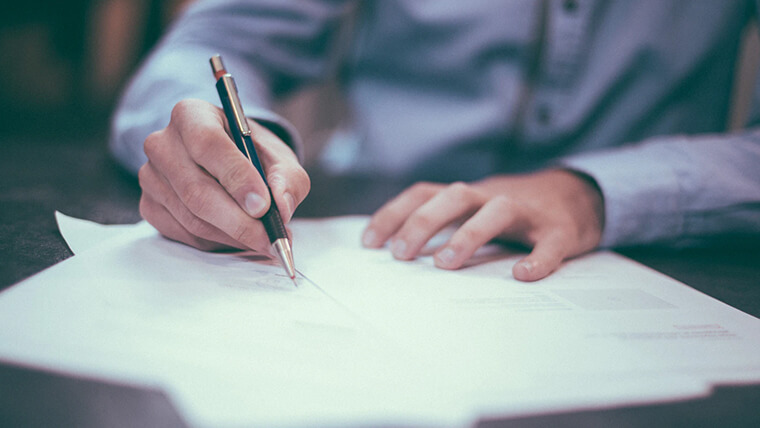 Documents to rent a car - Source: Scott Graham
1 - Rent a car in Vietnam for self-drive
As for the question, should foreigners get a Vietnam car rental self drive? The answer depends on personal preference, driving technique, experience and how much you know about the country. In general, renting a self-driving car has many advantages such as freedom to control time, schedule and destination, convenient for you to stop along the way as you like. Moreover, the trip will be more personal, suitable for families or groups of friends who want to have private time together without interference from others.
However, for self-driving car rental in Vietnam, there are also some troubles such as you must have driving experience, or finding the way to the destination can be difficult, especially in places where the infrastructure is not so developed. In addition, even though your international and national driver's licenses are valid in Vietnam, you must bring both, or else you must convert to a Vietnamese driver's license for more convenient use. You will need to send a set of documents to the Directorate for Roads of Vietnam or the Department of Transport, which include a notarized translation of your driver's license, your passport copy,... The price for one time change is 135,000 VND ($5.44).
The procedure for self-driving car rental in Vietnam is also quite simple, you just need to prepare personal papers, passport, driving license and deposit. Usually the facilities will ask you to pay the deposit in advance, and after the contract has been signed, you bring it with the documents to the car park to pick up the car. Some places even allow you to register from abroad, so after landing at the airport, you can go directly to the pick-up place and start your trip. Hiring a car in Vietnam can cost from 500,000 VND ($20.17) depending on the quality, capacity and model of the vehicle, excluding additional fees, and you must deposit about 20,000,000 VND ($806.61) or more in advance.
2 - Vietnam car rental with driver
Although self-driving cars have many advantages, many foreigners still choose a car rental in Vietnam with a driver because of convenience and safety. With a driver accompanying you, you just wait for the car to arrive and sit still to the destination you want to go without having to find the way. You can relax, no need to stress on the long journey but can take a nap to the destination. Moreover, the drivers are professionals, so their ability to handle unexpected situations is better than those who rarely drive or are unfamiliar with new roads, ensuring maximum safety. Of course, because there are more people, your privacy will be reduced and costs will increase, but for foreigners who do not know the new land well, car rental in Vietnam with a driver is a perfect option.
Car rental with a driver is quite similar to self-driving car rentals in Vietnam, you will have to prepare personal documents and a deposit, make a contract and receive the car. The only difference is that the driver will accompany you, so you need to carefully check their documents, skills, and talk directly to avoid being scammed. At the same time, because they will accompany you on your trip, choosing a person with a suitable personality will make your time in the car more comfortable, minimizing discomfort as much as possible. Price of car rental in Vietnam is different for each facility, but generally from 1,200,000 VND / day ($48.4), fluctuating depending on the distance traveled.
II - Where to rent a car in Vietnam?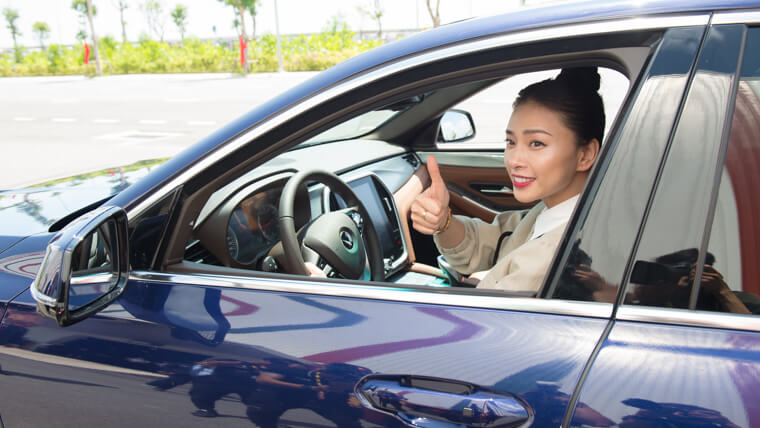 Self-drive car rental - Source: Tinh Khuong
1 - Vietnam car rental services in Hanoi
Trust Car Rental
- Address: 68 Hang Bong Street, Hoan Kierm District, Hanoi
- Price from: $65 / 4-seat car / day
- Contact: (+84) 934 189 301 - (+84) 932 726 644
- Online booking: vietnamtrustcarrentals.com
Car for rent Hanoi
- Address: No.24 Alley 72 An Duong Street, Yen Phu Ward, Tay Ho District, Hanoi
- Price from: $65 / 4-seat car / day
- Contact: (+84) 941 887 868
- Online booking: carforrenthanoi.jimdofree.com
Car rental in Ho Chi Minh city Vietnam is more convenient & easier with more choices to opt for, such as:
Vietnam Budget Car Transfers
- Address: No.119 Ly Chinh Thang Street, Vo Thi Sau Ward, District 3, HCMC
- Price from: $59 / 4-seat car / day
- Contact: (+84) 988 038 301
- Online booking: vietnambudgetcartransfers.com/car-rental.html
Saigon Cars Rental
- Address: No.19 Hai Trieu Street, Ben Nghe Ward, District 1, Ho Chi Minh City
- Price from: $32 / 4-seat car / day
- Contact: (+84) 829 111 555
- Online booking: saigoncarsrental.com
Saigon car4rent
- Address: No.61/100 Ly Chinh Thang Street, Ward 8, District 3, Ho Chi Minh City
- Price from: $40 / 4-seat car / day
- Contact: (+84) 977 527 872
- Online booking: saigoncar4rent.com/c-r/car-rental-in-ho-chi-minh-23
3 - Car rental in Vietnam's central region - Danang city
Some places for booking a car rental in Danang Vietnam
JMDanang car rental
- Address: No.86 Tran Van Du Street, Bac My An Ward, Ngu Hanh Son District, Danang
- Price from: $28 / 4-seat car / day
- Contact: (+84) 777 597 236
- Online booking: jmdanangcarrental.com
Kha Tran Car Rental
- Address: No.12 Bui Xuan Phai Street, Thuan Phuoc Ward, Hai Chau District, Danang
- Price from: $32 / 4-seat car / day
- Contact: (+84) 916 510 201 - (+84) 347 976 789
- Online booking: danangcarrental.com/
Danang Private Car
- Address: No.123 Nguyen Thi Minh Khai Street, Hai Chau Ward - District, Danang
- Price from: $28 / 4-seat car / day
- Contact: (+84) 88 666 0396
- Online booking: danangprivatecar.com/
III - Top thriving notes when renting car in Vietnam
1 - Buy travel insurance
Self-drive car rental in Vietnam is quite popular, but it also contains many risks, especially for foreigners who do not know the language and roads. No matter how well prepared you are, unexpected things that you cannot control can still happen, such as accidents or unfavorable weather conditions. So to ensure the benefits when renting a car, car rental insurance is extremely important, and in fact, most reputable car rental facilities will always have one. Car insurance policies will help you feel secure when using a rental car, limiting all risks during the collision because the insurance party will cover that.
2 - Driving tips & notes after having a car rental in Vietnam
For those who want to rent a car in Vietnam and prepare for a trip, you need to prepare driving skills and experience for a safe and convenient trip. You should learn the way in advance and use the device, the navigation application to avoid wasting time finding the way, especially when you do not know Vietnamese. Along the way, of course, there are still gas stations, but to be more proactive, you should fill up with fuel in advance, especially when your destination is remote areas. Don't forget to bring all of your required documents in case the unexpected, or the police check on the way.
Safety awareness should always be a top priority when traveling with car rental in Vietnam - learn Vietnamese traffic laws, speed regulations on highways, highways, etc. This is a right-hand drive country, so if you come from European countries driving on the left side, you should pay attention to avoid going in the wrong lane and causing unnecessary accidents. At the same time, you should go slow and pay attention to the road, because Vietnam's infrastructure is still incomplete, in many places the roads are still bad with many potholes. In general, it is better to have or hire a car in Vietnam with a driver to make the trip more complete and safer.
3 - Check vehicle quality before hiring a car in vietnam
It is very important to conduct a thorough vehicle inspection before receiving the car, to help you avoid dangerous risks, or conflicts and disputes for compensation when returning the car. Therefore, when working with any car rental in Vietnam, you need to check the quality of the car first, and ask the rental facility for a test drive if possible to easily detect vehicle problems. In addition, you should carefully observe the vehicle to check for existing scratches, take pictures of those scratches with a clear location for comparison on the day of return, in case of compensation disputes.
Renting a car in Vietnam is a very suitable option for those traveling with a large group of people such as family or friends, offering convenience and freedom. In particular, when traveling by car, you will be able to see more closely the natural beauty, life and people of Vietnam, learning about the Vietnamese cultural values. Hopefully the above article helped you gain more information about car rental in Vietnam and have safe trips with your loved ones.