Vietnam is located in the Indochinese peninsula of Southeast Asia, with a total length of 1,650km, with the widest width of 500km, and the narrowest width of 50km is Dong Hoi - Quang Binh. The east and the south are bordered by the East Sea and the Gulf of Thailand, the 4,550km long land border with three countries: China, Laos, and Cambodia. In which, the North borders adjacent to China, the West borders adjacent to Laos and Cambodia. Read on for more information about the countries bordering Vietnam.
I - What country borders Vietnam in the North?
The Northern mountainous region of Vietnam includes the provinces of Dien Bien, Lai Chau, Lao Cai, Ha Giang, Cao Bang, Lang Son, and Quang Ninh, which have a border with Yunnan and Guangxi provinces of China. The total length of the borderline is 1,350km, accounting for about a quarter of the total length of the land borderline of Vietnam. Up to 1999, Vietnam has set up 1,971 landmarks, of which 1,549 major landmarks and 422 auxiliary landmarks. In total, there are 27 border gates for trade with China in all 7 cities and provinces.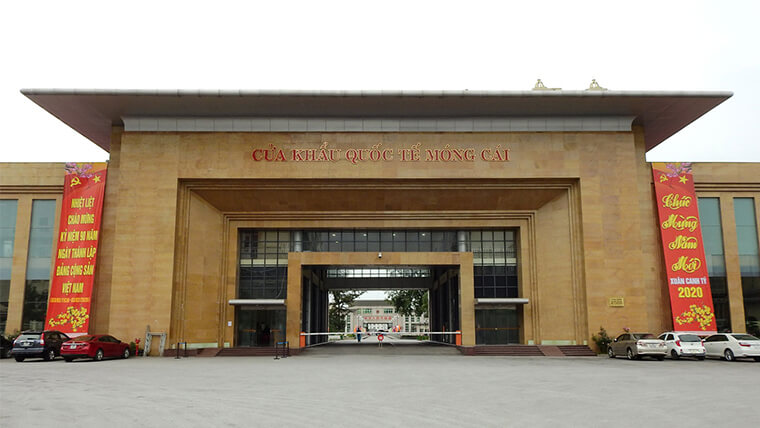 Source: VnExpress
List of border gates by province or city:
| | | |
| --- | --- | --- |
| No | Cities and provinces | Border Gates |
| 1 | Dien Bien | A Pa Chai |
| 2 | Lai Chau | Ma Lu Thang; U Ma Tu Khoong |
| 3 | Lao Cai | Muong Khuong; Lao Cai; Ban Vuoc |
| 4 | Ha Giang | Sam Pun; Pho Bang; Thanh Thuy; Xin Man |
| 5 | Cao Bang | Ta Lung; Bi Ha; Ly Van; Po Heo; Tra Linh; Soc Giang |
| 6 | Lang Son | Huu Nghi; Dong Dang; Chi Ma; Binh Nghi; Coc Nam; Po Nhung; Co Sau; Ban Chet; Na Hinh |
| 7 | Quang Ninh | Mong Cai; Hoanh Mo; Bac Phong Sinh |

Over the past 1,000 years of domination, Vietnam and China have converged and are similar in some cultural features such as the Lunar New Year, agricultural cultivation such as plowshares, weaving, printing paper, Han Nom, At the same time there is creativity with the birth of Han Nom... Along with that is the preservation and preservation of the culture of the local people such as the tradition of "when you eat a fruit, think of the man who planted the tree", the spirit of unity among other ethnic groups and customs.
II - Vietnam neighbouring countries in the West border - Laos & Cambodia
1 - Laos
The western border between Laos and Vietnam is about 2,340km long, spanning 10 provinces: Son La, Dien Bien, Nghe An, Thanh Hoa, Quang Binh, Quang Tri, Ha Tinh, Quang Nam, Thua Thien Hue and Kon Tum of Vietnam and bordering 11 provinces of Laos are Phongsaly, Luangprabang, Huaphanh, Hua Pang, Xieng Khouang, Bolikhamxay, Khammuane, Savannakhet, Saravane, Sekong, Atttapeu. The borderline of the two countries Laos - Vietnam is usually located through the mountainside to the top of the mountain with an altitude of 300 - 2,700m above sea level. Some mountain ranges in the villages of A Pa Chai, Pu Xam Sau, and Truong Son form the natural border between the two countries.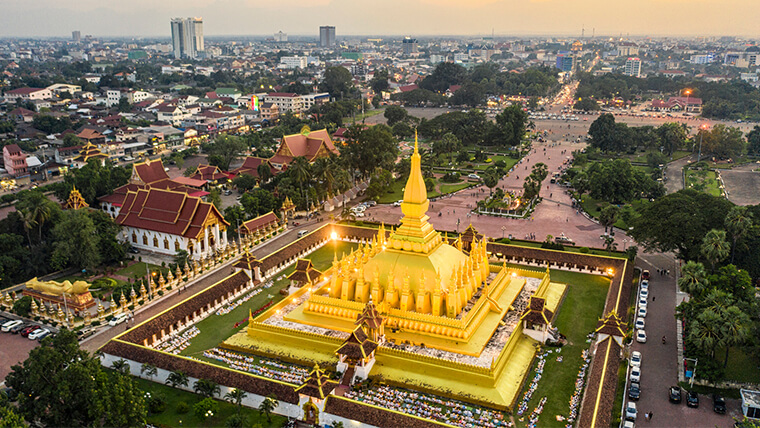 Laos - Source: Gettyimages
List of border gates by province or city.
| | | |
| --- | --- | --- |
| No | Cities and provinces | Border Gates |
| 1 | Dien Bien | Tay Trang; Huoi Puoc; Si Pa Phin; Na Bung |
| 2 | Son La | Chieng Khuong; Long Sap; Na Cai |
| 3 | Thanh Hoa | Na Meo; Ten Tan |
| 4 | Nghe An | Cao Veu; Nam Can; Thanh Thuy; Tam Hop |
| 5 | Ha Tinh | Cau Treo; Da Gan |
| 6 | Quang Binh | Cha Lo; Ca Roong |
| 7 | Quang Tri | Lao Bao; La Lay |
| 8 | Hue | A Dot; Hong Van |
| 9 | Quang Nam | Nam Giang; Tay Giang |
| 10 | Kon Tum | Bo Y |

As one of the three neighbours of Vietnam, Laos is the one that shares the longest border with Vietnam. Undoubtedly, Vietnamese culture and Lao culture have many similarities such as hard-working people, wet rice civilization, there are many ethnic communities living together, a great influence on the spiritual life and spiritual culture of Buddhism, ... The similarities in culture and development history have contributed to building a deep friendship between the two countries for many years.
Some evidence for the strong cultural interference includes the Serepok village, Buon Don village with the contribution of the Laotians in the discovery and start of hunting and taming elephants, the architecture of Khunjunop Elephant King or the tomb of the M'nong, ... Or the gong culture is learned and developed by the M'nong, Gia Rai and Ede from the Lao in the exchange and trade process, ...
2 - Cambodia - the third bordering countries of Vietnam
Vietnam - Cambodia l is about 1,270km long-running in the North-South or Northeast - Southwest direction, going through 10 provinces of Vietnam: Kien Giang, An Giang, Dong Thap, Tay Ninh, Long An, Dak Nong, Binh Phuoc, Kon Tum, Dak Lak, Gia Lai and 9 provinces of Cambodia are Ratanakiri, Kratié, Mondulkiri, Tbong Khmum, Prey Veng, Svay Rieng, Kandal, Takéo, and Kampot. In total, there are 33 border gates, 315 main landmarks, 1,511 auxiliary landmarks, and 221 marking piles.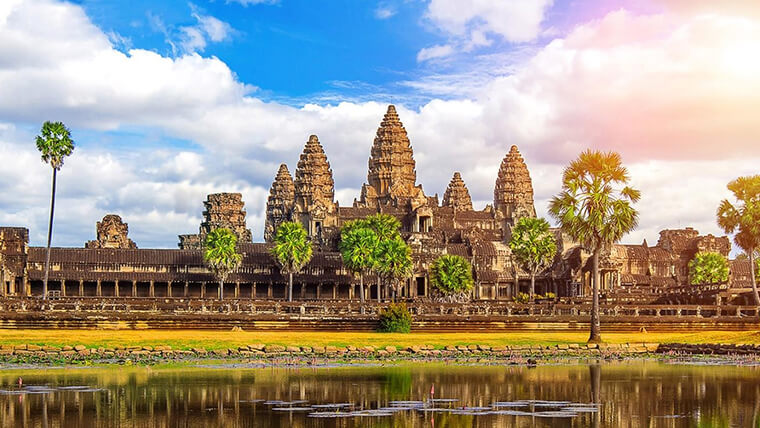 Campuchia - Source: Internet
List of border gates by province or city along the border of Vietnam and Cambodia
| | | |
| --- | --- | --- |
| No | Cities and provinces | Border Gates |
| 1 | Kon Tum | Dak Koi |
| 2 | Gia Lai | Le Thanh |
| 3 | Dak Lak | Dak Rue |
| 4 | Dak Nong | Dak Peur; Bu Prang |
| 5 | Binh Phuoc | Hoa Lu; Hoang Dieu; Loc Thinh; Tan Tien; Tong Le Chan |
| 6 | Tay Ninh | Moc Bai; Xa Mat; Tan Nam; Katum; Phuoc Tan; Chang Riec; Vac Sa; Ta Nong |
| 7 | Long An | Binh Hiep; My Quy Tay |
| 8 | Dong Thap | Dinh Ba; Thuong Phuoc; So Thuong; Thong Binh; Moc Ra; A Don; Binh Phu |
| 9 | An Giang | Vinh Xuong; Tinh Bien; Khanh Binh; Vinh Hoi Dong |
| 10 | Kien Giang | HaTien; Giang Thanh |
Cambodia is the country next to Vietnam that shares the border with the southern provinces of Vietnam. The cultural interference of the Khmer has contributed to making Vietnamese culture more unique. In which, it can be mentioned as: the system of pagodas according to the Buddhist architecture of Nam Tong, Phum, Soc (the former residence and social organization of the Khmer) or the traditional festivals such as Chol Chnam Thmay, Ooc Om Boc, Sene Dolta; traditional musical instruments Five-tone Orchestra, Du Ke, ... Or culinary interference with dishes such as prahok sauce, pancakes, com, etc.
During the building, developing, and preserving process of the land, the Vietnamese people always uphold the spirit of solidarity, constantly learn and change, thereby creating cultural values imbued with national nature.
In general, Vietnam's neighboring countries include China, Laos, and Cambodia. To each neighboring country, there are both international and domestic border gates where tourists can apply for visas and do entry procedures.