With the strong development of technology, online vehicle booking services in Vietnam are gradually increasing, dominating not only the transportation market but also delivery. Entering the country in 2014, Grab in Vietnam currently has an extremely large network of drivers, traveling by not only motorbikes but also cars. The phone application is also what makes it superior, compared to traditional motorbike taxis and other companies in the same field.
I - 5 services of Grab in Vietnam you will ever need
1 - Grab's transportation service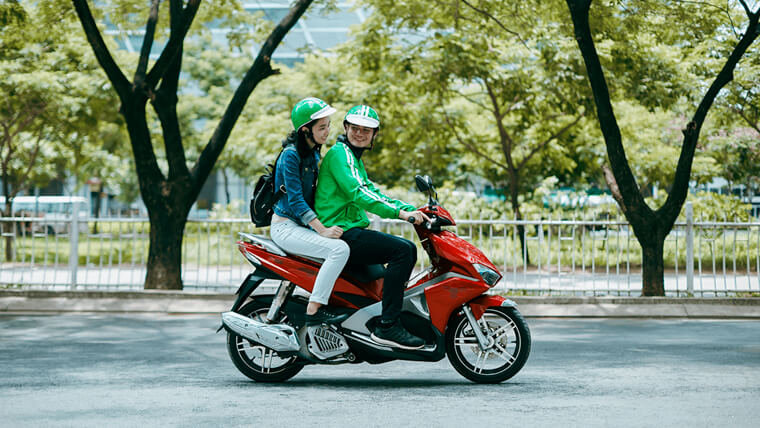 Grab bike - Source: Grab
To call Grab service in Vietnam is very simple, you just need to use its application, type in the destination, and press call for a drive. GrabTaxi and GrabBike are available almost anywhere in Vietnam, especially in big cities. The entire journey estimated prices and driver information will be in your hands, guaranteed to help you feel the utmost secure about your trip in Vietnam. There are currently no fixed hours of operation so you can book anytime as long as there is a driver available, but if you want to be extra sure there is a function called "book in the future".
More details about the transportation services of Grab in Vietnam:
Grab Taxi Vietnam
- Minimum: 29,000 - 34,000 VND / first 2km ($1.3 - 1.5)
- The remaining distance: 10,000 VND / km ($0.44)
- Types: 4-seater and 7-seater car
Grab Bike Vietnam
- Minium: 12,500 - 13,500 VND / first 2km ($0.54 - 0.6)
- The remaining distance: 4,300 VND / km ($0.2)
You may be interested in motorbike in Vietnam
2 - Online food ordering service of Vietnam grab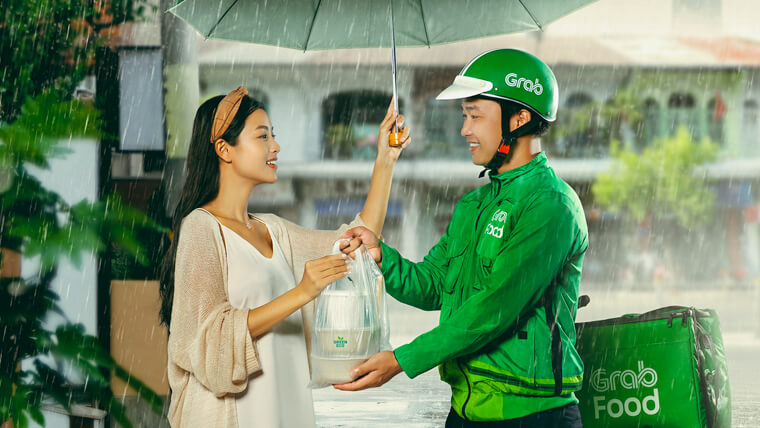 Grab food service - Source: Grab
GrabFood Vietnam is highly appreciated for its fast delivery speed and diverse dishes with thousands of promotions. The way to order food on the Vietnam Grab app is also easy. To use the online food ordering service of Grab in Vietnam, you just need to select "Food delivery", enter the address, choose the restaurant and dish you want, adding note and discount code if any.
- Shipping fares: 15,000 VND / first 3km ($0.7) & 5,000 VND / next km ($0.22)
- Service fare: 2,000 - 6,000 VND / trip ($0.1 - 0.26)
- Fee for orders less than 50,000 VND ($2.2): 3,000 VND / trip ($0.13)
3 - Other services available on Grab app in Vietnam
Hotel booking
In 2019, Grab partnered with the world's leading hotel booking service providers such as Agoda and Booking.com. You can now use this service on the app by clicking on "Travel", searching, viewing information, and choosing accommodation. You'll get a complimentary personal accident insurance package and flight delay coverage, as well as enjoy perks when traveling with Grab in Vietnam.
Online recharge your phone
Grab's mobile recharge feature in Vietnam is a bit different, you will have to use GrabPay by Moca e-wallet. It will help your payment, in general, become convenient and easy, plus attractive discounts and special offers. The list of carriers currently connected to the Vietnam Grab app includes MobiFone, VinaPhone, Viettel, Vietnamobile, and Gmobile - all the major sim card networks in Vietnam.
Package delivery
Grab in Vietnam offers a delivery service that is quite similar to the above services, you just need to perform a simple operation on the app, which is to enter the sending and receiving points. GrabExpress is always available regardless of weather conditions, running from early morning until late at night. All the information will be fully displayed, from the driver, price, and delivery invoice, to tracking the movement of the item in real-time.
- Minimum: 15,000 VND / first 2km ($0.65)
- The remaining distance: 5,500 VND / km ($0.22)
II - How to use Grab in Vietnam?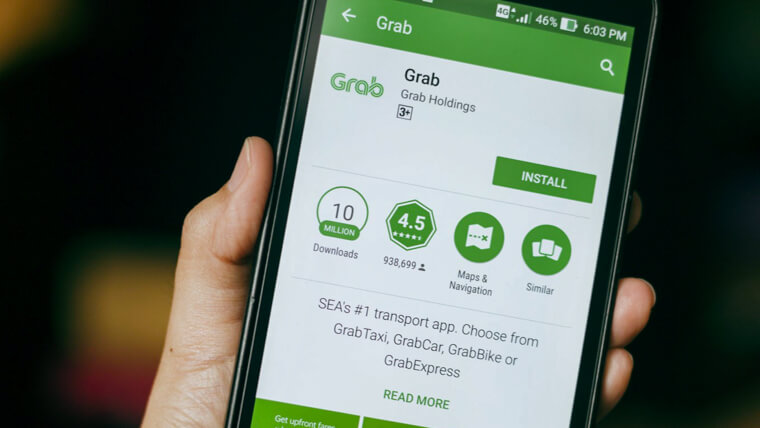 Grab Vietnam app - Source: Vietnambiz
Grab is a convenient application in Vietnam because you can easily not only call for a drive but also order food and book accommodation, with transparent information. Depending on whether you use Android or iOS, you can open CH Play or AppStore, search for "Grab" and download the first choice. Registration is also quite simple, you just need to enter your phone number and authentication code. However, it is recommended that you buy and use a local Vietnam sim card, which also includes 4G / 5G service.
Installing Grab in Vietnam, there are a number of fields of information that need to be declared, but you do not need to worry because the application has an English option. After logging in, you have to fill in your email and name, which should be real but a short name or nickname is acceptable. You also need to give Grab permission to access your location, so that the driver knows the address to pick up or send your order, and the application can calculate the correct amount of money you need to pay.
- Grab download for IOS here
- Grab download for Android here
III - More information about Grab in Vietnam
1 - Is Grab in Vietnam?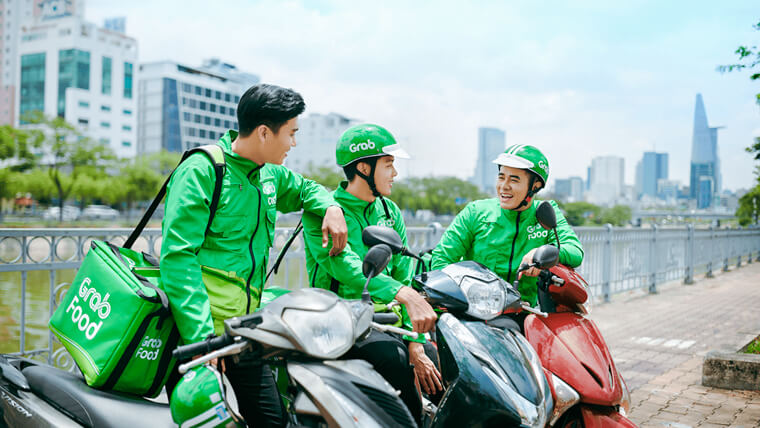 Grab bike vietnam - Source: Grab
First launched in 2012 in Malaysia as MyTeksi, Grab entered Vietnam under the name GrabTaxi only 2 years later, on February 27, 2014. And after about 8 years of operation, this brand has expanded greatly with a series of services such as GrabBike, GrabCar, GrabExpress, and GrabFood, covering all fields from transportation to dining. Joining the Vietnamese market after Uber, this brand has quickly surpassed, gaining a foothold in people's hearts with an effective marketing style.
Grab in Vietnam positions itself as a common product, so instead of creating expensive and massive Ads, it focuses on making Vietnamese people remember the name. Grab also continuously offers promotions, and discounts, accepting cash payments to match the local culture, and so on.
Transparency is also a plus for Grab Vietnam, as everything you need to know (the driver's name and face, vehicle type, license plate number, distance and the amount to be paid) appears in the app as soon as you book your drive or set your order. In addition, you can track the entire journey of transportation or movement. Moreover, Grab in Vietnam also has a review section, giving you the opportunity to directly report to Grab if you are not satisfied with the driver.
2 - Grab customer service hotline Vietnam
- Grab Vietnam hotline: 08 6942 1010 (press 2 to hear English)
- Address: No.1060 Nguyen Van Linh Boulevard, Tan Phong Ward, District 7, Ho Chi Minh City
- Website: grab.com/vn/en
After nearly 8 years of operation in the Vietnam, Grab has beaten many competitors such as Uber or traditional taxis and motorbike taxis. One of the highlights of Grab in Vietnam is its mobile application, which offers many integrated services from ride-hailing, food ordering, and delivery,... This will be one of the things that can help you have a more pleasant and convenient trip if traveling to Vietnam.