In recent years, shopping malls appearing in Vietnam have significantly increased, both in quantity and quality. They are present almost everywhere around the country, not only big cities like Hanoi and Ho Chi Minh, but also small provinces like Ben Tre, Tra Vinh, Binh Duong. It is to say that the density of shopping malls in Vietnam is higher and higher. In the following, Vietnamtrips will name out 10 most popular ones that you are advised to refer to.
1 - Vincom - one of the biggest shopping malls in Vietnam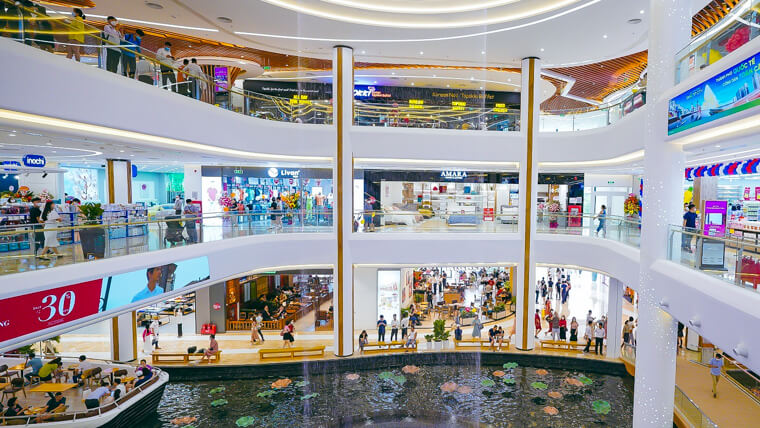 Vincom - Source: vnexpress
Vincom is the common name for the chains of top Vietnam shopping malls under the management of the Vincom Retail Joint Stock Company founded in 2002. After the merger into Vingroup Joint Stock Company, it became the biggest corporation in Vietnam as well as Southeast Asia.
After 20 years of operation, Vincom is currently monitoring 72 properties in Vietnam, scattered in 44 cities and provinces, with 4 sub-brands namely: Vincom Center, Vincom Mega Mall, Vincom Plaza and Vincom+. They are designed to target different customers, helping the company dominate the whole retail market in this country.
Vincom Centers are often located in the urban area, at prime positions where families having income from $25,000/year reside. Outlets often belong to high-end brands both internally and externally. The target of Vincom Mega malls in Vietnam are larger than Vincom Center. The Vincom Retail focuses on those with an income of $5,000/year. The locations of the malls are often integrated development areas. Vincom Plazas, on the other hand, often houses in the suburbs and on the outskirts or small cities and provinces. Currently, the malls, along with traditional supermarkets, have gain absolute advantage in this residential area.
Last but not least, Vincom+ are a collection of mini Vietnam shopping malls in small provinces, targeting low income subjects. There are more than 700 brands and retailers both domestically and internationally that join hands with the company. Having the parent company as a big on real estate, all facilities of Vincom's malls are constructed by international standards, promising to bring shoppers the most luxurious and comfortable experiences.
Website: vincom.com.vn
2 - Lotte - one of the most famous shopping malls in Vietnam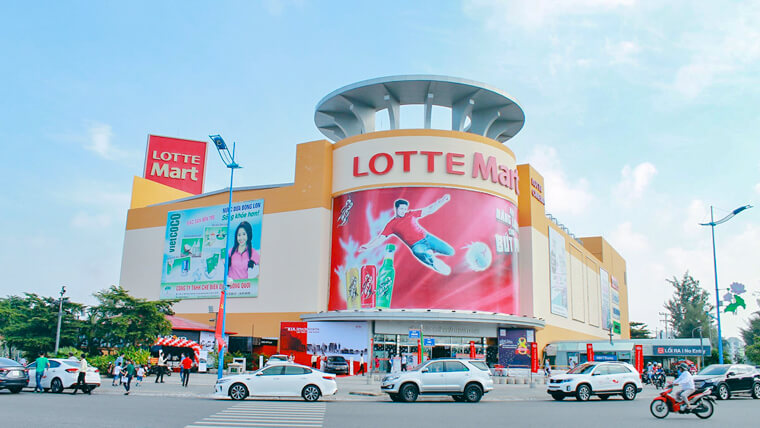 Lotte - Source: didauchoigi
Lotte commercial centers are founded and developed by Lotte Corporation, a multinational corporation with head offices in Korea and Japan. Currently, Lotte has been present in 22 countries around the world, and is the business with the 5th biggest asset in the country of ginseng. The first Lotte shopping center in Vietnam is Lotte Mart Nam Saigon built in 2008, located in district 7, Ho Chi Minh city, which is the head office of Lotte Mart Vietnam.
By the temporary (2022), Lotte malls in Vietnam have established 13 branches in 9 cities and province, namely Hanoi, Ho Chi Minh city, Binh Duong province, Dong Nai province, Vung Tau city, Nha Trang city, Phan Thiet province, Can Tho city, Danang city).
Visiting the Vietnam shopping malls of Lotte, customers can go shopping at LotteMart, the large space of products of all types and verified origin and reasonable price. Besides, there is a playground where kids can play games while promoting intellectual, creativity, and soft skills; an eating area filled with Korean foods, Japanese foods, Thais foods or Vietnamese food; Fitness center and Spa,...
At towering skyscrapers like Lotte Center, Keangnam in Hanoi or Landmark 81 in Ho Chi Minh city, there is an observatory at the top floor where visitors should take time to come and observe the city from a high distance.
Website: lottemart.com.vn
3 - AEON - one of the most famous malls in Vietnam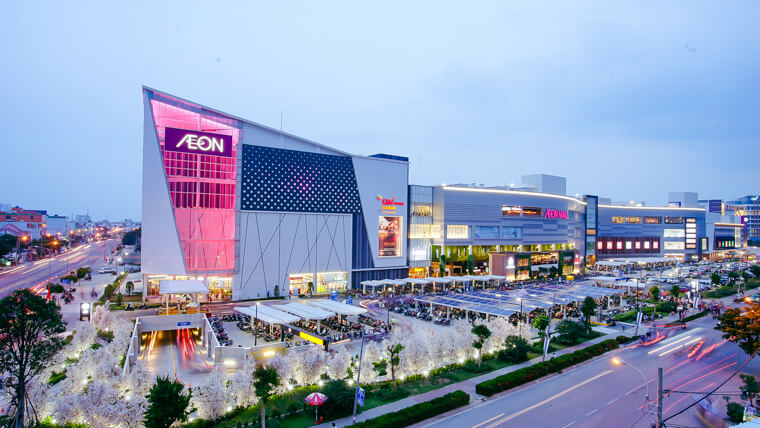 Aeon - Source: vietgoing
The name "AEON Mall" makes a lot of people refer to one of the long term retailers in Japan. Currently the corporation has expanded its scale to the global market with 179 joint ventures inside and outside the country.
The first AEON Mall appearing and put into service in Vietnam was AEON Tan Phu Celadon in 2014. After nearly a decade, there are 7 ones established in Hanoi, Hai Phong city, Ho Chi Minh city and Binh Duong province. "AEON" means "everlasting" in Latin, therefore the satisfaction of the customers is always the center of services. Products sold at these AEON malls in Vietnam are mainly essential for living, at affordable price and very diverse. What people like most are sushi and sashimi, which are processed with the original recipe, giving the original taste of the dish that has made the name of Japanese cuisine.
Besides, the malls leave a deep mark in the visitors' heart with the architecture imbued with simplicity but not travesty, the Japanese characteristic. Almost every branch is built in vast grounds with a spacious parking lot and super clean toilets. These Vietnam shopping malls attract a great number of people with the sparkling outlook especially when New Year or Christmas comes.
Website: aeon.com.vn
4 - Trang Tien Plaza - one of the most famous shopping malls in Vietnam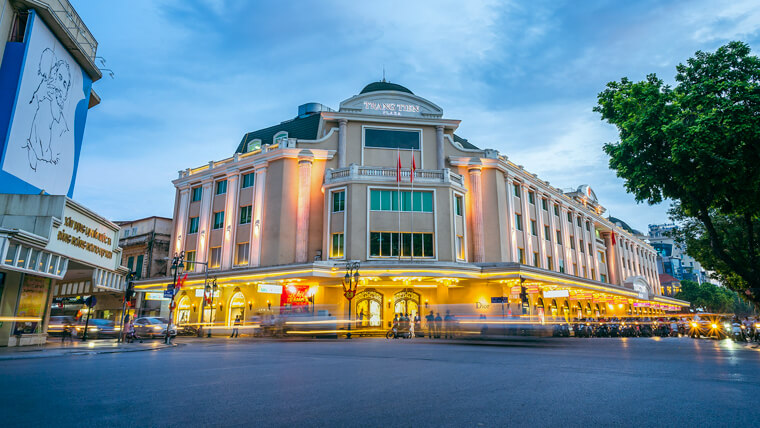 Trang Tien Plaza - Source: vietbao
What makes Trang Tien Plaza outstanding probably is its "golden" location, right at the heart of the capital city, wrapped by 3 frontages: Hai Ba Trung street, Hang Bai street and Trang Tien street, facing Hoan Kiem lake, surrounded by famous destinations such as Hanoi Opera House, Hanoi Post Office, Turtle Tower, Ngoc Son temple,...
The inside of this commercial center exudes delicacy and opulence with a grand lounge, large corridor connecting spaces in a harmonious way. With gold and white as the theme colors, each and every single detail, no matter big or small, are meticulously manufactured in an ancient French style combined with modern architecture.
With an area of approximately 20,000m2, Trang Tien plaza is one of the most famous shopping malls in Vietnam that gathers more than 200 world famous brands of fashion, cosmetics, accessories like Rolex, Cartiers, Gucci, Chanel, Dolce & Gabbana, Burberry, Tiffany & Co., Christian Louboutin,... Besides, notorious food brands such as Dunkin Donuts, Sumo, BBQ,... can be found at this famous mall in Vietnam. For roughly 2 decades of existence, this shopping mall has proved itself as a place for not only the high-class but also customers of all classes to visit and go shopping.
Website: trangtienplaza.net
5 - Saigon center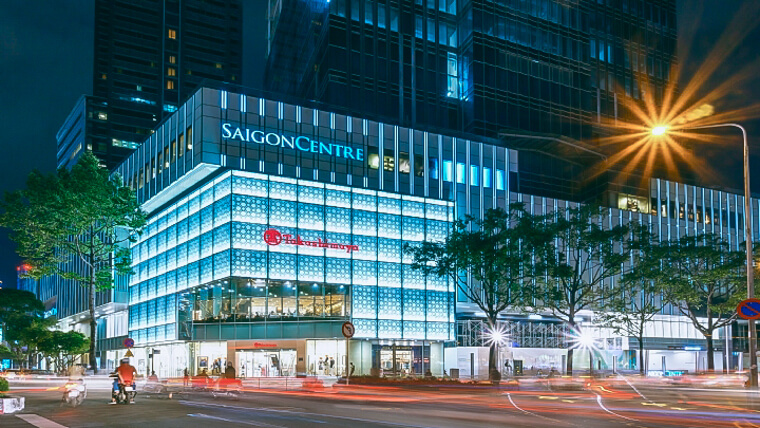 Saigon Center - Source: mitisahotel
Although it was born late, in 2006, the shopping mall soon drew the attention of Saigon people, especially the youth. The first thing to say about it is the most expensive location in Saigon, the axis of Le Loi street and Nam Ky Khoi Nghia street in District 1.
One thing that makes Saigon center one of the top shopping malls in Vietnam is the eye-catching design from both outer and inner. In a whole, the mall is arranged in a way that is not fornal, thus not dry and not too sophisticated. Outlets are clearly divided and almost every store is carefully ornamented in order to engage the look of customers. Those who once visited this Vietnam shopping mall center comment that it gives them the sense of being in Takashimaya in Singapore.
Aside from well-known fashion brands, restaurants, visitors will bump into several coffee shops that the youth of Saigon have been too used to, for example, Runam, Khanhcasa, Ember,... They are not only a place to sip drinks but also a wonderful background for photos taking. That's one of the reasons Saigon Center has always been a favorite destination of young adults and teenagers on weekends.
Website: saigoncentre.com.vn
6 - Parkson - top 10 malls in Vietnam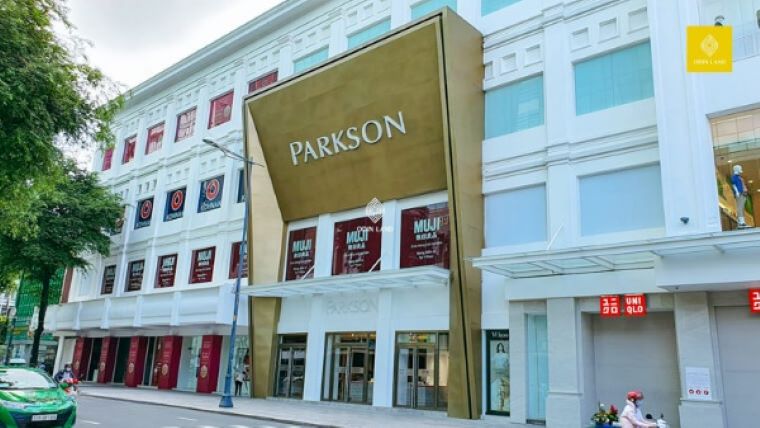 Parkson shopping center - Source: vietgoing
Parkson is a member of The Lion Group, an international corporation founded in the 1930s in Malaysia. June 29, 2005 marked the first Parkson shopping mall opening in Ho Chi Minh city, paving the way for the entry of the first chain of malls by international standard to Vietnam.
Parkson is currently operating 4 branches in Vietnam, of which 2 in Ho Chi Minh city, 1 in Hai Phong city and one in Danang city. These Vietnam shopping malls are where more than 300 world famous brand names like Shu Uemura, Estee Lauder, Lancôme, Clinique, Shiseido, Lacoste, Levis,...
With the slogan "Parkson: Fashion, Beauty and Style", the malls quickly defined their professional and diversity in fashion, beauty and lifestyle by providing prestigious and quality products, being a reliable shopping address of the Vietnamese.
Website: parkson.com.vn
7 - The Garden - one of the biggest malls in Vietnam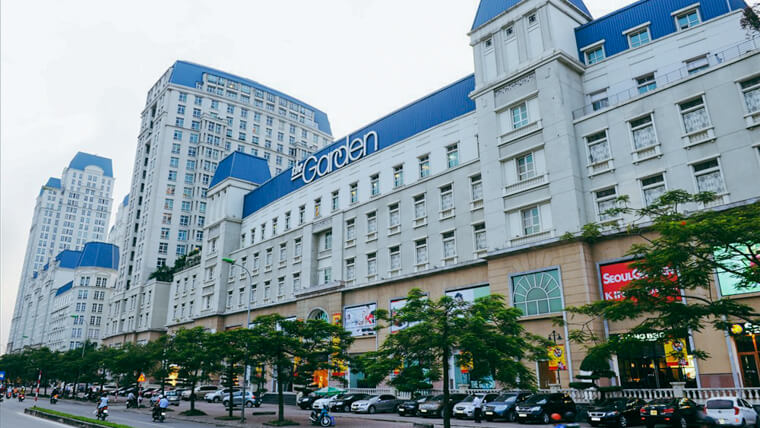 The Garden - Source: vov
The Garden Shopping center is a part of The Manor urban area, lying on Me Tri street, My Dinh 1 ward, Nam Tu Liem district, Hanoi. With an area of 27,000 m2 including 3 undergrounds and 6 floors for shopping, eating and entertaining, it is considered as one of the biggest Vietnam malls nowadays.
Coming to The Garden, you are offered a spacious space which can easily meet your need for trading and relaxation. Each floor in this mall is a different world. The B1 basement is the Big C supermarket, Korean restaurants, fast foods,...
The G basement gathers stores of global cosmetics brands, accessories and luxurious coffee shops. The Garden is one of the top malls in Vietnam highly recommended for fashion holics. Floor 1 of The Garden is a heaven for women with spas, jewelry and female fashion. Floor 2 is planned specially for men and kids with male fashion stores and a playground for kids. The above floors are where household appliances, kitchenware, furniture and entertainment games are distributed. It is to say that it is a Vietnam mall for all subjects.
Website: thegarden.com.vn
8 - Diamond Plaza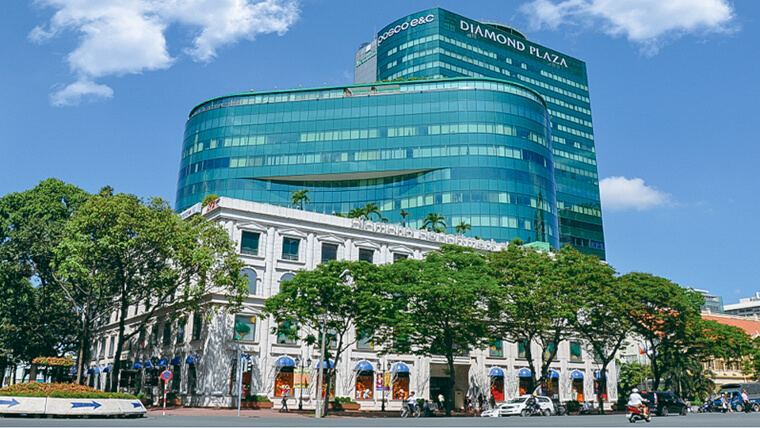 Diamond Plaza - Source: bacninhtv
The construction of Diamond Plaza commenced in 1999 and finished in 2000. It is known as the first shopping mall in Ho Chi Minh city. This is one of the oldest shopping malls in Vietnam which is located right at the back of the Notre-Dame Cathedral Basilica of Saigon - quite convenient for visiting.
Diamond Plaza is one of the first buildings in Saigon having steel structure, integrated with an automatic management system, computerized telecommunication system and fire protection, hence judged as the safest building in the center of the city.
The Diamond Plaza Vietnam mall has 4 floors, of which the 3 first floors concentrate fashion and cosmetics brands like Lancôme, Dior, Chanel, Calvin Klein, Levi's, Clinique, Bvlgari,... and the 4th floor is where food, entertainment, spa, supermarket,... are allocated. Hidden inside the Plaza is a Family Medical Practice, which is spoken highly of by foreign visitors. This health center is to the right of the main entrance.
Website: diamondplaza.com.vn
9 - Crescent Mall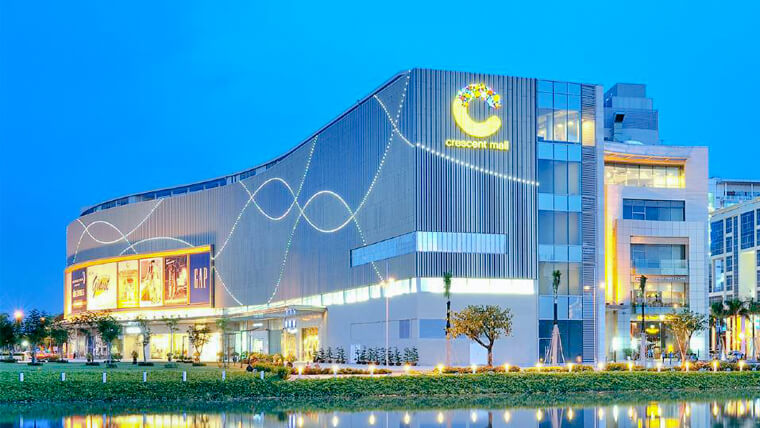 Crescent Mall - Source: sayhi
Crescent Mall has an attractive architecture that makes it stand out from the majority of shopping malls in Vietnam Ho Chi Minh city. With a unique crescent shape, it is compared to famous commercial centers in Hongkong, Singapore and other countries in Asia.
Put into service in 2011, it is seen as the first shopping mall in Vietnam living up to international standards. Currently, the mall is supplying approximately 134 retail outlets distributed on 5 large floors. Besides, there is a cluster of 8 cinemas, a food area with a capacity of more than 1000 seats, a fashion zone including well-known brands from Vietnam and other countries, the area of furniture and the entertainment,... Moreover, the large lounge of this building is the venue of music concerts and live shows of famous artists. Therefore, this is a regular destination of Saigon people every weekend and holidays.
Website: crescentmall.com.vn
10 - GO! - top shopping malls in Vietnam's countryside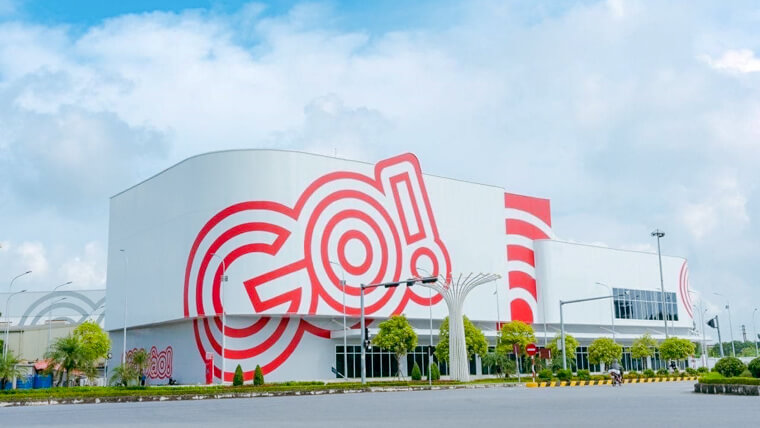 GO! - Source: vnexpress
GO! has the precursor of BigC, a big on retailer in the market of Vietnam. Unlike Big C, which is only found in metropolises like Hanoi and Ho Chi Minh city, GO! targets to dominate the markets of provinces and smaller.
With a firm foundation of Big C Vietnam, which has been built up for more than 20 years, the chains of GO! GO shopping Vietnam malls are the close friends of residential families since they trade a lot of goods made in Vietnam especially agricultural products at very reasonable prices. The prices of goods at GO! are very competitive with the small and medium size department stores.
In addition, there are a lot of enterprises opening store, constructing playgrounds inside these commercial centers. Therefore, a visit to GO! is like multipurpose work.
Website: go-vietnam.vn
Boasting a variety of utilities and conveniences, shopping malls in Vietnam are magnetizing more and more customers, becoming regular tourist sites. Hope that the aforementioned information that we provide you is helpful for your decision to pick up a place to visit next time.