You are a foreign traveler to Vietnam and want to have something to fill your stomach. You would like your food to be transported to your residence but have yet to know how to buy Vietnamese food online in order to survive during the time being in this country. Now, let's take a look at what Vietnamese people do in this case.
I - Traditional method to order food online in Vietnam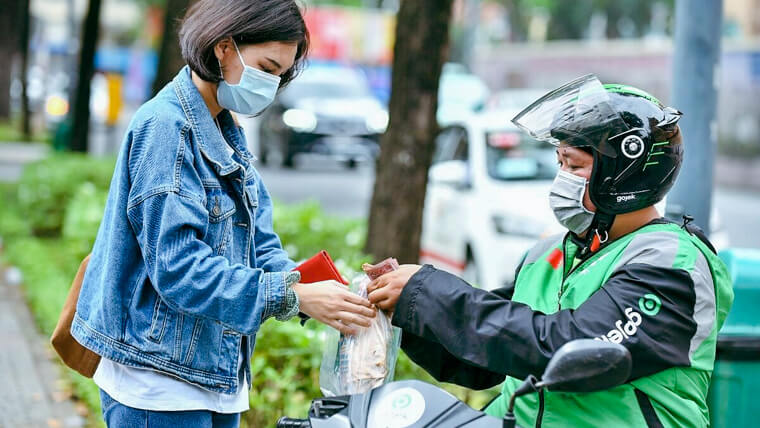 Food shipping in Vietnam - Source: vnexpress
In the past, when digital online food ordering platforms hadn't emerged in Vietnam, to order food at home, the only way was to contact the restaurant via phone number or chat Facebook, Zalo,... and ask them to ship the food to your home. At this approach, you had to have a thorough conversation about your address, the time, and notes about the food. The first flaw of this method is wasting a lot of money on telephone bills. The second is the poverty of choices of restaurants.
There was another way to order food online in Vietnam, which seemed a bit "silly". It was to join food shipping groups, popularly Facebook and Zalo, and then post a status about what you want to eat, which restaurant you want to buy at, and the rate for transportation. Shippers in the group would comment on your status if he approved the deal. After that, you two had a personal talk about other details such as an address, time of delivery, payment,... This approach was really complicated and time-consuming. People would only resort to it when the restaurant didn't offer a home delivery service.
II - Using food apps to order food online in Vietnam
The recent year witnessed the flourishing in the food delivery market of Vietnam due to the participation of food apps. It can be said that Vietnamese people get used to online food ordering because of the convenience that these apps bring to them. The advantages of these online platforms are simple procedures, countless options, tracking processes, encouragement for paying via digital wallets, appealing coupons,... Some popular food delivery applications in Vietnam that you can refer to are:
1 - Using Grabfood to order food online in Vietnam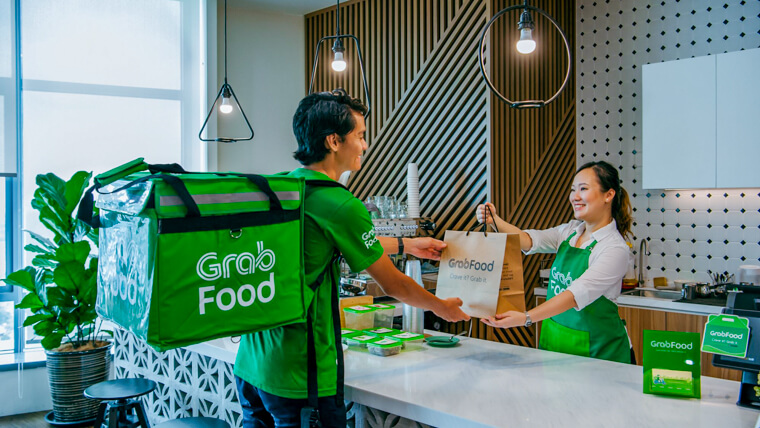 Grabfood in Vietnam - Source: vietnambiz.vn
Grab is one of the very first investors to launch ride-hailing apps in Vietnam. After the success in "human transportation", Grab in Vietnam expand its business to food delivery and receive positive responses. With the Grabfood app installed on your mobile, you can order Vietnamese food online at any period during the day. It impresses customers with its fast speed even to suburban areas, ample discounts, and coupons,...
To use Grabfood to order food online in Vietnam, the most useful functions of Grabfood are "Favorite Restaurants" and "Grab Kitchen" which help you find the restaurant without wasting a lot of time, suggesting you the ones with great visiting, the best dishes of the store,...
With a comprehensive ecosystem, the platform has a great number of loyal customers. Currently, Grabfood has been operating in 18 cities in Vietnam: Ho Chi Minh city, Hanoi, Danang city, Hue city, Hoi An city, Dong Nai province, Binh Duong province, Can Tho city, Vung Tau city,...
Download link: IOS devices / Android devices
2 - Order food online in Vietnam via Shopee Food
The precursor of Shoppee food is Delivery Now, the first online food ordering application in Vietnam. This app offers its patrons a lot of attractive programs such as freeship with 5km, applying discount codes according to the time frame,... Moreover, the restaurants on Shopee Food are said to be very diverse. Almost every physical outlet has a virtual store on this platform. Besides, Shopee clients can enjoy all the conveniences of the ecosystem like Shopee coin, incentives from linked banks,...
You can use Shoppe food to order Vietnamese food online anywhere across the country because this platform has a broad network of drivers and can ship food in 16 provinces and cities all over Vietnam, including Ho Chi Minh city, Hanoi, Danang city, Can Tho city, Hai Phong city, Hue city, Khanh Hoa province,...
Download link: IOS devices / Android devices
3 - Buy Vietnamese food online with Baemin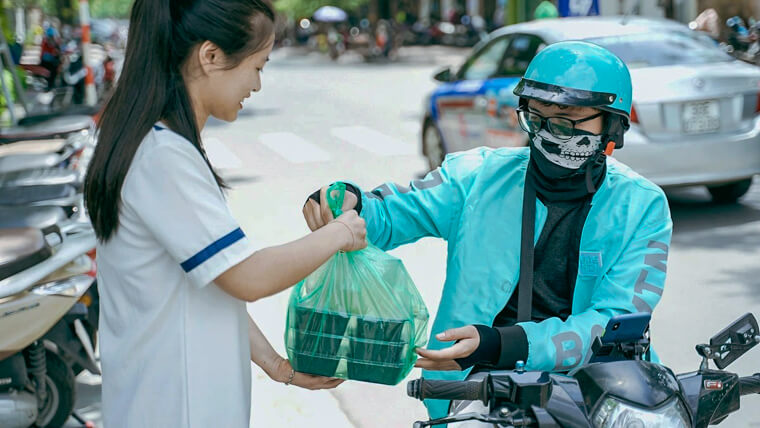 Baemin is popularly used to order food online in Vietnam - Source: afamily.vn
Although Baemin has entered the market of Vietnam for not so long, it has quickly gained its own brand recognition. The app appeals to Vietnamese people with shocking discount programs. Unlike other opponents, discounts on Baemin are frequent, substantial, and unconditional. In particular, the coupon of 50% reduction on the dish price in Baemin can be applied to any order while other platforms only allow for a maximum of 35,000 to 40,000 VND ($1.5 - 1.7), for example.
Many people use Baemin to order food online in Vietnam because the interface of the software is very cute and user-friendly. Although its mother company is Korean, the Vietnamese version takes the image of a cat wearing a palm-leaf conical hat, the iconic symbol of the country. In addition, the shipping fee is reasonable and stable no matter what time it is or how bad the weather is. Baemin has quickly expanded its business in 21 locales in Vietnam such as Hanoi, Ho Chi Minh city, Vung Tau city, Binh Duong province,...
Download link: IOS devices / Android devices
4 - Using GoJek to order food online in Vietnam
Gojek and Grab are two fierce competitors all coming from Indonesia. Gofood - the application specialized in food delivery under Gojek, is a newcomer to Vietnam's market; therefore, it is striving in attracting customers, and gaining brand identity by offering a series of beneficial offers.
The thing that makes Gojek superior to other food apps in Vietnam is the improvement in the delivery process. Instead of waiting for the order from shippers, the restaurant can get aware of the new order right at the moment customers send a request. During the time the shipper travels to the restaurant, the cook can process food. Therefore, the speed of shipping is enhanced significantly. Because it is a newcomer, Gojek nowadays is available only in Hanoi and Ho Chi Minh city.
Download link: IOS devices / Android devices
5 - Order food online in Vietnam by Ahamove
Ahamove started as a company specializing in products transporting in many big cities in Vietnam. After a short time, the enterprise has become one of the leading units in the field. Once a large enough customer base was reached, the company entered the food delivery business. You can buy Vietnamese food online with Ahamove in many cities and provinces such as Hanoi, Ho Chi Minh city, Binh Duong province, Dong Nai province, Bac Ninh province, Vung Tau city, Hai Phong city,...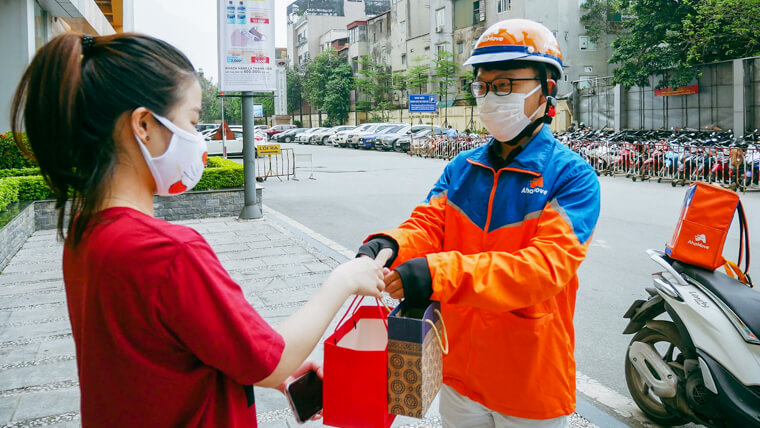 Ahamove is newly used to order food online in Vietnam - Source: zalopay.vn
Although it cannot be compared with other food delivery applications in terms of scale, the service of Ahamove has received positive feedback from users. Possessing a team of drivers with experience in packing and transporting goods, the company can assure the food delivered to customers' homes still keeping the temperature and delicious taste. Another plus point is that you will not have to worry about lacking drivers during peak hours because the shipper force of this brand is very powerful.
Download link: IOS devices / Android devices
Above are the most popular ways to order food online in Vietnam that we would like to share with you. For more interesting information about Vietnamese food as well as Vietnam tourism, please visit localtravelidea.com.