Dalat city is a famous tourist destination in Vietnam, with countless beautiful landscapes and unique architectural works. In particular, Linh Phuoc Pagoda, also known as Ve Chai Pagoda, is the product of the art of porcelain mosaic reaching its peak. If you are interested in visiting this sacred place in your journey to the city of flowers, you can refer to the information below:
I - Where is Linh Phuoc Pagoda Dalat?
Only about 6km from the city center, this temple is located at no.120 Tu Phuoc Street, in Trai Mat Area of Dalat, Lam Dong Province. On the way here, you will pass by many cafes with romantic mountain views, such as Cafe Panorama, Valley of Lights cafe, etc. The most special one is the Sunny Farm cafe with the Stair to heaven, an extremely hot check-in spot right now in Dalat. In addition, not too far from Ve Chai Pagoda, there is Tinh Quang Pagoda, along with many beautiful flower and ornamental plant hills such as a Hydrangea Garden that you can visit to admire.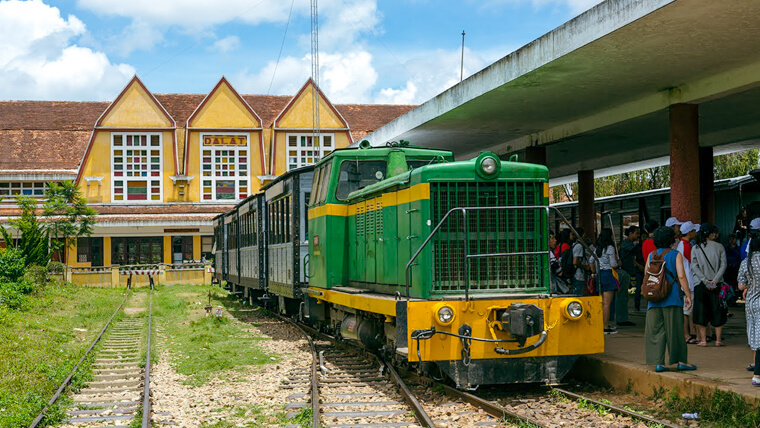 Dalat train station - Source: tripoli-city
If you go by yourself, the way to Linh Phuoc Pagoda Dalat is quite simple, you just need to Google and follow the mapt. In addition, you can also take the train from Dalat Station in Ward 9, to the end point at Trai Mat, and walk about 4 - 5 minutes. Taking the train, you will be able to sightsee the ancient Station with its unique architecture, admire the scenery and enjoy the feeling of excitement when traveling. However, the train only runs on weekends (Friday - Sunday) and the departures are far apart, so you should choose a suitable travel time to avoid waiting.
- Ticket price:
+ Single: 71,000 - 98,000 VND / person ($3.04 - 4.2)
+ Round trip: 106,000 - 148,000 VND / person ($4.54 - 6.33)
- Departure times: 5:40am, 7:45am, 9:50am, 11:55am, 2pm & 4:05pm
II - Impressive architecture of Linh Phuoc Pagoda Dalat
Pagoda was built from 1949 - 1950, then restored and added many works in 1990 by the 5th abbot, Venerable Thich Tam Vi. Over 30-year with the contribution of many Buddhists everywhere, the pagoda has become a very famous sacred place in Dalat city. Coming here, in addition to offering incense, you can also enjoy the elaborately built architecture, imbued with religious and artistic elements. The unique feature of Linh Phuoc Tu is that the works on the campus are inlaid with pieces of crockery, porcelain, and bottles, mixing to create sparkling colors. Combined with the poetic scenery and the fresh air of Dalat, this place attracts a lot of tourists every year.
1 - Dragon statue - impressive work at Linh Phuoc Pagoda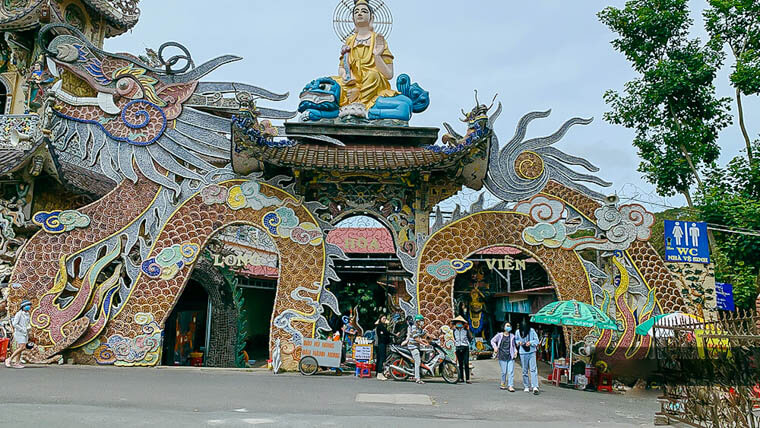 Dragon statue - Source: phuot3mien
As soon as you step into the pagoda, you will see Long Hoa Vien with a 49m-long winding dragon model, wrapped around the Maitreya Buddha statue, next to a lake and mountain miniatures. The entire dragon scale is made of 12,000 colorful glass bottles and jars, collected by monks and artisans from breweries or bought from locals. They then had to painstakingly cut each piece suitable for filling into pre-built molds, in order to get this impressive work of art in detail and pattern.
2 - Sacred stupa
Another highlight not to be missed in Linh Phuoc Pagoda is the Sacred stupa, which is 37m high divided into 7 floors, and is considered the tallest bell tower in Vietnam. This is not only a place to worship precious Buddha images, but also a museum displaying precious gems, antique porcelains, fine woodworks, and a large bell on top. Cast in 1999 by artisans from Hue, this bell is 4.3m tall and 2.33m wide, weighing 8,500kg, with a delicately carved image of Buddha Shakyamuni with thousand eyes and hands. Tourists come here often write their names and relatives on papers, then stick them on the bell to pray for good luck and health.
3 - Main palace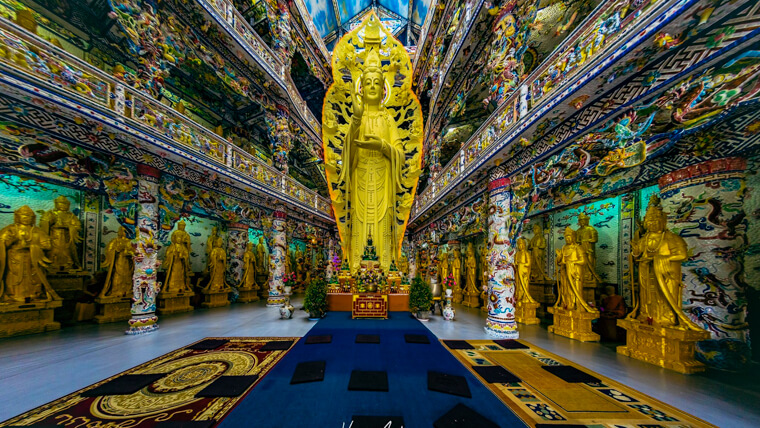 Main palace - Source: Lê Huy Anh
Linh Phuoc pagoda is highlighted by the large and majestic Main Palace with a 33m long and 12m wide, quite sophisticated and intricately carved architecture. Inside the building, there are two rows of dragon columns along the two sides, attached with bas-reliefs inlaid with crockery, creating unique and eye-catching colors. They introduce the history of Shakyamuni Buddha and the classics in the Lotus Sutra, the Amitabha Sutra, and so on. There is also a majestic Shakyamuni Buddha statue with a height of 4.9m, decorated with gold, making the space become brighter and more splendid. Behind which is an enormous bas-relief and a bodhi tree.
4 - The 18 levels of Hell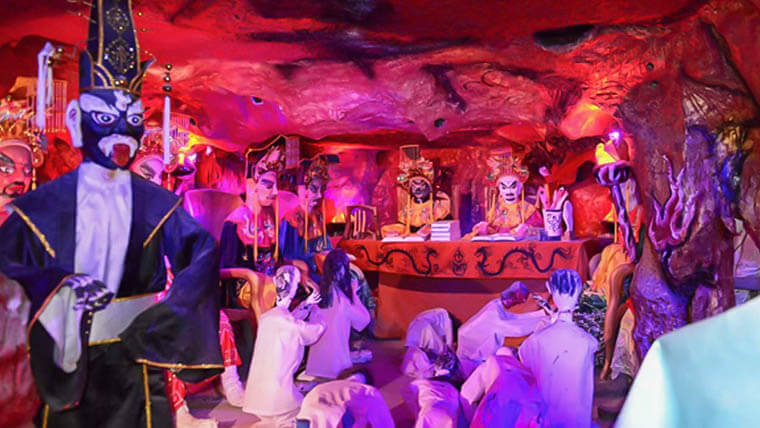 The 18 levels hell - Source: tamkyrt
For followers of Buddhism or lovers of Eastern culture, it is certainly impossible not to have heard of the 18 levels of Hell in The Underworld. A real-life construction of this legend was built at Linh Phuoc pagoda in Dalat, located just below the 7-storey Sacred Stupa, with models and scenes inside following a Buddhist story. Its content is about Muc Kien Lien, an extremely filial Bodhisattva who, after attaining enlightenment, found his mother in Hell so he did countless ways to save her.
This whole 18 levels of Hell site was built on a very large scale, although the entrance is a bit narrow, the space inside is up to 300m long. Going around, you will get to see the trial process of the King of Hell, the crimes that people did while they were alive and the punishments they have to bear for those crimes. This is a message of the compassionate Buddha, who wants to tell everyone that they must live honestly, be filial to their parents and be kind to those around them.
5 - Unique statues at Linh Phuoc pagoda
At the pagoda, there is a room full of wax statues of former abbots and high monks who used to practice here, placed in a circle facing the Buddha statue. The most prominent must be a lively wax figure modeled after the Venerable Master Minh Ha Duc, looking like a real person from wrinkles, eyebrows to facial expression. This statue is made in Bangkok, using a special hard wax and sculpted by the most skilled craftsmen, taking a lot of time, effort and money to complete.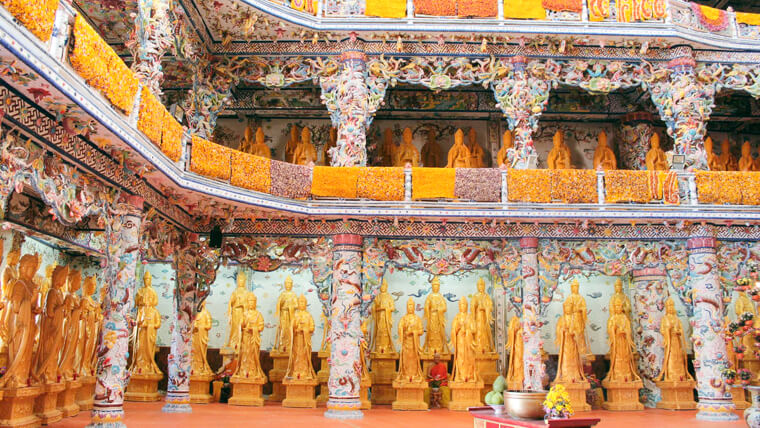 Impressive statues at Linh Phuoc pagoda - Source: kinhtevadubao
As one of the brightest highlights of this unique temple, the Statue of Bodhisattva Avalokitesvara is made of 600,000 immortal flowers equivalent to more than 1.5 tons. In order to participate in the Dalat Flower Festival in 2010 on time, 600 Buddhists and more than 30 artisans had to work together to complete this work within 20 days. The statue has a majestic, lively and harmonious shape, received an Asian record and was honored to be recognized as one of the 10 typical architectural works of Vietnam.
At Linh Phuoc pagoda, there is also another very impressive statue of Bodhisattva Avalokitesvara, with the main difference being that it is made of concrete. Having a height of up to 12m, this work is placed in the main hall of the temple, surrounded by 3 floors, each including 108 smaller statues with a height of 3.7m each. With a total number reaching 324, the shrine here is considered one of the places with the largest number of Bodhisattva Avalokitesvara statues in Vietnam.
Another highlight of this temple must be the wooden statue of Bodhidharma, which is placed in front of the temple yard that everyone can see right after walking in. This is an art product full of sophistication, looking majestic and extremely vivid, created by the best sculptors that the pagoda monks could find. Coming here to visit, you can see and take pictures with this majestic statue.
III - Top 11 records of Linh Phuoc pagoda Dalat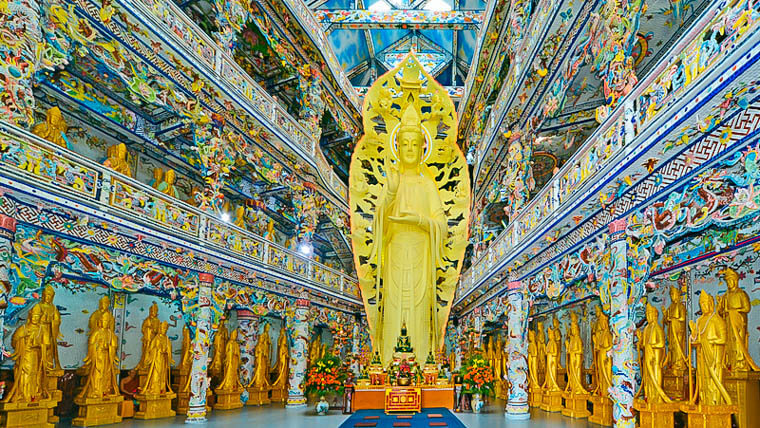 18m-high Bodhidharma statue - Source: truyenhinhdulich
- The tallest inhouse Buddha statue made of concrete in Vietnam.
- The current tallest bell tower in Vietnam.
- The tallest Bodhidharma statue made of wood in Vietnam.
- The 18m-high statue of Bodhisattva Avalokitesvara made from 600,000 immortal flowers - in the top Asian records.
- The largest golden oak statue of the Phoenix King in Vietnam.
- The root of the Jamblon tree contains the largest set of sutras in Vietnam.
- The mosaic temple is made of the most pieces of crockery.
- The largest golden oak ancient-type bed ("phản") in Vietnam.
- The largest golden oak set of tables and chairs carved with the 12 zodiac animals in Vietnam.
- "2 Cedrus trees and 100 cranes" - a work of art confirmed in the Vietnam record.
- The largest site of 18 levels of Hell in Vietnam.

Linh Phuoc pagoda is not only a famous tourist destination of Dalat, but also a sacred place of Buddhism. You won't have to buy a ticket to visit inside, but remember to dress modestly and show respect because this is a religious site. Hopefully, with this information about this unique pagoda in Dalat, you will have a comfortable trip here.