Located only about 2km from Dalanta waterfall, Tuyen Lam Lake Vietnam belongs to Ward 4 of Da Lat, more than 7km south of the city center. Recognized as a national landscape on February 15, 2017, the lake possesses an unspoiled scenery with many small oases, surrounded by beautiful green pine forests. Famous mainly for the ecotourism area around the lake, there are a variety of activities in harmony with nature, promising to bring you memorable experiences.
I - Top things to do in Tuyen Lam Lake Vietnam
1 - Visiting the lake by boat
One of the most interesting activities when visiting this resort is taking a scenic cruise on the lake of Tuyen Lam, floating with the flow of water and enjoying the picturesque scenery. On the calm lake surface clear like a mirror, you can admire the green color of the pine hills in the wind, dotted with the colorful roofs of small houses lying peacefully. In addition, the upper part of the lake also has a romantic red maple forest, beautiful like a movie scene, especially in the deciduous season around autumn from late August to November.
During the journey to Tuyen Lam Lake Dalat, you will also have the opportunity to visit a strawberry garden, go into the strawberry growing areas, hand-pick bright red strawberries and enjoy them on the spot. Currently, there are many boat tours operating to enjoy the scenery of the Lake, as well as tours to see the maple forest in the deciduous season. You can also go to the marina of the resort and rent a motorboat with prices ranging from 300,000 - 500,000 VND / group of 6 - 15 people ($13 - 21.64).
2 - Kayaking on Tuyen Lam Lake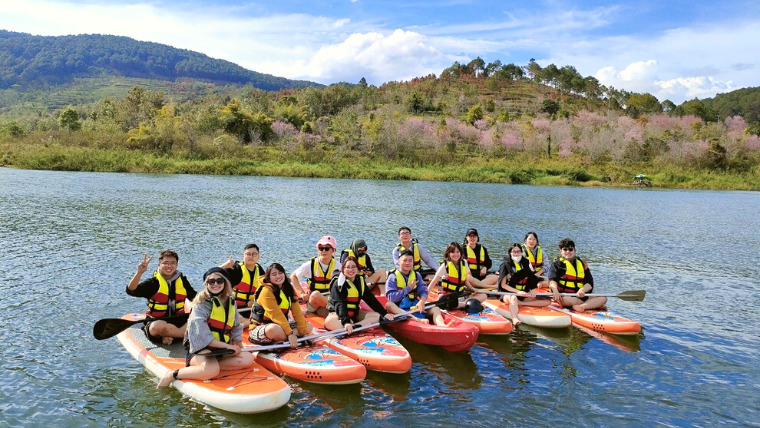 Kayaking on lake - Source: divui
If you are much more keen on outdoor activities, kayaking on this lake is a top choice. In the journey, you can admire the irresistible beauty of nature with pleasant weather, while also exercising your body.
Kayaking service normally starts at 8:30am - you can go to the counter and rent yourself a boat fully equipped with oars, life jackets and helmets. Your instructor will supervise and help you get to know and practice your sailing skills first, then you'll be able to begin your exploration in Tuyen Lam Lake on your own. In addition, if you go with a group of many people, like from the same company or class, organizing a small race among the members is also very interesting. The price of this service usually ranges from about 380,000 - 500,000 VND / person / 3-4 hours ($16.5 - 21.6).
3 - Conquering Pinhatt Peak
Not only famous for its peaceful lake surface, the lake tourist area also owns the majestic Voi Mountain range, in which Pinhatt Peak is considered the highest with a height of 1691m. For challenge-lovers, this is a must-visit trekking spot, offering a tough yet memorable journey and great view to Tuyen Lam Lake. The road leading to the top of the mountain is covered with grass and trees, with orchids blooming on the trunks of old trees and the joyful chirping sounds of birds in the old forest.
Going about 2km from the foot of the mountain, you will encounter a clear small lake, and from here the thousands of years old red pine trees gradually turn to fern forest. From the top of Pinhatt, you can enjoy the panoramic view of the lake and the center of Dalat city. You can also camp here, feel the unspoiled nature, admiring the twinkling lights of the streets and the city at night.
4 - Pedaling the duck boat on Tuyen Lam Lake Dalat
If you want to experience romance in a private space, you can choose to ride a duck on the lake. You can chat and chat with friends, while gently cruising on the calm, turquoise water, gazing at the mist-covered mountains. All the scenery blends together harmoniously, bringing a feeling of joy and relaxation, recharging more energy for your walk. The service fee is about 50,000 VND / hour / person ($2.16).
5 - Fishing and camping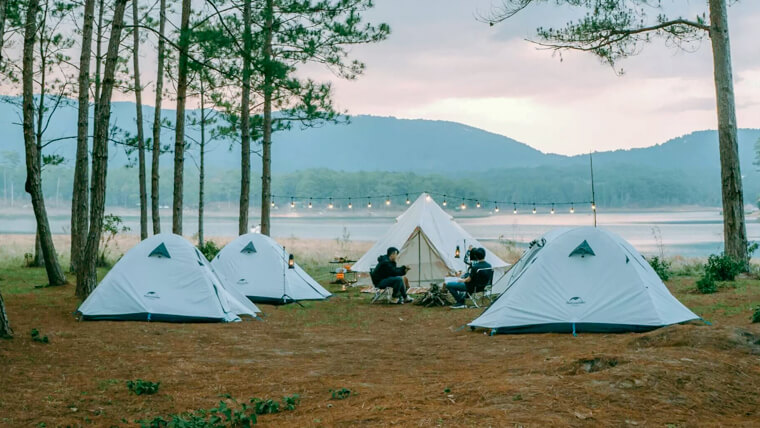 Camping - Source: dalatoi
Around the large Tuyen Lam Lake side area, there are huts for you to experience fishing activities without paying extra. You can both fish and admire the fresh green scenery on both sides, then bring your own results to be processed into delicious dishes on the spot.
Around the Lake area, under the shady trees, there are flat lawns and vacant land, suitable for camping in the wild and majestic natural landscape. You can set up a tent with your family or friends, gather together for a BBQ and campfire at night. When you wake up early in the morning, you will definitely be mesmerized by the beauty of the sunrise gently penetrating the foliage, reflected on the Tuyen Lam Lake's surface.
- Tents for 2 people: 150,000 VND / tent ($6.5)
- Tent for 3 people: 200,000 VND / tent ($8.66)
6 - Drink coffee and enjoy the fresh air, tranquil beauty of the lake
Drinking coffee with the view of the lake is a very relaxing activity, which everyone should experience when traveling to Da Lat. If you have the chance, sitting in the chilly weather and enjoying a warm cup of coffee is definitely a memorable experience. Here are a few cafes where you can sit back, taking some check-in pictures and enjoy delicious drinks:
Pini Coffee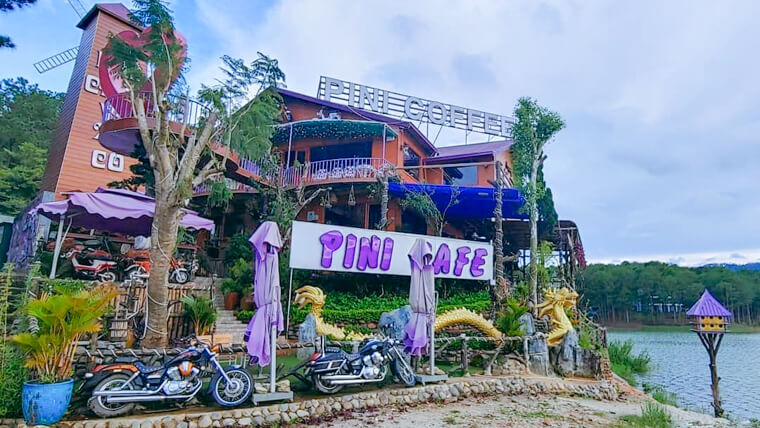 Source: didaudalat
This cafe is located right next to Tuyen Lam Lake, built mainly of wood with miniatures of windmills, antique cars,... You can freely choose to sit inside or out, but usually the latter option will give you the opportunity to immerse yourself in the vast nature of Dalat. In addition to dishes such as fruit juice, tea, smoothies or cakes, the most famous drink is Vietnamese weasel coffee, which has a rich and distinctive taste.
- Address: No.1 Ho Tuyen Lam, Ward 3, Da Lat City, Lam Dong Province
- Price: 20,000 - 200,000 VND / item ($0.87 - 8.66)
- Opening time: 7:30am - 9pm
- Contact: 0263 3513 111
The Seen House
Another beautiful café on the sìde of Tuyen Lam Lake is the Seen House. The most impressive thing about this cafe is that it lies with its back against a green pine hill, providing a cool and infinitely peaceful space. Seen House has a fairly simple space, designed to be cool and close to nature, with numerous good check-in corners. The menu here is also quite diverse, in addition to coffee, there is also wine, Western dishes and beefsteak.
- Address: Thuong Garden, Ho Tuyen Lam, Ward 3
- Price: 10,000 - 100,000 VND / item ($0.43 - 4.33)
- Opening time: 6am - 10pm
- Contact: 0919 795 785
II - Resorts around Tuyen Lam Lake Dalat
Around the Lake, there are many high-class hotels, resorts, and homestays with beautiful mountain views that you can choose to stay in.
1 - Terracotta Hotel & Resort Dalat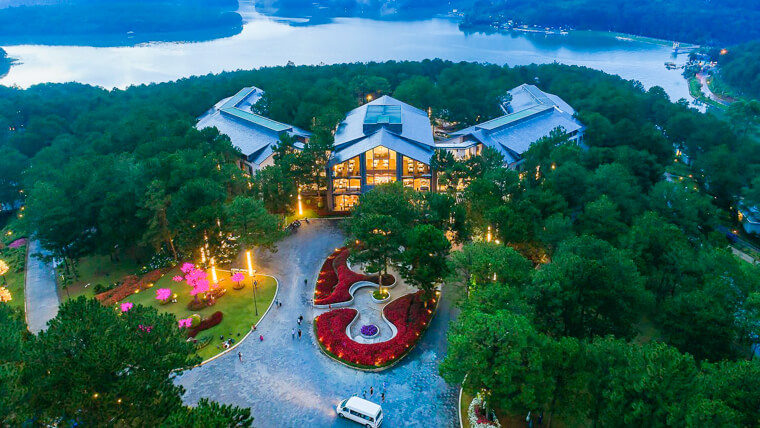 Source: @Terracotta Hotel & Resort Dalat
Located in a prime location amidst the green pine forest, Terracotta Dalat looks down on the calm Lake of Tuyen Lam, with many beautiful corners. The plus point of this resort is that the campus is very large, including 240 rooms and 21 lakeside villas.
- Address: Functional subdivision 7.9, Ho Tuyen Lam tourist area
- Room price: 1,000,000 - 2,550,000 VND / room / night ($43.3 - 110.4)
- Contact: 0263 388 3838
- Website: https://dalat.terracottaresort.com/
2 - Swiss-Belresort Tuyen Lam
This is one of the most famous resorts in Dalat, chosen by many tourists because of its beautiful view overlooking Tuyen Lam Lake. You can enjoy a lot of facilities with a high-class room system, immersing yourself in a poetic scenery and pleasant atmosphere.
- Address: No.7-8, Ho Tuyen Lam tourist area
- Room price: 963,000 - 3,297,000 VND / room / night ($41.7 - 142.7)
- Contact: 02633 799 799
- Website: https://samtuyenlamhotel.com.vn/
3 - Dalat Edensee Lake Resort & Spa
This is a luxury resort designed in an elegant and comfortable European style with a super nice view. Located in the middle of the pine forest, Edensee Lake is like a mysterious island of the lake ecotourism area
- Address: Zone VII.2, Dalat City.
- Room price: 1,865,000 - 3,045,000 VND / room / night ($80.7 - 131.8)
- Contact: 0263 383 1515
- Website: http://www.dalatedensee.com/
III - Useful information about Tuyen Lam Lake tourism
1 - Best time to visit
The weather in Dalat is convenient to travel all year round, but the most ideal time to visit the lake is in the dry season from November to June. At this time, it is sunny and airy, suitable for traveling. you enjoy the scenery, participate in recreational activities and organize camping in the pine forest. You should avoid going in the rainy season because the road to the lake in this season is quite slippery, difficult to go.
2 - Top nearby attractions
Truc Lam Zen Monastery Dalat
Source: disantrangan
Overlooking the beautiful Tuyen Lam Lake, this work is located on Phung Hoang Mountain. With an area of up to 30h, Truc Lam Zen Monastery is one of the three largest monasteries in Vietnam belonging to the Truc Lam Yen Tu lineage, built from 1993 to February 8, 1994.
From the lake, you can walk up a slope with 140 stone steps, both sides are surrounded by immense pine forests, through 3 three-door gates to enter the main hall. There is also a cable car system on Robin Hill Dalat connecting directly here, with ticket prices of:
- One-way: 50,000 VND / person ($2.16)
- Round-trip: 70,000 VND / person ($3.03)
Sculpture Tunnel
Da Lat Sculpture Tunnel is one of the famous tourist attractions of the area, located just a few hundred meters from Tuyen Lam Lake. Created with blocks of clay, this architectural feat has been named as the longest clay tunnel in the world. There is also a Basalt red earthen house with a unique style, using the unburnt materials, which is confirmed to 2 Vietnamese records. The architecture of the sculpture tunnel is very unique and eye-catching, recreating many scenes of Dalat such as Con Ga church, Pasteur institute, Valley of Love,...
- Ticket price:
+ Adult: 90,000 VND / person ($1.73)
+ Children: 30,000 VND / person ($0.87)
- Opening hours: 7:30am - 5pm
Lavender tourist area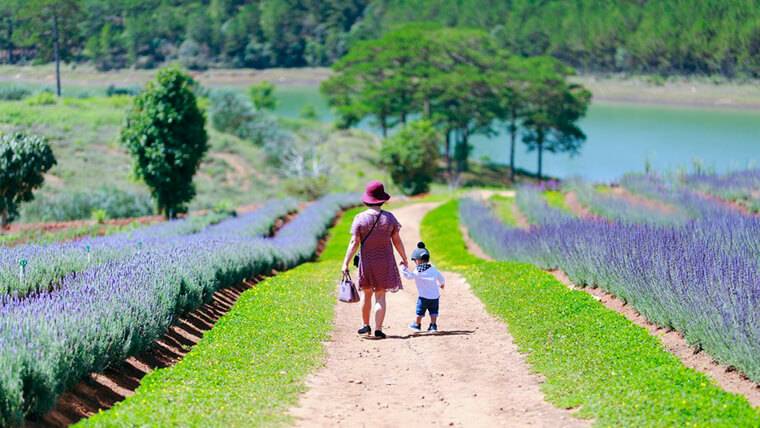 Source: @quysg
As one of the two largest lavender gardens in Da Lat, this place is chosen by many tourists due to its picturesque space, overlooking Tuyen Lam Lake. You will be immersed in the colorful purple space, take beautiful check-in photos, enjoy the feeling of relaxation and forget all stress.
- Address: No.1 Hoa Hoang Anh Street, Ho Tuyen Lam Tourist Area
- Ticket price: 50,000 VND / person ($2.16)
- Opening hours: 7am - 5pm
- Contact: 093 153 52 57
Bao Dai waterfall tourist area
Visiting dreamy Da Lat, Bao Dai Waterfall - Tuyen Lam Lake tourist area is a suitable place for all ages, with many interesting and beautiful sightseeing items. You can also enjoy the unique scenery of the works such as Windmill, Smurf Village, Dwarf Village and especially the Wine Cellar.
- Address: Sub-Area 157, Ward 4, Da Lat City
- Ticket price: 120,000 VND / person ($5.2)
- Opening hours: 7am - 6pm
- Phone: 0907 088 039
Tuyen Lam Lake is a place where rivers and streams, mountains and primeval forests blend together, creating a peaceful and poetic natural picture. This place is an ideal tourist destination, suitable for picnic and entertainment activities, convenient for you to explore the wild nature. So what are you waiting for? Without visiting this beautiful space if you have the opportunity to come to the dreamy flower city of Dalat.