Dalat is such a romantic and dreamy city that enchants every single tourist having a chance to come here. The immense pine forests, unlimited flower fields, and peaceful villas. However, there exists one strange villa with its name - Dalat Crazy House (or known as Hang Nga Guesthouse, which always startles travelers. Besides the name, are there any features making it so different and alluring?
I - Overview of the crazy house in Dalat
The Hang Nga villa or later known as the crazy house is located at No.3, Huynh Thuc Khang Street, Ward 4, Dalat City. A nice location to visit other Dalat famous attractions such as Than Tho Lake, Valley of Love, Dream Hill, Bao Dai Palace & other surrounding attractions.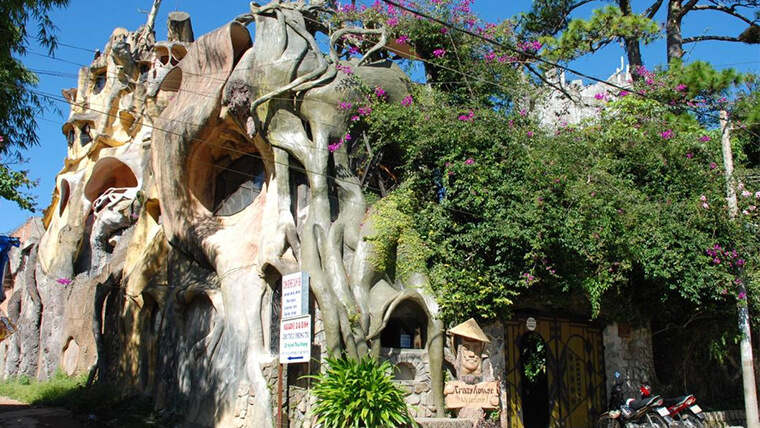 Source: Agoda
1 - Who is the crazy house Dalat architect?
This villa is designed and named by architect Dang Viet Nga the daughter of the Vietnamese late General Secretary Truong Chinh. The villa was built in 1990 by an architect who has a big passion for artistic creation. Being inspired by the legend of the banyan tree on the moon, architect Dang Viet Nga has created a bizarre and unique construction combining a sightseeing spot, and a mini-hotel.
2 - Crazy house Dalat entrance fee
- Adult: 50,000 VND/person ($2)
- Children: 20,000 VND/person ($1)
3 - Opening hours
Opening hours: 8:30am - 7pm
More information: weather in Dalat
II - Unique architecture of the Crazy house in Dalat
Mrs. Dang Viet Nga used her ultimate imagination to design a wild, weird & impressive construction in the heart of Dalat. The villa is built based on the basic structural principle ensuring the safe & stability of the house and mainly using the materials of wood, steel, and concrete. With the aim of creating a house close to nature with lots of impressive & unpredictable details and patterns
The Hang Nga's guesthouse in Dalat includes many stumps and parts of wild animals being hunted. The windows were odd, concave, convex, and unarranged which share the same shapes like the eyes of wild animals watching blankly at the newcomers. Welcoming visitors right from the gate is a huge spider's web elaborately designed with steel wire, arousing curiosity for visitors.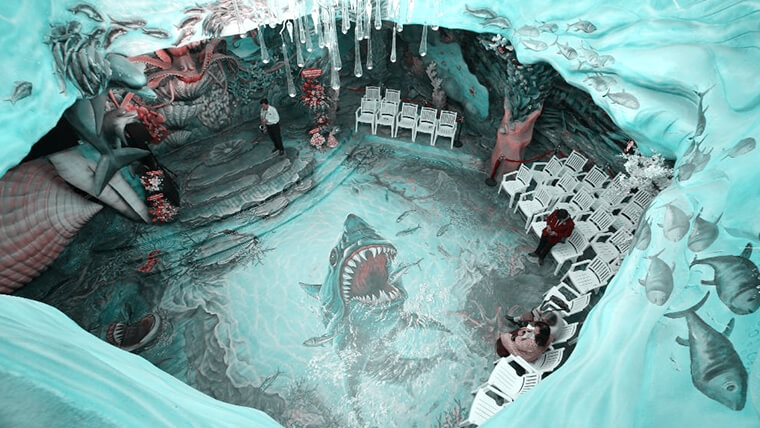 Source: Agoda
The interior of the Crazy House Dalat Vietnam will surprise tourists so much more with its sophisticated construction which does not follow any style of design. The rooms' appearances are the same as crude logs, however; behind the door are comfortable rooms being full of amenities like a 5-star hotel. The living rooms, cafes, and art galleries will bring you amazing adventures going from this surprise to another surprise.
Hang Nga Crazy House in Dalat has an ideal interior with winding corridors, weird and bumpy stairs which create a like-cave look for the villa. There are also large-sized animal statues having bizarre shapes arranged next to the tea rooms.
There are straight lines, straight angles, neat details, or fixed styles within the villa. People only see the unpredictable and exotic arrangement which creates an unforgettable impression.
Related topic: Top things to do in Da Lat
III - Crazy house in Dalat rooms reservation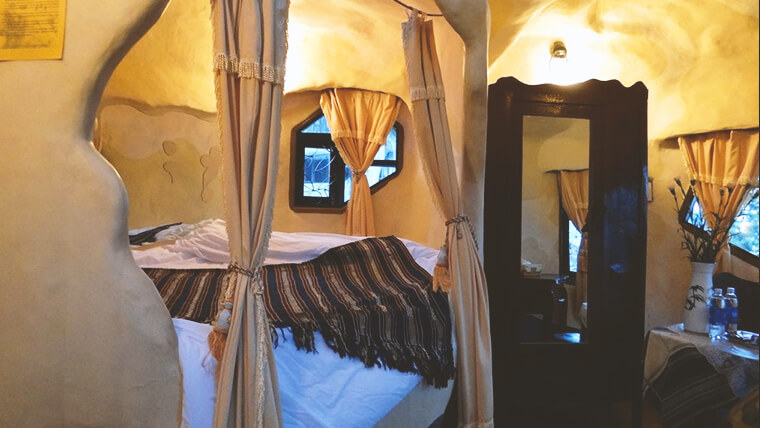 Source: Tripadvisor
The villa offers 10 guest rooms with different themes and styles and is named for different kinds of animals such as kangaroos, tigers, bears, pheasants, and monkeys. You reach the rooms by passing through the mysterious stairs that twist around a big tree. In the concept of going back to nature, the Crazy House in Dalat rooms are equipped without modern facilities like an air-conditioner or television, instead, you can enjoy a naturally comfortable environment. Through the large windows, you can enjoy the picturesque outside natural landscape. All of the rooms in the offer at least one open side to enrich the outside visibility.
1 - Room price
The room rate ranges from 600,000 VND to 1,500,000 VND / night ($26 - 65).
2 - Crazy house Dalat booking
Reservation & booking contact:
- Phone number: (+84) 263 3822 070 / (+84) 263 6251 279
- E-mails: info@crazyhouse.vn / reservation@crazyhouse.com.vn
Crazy House in Dalat is one of the best places to visit in Dalat for those who are passionate about discovering mysterious things or experiencing an interesting place to stay.