Located in the south of Central Highlands Vietnam, Dalat is home to lots of spectacular sceneries from mountains & forests to waterfalls & streams. The top 10 most famous Dalat waterfalls below will make you wow owing to their majesty and grandeur, making them domestically and internationally famous. Wondering how attractive these waterfalls are? Let's follow the article below to get your right answer!
Datanla waterfall - top 10 best waterfalls in Dalat
Datanla waterfall, nestling in a majestic primitive forest, is regarded as one of the most gorgeous waterfalls in Vietnam. The 20m-high waterfall is not as noisy and intense as others because the rocky shelves flow from the top slowly and there are just a few steep slopes. Because of the extremely transparent water at the foot of the fall, Datanla is also dubbed a "fairy stream" by the locals.
This waterfall in Dalat attracts a large number of visitors to come so as to admire the majesty of nature and involve in a myriad of enjoyable activities such as climbing to the top of the fall to immerse in the pristine, untouched nature; canyoning over the waterfall, kayaking, jumping on 1,000m roller coaster gliding around the mountain cliff & the waterfall. Among many waterfalls in Dalat, Datanla offers the most interesting high rope course featuring 6 levels with increasing difficulty levels and 80 different challenges, suitable for kids and adults.
- Location: National Highway 20, Ward 3, Dalat city
- Entrance fee: 30,000 VND/adult ($1.3) & 15,000 VND/child ($0.6)
- Opening hour: 7:30am - 5pm
Hang Cop waterfall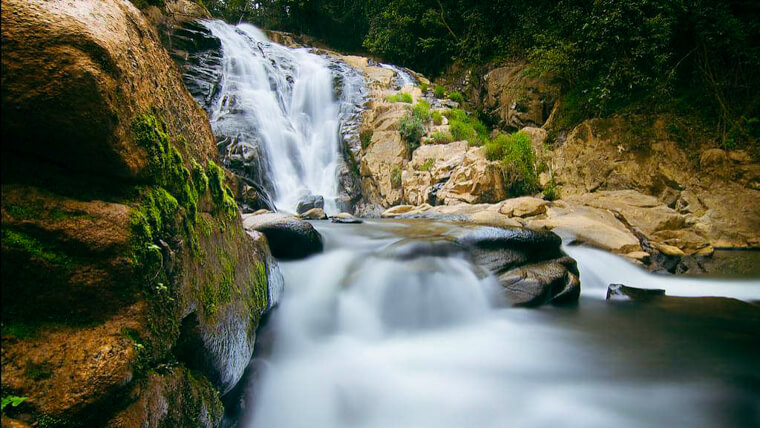 Tiger cave waterfall - Source: dalatcity
Hang Cop waterfall (Hang Cop means Tiger Cave) is hidden in a pine forest with an area of 308ha. It is 50m high and 50m long, boasting its pristine and majestic beauty like its name itself. After passing through a 5km-long winding route in the pine forest with interlaced tree roots, you will take Hang Cop waterfall into your eyesight.
The sounds of heavily falling water from a height echoing in the vast space mixing with the tweets of singing birds would bring about a sense of relaxation and comfort. As other waterfalls in Dalat, the water here is so clear that you can easily see the rapids and fish swimming under the cool water.
When traveling to Hang Cop waterfall, you also have an opportunity to discover many varieties of flowers and rare plants in the forest. Near this Dalat waterfall is a suspension bridge across the stream, which leads you to the pine tree hill, where you can find a rustic village of ethnic minority groups and learn more about the unique culture as well as the tradition of the localities.
- Location: Tuy Son village, Xuan Tho commune, Dalat city
Cam Ly waterfall
Cam Ly waterfall was recognized as a National Historical and Cultural Relic by the state in 1998. The fall is loved by its pristine and poetic beauty. It is not as noisy and aggressive as many other waterfalls in Dalat and Vietnam as the water flows really smoothly and gently through the granite rapids, which looks like the cascading loose hair of a young woman.
When standing in front of the waterfall, you will be overwhelmed by the majesty of nature which is the harmonious combination of mountains, primitive forests and the sounds of chirping birds mixing with the murmuring flowing water. In addition, the waterfall is located in a pine forest, so you may also feel the subtle aroma of pine tree flowers in the light wind. Cam Ly waterfall is an ideal wedding photography location.
- Location: Hoang Van Thu Street, Ward 5, Dalat city - around 2km to the west of Dalat city center
Prenn waterfall - top best waterfalls in Dalat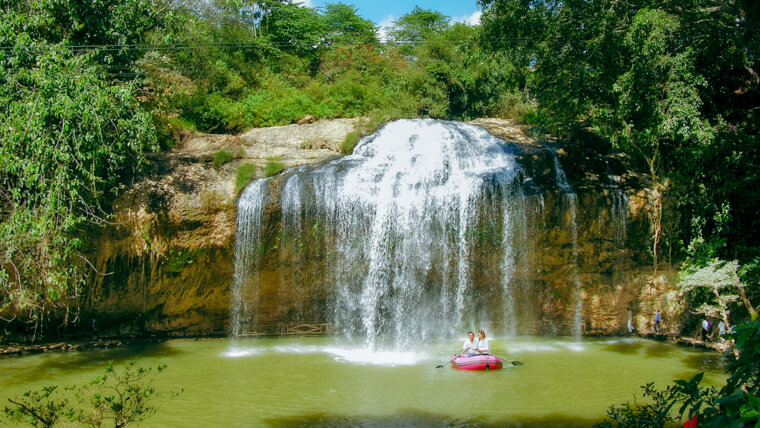 Prenn waterfall - Source: bestprice
Prenn waterfall is located at the foot of Prenn mountain pass, about 10km from Dalat city center. This Dalat waterfall has a height of around 20m, and water from that height gently pours down to the foot of the fall, creating a beautiful, small lake. From afar, the flow of falling water is white and smooth just like the loose hair of a young woman, which seems to be shimmering and glittering under the glorious sun's rays.
The veil of mist around the waterfall, combined with the surrounding greenery, makes the atmosphere here extremely cool. Prenn waterfall is not only a masterpiece of nature but also an ecotourism site providing a myriad of attractive recreational activities such as boating, visiting the zoo and colorful orchard garden, and getting on the cable car to get to the top of one of the most beautiful waterfalls in Dalat.
- Location: Ward 3, Dalat city
- Entrance fee:
+ Adult: 50,000 VND/ticket ($2.15)
+ Children: 15,000 VND/ticket ($0.65)
Bao Dai waterfall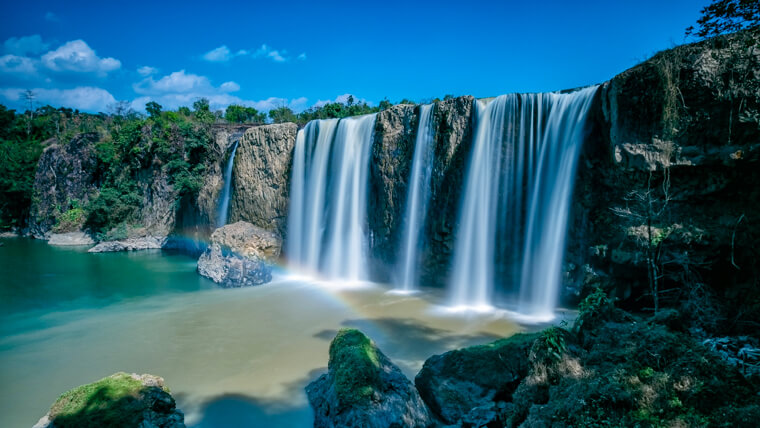 Bao Dai waterfall - Source: @Minh Ngo
The route leading to this waterfall in Dalat is relatively easy, surrounded by extremely big cliffs and several hundreds-of-year-old weeping ficusses. Visitors will pass a criss-crossed path crossing the mountain, through a cave, or a narrow route between two cliffs, creating a feeling of excitement. There are some parts where the roots of the ancient, large trees cross the deep holes to create a special "bridge".
The steep rock cliffs are covered in green moss, on which are bunches of stunning orchids in full bloom, making the entire natural scenery like a vivid watercolor painting. Once traveling to Bao Dai waterfall - one of the best waterfalls in Dalat Vietnam, you have a chance to comfortably admire the majestic beauty of the pine trees and calmly listen to the chirping bird songs. Particularly, the mist from the falling waterfall looks mesmerizing and mysterious under the sunlight, creating a wonderful rainbow.
- Location: Ta Hine commune, Duc Trong district, Lam Dong province - about 60km from Dalat city center
Gougah waterfall - a great waterfall in Dalat
Gougah waterfall, also known as O Ga waterfall, is an ideal picnic site in Dalat city. This "natural masterpiece" pours downs into two distinct streams from the height of 30m, one is characterized by the blood-red water due to the influence of soil, and one has brilliant white water. This is the reason why Gougah waterfall is dubbed the yolk and egg whites of chicken eggs, making it different from other waterfalls in Dalat.
Currently, the Gougah tourist site has an area of 129ha with many picnic sites, restaurants & stalls, and flower gardens,... and you can participate in thrilling activities such as high rope courses or mountain climbing with ropes.
- Location: Chung village, Phu Hoi commune, Duc Trong district, Lam Dong province - about 37 km from Dalat city
Elephant waterfall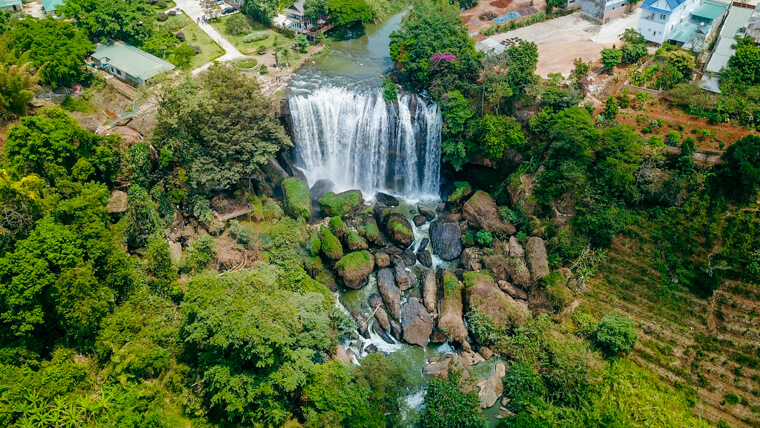 Elephant waterfall - Source: Internet
Situated around 25km to the Southwest of the Dalat city center, Elephant waterfall (also called Lieng Rowoa) is 30 high and around 40m wide with yellowish, opaque water because of the large amount of alluvial sediments. Elephant waterfall is in the top 3 largest waterfalls in Dalat, appealing to a large number of tourists by its pristine, untouched beauty.
This Dalat waterfall was recognized as the National Scenic relic site in 2001. You must pass through 145 winding stone steps to reach the top of the fall, from which you have a panoramic view of majestic lush, green old trees with endless vines, which creates a more mysterious and wonderful scene.
At the foot of the fall are huge rock blocks covered in green moss, making many people think of the giant elephants. In addition, there is a mysterious cave, 50m deep below the ground. At the mouth of the cave are many large, old roots and vines. Going deeper inside the cave, you will see cliffs with strange, eye-catching shapes. The deeper you go, the colder you will feel and the more enjoyable the journey to discover becomes.
- Location: Nam Ban Town, Lam Ha District, Lam Dong Province
Pongour waterfall - top waterfalls in Dalat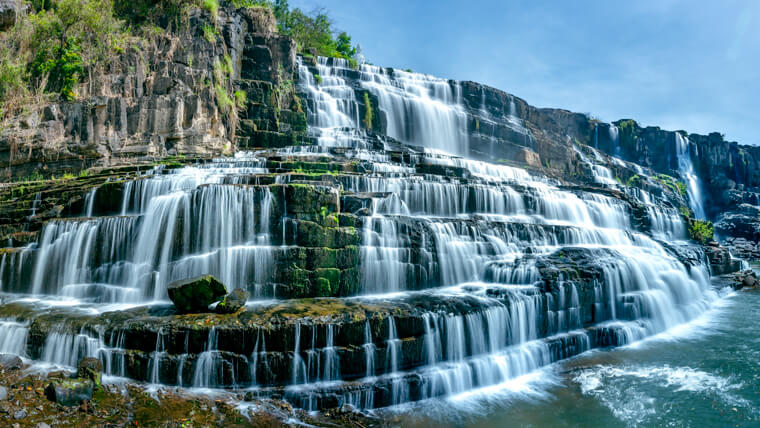 Pongour waterfall - Source: pexels
Surrounded by a 2.5ha primitive forest, Pongour waterfall is well-known as one of the most breathtaking waterfalls in Vietnam and in Indochina also. The water falls from a height of around 40m through 7 layers of rock cliffs, therefore it is also popularly called "the Seven-layer waterfall". The water flows run through moss-covered rock blocks, then fall down to the lake at the foot to create the incredibly amazing white foams.
The water surface is really wide and emerald, scattering with a couple of rapids, making the entire waterfall and surrounding landscape like a fairyland. Like other waterfalls in Dalat, Pongour is a great idea to set up a campsite and BBQ parties on the waterfall's campus. If you come here in lunar January, you can join in the unique and amusing festival of the locality, which would be a wonderful opportunity for you to discover the local culture.
- Location: Phu Hoi commune, Duc Trong district, Lam Dong province
Bobla waterfall
Located amidst the primitive forest with many hundreds-of-year-old ancient trees and surrounded by high cliffs covered by moss, this waterfall in Dalat has been renovated into an ecotourism site. You will be first profoundly impressed by a pure white "silk strip" pouring down a deep lake from a height of 50m, splashing incredible white foams.
The shaping of one of the most spectacular waterfalls in Dalat like Bobla waterfall has the contribution of not only to the pristine nature but also the beauty and arduousness of humans. The indigenous peoples living near the waterfall are regarded as the symbol of the strong will and indomitability of the hometown. Some outstanding activities ideally for adventure-lovers can be mentioned as rope courses, discovering the forest, and fishing.
- Location: Lien Dam commune, Di Linh district, Lam Dong province
Dambri waterfall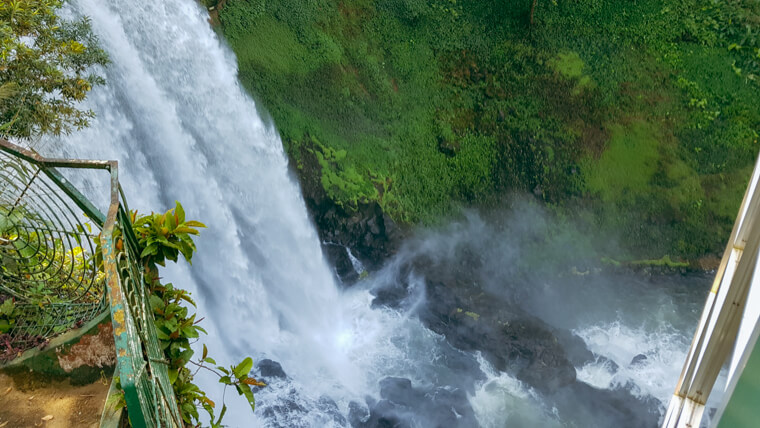 Dambri waterfall - Source: @Nhat Le
Dambri waterfall is ranked in the top most stunning and highest waterfall in Lam Dong province, which is 57m high and around 30m wide. A 20m cement bridge leads you to the waterfall, on the way you can admire the extraordinary cascading waterfall. You can choose one of two ways to get to the fall, which are walking 365 stone steps through the primitive forest or getting on a 50m elevator along the waterfall.
As one of the best waterfalls in Dalat, Dambri is a part of an ecotourism area with the same name features a wide range of entertainment services, typically Alpine coasters - the longest one in Southeast Asia with a length of 1,650m, roller coaster, team building area, waterslide, and many other enjoyable activities, namely double bicycle paddling and skating, etc.
- Location: Damb'ri commune, Bao Loc city, Lam Dong province - about 100km from Dalat city center
- Entrance fee: 200,000 VND/ adult ($8.6); 100,000 VND/ kid ($4.3)
- Opening hours: 6am - 5pm
Hopefully, the top 10 most attractive waterfalls in Dalat Vietnam with their grandeur and a number of exhilarating activities would be a perfect choice for nature-lovers. Besides these waterfalls, "the city of love" - Dalat has many worth-visiting destinations like Xuan Huong lake, Lam Vien square, The Crazy House, Con Ga church, Dalat Night Market,... all of which surely do not let you down on the trip to this amazing city.