With a total area of 30ha, the romantic Cu Lan village Dalat is nestled among thousands of hectares of green primeval forest at the foot of the majestic LangBiang mountain. This place is said to have existed since the 1960s, embellished, and officially opened for tourism in mid-2011. The space here is planned and designed by 3 talented architects, based on the idea of romantic beauty and perfect uniqueness, expressing special love for nature. The village is divided into 8 main areas including K'ho hamlet, Duoc hamlet, gallery, restaurant, Chom Hom market, ancient communal stilt house, nature reserve, and village center areas.
I - What makes Cu Lan village Dalat interesting?
With the purpose of letting visitors experience nature with all their senses, the village of Cu Lan offers you the opportunity to participate in many wild activities.
1 - Jeep tour to explore around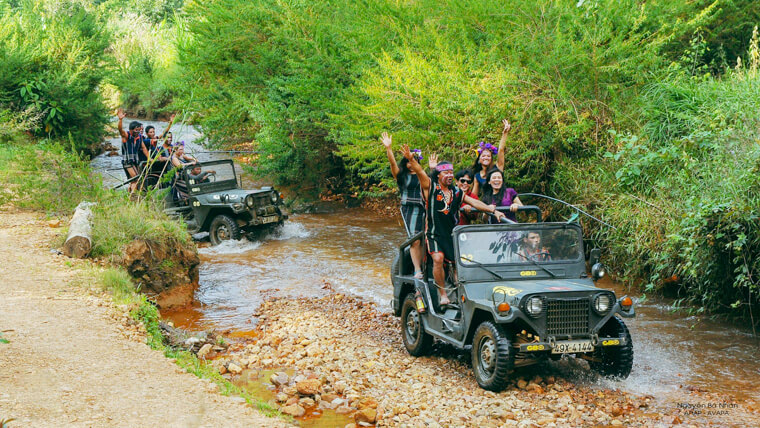 Source: culan
It is hard to find something more exciting than sitting in cars running on the rugged winding red dirt roads, rushing through shallow streams leaving white splashes of water behind. On this 8km trip, you will feel all the rustic and primitive beauty of this place, from the bamboo bridge, the communal house, the colorful flowers, to the wooden swing and the animal barn.
Taking a jeep tour to explore Cu Lan village, you are taken to visit Cu Lan Nature Reserve, where you will get acquainted with the gentle Pygmy slow loris, an animal with extremely transparent and beautiful eyes. There is also a tree of the same name with ox-colored bark, notable for its extremely strong vitality that makes it known as the tree of immortality.
- Price: 150,000 VND / person ($6.54)
- Capacity: minimum 4 people - maximum 5 people / car
2 - Rafting
Rafting is loved by many tourists traveling in groups. Couples should also not ignore the chance to raft on a romantic heart-shaped lake in the middle of the village.
For those who stay overnight in Cu Lan village, it is impossible not to experience the feeling of carrying a fishing rod and fishing in the afternoon. Then the next day, you can wake up early, take a boat ride, feel the first rays of sunlight of the day, and listen to the birds chirping in the forest.
3 - Climbing mountains
Mountain climbing in Cu Lan village gives you the experience of conquering real hills. Although they are not too difficult, they are enough to give you a sense of challenging your own endurance. The feeling when you reach the top of the hill, watching the whole green and dense forest at your feet, the sparkling lake surface, and hidden streams, will be unforgettable.
4 - Hunting in Cu Lan village Dalat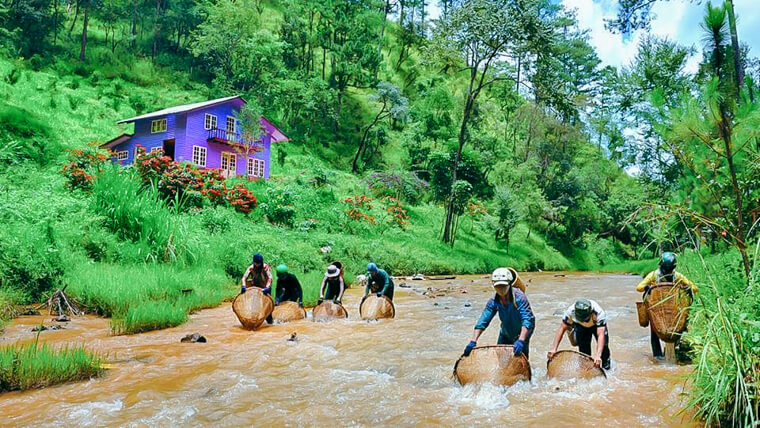 Source: Đăng Nguyễn Hải
Cu Lan is located in the middle of a green valley, surrounded by primeval forests with many wild animals. You can truly experience the feeling of hunting them and fishes in the ancient method, using sharp wooden spears and simple traps from natural materials like trees and roots.
Once done, you can process and enjoy the food in the way of the ethnic people - the taste of grilled pork, chicken or fish are unforgettable, especially when served with fragrant bamboo rice tubes and sesame salt. This is also an opportunity for you to enjoy grilled sweet potatoes with honey, grilled wild chicken eggs or goat milk yogurt made by the locals in Cu Lan village.
5 - Exchange of Gongs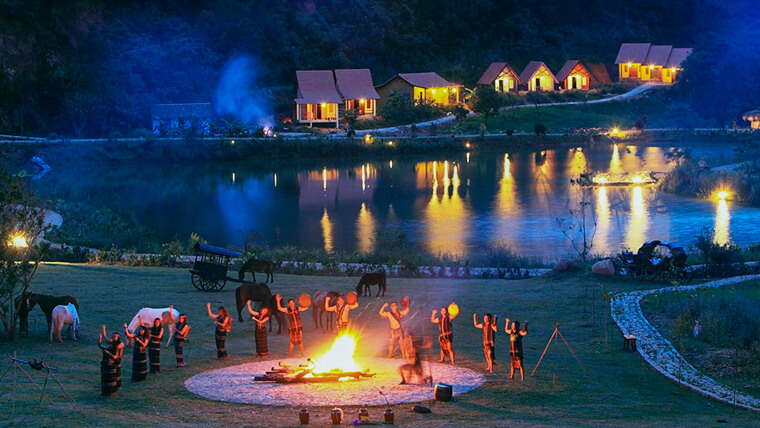 Source: baodantoc
In the village of Cu Lan, experiencing the unique culture of the Lach ethnic people here is one of the best things to do in Dalat. You can participate in the Dalat Gong Culture Exchange program, immersing yourself in the lyrics, singing, dancing, and sound of gongs. It will be a memorable experience when you and the boys, and girls of the Lach ethnic group dance around the flickering campfire, sipping can of wine and enjoying hot wild meat. Your group can also organize your own campfire space from 5pm - 9pm, but there must be a minimum of 30 people, for a price of:
- Price: 200,000 VND / pax ($8.7)
- Firewood: 700,000 VND / block ($30.5)
6 - Visit the Central Highlands wooden statue museum in Cu Lan village
The unique Central Highlands-style wooden statues on display in the village of Cu Lan are carved by the hands of ethnic minorities here - Gia Rai and K'ho artisans, with rudimentary tools such as axes and chisels, using the traditional art of "moc lom". This is a method of taking advantage of the protrusions from the piece of wood to create statues in the shapes of people and animals, which are extremely lively, rustic and familiar.
Most of these works faithfully recreate the productive working life, community activities and the rich cultural features of the ethnic groups in the Central Highlands. These wooden statues in Cu Lan village Dalat Vietnam are familiar images such as women pounding rice, people beating gongs, nursing mothers, archers hunting animals or religious practices and activities. The wooden statues are not only a manifestation of spirituality and belief, but also used to decorate living spaces.
Among the items on display in the museum, in addition to 20 ancient wooden statues that have been exhibited in Europe, there is also the largest T'rung guitar in Vietnam. It is 50m long, made from carefully carved bamboo tubes. The bamboo tubes are activated by the force of water, colliding with each other to form a series of resonant sounds, bearing the wild sound typical for the mountains and forests.
II - Other tourism information for tourist to Cu Lan village
1 - Where is Cu Lan village located?
Source: Duong Minh Hoai
About 25km from Dalat city center, the village is located in Suoi Can Hamlet, Lat Commune, Lac Duong District, Lam Dong Province. Traveling by taxi takes quite a long time of approximately 45 minutes, but the space and experience here is extremely worth the effort. During the city tour of thousands of flowers, you can also combine the village with some other famous attractions such as Xuan Huong lake 22.3km away, Tuyen Lam lake 28km away or Datanla waterfall 29km away.
2 - Opening hours
The village opens for sightseeing daily, specifically:
- Weekdays: 7:30am - 5pm
- Weekends and public holidays: 7:30am - 5:30pm
3 - Cu Lan village entrance fee
The entrance fee to the village in 2022 is listed: 100,000 VND / pax ($4.36)
Grass field, lake surface, stream and forest, equipped with skill games:
- Price: 200,000 VND / person / group of minimum 30 people ($8.7)
- Time of use: 8am - 5pm
Extra fee of other activities:
- Dress up as ethnic people: 50,000 VND / set ($2.2)
- Horse riding: 80,000 VND / time ($3.5)
- Catching fish: 250,000 VND / kg of fish releasing to the stream ($11)
- Big sound system: 3,000,000 VND / 4 hours ($131)
- Small portable sound system: 1,500,000 VND / 4 hours ($65.4)
4 - When is the best time to visit Cu Lan village Dalat?
Da Lat is famous for its cool and mild year-round climate, very suitable for relaxation and hanging out, so you can visit the village at any time. However, the best time is from early December to April, when the weather is cool and comfortable but still sunny, convenient for you to visit and participate in outdoor activities.
5 - Accommodation
Isolated bungalows
Located in the middle of a wild purple hydrangea forest, 11 bungalows have an area of ​​50m² each, with a maximum capacity of 3 people, fully equipped with 4-star standard amenities and overlooking the vast valley or blue lake. Room rental comes with free services at Cu Lan village including breakfast and coffee, shuttle bus, teambuilding and campfire, night fishing, rafting, duck and pig hunting, climbing, viewing paintings exhibition of famous artists,…
- Reference price: 2,000,000 VND / room / night ($87)
- Extra bed: 500,000 VND / person ($21.8)
Camping in the wild forest
Staying in a tent set up on a 12,000m² wide lawn, near a lake or stream bank, you will be truly immersed in the wild nature and feel the cold air of the mountains and the warmth of the flickering fire. You need to book a minimum of 2 tents and you will be guaranteed some free services at Cu Lan village including team building on the large lawn and space for campfire, rafting, animal hunting, viewing exhibitions of paintings,...
- Tent for up to 5 people: 3,000,000 VND / night ($131)
- Tent for up to 8 people: 4,000,000 VND / night ($174)
Wooden stilt house of the K'Ho people
Staying in the beautiful pine forest, you have the opportunity to experience the life of locals by the fire in the foggy night and the cold dawn, surrounded by the colorful wildflower paradise.
- Price: 200,000 VND / pax / group of minimum 10 people ($8.7)
Villas
The villas are completely designed and decorated with natural materials such as wood, rattan, bamboo,... Prices of some types of villas in Cu Lan village:
- Thang Cu Lan: 3,500,000 VND / room / night & maximum 4 people ($153)
- Huong Rung: 3,500,000 VND / room / night & maximum 4 people ($153)
- Giac Mo Cu Lan: 9,000,000 VND / room / night & maximum 12 people ($392)
- Chien Binh: 15,000,000 VND / room / night & maximum 24 people ($654)
6 - Food service
You can find many regional specialties at cheap prices such as grilled chicken with "lam" rice, fried chayote buds,... at Chom Hom Market and the country-style eateries on the hill. You can also visit Cu Lan restaurant by the lake in the middle of the forest. The food service at Cu Lan village Dalat Vietnam is based on 5 clean standards in terms of raw materials, water, processing, space and dishes, chopsticks - animals raised in the forest, and vegetables grown in the village. The village's drinking water source is brought from a natural stone crevice on the slope of Heaven Gate, ceramic dishes are all high-class, and the metal or bamboo chopsticks are only used once.
Cu Lan village is currently one of the most sought-after eco-tourism sites in the flower city of Dalat, attracting numerous visitors with a variety of experience activities. In addition to the charming landscapes of this place, you are also provided with the most modern and leading services, in many fields such as food, accommodation, entertainment,…