Why is winter in Vietnam a great time for traveling to foreign tourists? When traveling to Vietnam in winter, you have a chance to see snow in a tropical country, to admire the magnificent beauty of the mountain towns engulfed in a sea of fog and clouds, to explore the old, narrow & busy streets lined with food stalls, local restaurants, ancient houses and lots of of souvenir shops under chilly weather.
I - Winter in Vietnam in a quick glance
1 - What areas in Vietnam are affected by the winter?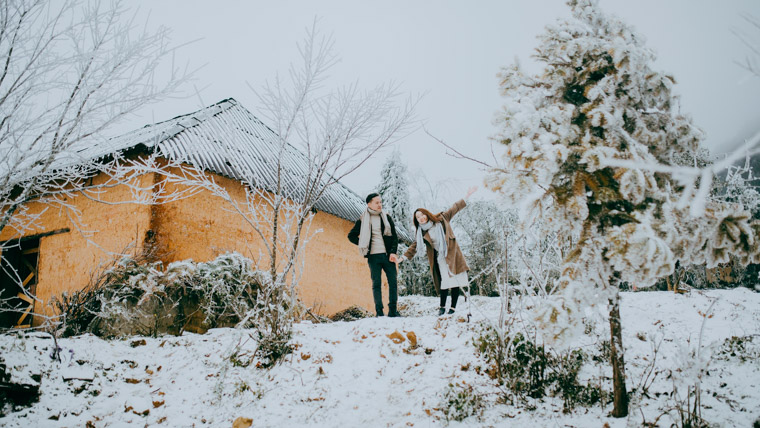 Snowing in Ha Giang - Source: Monstudio
Vietnam's mainland strip is characterized by an S-shape, stretching from the province of Ha Giang to Ca Mau cape with a length of 1,650km in the north-south direction. Bach Ma mountain range is a border between Hue city and Danang city, dividing the country into two distinct climate zones. The climate in Vietnam is quite complicated with 4 seasons in the North, and 2 seasons in the South.
The northeast monsoon blows from the Siberian High and Central Asia to Vietnam, and when reaching the Bach Ma mountain range, it will be blocked. As a result, winter in Vietnam only affects the area from Bach Ma mountain range toward the North (including the North & North Central region).
The mountainous areas in the East and West-North which are located at an altitude of 700m above the sea level are influenced considerably more profoundly than the delta and coastal areas. Top places suffering from the harshest Vietnam winter are Sapa town, Tam Dao district of Vinh Phuc province, Lang Son province, Ha Giang province, Cao Bang province,... At the peak of winter, the temperature in these places can reach up to 0℃, accompanied with smog and sometimes snowfall, especially at the Fansipan mount in Sapa, Mau Son mountain peak in Lang Son province, Phi Oac peak in Cao Bang province,...
2 - When is winter in Vietnam?
Among 4 seasons of Vietnam, winter in the North of Vietnam starts at the end of October and ends in February of the following year with strong wind, low temperature, and chilly air. From November, the northeast monsoon blows stronger and colder, and the peak of cold winter is in December.
3 - What is the winter in Vietnam like?
In the early winter (from the end of October to the beginning of December), the weather is fairly pleasant, characterized by cold wind, low humidity, and dry air. This is the best time to visit and discover the breathtaking natural landscapes and experience the Vietnamese culture and cuisine. During the late winter from the end of December to the end of February, the frequency of cold snaps is increasing and the intensity is also greater.
The average Vietnam winter temperature is below 15℃, the average humidity is about 80%. The month with the highest temperature in winter is February with 18℃. Contradictorily, the month with the lowest temperature is December, which can reach under 0℃. Due to the difference of terrain, the weather among mountainous areas, plains, and coastal areas is distinct.
II - #3 ideal destinations to experience the winter in Vietnam
1 - Sapa - the misty town in northern Vietnam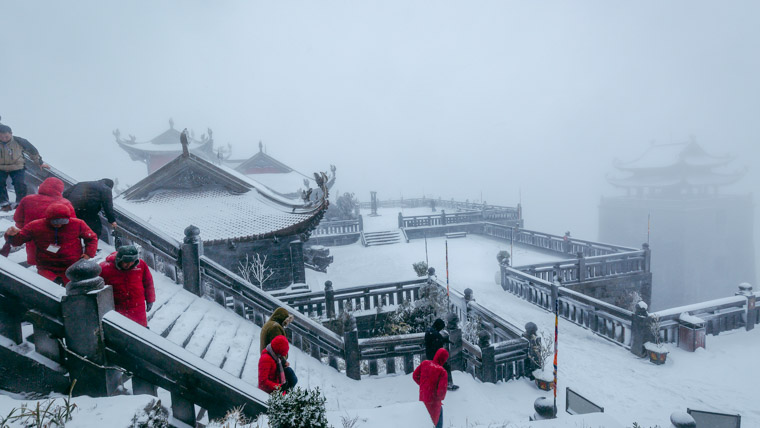 Snow in Vietnam - Source: Danviet
During winter, the temperature in Sapa town is just about 3 to 5℃, even 0℃. In early winter (October - the beginning of December): it is dry, has rarely rains, suitable for sightseeing, trekking, hiking. The famous villages of Lao Chai, Ta Van, Gian Ta Chai, and Ta Phin, etc. are great places for trekking and exploring. Particularly, the Stone Church, the symbol of the "misty city", is an unignorable place in the Vietnam winter, especially the special occasion of Christmas, when the church is gloriously decorated with colorful lights, which looks miraculous in the the veil of fog and mist, making it like a European miniature.
In late winter in Vietnam (the end of December - February): It is much colder, dizzly, and icy in Sapa. Visiting Sapa in this season, you can admire the town of Sapa immersed in the sea of clouds and smog. Especially when a strong cold front arrives, the entire mountains, hills, and valleys in Sapa is covered with thick white carpet of snow, making for spectacular scenery. Other fascinating tourist spots in Sapa Vietnam in winter are Fansipan mountain peak, Muong Hoa valley, Silver waterfall, Ta Van village, Cat Cat village, etc.
2 - Ha Giang - top places to visit in winter in Vietnam
Ha Giang province in the winter is typical of colorful buckwheat flowers, golden rapeseed and beautiful valleys surrounded by majestic mountains. The flower of buckwheat seems to be the most outstanding of Ha Giang, especially in the Vietnam winter months from October to December, when the whole valley is cloaked in the hue of cameo pink and white, which makes the impressive and poetic beauty like a fairy land. Winter in Vietnam is also time for an amusing Buckwheat flower festival in Ha Giang when you can immerse yourself in the vibrant atmosphere of the local festival and enjoy scrumptious local specialties, which definitely leaves a deep mark in your memory.
The province also covers numerous "natural masterpieces" such as Dong Van karst plateau, Ma Pi Leng mountain pass, Quan Ba Heaven Gate, Tu San abyss alley and Nho Que river winding around the foot of sheer mountain ranges, creating striking scenery.
3 - Hanoi - lots of things to do in winter in Vietnam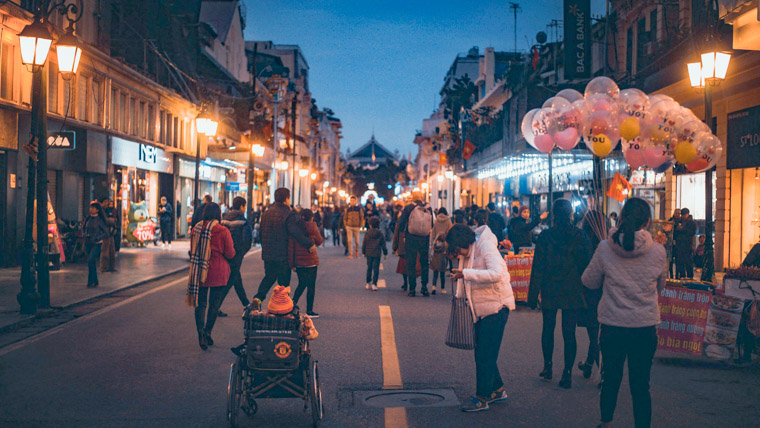 Hanoi in winter - Source: Pixel
Winter in Hanoi is cold and dry, featuring drizzling rain, which is a typical climate of the tropics monsoon. During this season, there are many cold spells in different intensities.
If you are a foodie, Hanoi is absolutely in the top list of must-visit destinations in Vietnam in winter, where you get to enjoy limitless amazing street food, especially at night, some of which can be named as bánh đúc nóng (hot plain rice flan), bánh trôi tàu (glutinous rice balls or Tang Yuan soup), boiled snails, snail vermicelli, potato cake, grilled corn, and rib congee, etc.
In winter in Vietnam, Hanoi in also charming thanks to its exquisite beauty of Hoan Kiem Lake in the early morning, pure gentle daisy garden, wide rape seed gardens, and romantic sunset in West lake, etc. Many interesting experiences you can try in the capital city during the chilly winter days, especially it would be much more interesting when you can discover the city with your lover, which will give you wonderful moments.
One of the most special occasions in Hanoi in the Vietnam winter is Christmas, which appeals to a large number of people, especially the youth. Just before Christmas night a couple of days, the streets and many shopping malls are meticulously decorated with sparkling lights and huge pine trees. The most famous places to visit in Hanoi are St. Joseph's Cathedral, Hoan Kiem lake walking street, Hanoi Old Quarter, Hanoi West Lake,...
III - Notes when traveling to Vietnam in winter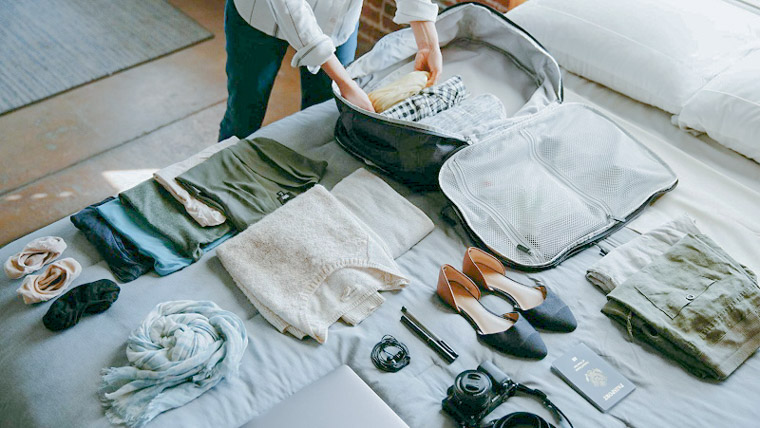 Source: Travelgear
The winter in Vietnam, particularly in the mountainous areas, is rather chilly and dry, sometimes making your hands numb with biting cold. Therefore, you should be well-prepared beforehand such as thermal underwear, waterproof clothes, warm and non-slip shoes, etc.
Your destination should be based on your interests. If you would like leisure activities in a marine environment, places in the central region and the south of Vietnam are the most ideal choices for you to consider. Otherwise, from our Vietnam winter travel, you can enjoy the vibrant atmosphere of numerous festivals, go sightseeing, and discover the culture of ethnic minority groups in the Northern region. At the beginning of the winter, November especially, taking a trekking or hiking tour to the top famous mountains in Vietnam such as Fansipan peak, Bach Moc Luong Tu mount, Nhiu Co San mount, Ta Chi Nhu mount, Lao Than mount,... is highly recommended to travelers.
If you visit these ideal destinations in Vietnam in winter by motorbike, you should pay attention to the thick fog and drizzle, which can have an adverse influence on your trip to discover harsh terrains.
After exploring the beauty of winter in northern Vietnam, you can go down to the south to enjoy a warm trip with more sunny days. The nice beaches in Nha Trang, Mui Ne, or Phu Quoc island are top places in your bucket list. In addition, Ho Chi Minh city - hub of tourism & food, and Mekong river delta - home to exotic floating markets & lush orchards, long-lasting craft villages are great to visit too.
If you are planning for an amazing winter in Vietnam, let's pack your bags and find out the most appropriate destination for your trip. Let's follow Vietnamtrips to get more detailed information before starting to explore our beautiful country.