Phu Quoc is a beautiful island in Vietnam that attracts tourists from all over the world. With its stunning beaches, crystal clear waters, and tropical climate, it's no wonder that it's become a popular vacation destination. However, what many people don't know is that Phu Quoc island also has a thriving nightlife scene. Whether you're looking for a relaxing drink on the beach or a night of dancing, some places to eat and shopping there's something for everyone. Let's check out some interesting points of the Phu Quoc nightlife that you should know:
I - #1 Phu Quoc nightlife to do - Hanging out at bars & clubs
There are numerous glitzy bars and luxurious nightclubs on Phu Quoc Island serving lively music and eye-catching decorations, which definitely gives you wonderful experiences. Among those, the bars and nightclubs near the seashore are the most ideal option you can take into consideration to experience the nightlife in Phu Quoc island Vietnam.
1 - Coco Bar Phu Quoc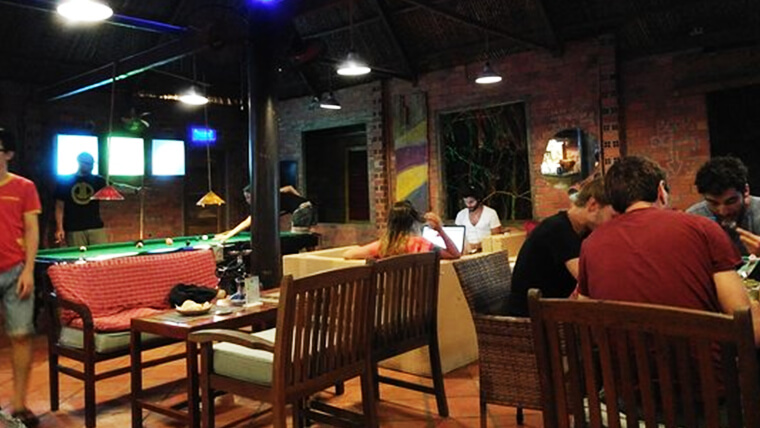 Coco bar - Source: Tripadvisor
Coco Bar is not a pure bar because when visiting here, you can not only sip wine, cocktails but also have a meal in the electric, energetic atmosphere of a typical bar. The design of the bar is combined between a restaurant and a tea house. Therefore, the space is very airy and comfortable. If you want to experience Phu Quoc nightlife, remember to drop by this place to dine and drink cocktails. It is surely a once-in-a-lifetime experience.
- Address: No.118/3 Tran Hung Dao street
- Opening hour: 8pm - 2am
- Price: 60,000 - 500,000 VND ($2.6 - 21.6)/dish
2 - Rory's Beach Bar
Situated in an impressive position, Rory's Beach Bar was and is attracting a great number of visitors to come every night. Lying right by the shore of the beach, it is such a perfect place for you to watch the sea, enjoy the cool breezes blowing from the ocean at night while tasting your favorite cup of drink. This is a good suggestion if you want to find a destination to ride in Phu Quoc at night. It is nearly impossible to find a bar in Phu Quoc island that has a location as beautiful as Rory's Beach.
- Address: Group 3, Cay Sao hamlet, Duong Dong ward, Phu Quoc island
- Opening hour: 9pm - 2am
- Price: 35,000 - 100,000 VND ($1.5 - 4.3)/cup
3 - Rock Island Club - Top spot for having fun at Phu Quoc nightlife
If a bar comes to you as an image of an enclosed space with colorful dim light, Rock Island Club will completely change your perspective. Located on a private island, just a stone's throw from Mong Tay peninsula, it is an "island bar" floating in the middle of the vast ocean and totally separated from the world outside.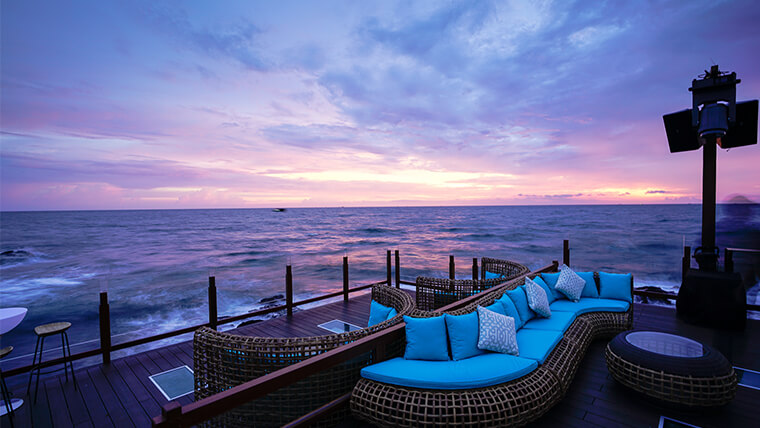 Top best things to do in Phu Quoc at night - Source: Namnghiresort
A highlight in the architecture of the bar is a lounge deck stretching to the sea where customers often stand to admire the majesty of the sky and water as well as the tininess of humans. With a 360-degree viewpoint to the surrounding landscape and the advantage of lying to the north of Phu Quoc island, it is also considered as the most wonderful position to watch the sunset in Phu Quoc.
- Address: Hamlet 4, Cua Can commune
- Opening hour: 3pm - 9pm
Bittersweet - Hidden Cocktail Bar - one of the best places to enjoy Phu Quoc nightlife, is like a quiet friend who is always ready to empathize with your mood. An interesting thing about this bar is there is no menu. Customers order by telling the bartender their mood, and taste and then receive back a glass of cocktail that nowhere can be found. Even if you come here for the second, the third time with the same drink, its flavor will never be the same. Bitterness's opinion is that they don't create massive products with an instant formula but make you a drink based on your story, your desired taste. Though custom-made, beverages here have a very modest price as compared to other places in Phu Quoc, approximately from 80,000 - 200,000 VND ($3.4 - 8.6)/cup, free snacks. This is really an ideal place for nightlife in Phu Quoc island.
- Location: No. 185 Tran Hung Dao street, Cua Lap hamlet
- Opening hour: 6pm - 0am
5 - INK 360 in Phu Quoc at night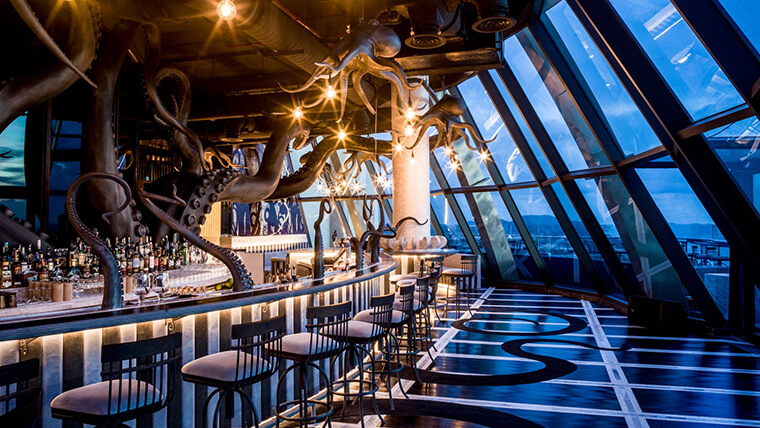 INK 360 - Source: InterContinentalPhuQuoc
INK 360 is the highest sky bar in Phu Quoc and is currently an attractive destination for visitors to Phu Quoc island. The bar is inspired by the giant "Kraken" octopus, designed by Ashley Sutton - an Australian architect who has turned this highest bar of Phu Quoc into a luxurious, outstanding, sexy, and mysterious place. Coming to INK 360, you can enjoy drinks in the plentiful cocktail menu initiated by Giuseppe Carnieli - the witch of bartenders. Besides, this is also an ideal place for dating, chatting, and watching the sunset.
- Address: Floor 19, InterContinental Hotel Phu Quoc, Duong To
- Opening hour: updating
- Price: 100,000 - 500,000 VND ($4.3 - 21.6)/cup
6 - Enjoy incredible Phu Quoc nightlife at Chuon Chuon Bistro & Bar
Chuon Chuon Bistro & Bar () Also known as "Chuon Chuon Coffee" or "Dragonfly Bistro & Bar", is operated in the "Bistro" model which is a kind of restaurant in Western-style (French), a hybrid between the energesticity of a bar and the quietness of a coffee shop. Being here, you can have cool check-in photos because Chuon Chuon Bistro & Bar is well-known as a perfect place for "virtual living" in Phu Quoc at night. Sitting at the bar, you can take the entire view of Duong Dong town. In case you would like a twilight setting, you should arrive in the late afternoon. Not just that, this cafe also makes its mark with delicious drinks and snacks. Table service is blameless. That's the thing keeping visitors coming back.
- Address: Sao Mai hill, No.69 Tran Hung Dao street, Duong Dong town
- Opening hour: 7am - 11pm
- Price: 40,000 - 300,000 VND ($1.7 - 21.9)/dish
II - Phu Quoc nightlife - exploring night market
Phu Quoc night market (also called Bach Dang night market) is a renowned entertainment venue in Phu Quoc island. It is regarded as a paradise for seafood lovers because it has more than 50 food stalls selling local dishes, particularly mouth-watering seafood dishes such as grilled squid, crab, snail, fish summer roll, grilled oyster,... Foods here are simply processed in order to preserve their pure taste.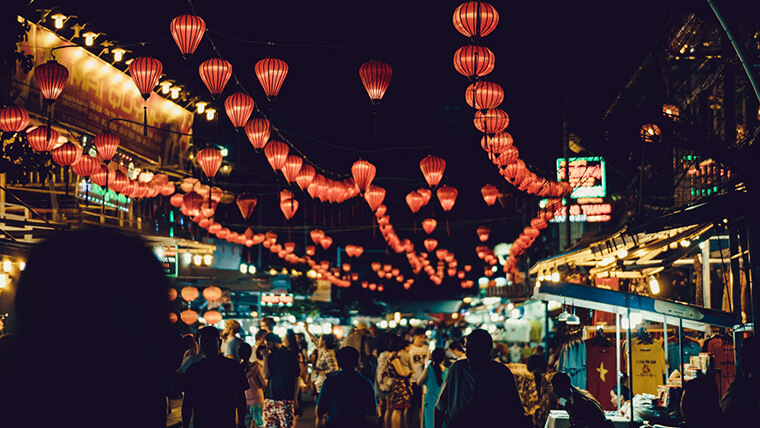 Top best nightlife in Phu Quoc at night market - Source: Chris Slupski
Seafood only is not the end of Phu Quoc night market. There are also dozens of stores trading Phu Quoc specialties such as keo chi (stitch candy, grilled sticky rice, peanut roasted with sugar,.. Aside from enjoying foods, you can comfortably buy souvenirs like sim wine (Rhodomyrtus tomentosa berries wine), Vietnamese fish sauce, pearl, or dry seafood as a gift to bring back home.
- Address: No.6 Bach Dang street, Duong Dong town
- Opening hours: 4pm - 11pm
III - Phu Quoc nightlife - Grand World Walking Street & Night Market
On April 21st, 2021, the opening ceremony of the Grand World Walking Street and Night Market officially took place in Phu Quoc island. This project was launched by Ngoi Sao Bien Saigon Joint Stock Company, located in the Phu Quoc United Center, Southeast Asia's leading super resort complex. The complex is designed in the "sleepless city" concept with 134 stalls in which more than 100 ones are food and the rest are souvenirs, making it one of the best nightlife in Phu Quoc. Being here, you will be able to enjoy lively and colorful street performances that light up a night without sleep in Phu Quoc.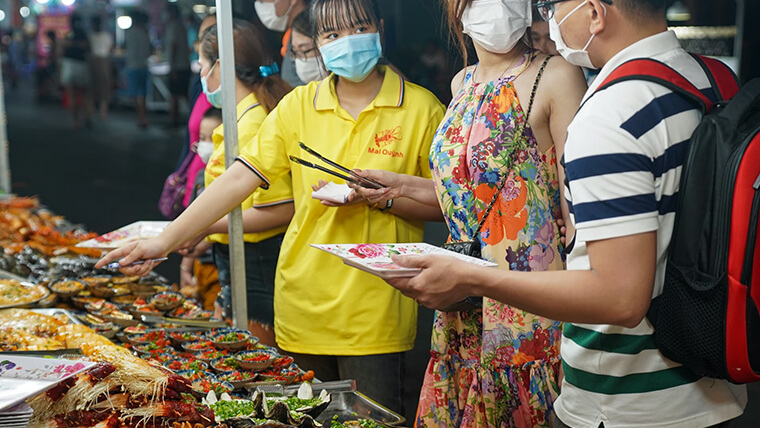 Grand World Walking Street - Source: Internet
The difference between Grand World walking street and Phu Quoc night market to the other traditional models is that all the components are considerately invested, methodologically and synchronously planned so that it is connected to other parts of the complex rather than staying separately. The distinction between the Grand World Phu Quoc night market ecosystem during the daytime and at night is what makes many visitors amazed. To the youngsters, this brand new destination suits them very well because there are a lot of foods to try, places to selfie and activities to join. The project is expected to become the new highlight for Phu Quoc nightlife.
- Address: Indochine sub-area, Grand World, Bai Dai beach, Ganh Dau commune
- Opening hour: 4pm - 2am
IV - Night Squid Fishing - top things to do at night in Phu Quoc island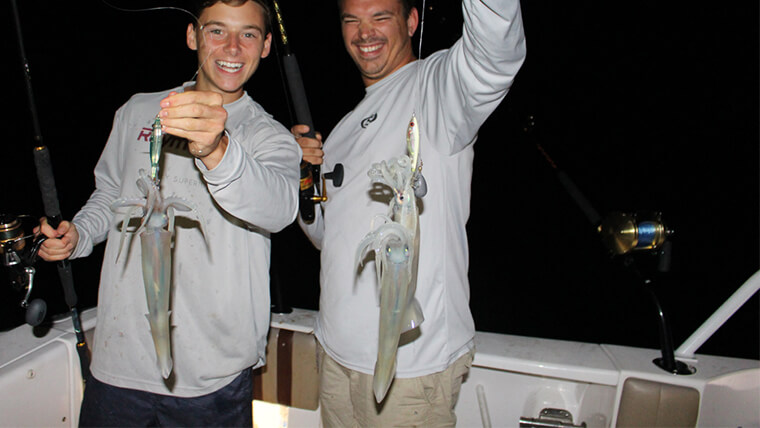 Amazing nightlife in Phu Quoc island - Source: Fishtalkmag
So what to do in Phu Quoc at night? A Night Squid Fishing Tour must be a perfect answer. As soon as you get bored with activities on the mainland, you can experience those on the sea, one of which is fishing, squid fishing when the night falls. You can board the ship with the local fishermen or book a tour provided by reliable travel agents. The feeling of waiting for the squid to take the bait is so exciting. Moreover, you can enjoy your fruits right on the ship. This will probably be a very worthwhile memory of Phu Quoc nightlife.
One thing that you should put in mind is to avoid going when the sea is rough to ensure safety. The best time for squid fishing is on full moon nights. Besides, you are encouraged to bring some snacks to chew while fishing.
A general itinerary of a night squid fishing tour in Phu Quoc:
- 5pm: Car and tour guide take you to the port (Duong Dong port)
- 5:30pm: Get on the boat
- 6:30pm: Arrive at the squid farm, start fishing
- 8pm: Enjoy dishes cooked from squids that you have caught
- 9pm: Come back to the shore.
Night Squid Fishing tour providers for the great nightlife in Phu Quoc island:
Phu Quoc Island Explorer
- Contact: 0866389379
- Price: $48/person
- Website: phuquocislandexplorer.com
Danatravel
- Contact: 0795 767588
- Price: 330,000 - 400,000 VND ($14.2 - 17.2)/person
- Website: danatravel.vn
Phu Quoc Green Travel
- Contact: 0297 66 34395
- Price: 330,000 VND ($14.2)/person
- Website: phuquocxanh.com
Saigon Star Travel
- Contact: 028 7305 1168 - 0907 422 717
- Price: 330,000 VND ($14.2)/person
- Website: saigonstartravel.com
As you can see, Phu Quoc at night is poetic and tempting in a special way that you may have lost many fascinating experiences if you do not go out and explore. Hope that the above information about Phu Quoc nightlife will somehow help you have positive impressions about this stunning island.