One of the most worth-visiting islands in Vietnam is the Phu Quoc island. Located in the south of Vietnam, Phu Quoc with its stunning long-sandy beaches, pristine islands, great seafood & places to visit, is highly recommended for leisure travelers.
I - The most stunning Phu Quoc beaches
Beaches are definitely the topmost interesting attractions in Phu Quoc. Visiting Phu Quoc beaches, you will be amazed by the immense and clear turquoise sea and white sand, together with the dreamy yellow sunlight. You will meet various marine creatures, colorful reef fish abounding the fringing reefs. You may also participate in numerous interesting outdoor activities such as snorkeling, scuba diving, fishing, jet- skiing, sailing, and kayaking.
Source: Internet
Bai Truong (Long Beach)
The name Long Beach appears because it's the longest beach in Phu Quoc with a stretch of nearly 20 km from the Dinh Cau temple to the south. In Phu Quoc, it is one of the most attractive sections, where a large number of hotels and restaurants, as well as bars and nightclubs, have opened.
Cua Can Beach
It takes approximately half an hour to get to the gorgeous shore of the northern Duong Duong. Cua Can is one of the best places to visit in Phu Quoc as it's a fantastic paradise of flour-white beaches, surrounded by coconut palms, fruit trees, and an enormous woodland.
Ganh Dau Beach
Ganh Dau Beach is on the island's Northwest. It is one of the most primitive beaches on Phu Quoc Island. The number of visitors flocking to the beach is not too much; therefore, the resorts, hotels associated with tourism services are not of an overly high standard.
Vung Bau Beach
Spending 5-10 minutes driving a motorbike from Cua Can Beach, you will meet the large, lonely, tranquil and natural Vung Bau Beach - which is one of the best places of interest in Phu Quoc. Both Cua Can and Vung Bau beach seem to be suitable for visitors who are interested in discovering the primitive landscape.
Bai Sao Beach (Stars Beach)
People named it "Stars Beach" as it is a desirable home to the red starfish of Phu Quoc Island. About 25 kilometers from Duong Dong Town to the Southeast coast of Phu Quoc is heaven that you have never imagined before. You will see more than seven kilometers of white sand meander towards the tender coastline. One more thing is that the water there is superb clean which provides a favorable chance for you to see dozens of bright red starfish moving to the shore or under the water.
See more: Top 8 beaches in Phu Quoc island
II - Vinpearl Land Amusement Park - Phu Quoc best attraction
In the Mekong Delta, this Phu Quoc Amusement Park is the largest and most modern entertainment park. Covering a huge area of 170,000 m2, Vinpearl Land Phu Quoc Amusement Park is compared as the other version of Disneyland Hong Kong. The recreation center is a mega entertainment complex with abundant amusement areas containing aquarium area, shopping area, outdoor water park section associated with indoor and outdoor entertainment section. You will experience all the levels of human emotions, even your limitations.
For example, you should take a chance to join the Art Performance Show with a 3000 seats open-air stage and the performance of light and water following the music. Don't forget to visit the massive aquarium to feel the lively marine life of hundreds of creatures right under your nose. Water Park must be the funniest, adventurous and thrilling experience for your whole family. Last but not least, the Indoor and Outdoor entertainment area provide various ranges of amusement such as 5D Cinema, Crazy Wave, Disk O Coaster, Motor racing, Speed Windmills and so much more.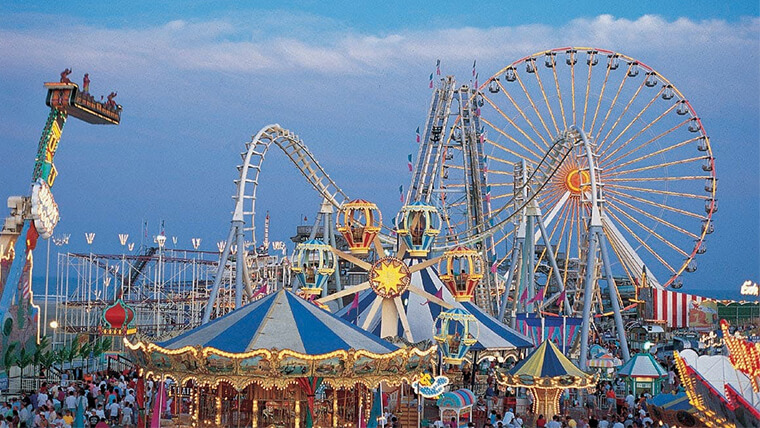 Attraction in Phu Quoc - Source: Internet
- Location: Near Long Beach (Bai Dai), Ganh Dau Commune, Phu Quoc District, about 25 km to the north of Phu Quoc International Airport.
- Opening time: 9am - 9.30pm
- Entrance price: you can or buy directly or book online ticket
Option 1: There are some limitations in range of entertainment: 600,000 vnd ($27) for adults; 500,000 vnd ($22) for children above 1 and below 1.4 meters and old people over 60 years old; free for children under 1 meter.
Option 2: Vinpearl Land & Vinpearl Safari Combo tickets: 900,000 vnd ($41) for adults; 750,000 vnd ($34) for children above 1 and below 1.4 meters and old people over 60 years old; free for children under 1 meter.
III - Phu Quoc Prison
- Location: No.350 Nguyen Van Cu, An Thoi commune, Phu Quoc island
- Opening time: 8:30am - 11:30am; 1:30pm - 5:00pm.
- Entrance fee: Free
Together with other prisons existing within Vietnam, nowadays, Phu Quoc prison - a top-rated attraction in Phu Quoc - is a military and historical museum of the war eras exhibiting several intact photos, videos, old documents, artifacts like torture tools, and so on. Prisons are the clearest evidence of colonialism, imperialism, and the steadfast heart of the Vietnamese nationalist troops in the war for freedom. Visiting the prison, you will have a more detailed and comprehensive view of the Vietnamese through the wars, as well as the pricelessness of democracy, equality, and freedom
IV - Phu Quoc National Park area
- Location: From Duong Dong town, Phu Quoc Island, 26km to the North.
- Entrance ticket: Free
It covers over 32,000 hectares (approximately 314,000 square meters), contains the vibrant flora and fauna system of both the sea and land. Many types of animals, plants, and marine creatures are recorded in the Red List of the International Union for Conservation of Nature (IUCN) as well as Vietnam.
Experience the pretty cool air which is very different from the weather in your cities. You can also enjoy the song of the insects, birds, wind, forest, and stream when visiting this Phu Quoc attraction. That moment, you are lost in the paradise at Phu Quoc National Park, witness a lively natural life, touch them, feel them and enjoy all of those moments.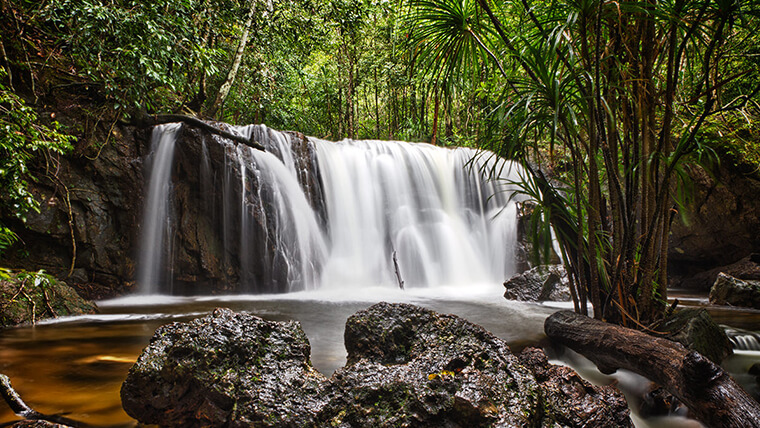 Source: Frank Fischbach
Suoi Tranh or Tranh waterfall is a beautiful waterfall located inside the National Park. On the way to see the waterfall, you would be amazed by the chilly wind and the natural scent of the forest. You may also see various creatures like fish, crabs, snakes, monkeys, birds, ginseng, wild vegetables, and so much more.
There have been lots of great outdoor activities that might be mentioned such as swimming, hiking, fishing, and climbing. Rather than only staying at the waterfall, you might keep going up and discover the enigmatic cave within the mountain.
- Location: 17km to the Northeast Phu Quoc from the center of Duong Dong town.
- The entrance fee: 10,000 VND ($0.5)/ adult and 5,000 VND ($0.25)/ kid.
V - Duong Dong market - the largest and busiest market in Phu Quoc
- Location: Tran Phu Street, Duong Dong town, Phu Quoc Island
- Open time: daily 4 am - 9 pm (early morning and late afternoon are the best time to see the fishing nets full of seafood & the daily life of fisherman)
So which places to visit in Phu Quoc next? It must be Duong Dong market - one of the best markets in Phu Quoc. The market is not only playing the function of trading simply but also being a wonderful place to explore the daily life of local people and enjoy the local cuisine.
Several boats come and go simultaneously bringing abundant local cuisine as well as many kinds of fresh seafood. In addition, Phu Quoc fish sauce and pepper are the typical productions that bring Phu Quoc's cuisine to the whole domestic as well as international market. Moreover, people also called Phu Quoc Pearl Island because of its several high-quality pearl farms. You can find diverse types of delicate jewels as well as accessories made of pearl within Duong Dong Market at a favorable price.
VI - Ham Ninh Fishing Village
Ham Ninh is well-known as one of Vietnam's oldest fishing villages. Coming here, you can have a new adventure by getting to know much more about the culture & lifestyle of Vietnamese people living on an off-shore island.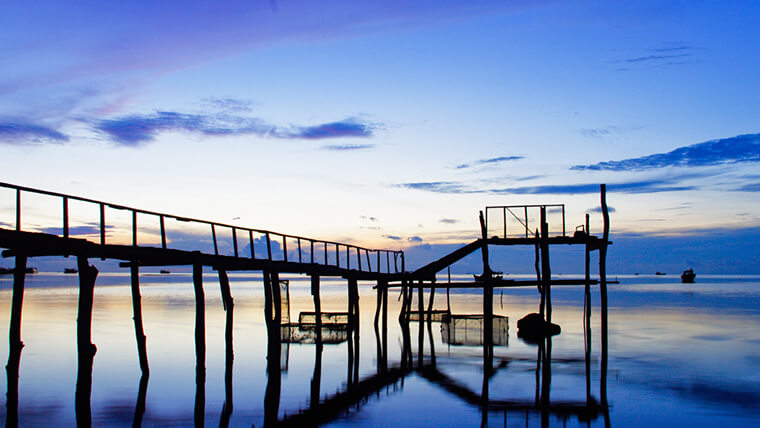 Source: Chudu24
Despite the fact that Ham Ninh Port plays an important role of a favorable berth for fish-trading boats within the Duong Dong sea, the village still remains peaceful and primitive.
- Location: 15 km to the North from Duong Dong town
- Entrance fee: free
VII - Top-rated pagodas and temples in Phu Quoc island
1 - Su Muon Pagoda - the most ancient Buddhist construction on Phu Quoc Island
The pagoda was located mysteriously among a forest, which makes this is one of the must-visit places in Phu Quoc. Being decorated with a hundred-year-old Kenia tree as well as several ornamental trees, and various stone formations reappearing sacred animals, Su Muon creates itself the harmonious geomancy and tranquil Buddhist place.
- Location: Suoi Da, Duong To commune, Phu Quoc island - sitting atop a hill about 4km to the East of Duong Dong town.
- Opening time: 7am - 7pm
- Entrance fee: free
2 - Dinh Cau Rock (Cau Temple)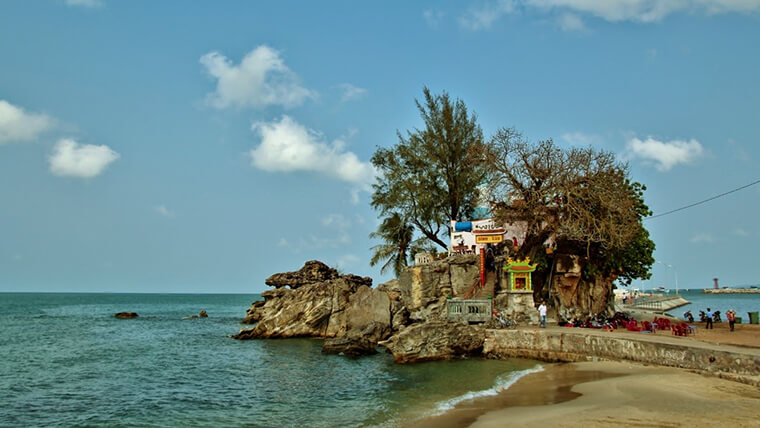 Source: Bestprice
Standing on the special placement of majestic stones edges overlooking the sea, Dinh Cau Rock (Cau Temple) is known as the symbol of Phu Quoc Island. The Holy Temple, built-in 1937, blends perfectly between Buddhist architecture and a lighthouse to worship Thien Hau, the Goddess of the sea who is supposed to safeguard the fisherman and the boats from bad fortune on every passage to the ocean.
- Location: the mouth of the Duong Dong River, Phu Quoc Island
- Entrance fee: free
3 - Sung Hung Pagoda
Going to Phu Quoc, natural beauty is not everything. You can also have a chance to understand more about one of the biggest religions in Vietnam- Buddhism, which is represented via Sung Hung Ancient pagoda. This Phu Quoc attraction was built to worship the national hero Nguyen Trung Truc along with many Buddhas such as Amitabha, Mahasthamaprapta bodhisattva, Avalokitesvara Bodhisattva, and so on.
- Location: No.7 Tran Hung Dao street, Dong Duong town, Phu Quoc island
- Opening time: 7am - 6pm
- Entrance fee: free
4 - Cao Dai Temple
- Location: No.40 Nguyen Trai Street, Duong Dong town, Phu Quoc Island
- Opening time: 7am - 6pm; and worshiping ceremony at 6am and 0pm
- Entrance fee: free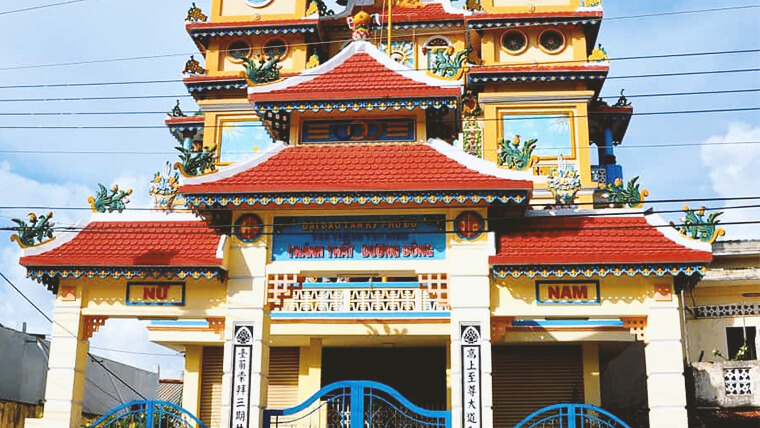 Source: Internet
The Temple was founded in 2008 with the contribution of the local people. Cao Dai's name means Cao Dai religion, Caodaism, the 3rd largest religion in Vietnam. As far as architecture is concerned, the Cao Dai Temple fits harmoniously among the Christian Cathedral and the typical Vietnamese Temple. You must choose the appropriate outfit to show respect to both religion, local people, and the holy place.
Above are the top best attractions in Phu Quoc we want to introduce to you. Go there to feel the clear blue water at the beaches, enjoy the freshness in the national park, experience games at the amusement park, shop for gifts at Duong Dong market,...