As one of the notable destinations of Kien Giang tourism, Ong Lang beach is located to the west of Phu Quoc Island, more than 6km from Duong Dong town. The outstanding features of this area are the unspoiled scenery and its location relatively close to many hotels and resorts, which are designed in harmony with nature. You can find out more about the things that make Ong Lang Phu Quoc beach attractive below.
I - Unique experience at Ong Lang beach Phu Quoc island
1 - Enjoy the beauty of nature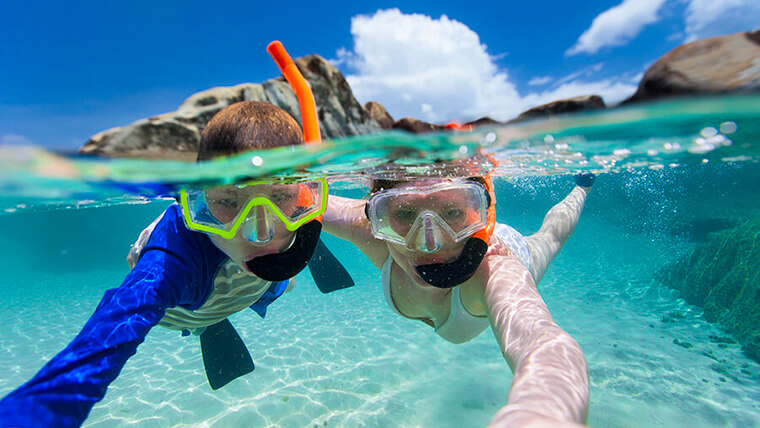 Snorkeling - Source: govietnam
With its wild and romantic beauty, Ong Lang is likened to a sleeping princess on the west coast of Phu Quoc island, located in the middle of Duong Dong and Cua Can towns. This place is a harmonious picture of the natural scenery, colored by the green rows of trees along the coast, the gentle golden sand beach, the rare turquoise blue sea water, and so on. The coast stretches not continuously but is interrupted by strangely shaped rocks interspersed with a sandy shore, adorned with silver waves lapping and colorful patches of moss and coral.
Coming to a place with breathtaking beauty like Ong Lang Beach, you certainly cannot miss the opportunity to immerse yourself in the blue water or sunbathe on the soft sand. There is nothing more wonderful than the feeling of relaxing in a quiet, peaceful space full of shimmering sunlight, temporarily forgetting all the troubles of daily work and life. This beach is also the perfect spot to create impressive check-in photos - you can feel free to wear colorful bikinis or flowy maxi dresses, better to go in the afternoon or morning for the best lighting.
2 - Watching the sunset on Ong Lang beach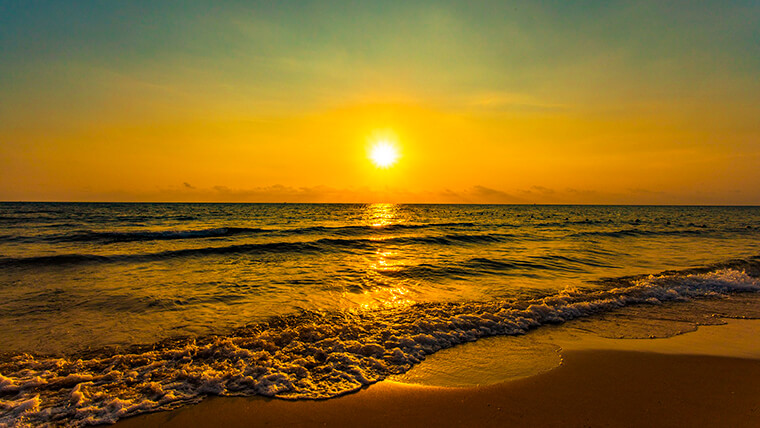 Watching sunset on the beach - Source: Chen Sea Resort & Spa Phu Quoc
Another activity that you will regret if you miss is watching the super beautiful sunset at Ong Lang, especially in the rocky area, which becomes strangely attractive when the sun goes down. Surrounded by majestic nature with mountains, and green trees, in front of a vast and calm sea, you will find a sunset sky with romantic pink and orange tones as the perfect highlight of the day. You can walk with your loved one on the long sandy beach, enjoy this sweet scene, listen to the murmuring waves and feel the breeze carrying the smell of salty sea caressing your skin.
3 - Interesting water activities at Ong Lang beach
If you are looking for more interesting things to do such as fishing, snorlkeling and scuba diving in Phu Quoc, this beach will be a top spot to visit. Most Phu Quoc island tours come with these services, otherwise, you can get on a boat and go with the fishermen to the sea, or contact the hotels, and resorts nearby. Fishing requires a certain amount of patience and skill, but with their dedicated guidance, you will indeed easily catch something like fish and squid. Snorkeling is quite simple, some hotels, restaurants, or eateries have rental equipment for you to use, but remember to go not too far from the shore and with a guide for safety.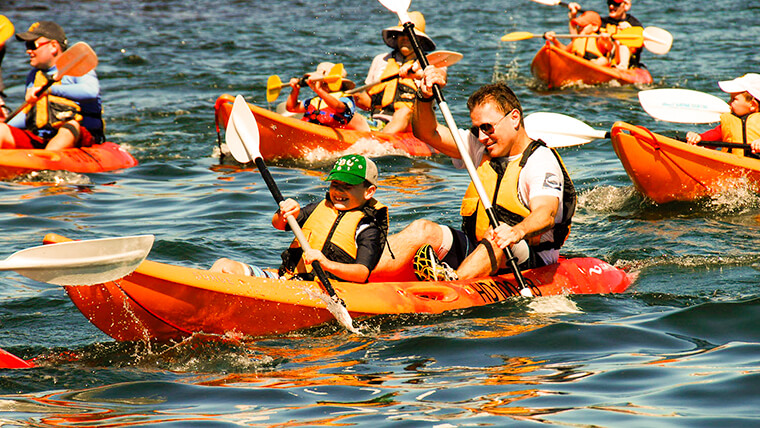 Kayaking at Ong Lang beach - Source: Mia
Meanwhile, scuba diving or walking on the seabed is more advanced, so only professional organizations provide it, and usually included in a Phu Quoc Island tour, not separately. When participating in these activities, you will be delighted to see the beautiful coral reefs blooming brilliantly on the ocean floor, looking like a fairy world. However, these are all vulnerable plants, so you must avoid stepping on them, especially do not break corals and bring them home as souvenirs.
Finally, kayaking is also on the must-try list when you come to Ong Lang beach, especially suitable for groups of 4 or more. Standing on the shore watching the sea from afar is interesting, but you will be more impressed by the feeling of floating on the water and exploring on your own. There are many kayak rentals right on the shore, and hotels or restaurants also offer this service. You can take the boat to the Cuu Van section to admire the full stunning view of the beach, but you should not go too far because the waves will be bigger with sudden changes, and high tide in the afternoon.
4 - Enjoy fresh specialties by Ong Lang beach
Besides the above activities, this charming beach also has specialties of fresh and attractive seafood. A BBQ barbecue party right on the white sand and beautiful clear water will be a great choice to make your vacation more enjoyable.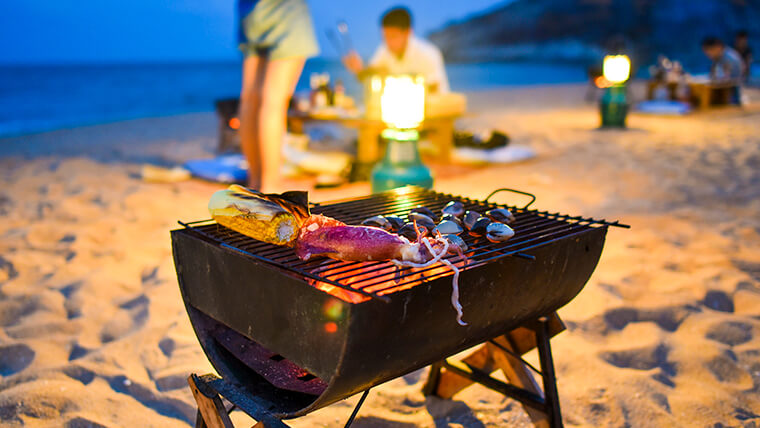 BBQ party by the beachside - Source: charterworld
You can prepare your own food in advance or order combos at restaurants near the sea, enjoy the wonderful sunshine, and delicious dishes and sing under the green poplars. When finished eating, you shouldn't forget to clean up the trash on the beach to ensure environmental hygiene. There are many restaurants and eateries serving local dishes, refreshing drinks, and cocktails, with some examples as:
On The Rock Restaurant
Located at a great sunset spot on the edge of Ong Lang beach, this is a restaurant affiliated with Mango Bay Resort but even if you are not staying at Mango Bay, you can still go in. In the midst of this wonderful and luxurious space, there is nothing better than sitting and enjoying the sea breeze, feeling the quintessence of cuisine, sipping cocktails, and eating a little fruit salad. This restaurant serves both Western and Vietnamese dishes, so you can freely choose, have a vegetarian menu, or request a special meal according to your preferences, even if you have dietary needs.
- Address: Group 3, Ong Lang Hamlet, Cua Duong Commune, Phu Quoc Island
- Price: 100,000 - 250,000 VND / dish ($4.27 - 10.68)
- Opening hours: 6:30am - 11:30pm
- Contact: 02973 981 693
So True Restaurant
Coming to So Tre restaurant near Ong Lang beach, you will have a chance to enjoy the cozy but no less luxurious atmosphere, in a spacious restaurant with an antique-style interior decoration system, wooden furniture and dominant dark tones. So True offers various unique and traditional Vietnamese-style dishes, accompanied by delicious wine and soft music, which are very suitable for dinners with family and loved ones. In addition, this place also has an open ceiling system to create coolness and blend with nature, allowing you to watch the sky of Phu Quoc while enjoying your meal.
- Address: Le Thuc Nha Street, Ong Lang Hamlet, Cua Duong Commune, Phu Quoc Island
- Price: 50,000 - 200,000 VND / dish ($2 - 9)
- Opening hours: 1pm - 10pm
- Contact: 094 342 22 26
II - More things to know before visiting Ong Lang beach
1 - Best time to visit the beach of Ong Lang
The weather in Phu Quoc is very pleasant and fresh thanks to the cool air from the sea, suitable for family trips with the elderly and children. The best time to visit Ong Lang, and Phu Quoc as well is in the dry season from November to April. At this time it is quite dry, sunny and bright, beautiful for both swimming and taking pictures. In the rainy season from May to October, the weather at this beach is not too bad, usually only rains in the morning so it will not affect your schedule too much. If you really want to experience Phu Quoc island on quiet and peaceful days, this time is not that bad of an option.
2 - The ideal place to stay near Ong Lang beach
Sea Sense Resort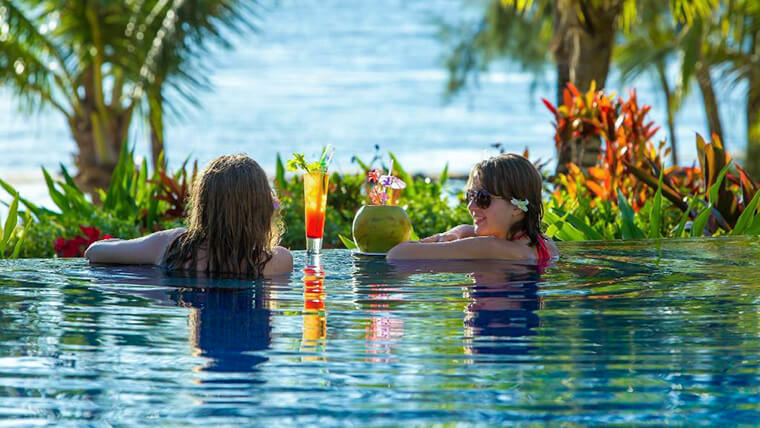 Sea Sense Resort - Source: Agoda
As beautiful as a colorful picture, the 4-star Sea Sense Phu Quoc Resort includes 28 beachfront bungalows. They all have extremely impressive Vietnamese architecture, with utilities from restaurants, bars, and spas to furniture made of natural wood materials. Moreover, Sea Sense Phu Quoc Resort owns a natural forest and an area on Ong Lang beach, giving you absolute privacy and comfort.
- Price: 1,425,000 - 3,225,750 VND / room / night ($60.9 - 137.85)
- Contact: 07730 9899 / 07397 4888 - 07397 4999
- Email: info@seasenseresort.vn
- Website: http://seasenseresort.vn/
Chen Sea Resort & Spa Phu Quoc
Thisis one of the top luxury resorts in Phu Quoc Island, with separate villas, bungalows, and a large spa area. Chen Sea Resort has 36 rooms designed according to the inspiration from the peaceful space of Ong Lang beach, each with a veranda overlooking the sea. Staying here, you can also participate in various water sports activities offered by the resort such as sailing, windsurfing, kayaking and beach volleyball. The restaurant of Chen Sea is perfectly located on the sandy beach, serving Mediterranean specialties, local and international cuisine.
- Price: 4,757,000 - 7,217,500 VND / room / night ($203 - 308)
- Contact: 097 3 995 895 - 091 546 5552
- Website: https://www.chensea-resort.com/
Camia Resort & Spa
This is an extremely cozy resort space near Ong Lang beach, with all rooms and villas decorated with pleasant pale tones. They are designed in a modern but equally natural architectural style, always filled with light from windows overlooking the mountains or sea. Camia will definitely be a quiet and peaceful resort destination for you.
- Price: 1,105,000 - 3,504,000 VND / room / night ($47 - 150
- Contact: 0625 8899 - 0961 194 299 - 0961 045 899
- Email: sales@camiaresort.com
- Website: http://www.camiaresort.com/
With the above information, it can be seen that there is no surprise that Ong Lang beach has become one of the most famous attractions on Phu Quoc island. Here, you can admire magical sceneries, experience a variety of exciting activities, and enjoy delicious seafood