Phu Quoc Island, nestled in the southwestern region of Vietnam and near the Gulf of Thailand, is renowned for its pearl-like beauty. CNN magazine declared one of its beaches, Bai Dai, as one of the world's most stunning beaches in 2017. Yet, Phu Quoc is not just about Bai Dai, as there are numerous other beaches that are equally mesmerizing and unspoiled, beckoning you to explore. If you're planning to visit Vietnam's pearl island, there are some breathtaking beaches you simply can't miss. From pristine sands to crystal-clear waters, the island is a paradise for beach lovers. Here are the top 8 stunning beaches in Phu Quoc island that you need to put on your itinerary: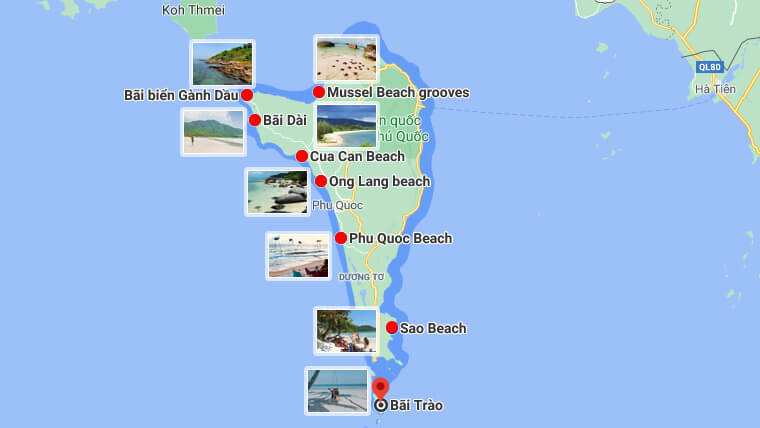 Source: Internet
1 - Bai Dai Beach
Bai Dai - Long Beach Phu Quoc is located in the northwest of the island, the second-longest beach on the island - 15km long, stretching from Ganh Dau cape to Cua Can canal. Cool year-round temperatures with frequent sea breezes that are not affected by monsoons so the climate is ideal all year round for tourism. Pristine space with clear blue water and fine white sand, diverse ecosystems from old-growth forests to mangroves, and many beautiful islands such as Doi Moi island, Mong Tay island, ...
This is considered as the best beach in Phu Quoc island where you can experience many other interesting activities such as BBQ parties, enjoying fresh seafood dishes, watching the sunset or camping overnight, Phu Quoc diving, fishing, and kayaking.
2 - Sao beach (Star beach)
The 7km long Sao Beach is located in the southeast of Phu Quoc Island, this is a great place to watch the sunrise and sunbathe. In summer, Sao beach is quite calm because it is not influenced by the southwest monsoon.
Sao Beach conquers tourists by its beauty and charm with clear blue water, long white sand, and typical green coconut groves of the tropical sea. At this Phu Quoc best beach, you can participate in many interesting activities such as windsurfing, jet skiing, kayaking, snorkeling, fishing,... In addition, do not forget to enjoy delicious and attractive seafood dishes such as grilled sea urchin, sea urchin porridge, herring salad, Ham Ninh crab, with extremely affordable prices in restaurants near Sao beach.
3 - Truong beach
Located in the west of the island, Bai Truong is the longest Phu Quoc beach with a length of about 20km. Not only famous for its pristine beach with fine white sand, but Bai Truong also attracts visitors by its beautiful rocky beaches, clear turquoise water, and rows of green coconut trees or undulating coastal fishing village.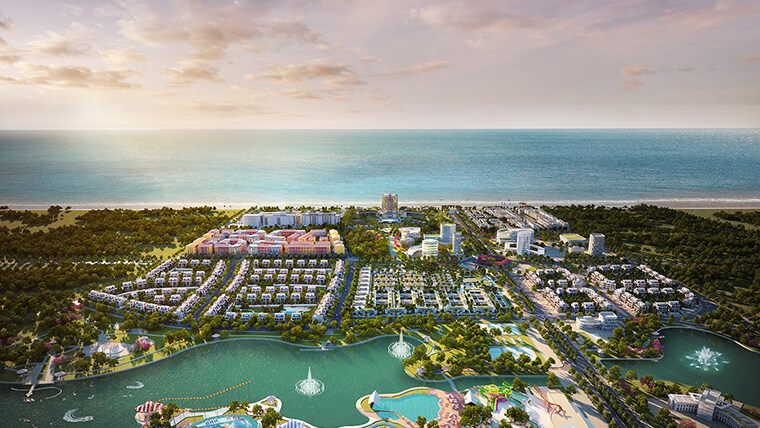 Source: Vov
Along this coast, you can also find many resorts with unique designs, photo zones, sun huts, and attractive beach sports. This is also the only beach to have a new and interesting beach massage service.
Located in the west of Phu Quoc island district, Bai Truong beach in Phu Quoc is one of the ideal places to watch the romantic sunset. The scene of the sun slowly letting go of the pale yellow light on the sea is the most magical moment of nature that no one can refuse.
4 - Rach Vem beach
Rach Vem beach and Rach Vem fishing village are popular tourist attractions in Phu Quoc Island that cannot be missed. The is one of the most pristine Phu Quoc beaches that makes tourists impressed by the peaceful unspoiled scenery and the cheerful idyllic life of the fisherman. This is the only place on Phu Quoc Island where visitors can enjoy dinner while watching Thailand's Koh Seh Island.
Along with that, tourists can feel the precious beauty of peaceful life here when walking around the village and watching the rustic boats flowing on the sea. The floating houses on the sea have both a role of a house and a powerful assistant to serve tourists.
Coming to one of the best Phu Quoc island beaches, don't miss the delicious seafood dishes made of the finest fresh seafood caught by fishermen right on the floating rafts. It will be an amazing food experience when you can choose each ingredient on the raft for yourself, watch the fishermen cook for you while enjoying the natural surroundings.
5 - Ganh Dau beach
Bai Ganh Dau is considered as the "raw pearl" of Phu Quoc island because of its wild beauty, little known by tourists. Visitors to Ganh Dau beach can explore the livelihoods of the people here through life images such as fishing nets, basket boats, boats nestled right on the spectacular Phu Quoc beach Vietnam.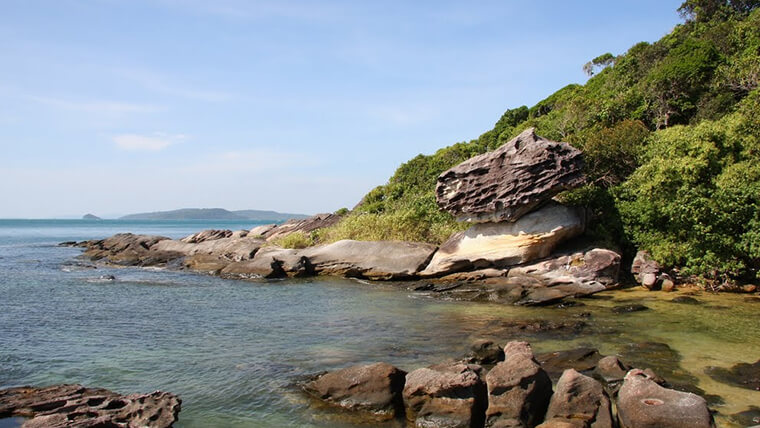 Source: Bestprice
The rocky outcrops hidden under the clear blue water, fine white sand, and blue ocean are the unique beauty of Ganh Dau beach. A quiet space is an ideal place for visitors to feel the harmonious beauty of nature where the cool sea breeze blows all year round, each wave hitting the cliffs creating a lively sound. Standing at the Ganh Dau cape in the north of Phu Quoc Island, tourists can see the Ta Lon mountain of Cambodia. At the same time, Ganh Dau beach is also considered the most beautiful sunrise viewing spot in Phu Quoc.
6 - Ong Lang beach
Ong Lang Beach is one of the famous beaches in Phu Quoc that is known by many foreign tourists for the wild beauty of the blue sea, white sand, and angular cliffs. Although it is not a continuous stretching beach, it is often divided by rocks, it does not diminish the beauty of Ong Lang beach.
In addition to swimming, sunbathing, fishing, scuba diving,... visitors can experience many other interesting activities including outdoor barbecue, playing games & sports, kayaking, Karting cars racing,… From here, tourists can visit the pepper gardens of indigenous people, explore the process of planting and harvesting pepper.
7 - Cua Can beach - a wild but worthwhile Phu Quoc beach to visit
Source: Zing
Cua Can Beach is about 3km long, located in the west of Phu Quoc Island - bordering Ong Lang beach. Cua Can Beach is formed from the intersection of the ocean and the flow of Cua Can River, creating a unique floating sand strip with silent beauty. Surrounded by jungle forest and covered by fine white sand, soft winding coastline under the green trees, this is a great place to watch the sunrise and sunset.
Coming to Cua Can beach, visitors can also experience fishing activities on a boat with local fishermen, rent a small boat to go to the Cua Can river or explore Phu Quoc National Park.
8 - Trao beach on pineapple island - less touristy beach in Phu Quoc
Located on Hon Thom Island - a small island in the south of Phu Quoc Island, Bai Trao attracts tourists by the green space of old forest and blue sea. From Phu Quoc Island, tourists can rent canoes and boats to Hon Thom Island or experience the 7.8km Cable Car service to see the whole sea view with boats parked close to each other from above.
On Hon Thom Island, there are many interesting things to do such as: jet skiing, canoeing, windsurfing, floating buoys, diving and watching coral, and attractive places to visit such as seafood markets, squid fishing, incense garden, mango garden, pearl-aquaculture area,...
In Phu Quoc, there are two seasons: the rainy season (May - October) and the dry season (November - April). In the rainy season, the sea is rough, the waves are bigger and the sea is a bit more turbid, making it difficult to dive and watch coral. The best time to travel to Phu Quoc beaches is from November to March.
The highlight of Phu Quoc pearl island is the list of dozens of the stunning and pristine beaches surrounding the island. Hopefully, the top 8 best beaches in Phu Quoc Island tourists can have more helpful information about travel and tourism in Phu Quoc.