Phu Quoc island is one of the most majestic destinations in Vietnam. This amazing island is evoked by immense white sandy beaches, high-quality natural resorts, and dynamic marine activities. The travel experience here, especially, will be enriched by the day and night Phu Quoc markets where visitors can enjoy local cuisine, while also having more experiences about the specialties and life of local people.
I - Top night markets in Phu Quoc
Having a trip to markets at night is one of the best ways of enjoying the nightlife in Phu Quoc island. Visiting the night markets, you can mingle in the crowd, fill your stomach with delicious food, and have more amazing experiences with the locals.
1 - Dinh Cau night market Phu Quoc island
Dinh Cau night market houses a number of stalls selling a variety of fresh seafood and typical specialties such as sim wine, fish sauce, pepper, dried seafood,... You can easily find small souvenirs made from seashells, handicrafts like a comb, pearl jewelry, so on. This is one of the best Phu Quoc markets to savor the grilled seafood, local dishes, and snacks such as candy, jaggery, 30 flavor peanuts, etc. Vietnamese vegetarian food is also available here.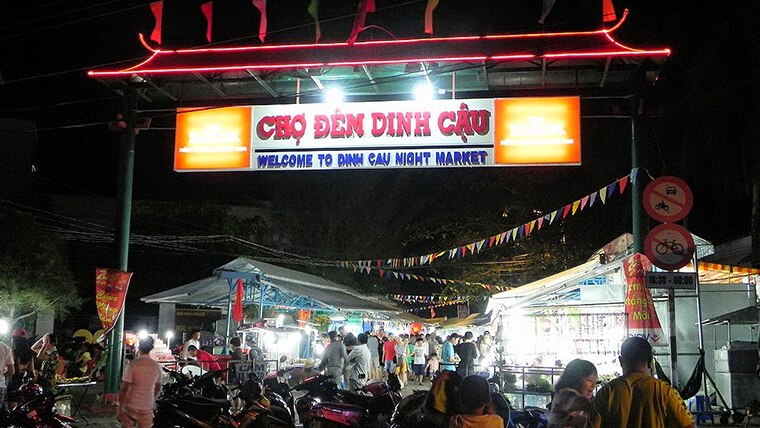 Dinh Cau Night Market (Source: Chudu24)
Location: No.2 Ly Tu Trong Street, Quarter 2, Phu Quoc Island
Opening hours: 17am ​​- 2am
2 - Phu Quoc Night market
The night market is a food hub serving hundreds of dishes from grilled seafood, snacks, and popular Vietnamese food such as baked eggs, fried rice flour, ice-cream rolls, candy, fruits, and sweet desserts. Other local specialties & dried seafood are sold at relatively reasonable prices.
The second area of this Phu Quoc night market is the souvenir shops where you are definitely enchanted by plenty of colorful jewelry, bracelets, engraved pictures, hand-made purses, and pearls.
Location: Located at the intersection of 30/4 street, and the end of the intersection of Tran Hung Dao and Ly Tu Trong streets.
Opening hours: 4pm - 11pm
II - Top 4 local markets in Phu Quoc
One of the best things to do in Phu Quoc is to visit the market early in the morning to have a local breakfast or just simply see how the locals do to start a new day.
1 - Duong Dong market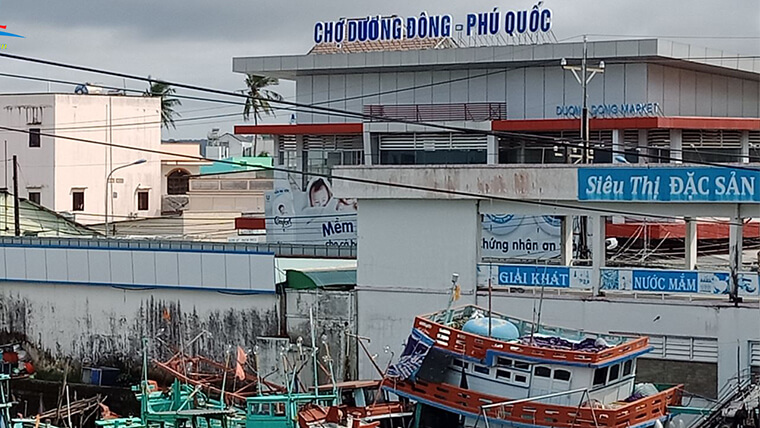 Duong Dong market (Source: Danatrave)
Duong Dong market is a large-scale market, the most crowded market in Phu Quoc. The market is well-known as the place to get the best quality fresh seafood. You can enjoy seafood dishes such as fish noodle soup, grilled squid skewers, grilled seafood with onion oil, seafood porridge, or other dishes such as spring rolls, Pho soup, and Vietnamese cakes,... The market is also available with specialties of Phu Quoc such as fish sauce, pepper, cashew nuts... The best time to explore this market in Phu Quoc is early morning and late afternoon.
Location: No.21 Tran Phu street, Duong Dong town, Phu Quoc island
Opening hours: 5am - 7pm
2 - An Thoi Market
The An Thoi market is not as famous and crowded as Duong Dong market, however, this Phu Quoc market brings a peaceful feeling of the countryside. Apart from seafood, the market is an ideal place to buy seasonal local fruits.
Location: An Thoi island, Hon Thom commune, Phu Quoc island
Opening hours: 5am - 6pm
3 - Cau Sau Market
The market sells a variety of fresh seafood and dried products. The market is known to have the most affordable seafood prices, so many tourists come to this Phu Quoc market jokingly saying that if you want to eat seafood, go to Cau Sau market.
Location: Cau Sau Market on Nguyen Van Cu street, An Thoi town, Phu Quoc island
Opening hours: all-day
Diving in Phu Quoc island - a great thing to experience
4 - Ham Ninh Market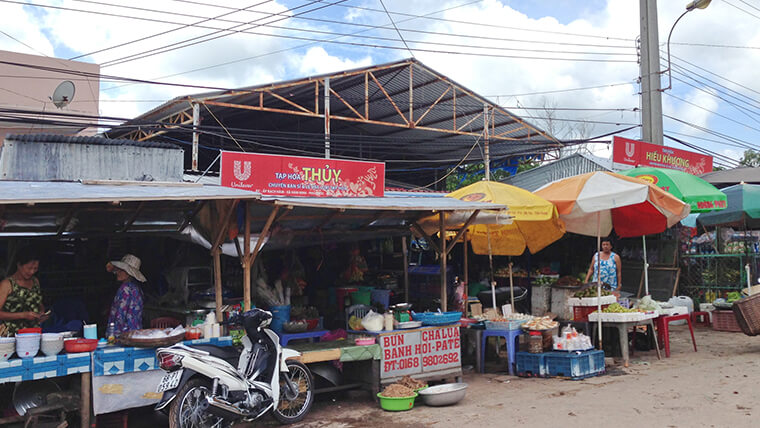 Ham Ninh Market (Source: Wikipedia)
Among the various fine & fresh seafood, the Ham Ninh market in Phu Quoc island is most famous for crab and mackerel. Crabmeat is so firm & delicious when going with green chili salt. The price of crab is only about 200,000 VND per kilogram ($8.6).
Location: Right next to Ham Ninh fishing village, Ham Ninh commune, Phu Quoc island
Opening hours: all day.
Some helpful tips when visiting markets in Phu Quoc: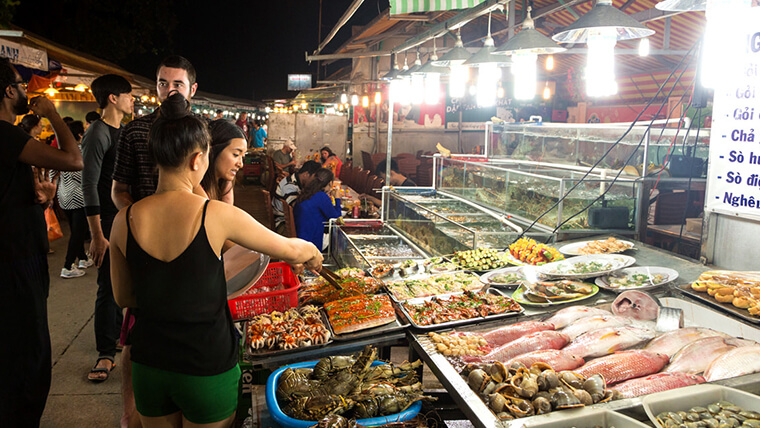 Visitors in Phu Quoc markets (Source: Vietnam-guide)
- Bargaining for better prices, and asking for more discounts when buying more.
- Dried seafood and fish sauce have quite strong flavors, you should ask for careful packing.
- Be careful with personal belongings when strolling around the markets at peak hours.
Phu Quoc markets are great places to fully experience a day. Hope this brief is helpful to you on your next vacation on Phu Quoc island.