Here below are the top #11 reasons why to visit Vietnam:
1 - Why visit Vietnam: Stunning landscapes
Possessing a rich variety of landscapes from North to South, Vietnam is a combination of the beauty of forests and seas, top international scenic spots, extremely spectacular places,... Wherever you go in Vietnam, you can admire the poetic and charming scenery. The karst geology creates the world heritage site of Halong Bay and the world's largest cave Son Doong. Can Gio Mangrove Forest is a biosphere reserve, an important wildlife sanctuary. You can enjoy the panoramic view from Fansipan Mountain in Sapa - the rooftop of Indochina or visit the long coastline of Central Vietnam.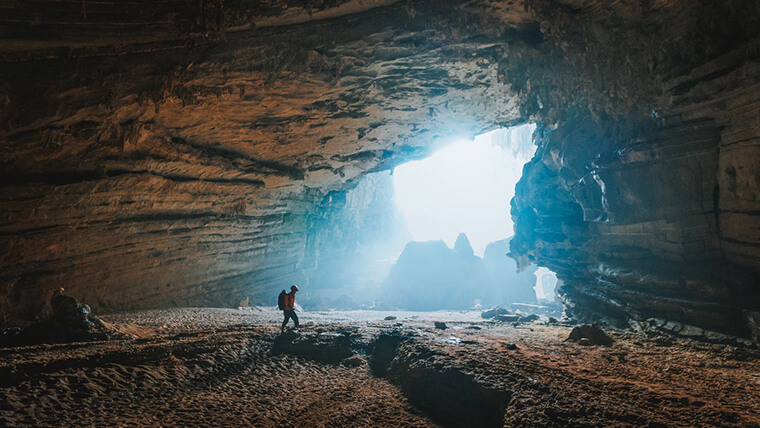 Stunning landscapes are the reasons why you should visit Vietnam - Source: Le Tan
Some of the most attractive places in Vietnam can be mentioned as Sapa - a highland town in the northwest of Vietnam covered with clouds all year round with terraced fields stretching like a path to paradise; Halong Bay - dubbed as "heaven on Earth", and rated as one of the 29 most beautiful bays in the world; Mekong Delta with a landscape like a lush maze with many canals and mangroves, a dense system of rivers. Here you can visit the vast granaries, fruit gardens, floating markets with colorful boats, enjoy the specialties from the land of the rivers...
2 - Why visit Vietnam: The outstanding architecture of Vietnam
Having a long and rich history, Vietnamese architecture is unique by the combination of tradition and modernity, East and West, Vietnamese and foreign qualities. There have been many famous typical architectural works showing the unique nuances of the country and people of Vietnam.
Hue city is home to many ancient architectural works, including Hue Imperial Citadel with important historical imprints, Asian - European style, and ancient wooden frames.
It is undeniable that outstanding architecture is the reason why is Vietnam a good place to visit. An architectural example of a unique combination of Buddhism and Vietnamese tradition is the One Pillar Pagoda. This thousand-year-old sacred temple is an impressive masterpiece of the ancients, imbued with the cultural history of the nation. This pagoda was also voted by the Asian Record Organization as one of the most unique architecture pagodas in Asia.
We can see the modernization of Vietnam in the contemporary architecture of the Golden Bridge in Ba Na Hills, Danang City, which has created a great effect as soon as it came into operation, becoming a phenomenon of Vietnamese tourism to the world. This famous Vietnam bridge does not cross any rivers, but still impresses with its giant mossy hands supporting the path like a golden silk strip, amidst the clouds of Da Nang.
3 - Why travel to Vietnam: Impressive religious and spiritual sites
The form and art of religious architecture are an integral part of the culture in general and Vietnamese traditional architecture in particular. Even though numerous sites are old, degraded by time, damaged by war, becoming ruins, or deformed, there are still dozens left. Some of them can be named such as Khai Dinh Tomb in Hue, My Son Sanctuary in Hoi An, etc.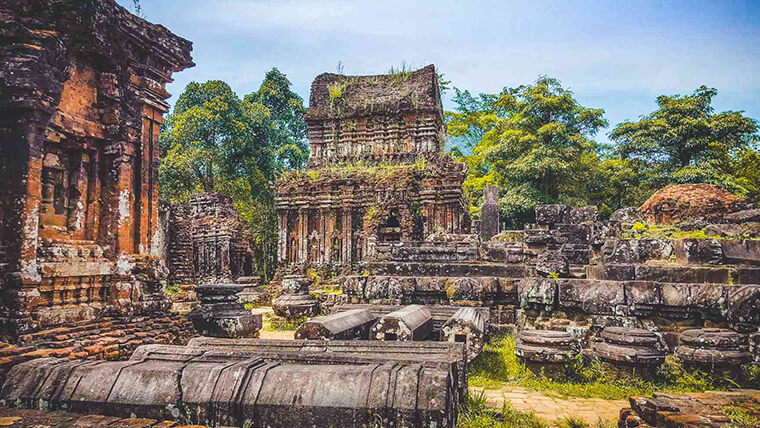 My Son Sanctuary - Source: Localvietnam
Located in Central Vietnam, My Son Sanctuary is a religious complex where the kings or priests of a vanished country, Champa, performed rituals for their gods. One unique thing about this architecture is that even though there is no mortar between the bricks, they are still extremely solid even after centuries have passed. Representing a cultural crossroad, with the introduction of Hindu architecture from India into Southeast Asia, the sanctuary is a must-see for those interested in ancient sites. The unique My Son Sanctuary is a reason why you should go to Vietnam.
Located in the heart of Ho Chi Minh City, Notre Dame Cathedral is a prime example of Catholic architecture, influenced by both Roman and Gothic styles. But Phat Diem Church in Ninh Binh Province is the culmination of the Vietnamization of a religion originating from the West - a true Vietnamese-style church. The decorative details are all blended together in the same traditional national architectural style without detracting from the magical sacredness of a Western cathedral.
4 - Delicious food - A big reason to go to Vietnam
Dating back thousands of years, Vietnam is one of the oldest cultures in Southeast Asia with a complex, unique, and fascinating culinary history, which is recognized by international tourists. Street food is one of Vietnam's specialties, so you can stop by any stalls in the street and grab anything from a staple Banh Mi, fresh spring rolls, to the signature Pho beef noodle soup, sticky rice, or seafood.
Vietnamese egg coffee is made from extremely simple ingredients, which blend into a coffee with beautiful foam and irresistible delicious taste. The sweet, fatty taste of eggs and milk will melt away the most unpleasant part of coffee, leaving only a sweet and attractive aroma, suitable for people who don't like the bitterness in filter coffee.
Known as the best food to eat in Vietnam, Banh Xeo or Vietnamese pancake has a crispy crust and full-flavorful meat or shrimp fillings, wrapped in rice paper and dipped in fish sauce.
5 - Why visit Vietnam: Friendly People
Known as "the land of smiles", friendliness is present everywhere in Vietnam, from urban to the rural countryside - Vietnamese people always love to show their hospitality to welcome tourists. For many years, this country has always been on the list of 10 foreign-friendly destinations by InterNations and many other reputable review sites such as CNN,...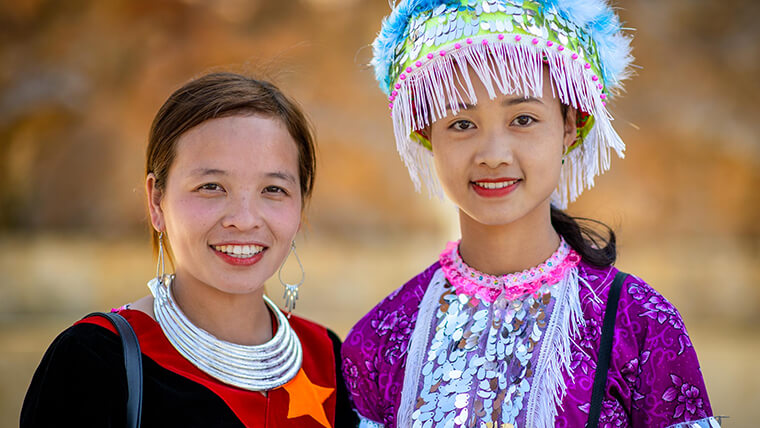 Vietnamese people - Source: Thehumansbeingproject
The friendliness and thoughtfulness every time a "guest comes to the house" is not created in a day or two, but is a cultural beauty that has existed for thousands of generations of Vietnamese people. There is no other country that suffers as much pain and loss because of war as ours, but Vietnam has always been a friendly, peace-loving people, always wishing for peace and friendship.
6 - Why visit Vietnam: A safe country
Many tourists have quoted something similar to "Vietnam is probably one of safest places in my travels over the years" - in today's Vietnam, violent crime is rare. You may be annoyed by nagging street vendors, scamming taxis, or crossing roads during heavy traffic, but with a cool head and planning, one can avoid these problems and have a smooth and trouble-free trip.
At first glance, you might think that street crossing in Vietnam is dangerous as cars and motorbikes don't yield to pedestrians. However, they actually do adjust to your presence and do their best to avoid hitting you.
7 - Full of exciting activities that cannot be missed
An interesting reason why travel to Vietnam is that there are unique experiences, beautiful sceneries, and relaxing moments. Taking a motorbike out of the bustle of Hanoi running up north to the Dong Van Karst Plateau Geopark or down to the south of the S-shaped country would be a life experience. You also can't ignore the chance to drop by the Halong Bay world heritage site to witness the stunning views of the bay.
For those who like adventure and nature, trekking or mountain climbing is a great way to stay active and healthy, bringing great physical benefits. One of the best locations in Vietnam for those activities is Dalat, which would also give you the opportunity to "hunt clouds" or watch the starry sky on your trekking trip.
If you are not afraid of heights and are a lover of thrilling sports, then try hovering in the air with paragliding, windsurfing, or just traveling by hot air balloon in Mui Ne. Thanks to its ideal wind conditions, beautiful beaches, white sand, and clear blue sea, this coastal land has developed to be the best place for these aerial activities. You will get the feeling of riding the wind on the cool blue sea, being in harmony with nature, and conquering the waves of the Phan Thiet City.
8 - Why visit Vietnam: Reasonable and affordable price
Although it's getting more expensive every year, this is still a cheap country to visit, attracting more and more budget travelers. Hostels or dorms are priced as low as $4 per night, even a decent Airbnb or 3-star hotel is not more than $40 per night. Street food by the hostel doors at $1 - $2, and most restaurant prices here are insanely affordable with a variety of choices available.
For a sufficient Vietnam experience, it's best to budget around $50 per day and you'll have more money to spend on things like food, drinks, activities, and hotel rooms. But it's best to budget $60 to $100 per day for your entire costs if you want a comfortable mid-range experience. This gets you enough to pay for a comfortable three- to the four-star hotel room, eat-in mid-range to high-end restaurants, and visit most of the activities and attractions. For a five-star experience in Vietnam, you should expect a minimum of $150 per day or more than $200 if you're going to eat at restaurants often and stay in a very luxurious hotel.
9 - Diverse & rich culture
One of the reasons to visit Vietnam is that Vietnam has a long history of traditional culture with 54 ethnic groups inhabited by the rivers, influenced mostly by Buddhism, Taoism, and Confucianism, with many unique attractive forms of art such as Water Puppets, Quan ho singing, and Hue's Royal Court Music and so on.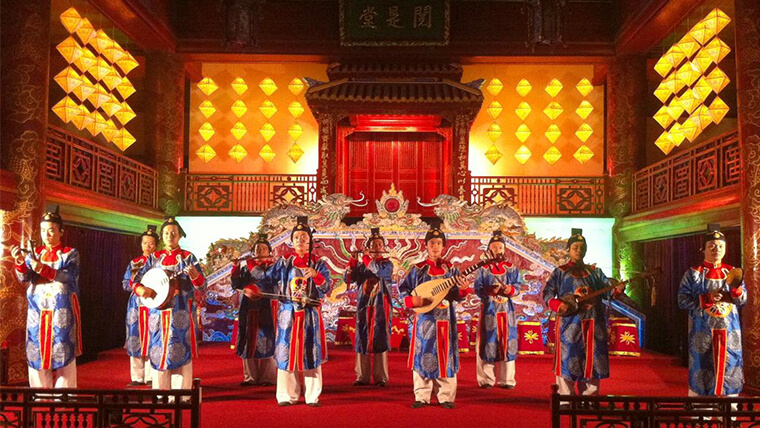 Hue's Royal Court Music (Source: Thehumansbeingproject)
Water puppetry is widely known as one of the most meaningful traditional art forms for Vietnamese. It is recorded to have originated more than 10 centuries ago and has been passed down from generation to generation. Vietnamese Water Puppetry is associated with the working life of people in the Red River Delta, constantly being developed with professional plays combined with unique ethnic music.
Quan Ho Bac Ninh is one of the typical folk songs of the Red River Delta in the North of Vietnam. Traditional Quan ho is a form of organizing folklore activities with strict regulations that require the singers to meet up to the standards and obey the rules. On September 30, 2009, Quan Ho Bac Ninh folk song (along with Ca Tru) was recognized by UNESCO as the representative intangible cultural heritage of humanity after Hue royal court music and the Central Highlands gong cultural space.
10 - Why visit Vietnam: Most attractive beach along the country
Given the natural gift of over 3,600km of coastline, Vietnam has top charming beaches in the world with golden sunshine and white sands, most of which are in Nha Trang, Danang, Hue, and Phu Quoc island. Amongst them, Tran Phu Beach in Nha Trang and Bai Dai (Long Beach) on Phu Quoc Island is in the list of top 50 beaches in the world by the U.S. News & World Report Magazine in 2018.
You can try many water activities such as swimming, surfing, diving, and snorkeling at these famous stunning beaches. In the evening, camping on the beach, gathering around the campfire with loved ones, listening to the sound of waves crashing, and watching the endless starry sky is an extremely memorable experience.
11 - Why go to Vietnam: Historical and heritage sites
As of 2020, Vietnam has more than 41,000 monuments and landscapes, of which more than 9,000 are ranked at the provincial level. More than 4,000 of them are classified as national monuments, among which there are 112 special national monuments and 8 world heritages. Historical sites and heritage sites scattered throughout the S-shaped country some of the best are Ancient Hoi An town, Hanoi Old Quarter, Ancient Hue Citadel, Hoa Lua Ancient Capital,...
Hoa Lu Ancient Capital is a particularly important national relic complex of Vietnam and is one of the four core areas of the Trang An world heritage complex recognized by UNESCO.
Or we can also go back to the past with the unique architecture and historical value of Co Loa Citadel - a cultural heritage, a proof of the creativity, technical level as well as ancient Vietnamese culture. This architecture is considered by archaeologists as "the oldest citadel, the largest scale in the world, the structure is also the most unique in the history of the citadel construction of the ancient Vietnamese".
Those are all the reasons why visit Vietnam from Vietnamtrips. Vietnam is really a fascinating destination with many amazing things of nature, food, culture, and people. There are lots of reasons that can pull your legs to take a trip to this heavenly land. Coming here, you will find out the best answer for why Vietnam is a great place to visit?