With the considerably increasing demand of tooth care and the progress & upgrade in dental technologies, dentistry in Vietnam and the number of dental clinics have been significantly thriving in recent years. The article below gives you more insight into dental in Vietnam, topmost famous clinics and other services.
I - Things to know about dental in Vietnam
According to the statistics, there are nearly 100,0000 foreigners who travel to Vietnam for dental treatment annually, including thousands of Australians and Cambodians. Vietnam used to be voted as the top 3 leading countries in Southeast Asia favored by Australians because of the high-quality dental clinics with low costs.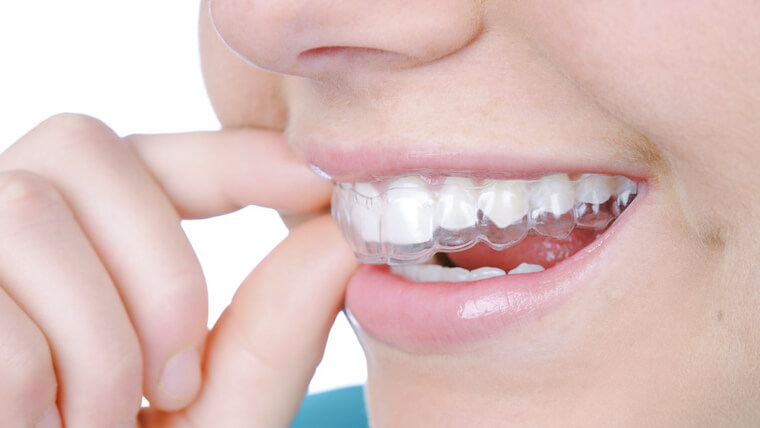 Invisalign treatment - Source: benhvienthucuc.vn
In particular, the cost for dental treatments or procedures in Vietnam is 3 to 10 times lower than that in other countries. For example, the Vietnam dental prices are 30% lower than in Thailand, the service of smile design in the country costs about $8,800 compared to $50,000 in Canada. The cost for an implant in other countries is at least $2,000, but the cost of dental implants in Vietnam is just about $800, dental fillings in foreign countries cost about $2,000, compared to only $50 in Vietnam,...
In terms of quality, the dental in Vietnam has strongly developed in the past several years, so this dental clinic in Vietnam has adopted technologically advanced dental equipment for instant digital dentistry, dental turbines, 3D-printing, CT scan machine, etc. and owned private dental labs for research, clinical surgery and sterilization rooms, etc. All equipment is maintained in the highest standard of hygiene and cleanliness. In addition, professional and skillful Vietnamese dentists with many years of experience in dental treatments and procedures are a critical factor to build the belief and satisfaction of patients.
Dental in Vietnam has attracted a large number of foreigners with dental tourism which combines the tourist experience of the destination and dental care. Patients can not only visit the famous tourist magnets in the countries with magnificent natural landscapes and rich historical-cultural values but also get their teeth cared for in the most prestigious dental clinics. This way, foreigners can both save money and gain experiences on the way traveling to Vietnam.
II - Top labs & clinics for trying dental in Vietnam
1 - Elite dental Vietnam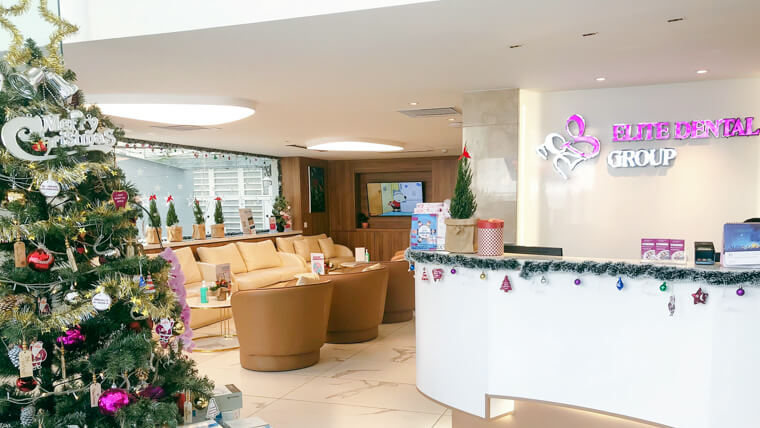 Elite Dental Vietnam - Source: EliteDentalVietnam
The group of dentists in Elite dental is truly professional and has considerable experiences in dentistry. All dentists have been trained in France and the US. The modern clinic is equipped with the latest technologies such as 3D CT scanning, panoramic X-rays to ensure accurate treatments and diagnosis. The clinic owns an onsite laboratory to speed up treatment times for those who need prosthodontics such as dentures and crowns. Elite Dental in Vietnam received Global Patients' Choice Awards in 3 straight years from 2016 to 2018, which has proved the high-quality and reputation of this clinic.
- Services: everyday dental care (deep cleaning, polishing and scaling, dental fillings, check-ups), specialist dentistry such as oral surgery, dental implants, periodontics (gum problems), prosthodontics (false teeth), and orthodontics (braces), cosmetic dentistry namely veneers, laser teeth whitening, children's dentistry
- Address: No.51A Tu Xuong street, Vo Thi Sau ward, District 3, Ho Chi Minh city
- Hotline: +84 2873 063 838 or +84 902 559 888
- Website: https://elitedental.com.vn/
2 - The East Rose dental in Vietnam
The East Rose dental is ranked the 51st globally and the 2nd in Vietnam with a GCR score of 4,16/ 5,0. Its core values are innovation, compassion, and integrity to provide patients with a commitment to excellence in dental care and in service. The office is equipped with the newest technology such as 3D Scan CT scanner, Panorama X-ray, Cephalo X-ray, Laser teeth whitening machine, etc. The materials of the East Rose dental in Vietnam are also imported from the Globe's leading dental material companies from Japan, Germany and Switzerland accompanied with many other methods of treatment. The team of the East Rose Dental has successfully treated thousands of cases from easy to hard, which have been recognized and verified by many patients.
- Services: implant, implant all on 4 and all on 6, Hollywood smile, braces & Invisalign, gum disease, porcelain crown and porcelain bridge, teeth care, wisdom tooth removal service, teeth whitening, porcelain veneer, root canal treatment and removable denture.
- Address:
Head Clinic: No.166 Dong Van Cong street, Sophouse building 315, district 2, Ho Chi Minh city
Clinic 2: No.30-36 Phan Boi Chau street, Ben Thanh ward, district 1, Ho Chi Minh city
- Hotline: +84 908 321 455
- Website: https://eastrosedental.com/
3 - Starlight dental in Vietnam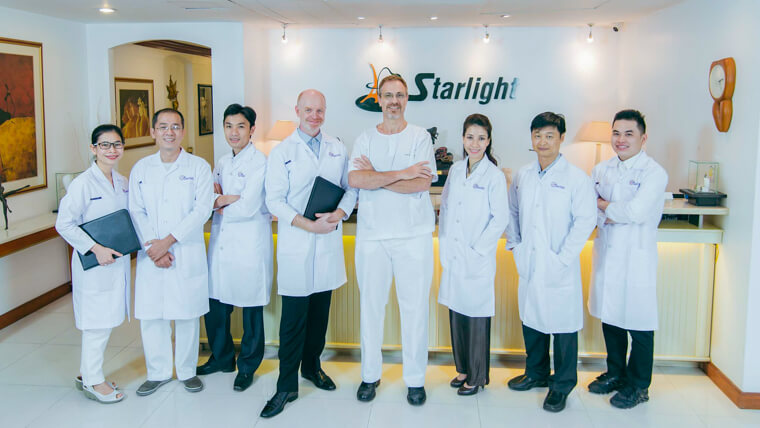 Starlight Dental Vietnam - Source: vntoworld.com
Starlight Dental is one of the most prominent names in Vietnamese dentistry, rated in the top 4 clinics in Vietnam, 5 stars Treatment by Whatclinic, Excellence in Dentistry 2011 - 2015 by Vietnam Economic Times, and top 6 Dental Travel Service in Ho Chi Minh city. The team of dentists are knowledgeable, experienced, dedicated and well-known in their fields. 100% equipment is imported directly from Europe and USA to select the most advanced dental technology worldwide.
- Services: general Vietnam dentistry (crown & bridge, gum care, denture, professional cleaning and check up), kids dentistry (mouth guards, kids dental cleanings & exams, kids emergency, dental sealants), orthodontics (early orthodontic treatment and functional treatment, brace treatment, cosmetic brace treatment, 3D digital clear Aligners For Invisible treatment, etc.), cosmetic dentistry and surgery & dental Implants.
- Address: No.24 Thao Dien ward, District 2, Ho Chi Minh city
- Hotline: +84 2862 828 828
- Website: https://www.starlightdental.net/
4 - West coast dental in Vietnam
West Coast Dental is considered the best dental clinic in Vietnam for dental implants with an international, professional team of dentists from Australia, USA, Italy, Spain, Japan, Germany, Canada, and Vietnam. All materials of the clinic meet Health Canada and FDA requirements for safety. The core values of the clinic is passion for dentistry and a commitment to excellence.
- Services: A great place for trying dental implants in Vietnam, professional cleanings, kids' dental care, professional teeth whitening, root canal treatment. All ON 4 dental implant procedures, bone reconstruction, orthodontics, invisible braces, ceramic dental veneers, wisdom teeth removal, dental crowns and dental bridge.
- Address of the West coast Vietnam dental clinic:
Clinic 1: Syrena Center 51 Xuan Dieu street, Quang An ward, Tay Ho district, Hanoi
Clinic 2: No.27 Nguyen Ba Lan street, Thao Dien, District 2, Ho Chi Minh city
- Hotline: +84 968 565 151
- Website: https://westcoastinternational.com/
5 - Dental hub Vietnam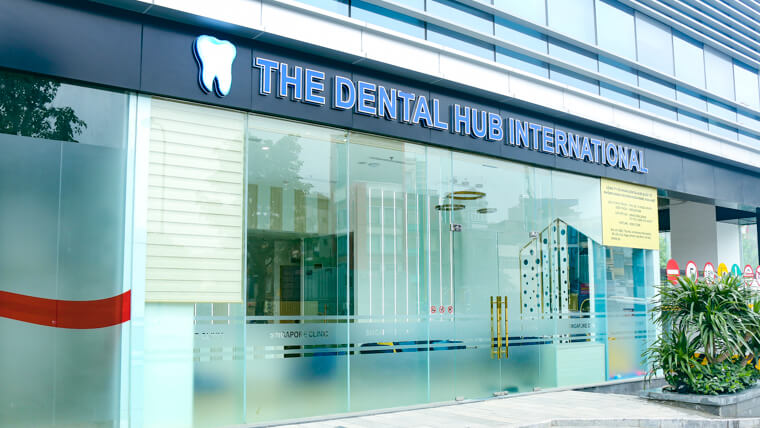 Dental Hub Vietnam - Source: Dental Hub
The most outstanding feature of the clinic is all procedures, constructions, operation and management meeting Singapore standards. The team of doctors, specialists, and nurses are trained directly by experts from Singapore. Facilities and equipment are imported from the most developed countries, especially Dental Hub features the most upgraded XQuang 3D Cone Beam and Dentsply IQ. The clinic offers the diversity of dental services from the basic to intensive and high-level ones as well as cosmetics. The services of implant and cosmetic brace are consulted internationally by a team of experts and doctors from Singapore and other countries.
- Address: No.29 Lieu Giai street, Ngoc Khanh ward, Ba Dinh district, Hanoi
- Hotline: +84 247 306 0699
- Website: https://nha-khoa-quoc-te-the-dental-hub.business.site/
6 - Kim dental in Vietnam
Kim Dental Vietnam includes 300 dedicated, professional staff and more than 150 well-trained, skillful doctors with good qualifications and many experiences in dental treatment who always strive to apply international standard procedures to bring the best result to customers. With the most modern equipment and machinery, spacious infrastructure, skilled specialist doctors and affordability, Kim Dental Vietnam was awarded International Dental Standards (CGR) and voted into the top 100 world's best dentists by CGR worldwide.
- Services: implant, braces, cosmetic porcelain, treatment of gingival laughter, jaw surgery, painless teeth extraction, whitening, shaving and polishing, fillings decay tooth, treatment of periodontitis, making rabbit teeth and children's dentistry, etc.
- Address: No.31 Nguyen Dinh Chieu street, Da Kao ward, District 1, Ho Chi Minh city
- Hotline: +84 287 308 6899
- Website: https://nhakhoakim.com/
III - Dental in Vietnam for tourists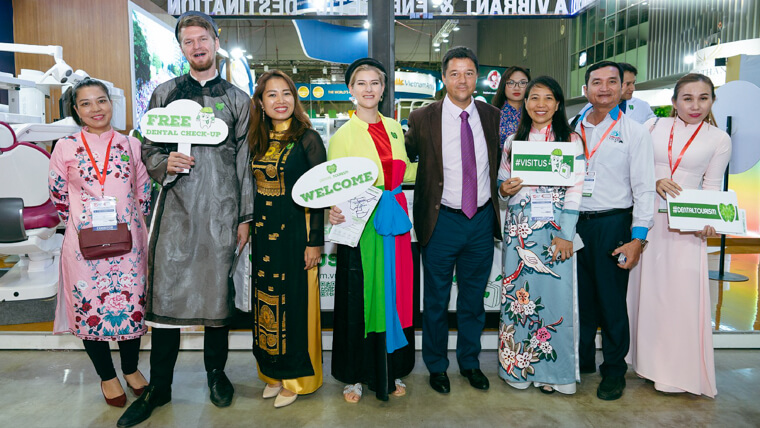 Source: Vietnam dental tourism
Vietnam Dental Tourism affiliates with more than 30 clinics across the country to support dental tourists' travel in terms of their desired destinations in Vietnam as well as tooth care & treatment. There are three choices of dental services, including individual services, full packages, and dental care packages, of which five outstanding packages comprise various dental treatment services, hotel accommodation, meals, return flight ticket, and airport transportation in 1-5 days with the cost ranging from $2,000 - 26,000.
In particular:
- Smile design 2 arches - diamond package (3 days): $12,000
- Smile design 2 arches gold package (3 days): $10,000
- Smile design 2 arches silver package (3 days): $7,500
- Wisdom tooth package: (1 day) $2,000
- Full mouth all-on-4 implant package (3-5days): $26,000
Following the mission that gives foreigners both satisfactory tooth care and amazing experiences in Vietnam, Vietnam dental tourism provides several detour packages, namely 1-4 days Saigon shopping tour and 1 day Saigon museum tour. Besides, numerous destinations from the North to the South Vietnam you can take into consideration, typically Ha Giang, Sapa, Hanoi, Ninh Binh, Halong, Danang, Hoi An, Hue, Ca Mau, Nha Trang, and Ho Chi Minh city, etc.
For more information, please visit: https://dentaltourism.vn/dental-clinic
This is general information about dental in Vietnam in terms of top dental clinics & dentistry in Vietnam that may be useful for you. Hopefully, you can have a wonderful trip to Vietnam and enjoy the best tooth-care services at reasonable prices.