Although Nha Trang is not a big coastal city in Vietnam, it boasts a significant number of islands that all have distinctive features with high tourism value. However, to explore them all in one single trip is quite a mission impossible. This article is created to suggest the top 8 charming islands in Nha Trang to make it easier for you to make a decision.
1 - Top #1 most beautiful Nha Trang islands: Hon Tre island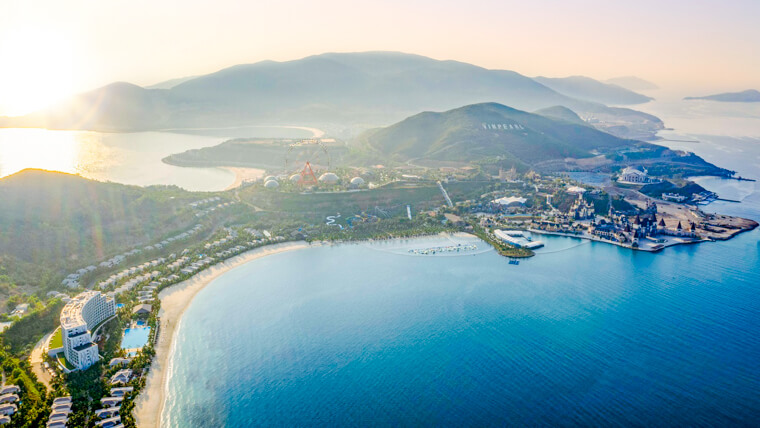 Hon Tre island - Source: vinwonders.com
Top most well-known points of interest In Hon Tre island that are highly recommended for tourists:
- VinWonders Nha Trang: This is one of the most impressive amusement parks in Vietnam. This recreational area resembles a palace in the wonderland that once getting lost here, you will be mesmerized by the amazing games, the fabulous world under the sea at the aquarium, and the vibrant atmosphere at water sound performances.
- Con Se Tre tourist site: Con Se Tre tourist site located to the south of this stunning island in Nha Trang. The environmentally-friendly materials like bamboo & wood make this tourist site become more attractive and elegant. You have a chance to enjoy the fresh & tranquil atmosphere of a peaceful village and participate in swimming, fishing, canoe driving, watching coral reefs,...
- Bai Tru beach: This is the most beautiful beach on this great Nha Trang island which will leave a deep mark on you with its stretching coastline, smooth white sand and clear emerald seawater. On the shore of the beach lies a fishing village where you have the opportunity to scroll around and sample the life of indigenous people. The island also features a wide range of tourist attractions namely Chuc Lam pagoda, Bay lagoon.
Some travel tips:
- Among top most beautiful Nha Trang islands, Hon Tre is the biggest one with an area of 32.5 km2, located at about 5km from Nha Trang city to the East. To get here from the city, you can go by cable car (10 - 12 minutes), by hydrofoil (12 - 15 minutes), or by canoe (7 - 10 minutes).
- It is suitable to come here at any time except September, October, and November because of the likelihood of tropical storms and heavy rains.
- About the accommodation, you can refer to the system of hotels and resorts under Vingroup such as Vinpearl Luxury Nha Trang Resort & Villas, Vinpearl Resort & Spa Nha Trang Bay,... If you are searching for a less sumptuous residence, a variety of homestays and hotels with much more pocket-friendly room rates are scattered on this island waiting for you to discover.
2 - Hon Mun island - one of the 4 most beautiful Nha Trang islands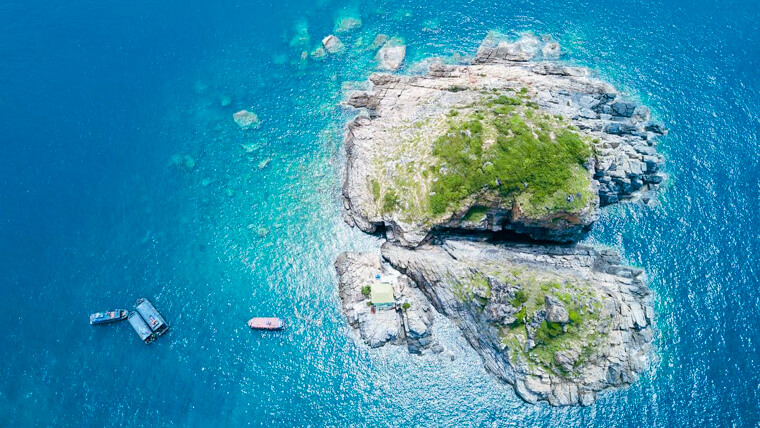 Hon Mun island - Source: packntote.com
Its name is derived from a kind of tree with a characteristic black (mun in Vietnamese) wood which thrives here very well. Not only being endowed with a blue sea, white sand beach, it is also home to more than 2000 species of coral, 1500 marine creatures. Besides, black stone caves in Hon Mun island engage salanganes to come and nest. That's the reason why this has been the first and only marine reserve in Vietnam to date, recognized by the World Wildlife Fund as the area with the top biodiversity in Vietnam.
Hon Mun is said to be one of the 4 Nha Trang islands. Traveling here, visitors can take part in a variety of activities such as diving, watching coral reef via glass-bottom boat, diving,... Floating bars are one of the draws of tourism on this island. You can sip a glass of wine in the melody while watching the sea or immerse yourself in the cool water.
Located to the South of Hon Tre island, it just takes you 30 minutes to travel to Hon Mun island by boat or canoe from the Cau Da port. You are recommended to go on a package tour at a very reasonable price from 200,000 - 600,000 VND/person ($8.6 - 26).
In general, the best time to travel to Hon Mun island is from July to September when the weather is quite nice with less rain. Note that there is hardly a hotel or resort on this island so if you want to reside here, the only solution is to come back to Hon Tre island or the mainland.
3 - Diep Son island - among the best Nha Trang islands to visit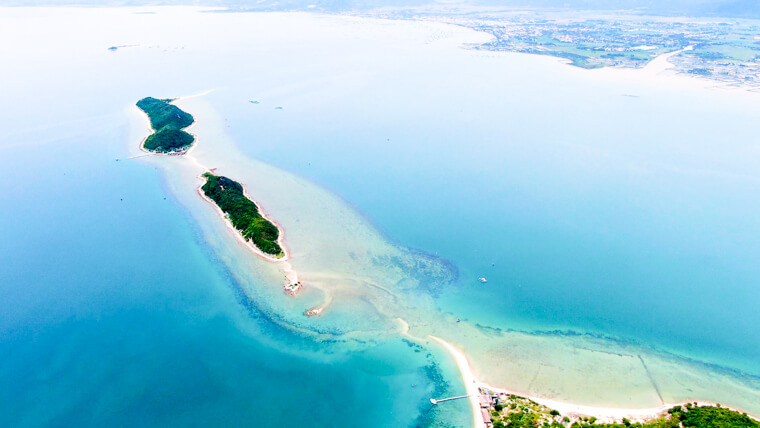 Diep Son island - Source: @Thanh Nguyen
Diep Son island is a cluster of 3 isles including Hon Bip, Hon Giua, and Hon Duoc. Once mentioning Diep Son islands, people immediately imagine a unique sandy road at the heart of the sea. This sandy space is no more than 1 km long, 1m wide but can connect 3 isles. Because this magic road is most clearly shown when the water is down if you want to check in with it, note that from 1st to 15th every month of the lunar calendar, the tide is down in the afternoon while from 16th to the end, the schedule is in the morning.
Ngoc Trai bridge (Pearl bridge) is a great point to visit. Standing on it, you may feel like it has an infinite end. Quite large a bridge without parapets, surrounded by the ocean is a phenomenal background for a "divine" picture.
Compared to other Nha Trang islands, Diep Son is quite a nice and pristine island that has not been affected too much. They are still candid and generous regardless of the sufficiency in materials and facilities. Also you can take a wander around the village to understand more about their daily routine, join hands with them in going fishing, unclustering the nest and you will find peace of your soul.
Located about 60km from the city center, to get to the island in Nha Trang, you must move to Van Gia fishing port (Tran Hung Dao street, Van Ninh district) to buy a boat ticket at 200,000 VND ($8.6)/person/return ticket. To have the best time traveling, you should go from December to June next year since it is often sunny and dry, the sea is calm, making it favorable for vehicles to transport quickly and smoothly, avoiding seasickness.
There hasn't been a commercial hotel or resort on these islands, so on the matter of accommodation, you can either ask households here for a stay or erect a camp. However, you are suggested to find a place near the residential area to be more convenient to seek help and avoid danger when the tide is up unexpectedly.
4 - Khi island - one of the must-visit Nha Trang islands Vietnam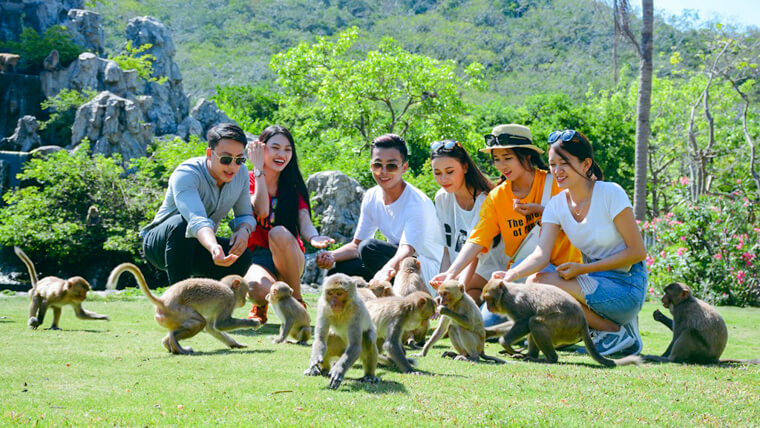 Monkey island - Source: baokhanhhoa.vn
Khi island (Monkey island) also known as Hon Lao island is home to more than 1,200 monkeys of different breeds. On this island, they are protected and nurtured carefully and naturally free-ranged rather than captured in cages like elsewhere. Therefore, they are very bold and ready to play with visitors at any time. Besides, they are trained with a few circus tricks which make you can't help but give them rounds of applause for their intelligence and wisdom.
Top things to do on this fascinating Nha Trang island are swimming, scuba diving to watch coral reefs, playing water motorbike, gliding,... Although the island is not too large, you can still hire a horse cart to travel between destinations, which can be a new and interesting experience.
Monkey island, one of the most interesting Nha Trang islands, is just 15km from Nha Trang city to the North. To get there, you must get to Da Chong port and buy a boat ticket to the island at 180,000 VND/person. Besides, you can refer to some tours to Monkey island combined with some nearby destinations such as Hoa Lan stream, Hon Thi island, Nhu Tien beach,... The ideal time to visit is in summer, after June when the sky is higher and clearer while the sea is calm and transparent as a mirror.
5 - Hon Tam island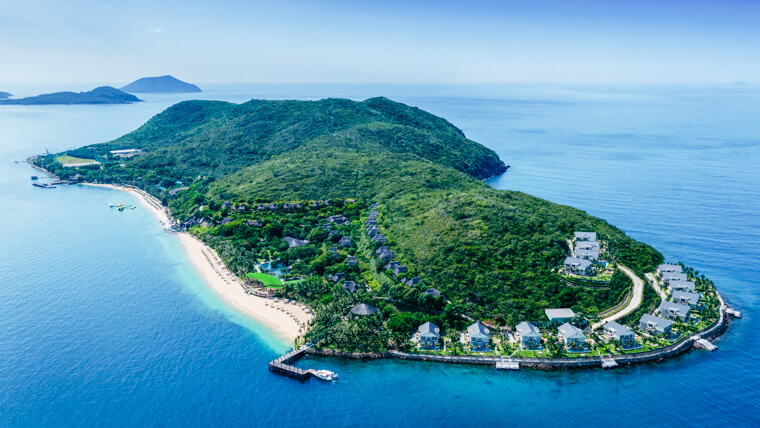 Hon Tam island - Source: wikimedia.org
If you are kind of adventurous, Hon Tam island is a place you must visit. This is one of the very few Nha Trang islands where you can play sea sports such as flyboarding, sea walk, parasailing, water skiing, motorboating,... Moreover, there is the biggest mineral mud bath in Vietnam with an area of 42,000 m2, planned and constructed glamorously to bring the whole view of Nha Trang bay to the eyesight of guests while they are relaxing in pools of mud.
The 1km long beach lined by green coconut trees and creamy white sand by the blue and clear sea water is sure to be an irresistible charm to every visitor. Although this island in Nha Trang has been harnessed for tourism for a while, it still preserved its natural and cultural legacies, of which the most outstanding example is Hoang Hoa Thon, a collection of 100-year-old houses. Almost all the details in these ancient buildings are kept intact, bringing you a nostalgic atmosphere right after setting foot in.
The weather in Hon Tam Nha Trang island is divided into 2 seasons, rainy and dry ones, like that in Nha Trang. A big draw is that the dry season is very long, starting from January to September, which means you have a generous period to enjoy the atmosphere here. To get to the island, from Nha Trang city you drive 5km to the Southeast to reach Hon Tam port. From here, you must buy a boat ticket or hire a canoe to be carried there. Another option is to go on a 3 Nha Trang islands tour having Hon Tam, Hon Mun, and Robinson island in its itinerary. Unlike the above-mentioned islands, on Hon Tam, you have a 5-star MerPerle resort which has 114 guest rooms with an opulent but eco-friendly design that can guarantee a wonderful service to you.
6 - Yen island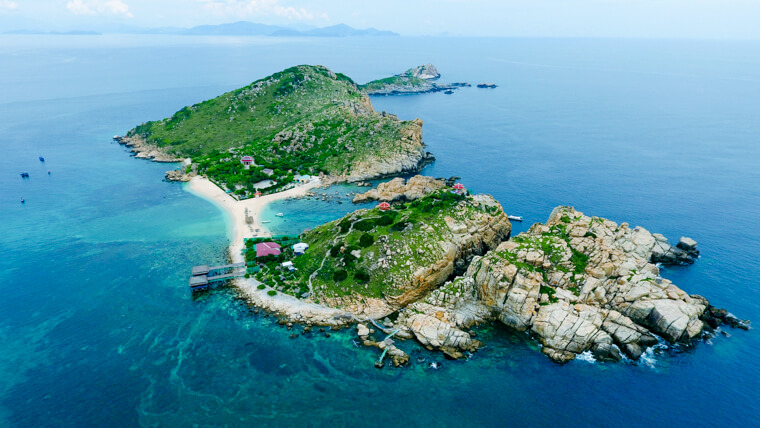 Yen island - Source: datviettour.com.vn
Yen island is a cluster of islands in Nha Trang bay. This place is about 25km, equal to 13 nautical miles from Cau Da port. Because the island is under the management of the Sanest Khanh Hoa Co. Ltd, you can't buy a ticket or hire a canoe to reach it but follow a tour organized by the company. The island is only open for tourists from April to August; therefore, you should take note before having a plan. Another note-worthy information is that people are only allowed to visit the island for a day.
Unlike other stunning Nha Trang islands, Yen island is only available for sightseeing for a short period, there are a lot of incredible things that you can find nowhere else but here. The first to mention is watching salanganes nesting on rock cliffs or in the stone caves. It is not by chance Nha Trang is said to be the land of this precious species of bird. Thousands of salanganes live and nest here, bringing huge economic benefits for the locale. To get around, you must walk on bamboo bridges winding mountain cliffs. Not to make the animal startle, you should be gentle and turn off your flashlight when taking photos.
The most impressive tourist spot on Yen island in Nha Trang is the dual beach. Viewing from above, you may notice a strip of land dividing the sea into two. In fact, it is built up of both sand and dead corals. The color of the water on either side of the beach has a clear distinction, making it likened to beaches in the Maldives. This is the only dual beach in Vietnam, so you should not miss it.
7 - Top pristine Nha Trang islands: Binh Hung island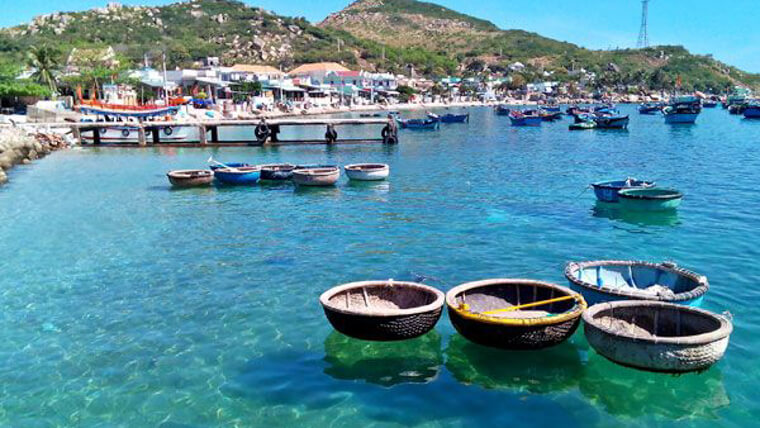 Binh Hung island - Source: @Huy Vu Quang
Binh Hung is always well known as a very important member of the list of the 4 most best islands in Nha Trang. It is famous for vivid coral reefs which you just need to walk 10m from the shore to observe. The reputation of it has a huge contribution of a variety of charming beaches.
Bai Kinh beach is famous for its clearwater beach suitable for swimming. Bai Nuoc Ngot with the unique point is that besides outer space with a normal sandy beach, inside is a cave having a source of freshwater. Bai Chuoi beach is covered in green color, but due to the deep sea, tourists have to pay more attention when swimming here. Bai Trung beach, instead of sand, the shore of the beach is made up of round rocks looking like giant dinosaur eggs. Therefore, this place is only suitable for sightseeing, not safe enough for people to swim.
Binh Hung island in Nha Trang is located in Cam Binh commune, Nha Trang city, hidden under the pass of Binh Tien - Vinh Hy road. The island only takes you 10 minutes to travel by ship from the mainland with a modest fee of 10,000 VND/person. You will have a lot of options to choose from if you decide to stay here overnight. Besides homestays or camping on the beach, floating platforms are so interesting to try to sway on the sea surface, listen to the sound of the waves and the paddle of the fishermen in the early morning.
8 - Binh Ba island - top pristine Nha Trang islands to visit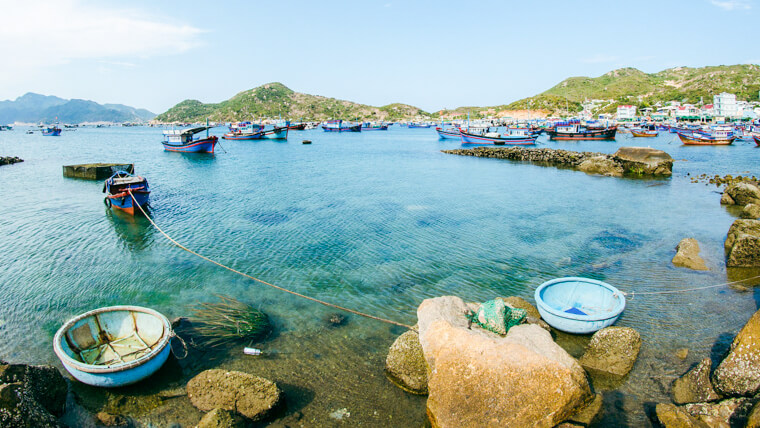 Binh Ba island - Source: nhatrangbooking.vn
"Binh" means peace while "Ba" is three, referring to the 3 most beautiful beaches on the island which are Bai Chuong, Bai Nha Cu, and Bai Nom. The island has been under the control of the army for many years until recently, therefore, the nature on this island is still very pristine. The water source here is very favorable for the development of lobsters. This is also the specialty of the island that you are highly advised to savor its sweetness and toughness once.
The most charming beach on Nha Trang island is Bai Nha Cu beach. The seawater here deserves the highest point in both transparency and cleanliness. In addition, it boasts an open coral reef with a diversification of color which appears to be very delicate. Much as its appearance, the beach is not appropriate for swimming at all because of small and jagged rocks.
Among top most spectacular Nha Trang islands, Binh Ba island and Bai Chuong beach in particular is the most ideal spot to watch the sunrise first in Vietnam. Bai Chuong exudes the rustic and simple life of the fishermen. This place is especially mesmerizing in the early morning when hundreds of fishing boats anchored along the shore or at twilight when the crews come back after a day floating in the ocean.
Bai Nom beach is sandwiched by 2 mountain ranges, thus, it features gentle waves, a calm sea, and smooth sand all year round, really proper for swimming.
About 60km away from the Nha Trang city center, to get to this island in Nha Trang you must find a way to Ba Ngoi port to get a boat ticket. March to September is said to be the perfect period for traveling to this serene island not only because of the nice weather but also the right time to enjoy delicious seafood. Because accommodation has not been so well developed here so far, the common solution for tourists is to reside in indigenous people's houses. Besides, camping is not a bad idea supposing you go in a large group.
Local Travel Idea has already provided you with the list of the most outstanding Nha Trang islands. Hope that after this writing, you can determine for yourself which ones are going to be on your itinerary for your next trip to Nha Trang city. Thank you so much for reading and don't forget to support us in the upcoming articles.