Located right on the largest Hon Tre island in Nha Trang beach city, Vinpearl Land Nha Trang, also known as VinWonders Nha Trang, is the world-class theme park and well-known as the entertainment paradise in the charming city. Covering an area of more than 50ha, the Nha Trang Vinpearl Land theme park features 6 game zones with nearly 100 appealing entertainment games and activities which promise to give you an unforgettable experience with family and friends.
I - From city center to Vinpearl Land Nha Trang
Vinpearl Land is located on Hon Tre island, Nha Trang city, Khanh Hoa province, around 14km away from Nha Trang city center. There are two ways to travel from the city center to Vinpearl Land: by cable car and high-speed boat.
1 - Paradise Cable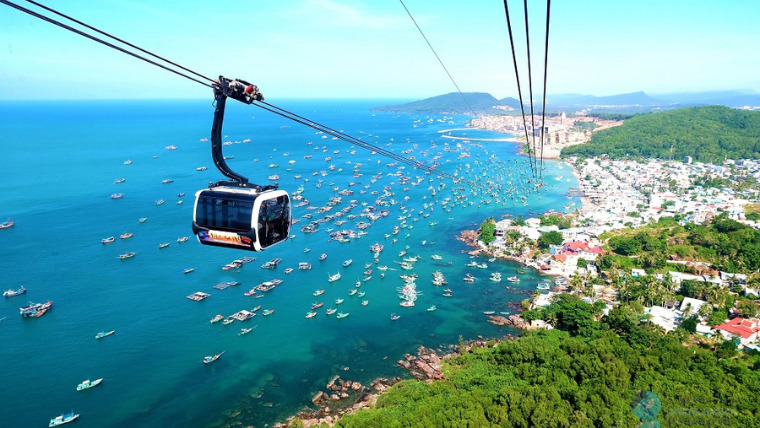 Source: reviewvilla
The cable car takes you through the immense sea and striking natural scenery that will definitely make you wow. The cable car has a length of 3,320m and a capacity of 8 people/ cabin. It takes you around 12 minutes to reach Vinpearl Land Nha Trang. It is favored by many tourists thanks to its time efficiency, convenience and its safety
- Length: 3,320m
- Capacity: 8 people/ cabin
- Duration: 12 minutes
2 - High-speed boat to Nha Trang Vinpearl Land theme park
The speedboat has a capacity of up to 72 people with a travel time of around 7 minutes. The boat is available 24 out of 7 with a frequency of 30 minutes between trips. Therefore, you can easily choose the suitable time to get to VinWonders Nha Trang by this means of transportation.
- Capacity: 72 people
- Duration: 7 minutes
II - Vinpearl Land Nha Trang & its top entertainment complex
There are lots of interesting and unique things to experience for kids and adults. VinWonders Nha Trang is divided into 7 fascinating zones featuring a diversity of enjoyable games. After getting there by Paradise cable car or speed boat, you go to the central gate to check tickets and enter the amusement park.
- Entrance ticket:
+ Adult: 750,000 VND/ticket ($32.5)
+ Kid: 560,000 VND/ticket ($24.3)
- Opening hours: 8:30am - 9:30pm
1 - Adventure land of Vinpearl Land Nha Trang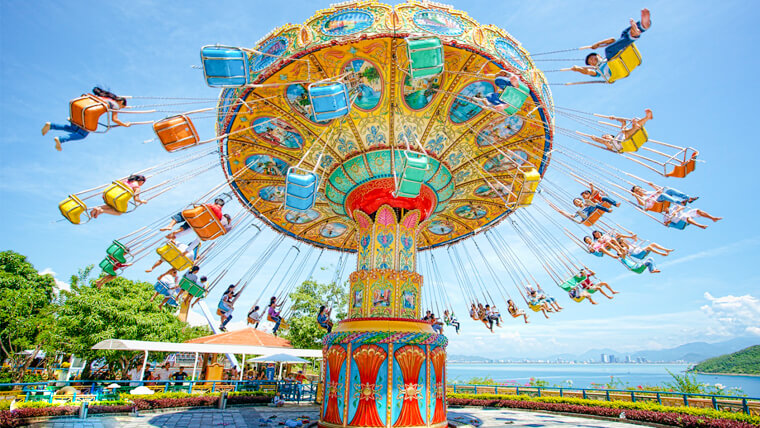 Source: go2joy
If you are an adventure lover who is interested in experiencing the thrilling feeling, do not ignore 8 super classic games in Adventure Land with various levels such as Swing Carousel, Sky Drop, Roller Coaster, Pirate Ship, Top Spin Ride, Mine Adventures, Bungee jumping. In addition, there are many restaurants for you to enjoy food right at the park, namely: Chingu restaurant, Cho Que restaurant, Yummy Land restaurant.
2 - King's Garden of Nha Trang Vinpearl Land
King's Garden is likened to a miniature animal world on Vinpearl Land Nha Trang with nearly 30 species of birds from many countries, creating the incredibly jolly symphony. There are 10 unique "Bird Performances" made by 10 species of rare, precious birds which are like talented dancers with flexible movements. Furthermore, you can excitedly observe Bengal tiger, giraffe, hippo, and flamingo in the campus of the garden. After a long time of discovering the fascinating animals and birds inside the garden, Lotteria restaurant is a favorite spot for taking a rest and enjoying delectable snacks.
Open time: 10am - 6pm.
3 - The World Garden at Vinpearl Land Nha Trang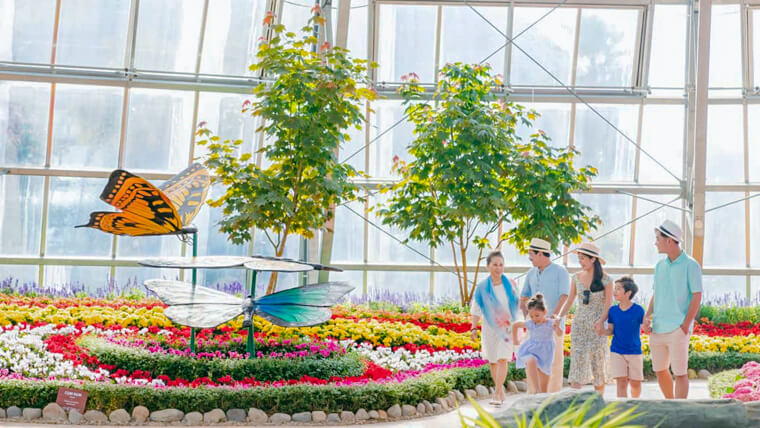 Source: Internet
The World Garden is actually a Temperature Garden, a large glass building where you can walk in a scenetic 3D view with vibrant colors: pink - white - blue of hydrangea, pinkish red of Thu Hai Duong, and rainbow color of scilloideae, etc. You will be amazed by Orchid Paradise with more than 500 rare and stunning orchid species; Serene Japanese garden featuring symbolic red bridges, the Tori gate, the Koi pond, and Zen houses; Cacti land well-known as Vietnam's largest cactus display house with over 8,000 plants and Sky Wheel which is famous as the largest skywheel in Vietnam and in the top 10 largest of the world.
4 - Vinpearl Land Nha Trang's Water World
With a total area of up to 50,000m2 with 20 super attractive games, Vinpearl amusement park Nha Trang's Water World is the very first and the only freshwater park in Vietnam which provides you the most exhilarating experiences such as: Tsunami slide, water sport area, wave pool, rafting slide, and flying boat uphill, etc.
In particular, the world's largest Floating Bay with an area of 4,200m2, which can hold 750 people would be a perfect choice for those who are a big fan of high-intensity sports. Inside the campus is a complex of restaurants & bars for you to recharge your energy, including Yummy Land, Seaside Bar, and BBQ Express.
5 - Sea World - top point of interest in Vinpearl Land Nha Trang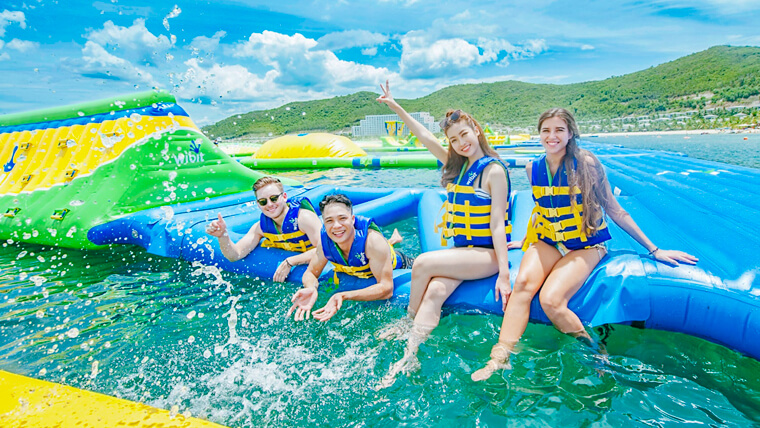 Source: vinpearllandnhatrang
The diverse ecosystem of Sea World with more than 30,000 sea creatures will blow your mind at the very first sight. In addition, you can admire the adorable performances of seals and dolphins, as well as take photos with them. Ocean Square, Neptune's Palace and Dolphin Bay are the three most impressive areas of Sea World, in which Ocean Square is where a number of national and international festivals take place and Neptune's Palace is like a heaven where you have an opportunity to discover the amazing ocean through a huge glass pane.
6 - Fairy Land at Nha Trang Vinpearl Land
This is a must-not-miss spot in Vinpearl Land Nha Trang. There are 5 areas here, namely Balloon Tower, Magical Bikes, Trampoline, Merry Go-round, and Jet Elephant. Balloon Tower will bring you back to childhood with 12m high wheels from which you can capture the panoramic view of Nha Trang Bay.
Magical Bikes with the height-changing spins surely give you a conquering feeling while Trampoline is an endurance challenge where you are able to spend a lot of energy bouncing in the air. The Merry Go-round Wheel is a favorite one for kids with different animals and eye-catching, shimmering lights. Jet Elephant with funny elephant chairs gives kids exciting moments when they can adjust the chairs by themselves to fly up and down.
III - Places to stay in Vinpearl Land Nha Trang amusement park
1 - Vinpearl Resort Nha Trang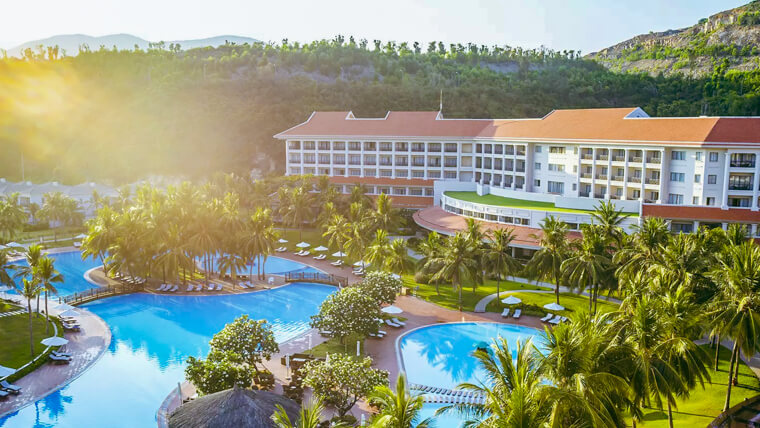 Source: vinpearl
Located on an island with an extraordinary landscape, Vinpearl Resort Nha Trang is one of the leading complexes of entertainment on Hon Tre island. It is characterized by a classic Asian beauty with Indochine architecture and picturesque beaches.
It comprises 528 rooms, all of which overlooks the turquoise sea and stretches white sand. All kinds of facilities are offered to guests including bars & restaurants, swimming pool, spa & gym, tennis court, kid's club,...
- Room rate: 2,800,000 - 3,800,000 VND/room/night
- Contact: 0258 359 8222 | Email: info.VPRTNT@vinpearl.com
2 - Vinpearl Resort & Spa Nha Trang Bay
This is one of the best places to stay near Vinpearl Land Nha Trang that offers a stunning view of a special vivid sea, especially at dawn. The bow-shaped architecture and all-glass door design of the resort bring about the most exhilarating experience for visitors. The signature facilities services here include swimming pool, tennis court, gyms, spa, kid's club, laundry service, clinic, restaurants & bar.
- Room rate: 3,500,000 - 5,900,000 VND/room/night
- Contact: 0258 359 8999 | Email: res.VPRSBYNT@vinpearl.com
3 - Vinpearl Luxury Nha Trang
Situated along Nha Trang Beach & close to Vinpearl Land Nha Trang. This is one of the best Nha Trang resorts that offers a secluded retreat on Hon Tre island. It is like a haven in the middle of the tropical gardens and expansive coastline. There are 84 villas with signature facilities such as a spa, gyms, swimming pool, and restaurants.
- Room rate: 6,600,000 - 10,500,000 VND/room/night
- Contact: 0258 359 8900 | Email: res.VPLRNT@vinpearl.com
4 - Vinpearl Discovery Golflink Nha Trang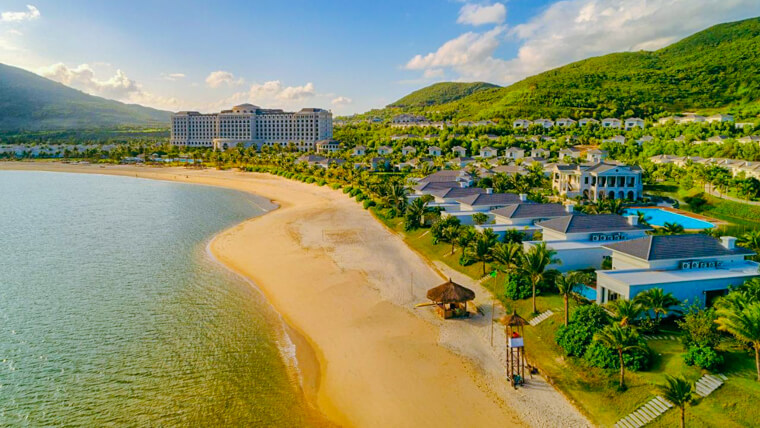 Source: booking
Vinpearl Discovery Golflink Nha Trang features 182 private villas, consisting of 543 rooms is an ideal place near Vinpearl Land Nha Trang to stay. Modern design inspired by the beautiful Mediterranean coastal villages and the high-class international standard make it a prominent destination for those who would love privacy and luxury. Discovery Golflink Nha Trang provides signature facilities such as gyms, tennis court, kid's club, outdoor swimming pool, spa and golf course.
- Room rate: 5,400,000 - 10,400,000 VND/room/night
- Contact: (0258 359 8599 | Email: res.VPDSGLNT@vinpearl.com
5 - Vinpearl Discovery Sealink Nha Trang
Among top luxurious resorts near Vinpearl Land Nha Trang, this is one of the best places to stay. The resort provides access to 8 dining venues, 5 large swimming pools, the largest Kid's Club on Hon Tre island, together with customized services. Furthermore, it is located adjacent to a world-class golf course with 18 high-standard holes, making the resort a perfect choice for relaxation, especially suitable with families and large groups.
- Room rate: from 3,900,000 VND/room/night
- Contact: (+84) 258 359 8888 | Email: res.VPDSSLNT@vinpearl.com
Vinpearl Land Nha Trang is actually a heaven of comfort and relaxation with a myriad of incredible entertainment services as well as world-class accommodation aiming at providing the most satisfying experiences for visitors once traveling to this charming beach city of Nha Trang.