My Khanh eco-tourism area, also known as My Khanh tourist village, is a complex of entertainment - cuisine - ecotourism with the characteristics of Southwest Vietnam. With a large area of ​​up to 30ha, coming to this place, you will have the opportunity to immerse yourself in the spacious green natural space, discover the most unique points of Southern culture as well as experience fun folk games.
I - Where is My Khanh tourist village?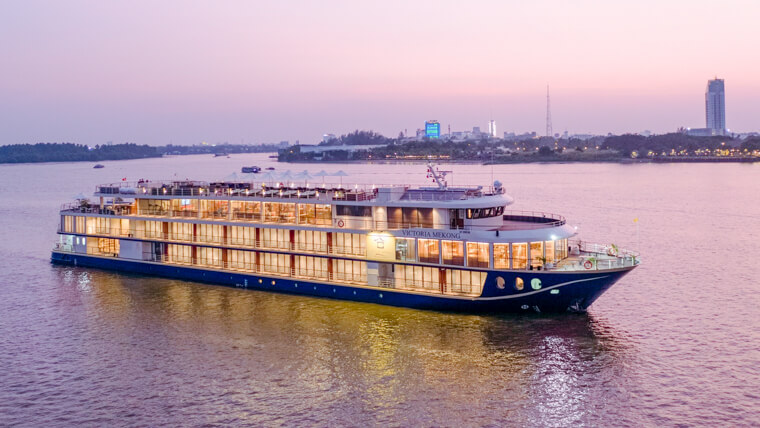 Cruise tour on Can Tho river - Source: canthotourism
My Khanh village is located at No.335 Lo Vong Cung Street, My Khanh Commune, Phong Dien District, Can Tho City. Nestled right on the gentle Can Tho river, between Cai Rang and Phong Dien Floating Markets, just over 9 km from the center of Can Tho city, 12km from Ninh Kieu wharf, and 12.5km from Can Tho bridge.
To find a way to approach this destination, you can choose to go by motorbike, taxi, or motorbike taxi. Besides, this place is accessible by boat from Ninh Kieu wharf with a price of about 650,000 - 900,000 VND ($28 - 38.8)/boat. Because each boat can contain from 9 to 25 passengers, those visiting in big groups will be more favorable.
Another way to get to My Khanh tourist village is to contact the management board to ask for a pickup. The fee varies from 100,000 VND ($4.3) to 500,000 VND ($21.6) depending on the particular pick-up and drop-off point. For more detail, let's see here.
My Khanh village is divided into 2 areas in which Zone 1 is the place to visit the 115-year-old Southern House and stay while Zone 2 gathers most of the entertainment and entertainment services. The latest updated ticket prices on the resort's website are as follows:
Entrance ticket price: 90,000 VND ($.9)/adult & 50,000 VND ($2.2)/child

Opening time: 5am - 10pm
Contact information:
II - What's fun in My Khanh tourist village?
My Khanh is one of the most attractive villages in Vietnam with tons of interesting activities that can offer you memorable experiences:
1 - Playing with fish at My Khanh village
Feeding carp with baby milk bottle
Countless visitors have been surprised by the scene of thousands of carps coming up to the surface, opening their mouths to be bottle-fed. To form this habit for the animals, the staff here have taken advantage of the principle of conditional reflexes. Instead of throwing food in water, they put food into a milk bottle and feed them. For a long time, the fish gets familiar. Therefore, just seeing someone holding the bottle, they know it's eating time and head for his/her position.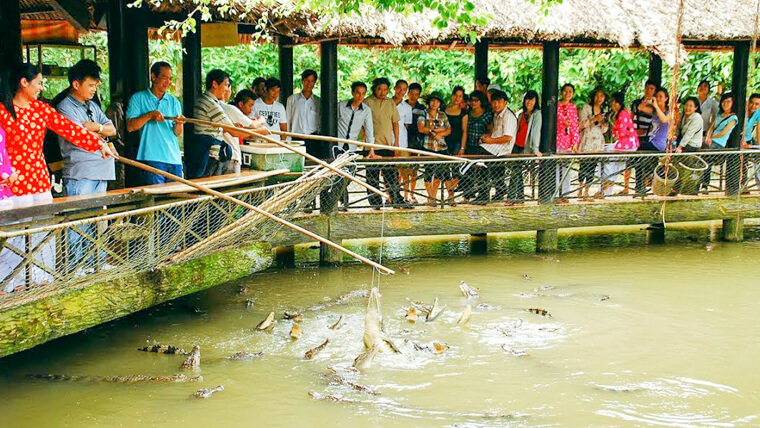 Crocodiles fishing - Source: youtube
Coming to My Khanh tourist village, you are going to be very impressed with the heart-pounding experience at Crocodile Lake. There are hundreds of crocodiles released in the pond with an area of ​​​​200m2, carefully fenced with wire mesh around. Whenever raising the fishing rod, you have to hold your breath and the moment the giant crocodiles come out to grab the bait, you will think your heart skips a beat.
- Ticket price to visit Crocodile Lake: free (Bait for feeding crocodiles: 10,000 VND ($0.4))
This is one of the most exciting things to do in My Khanh village. Once you put your feet into the basin of water, hundreds of fish gather around and eat the dead skin. These fish come from Turkey, have small bodies, only about 4cm long. Because they have no teeth, they use their lips to remove the dead cells on your complexion without causing any hurt for you.
- Service price: 20,000 VND ($0.9)/person/20 mins
2 - Watching the animal racing at My Khanh tourist village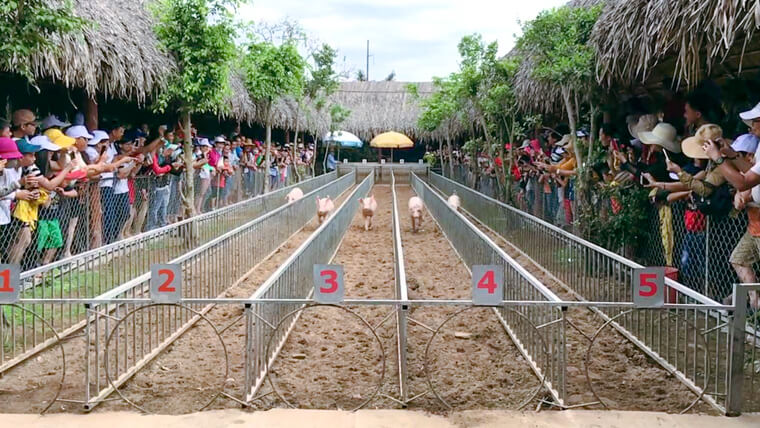 Pig racing in My Khanh village - Source: youtube
To enrich tourism activities, tourism in Can Tho also comes up with games with small animals such as pig racing, dog racing to create a vibrant, comfortable atmosphere and bring laughter to guests. One of the must-mentions is the fun dog racing. Just looking at the cute little athletes, fans will not regret spending 20,000 VND ($0.9) bets.
On the track, there are many funny situations happening. Some "babies" are running very fast as if they are about to reach the finish line, then they stand still. Some run halfway and suddenly fall asleep, and some determine not to move an inch from the beginning. These dilemmas make the race become exciting and explosive.
The reward for the winner of the bet can be a piglet, maybe a bunch of rambutans, or mangosteen. In general, most bettors do not place much emphasis on material, but mainly on mental matters.
3 - Sightseeing in My Khanh tourist village
Aside from a series of interesting activities, My Khanh village has lots of ideal spots for exploring and experiencing: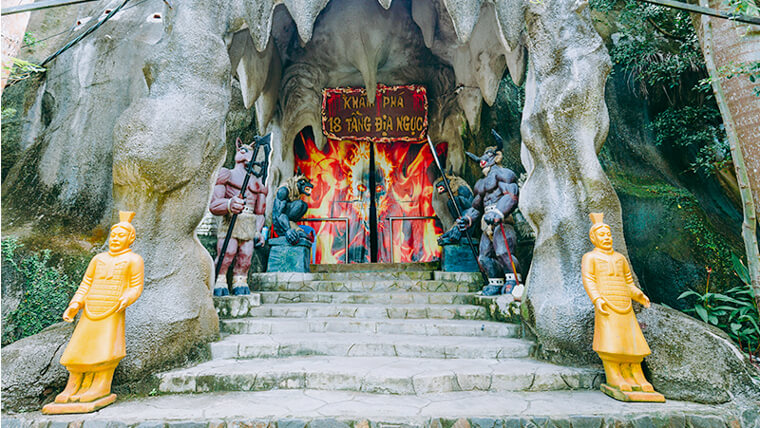 The 18-floor hell - Source: mykhanh
If you want to challenge "heart muscle" with creepy experiences, try to visit all 18 floors of hell here. This is a work that simulates the punishments from the heavy and light levels of the human soul after going to the afterlife according to the Oriental perception. The space inside is dark, with the red and blue light system flickering, the creepy sound echoes in, making many people hesitate to step forward. The lower the floors, the more brutal the punishments. When going out, many tourists have to seriously think about doing good deeds so that after death they will not be exiled to that dark place.
My Khanh tourist village's garden
This place is the rendezvous of more than 30 species of flowers, most of which are delivered from Dalat. It is not large but large enough to satisfy the passion of photo shooting of many tourists. The best time to visit this garden is in November and December of the lunar calendar.
The 100-year Southern house at My Khanh village
This is the house of Mr. Tran Hy Nguon built in 1906 for his second wife. Visiting this old house, visitors will somewhat understand the culture and perspectives of the people in Vietnam's ancient river region. The house has 3 rooms, 2 wings in total. The doorstep is built a little lower so that before setting foot in the house, guests will have to stoop with their heads down before the altar of ancestors in the house.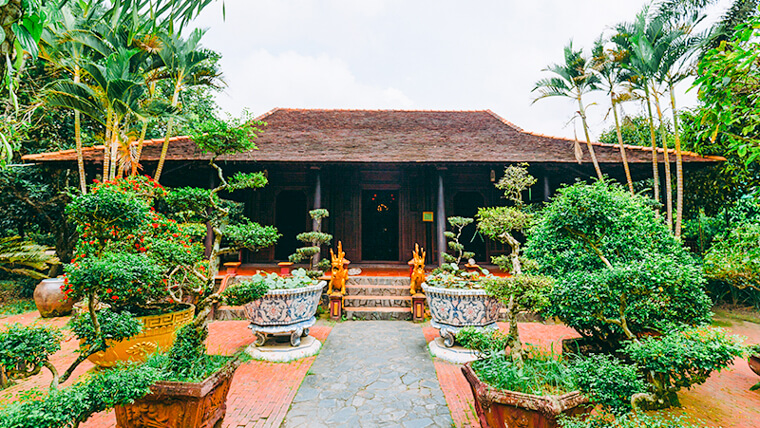 A 100-year-old house in My Khanh tourist village - Source: mykhanh
A special feature that many visitors will notice when looking up at the ceiling is the lack of a roof pole. In the past, when stepping foot in this family, the second wife accepted that her children would have their father's surname but would not be included in the genealogy. So when this house was built, the first wife removed the roof pole with profound irony: a child without a father is like a house without a roof.
- Entrance fee: free
With the advantage of rich and fertile land, there are countless orchards full of fruit all year round. The fruits here are up to 20 different types, mainly tropical types such as mango, guava, rambutan, durian, grapefruit, dragon fruit, and jackfruit, ...
When visiting My Khanh tourist village, The experience of seeing colorful orchards with their own eyes, just reaching out to have fruit, will be extremely exciting. Abd visitors can bring the fruits they have just picked in the garden to rest and enjoy while feeling the peaceful scenery of Vietnam countryside in the southwestern region.
- Ticket price: 20,000 - 60,000 VND ($0.9 - 2.6)/person
4 - Local cuisine of My Khanh village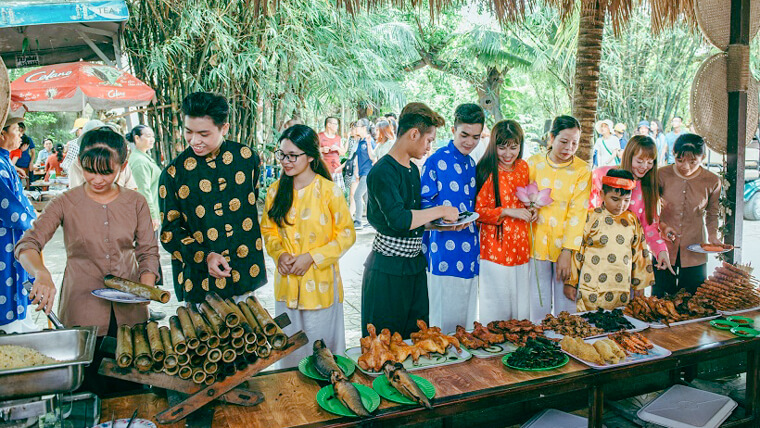 Local cuisine - Source: vinpearl
Can Tho cuisine is famous for its rustic dishes that are caught and processed right in the pond garden. If you come to experience this resort, you definitely must not miss the specialties such as grilled snakehead fish, pancakes, and seafood hot pot,... The ingredients available at the ponds, and the lake on the premises by the skillful hands of local cooks not only bring out the sweetness of the meat but also impresses with the typical flavor of regional cuisine. You can easily enjoy these dishes at restaurants in the eco-village.
5 - Playing interesting games
The Sasuke Complex in My Khanh tourist village includes a series of exciting and adventurous games that require players to have the flexibility and good health such as swinging bridges, cycling over planks, and swinging ropes through ditches,...If you go in groups or want to organize team building, don't miss it.
- Ticket price Sasuke Adventure Park: 50,000 VND ($2.2)/person
In addition, visitors to My Khanh village can also participate in team-building tours with interesting folk games such as transporting fruits by 3-leaf canoe, catching ducks in the lake, blindfolded, beating piggy banks, slapping ditches to catch fish, catching eels in jars,... These are both healthy games that help relieve stress and pressure at work as well as increase cooperation and cohesion among team members.
- Tour price: 315,000 - 370,000 VND ($13.6 - 15.9)/pax
6 - Listening to Don Ca Tai Tu (Southern Amateur Folk Song)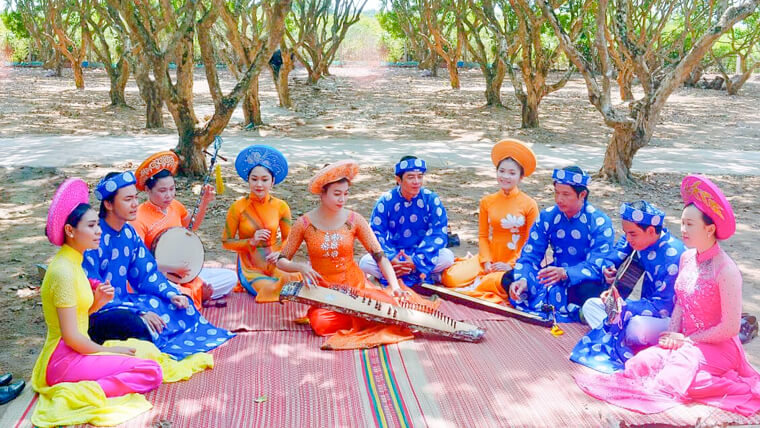 The performance of southern amateur singing - Source: gonatour
One of the best things to do in My Khanh tourist village is to listen to Don ca tai tu (Southern Amateur Singing). Like Bac Ninh dual singing, Hue singing, Don Ca Tai Tu is considered an outstanding Vietnamese traditional music associated with the spiritual life of Vietnamese people in the South. The sweet lyrics as if filled with the emotions of the gardener mixed with the melodious sound of traditional musical instruments will surely move the hearts of first-time visitors here. Enjoying the performances of Don ca tai tu at the luxuriant garden space of My Khanh tourist area is an opportunity for you to better understand the life of people in the Southwest region.
Service price: 500,000 VND ($0.9)/hour
III - More information about My Khanh tourist village
1 - Tourist products
Tours you can take part in My Khanh tourists visit are:
A day as a lord: 649,000 - 739,000 VND ($28 - 739)/person

The family of the lord: 1,099,000 - 1,499,000 VND ($47.4 - 64.6)/person

Sasuke adventure game team building: 450,000 - 580,000 VND ($19.4 - 25)/person

Drainage ditch to catch fish: 120,000 - 140,000 VND ($5.2 - 6)/person
2 - Accommodation in the My Khanh village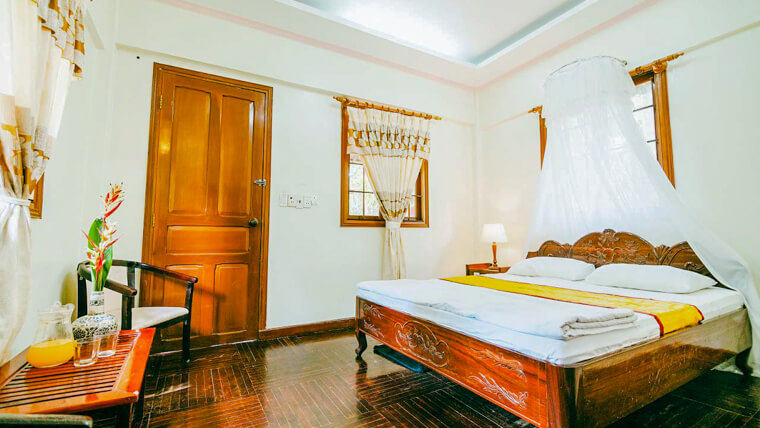 Source: nucuoimekong
If you want to stay in My Khanh for one or two nights, you can refer to the following accommodations:
Garden Bungalow (Small wooden house, viewed garden) - Room rate: 899,000 - 1,190,000 VND ($38.8 - 51.3)/night

Garden Resort (luxurious room in the resort area with a swimming pool) - Room rate: 600,000 - 990,000 VND ($25.9 - 427)/night
3 - Map
My Khanh tourist village will definitely give you a 1-0-2 experience. If you are tired of the hustle and bustle of the city and are a big fan of Vietnamese ecotourism, the green space with gardens and fish ponds here is the medicine you need. What are you waiting for, come and discover it now!!!