Can Tho Bridge plays a particularly significant role, besides replacing ferry carrying systems to relieve the congested traffic, boosting the regional economy, and magnifying tourism of Can Tho City.
I - Can Tho Bridge Vietnam highlights
1 - Location
The bridge is located in Cai Rang District, Can Tho City, spanning Hau river, the largest distributary of Mekong Delta, in the South of Vietnam, connecting the Mekong Delta provinces to Ho Chi Minh city, boosting regional potential economic and tourism improvement.
2 - Design and Construction of Can Tho Bridge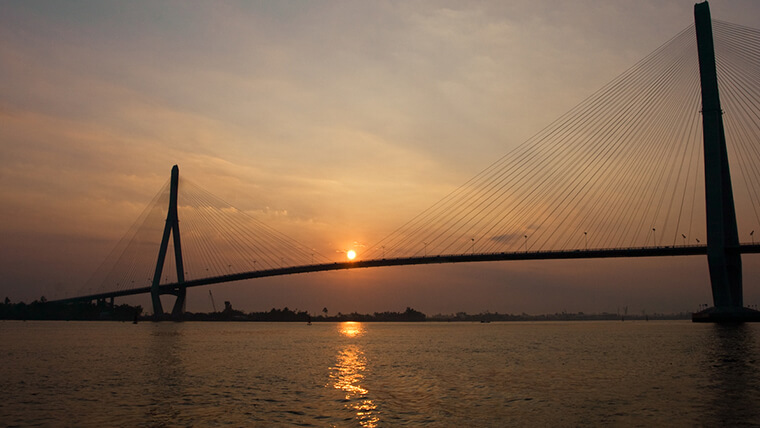 View to the bridge - Source: Vnexpress
Majorly designed by the Nippon Koei-Chodai group, including superstructure, infrastructure, and approach roads. The bridge has its length of 2.75 km, recorded a total route of 15.85km including approach viaducts from both directions. The deck width at 26m comprises six traffic lanes, two lanes for motorbikes, and bicycles, pedestrians are not allowed. The longest span at 550m and the column is at 174.3m. Large ships are free to cross underneath as it is 39m in vertical clearance.
Can Tho Bridge Vietnam was consulted and supervised by the Nippon Koei-Chodai group, constructed by Kajima Corporation, Nippon Steel, and Taisei Corporation, mainly capitalized by Official Development Aid (ODA) by the Japanese Government. This bridge became the most expensive bridge in the country at US$342.6 million.
3 - Can Tho Bridge collapse
The beginning of work in September 2004, scheduled to be accomplished in December 2008, 4 years in construction. But a part of the approach ramp collapsed in September 2007, leading to the death of 50 people, and many others injured. The construction was suspended 11 months, delaying the completion until its inauguration on 24 April 2010.
II - Best tourist attractions accessible Can Tho Bridge
Linking encompassing areas, plenteous tourist sites have benefited since the bridge was inaugurated. Here is the list.
1 - Ninh Kieu Wharf
Visting Ninh Kieu Wharf, you have the chance to witness the spectacular views over the Can Tho City, Hau Rivers, and Cai Khe canal. Here, you can wander around and seek fantastic sunset views. Ninh Kieu wharf is a magnet for travelers and trolling locals. It is more magnificent by the night while the surrounding areas are illuminated.
Location: Tan An Ward, Nin Kieu District - 2km from Can Tho Bridge Vietnam
2 - Cai Rang Floating Market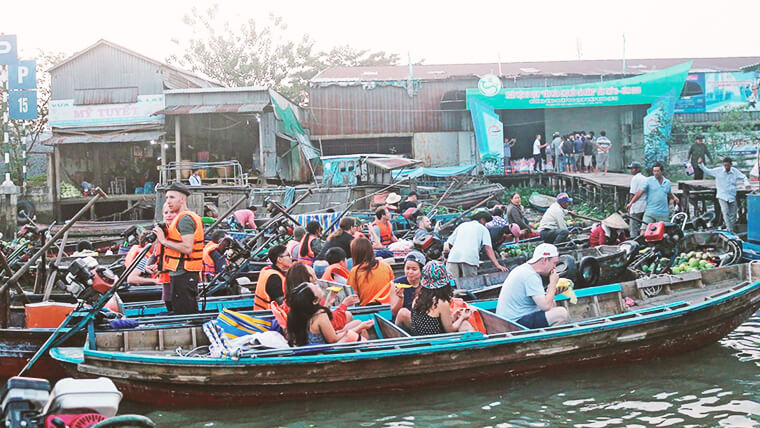 Cai Rang Floating Market - Source: Baocantho
The unique floating market is a wholesale market trading fruit, local goods, and specialties rather than a tourist site. Stretch of boats trading various local agricultural products, identified by samples hanging off the top of the poles erected in front of each boat. The best time to visit the market around 5 am - 7 am during the most bustling time also avoids the heat of a day.
Location: 8km from Can Tho Bridge
3 - Orchard Gardens
Coming to the lush orchards in Can Tho, you can indulge yourself in the tropical fruit garden, savor the luscious fruit, join the daily life with the locals. Several orchards can be named in the area like My Khanh District, Phong Dien District.
4 - Nam Nha Pagoda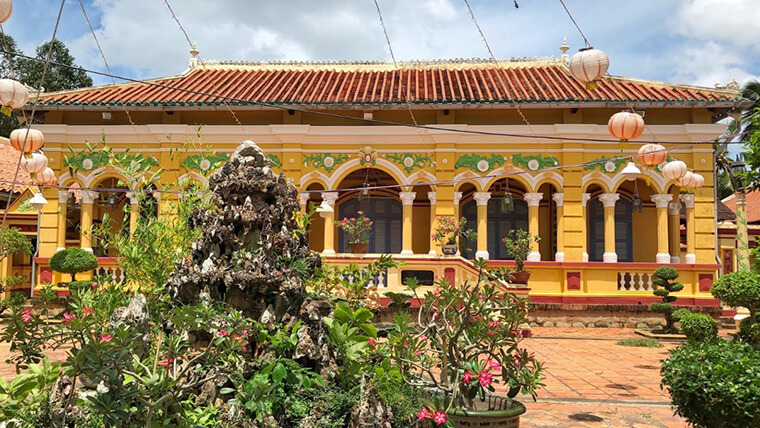 Nam Nha Pagoda is located 8km from Can Tho Bridge - Source: Thamhiemmekong
Established late in the 19th century, the pagoda was known as the revolution base during the movements against French colonists. Nowadays, Nam Nha pagoda is a religious situation for local people and visitors.
Location: Bui Huu Nghia Ward, Binh Thuy District
5 - Can Tho Night Market
Situated in the heart of Can Tho City - about 8km from Can Tho Bridge. It is nightly from 5pm - 11pm with tons of stuff on sale like accessories, handicrafts, and fruit. The liveliest section is bustling food stalls serving various fried quail egg cakes, grilled meats, and vegetarian on skewers along with sweet soup and smoothie available.
Location: Hai Ba Trung Street, Tan An Ward, Ninh Kieu District - 8km from the bridge.
Being one of the most impressive signals of the Mekong River Delta, Can Tho Bridge Vietnam not only is an economic promoting factor, but also a should-visit attraction.