Vung Tau city, located about 100km to the southeast of Ho Chi Minh city, is a beautiful, young & dynamic city of beach tourism. The weather in Vung Tau is nice all year round making it a frequent destination for kitesurfing, surfing, scuba diving, sunbathing,... Here below are top best Vung Tau beaches that you should not miss visiting:
I - Top 5 Vung Tau beaches
1 - Bai Truoc Beach (Vung Tau Front Beach)
Bai Truoc Beach, or Tam Duong beach, is a calm fine white sandy beach situated between Tao Phung and Tuong Ky mountains. The picturesque scene of fishing boats anchored along the coast, the rows of coconut trees and the fresh atmosphere make the beauty of a stunning tropical beach. From here, you can explore the great mountains with cable car service, Christ statue and Nguu islet.
Location: Ha Long Street, Ward 1, Vung Tau City - 13km away from the city center.
2 - Bai Sau Beach (Back Beach Vung Tau)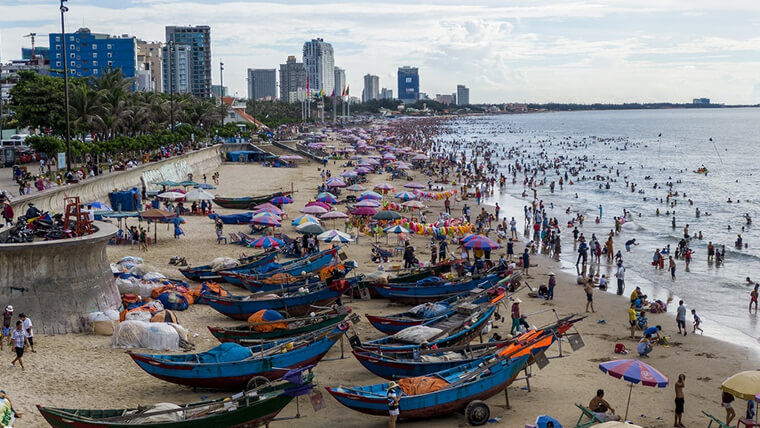 Back Beach - top Vung Tau beaches to visit - Source: Zing
Back Beach impresses with its quiet and gentle beauty with clear blue water, white sand dunes and the brilliant sunset. Top places to visit near this Vung Tau beach are: Nghinh Phong Cape, Ho Ba Island, Tao Phung Mountain.
Nghinh Phong Cape is about 1km from Back Beach. Nghinh Phong Cape, with fresh wild beauty, is a place to catch the wind and enjoy great sea views.
Hon Ba Island is a famous tourist destination with pristine beauty, about 1.2km east of Back Beach in Vung Tau. On Hon Ba Island, there is a shrine dedicated to the Nu Long God and a unique road that only appears when the tide is low.
This mountain has a height of about 170m, on the top of the mountain there is a statue of Christ with outstretched arms. To reach the top of the mountain you have to go up more than 700 stone steps.
Located in Thang Nam Ward, Vung Tau City - 13km from the city center.
3 - Bai Dua Beach (Pineapple Beach Vung Tau)
Pineapple Beach is one of the Vung Tau beaches that should not be missed. The waters of Pineapple Beach are shielded by Nghinh Phong cape, and then crept into the shore to create long cliffs, creating a wild and peaceful blue beach. This is a nice place to admire the sunrise, sunset and have a campfire along the white sandy beach.
Location: Located between Front Beach and Back Beach in Thang Nam ward, Vung Tau City - 15km from the city center.
4 - Long Hai Beach - top best beaches in Vung Tau
Located about 100km from Ho Chi Minh City, Long Hai Beach is famous for a wild and pure beach. Long Hai beach impresses tourists with a beautiful and romantic coastal road with green casuarina and cherry blossoms blooming every Lunar New Year.
It's a great place to experience the daily life of the locals. Watching the basket boats bobbing on the waves and enjoying fresh seafood dishes are recommended things to do on a trip to this Vung Tau beach.
Location: Long Hai Town, Long Dien District, Vung Tau City - 15km from the city center.
5 - Ho Tram Beach
Ho Tram Beach was voted by the US CNNGo television channel as one of the most unspoiled beaches in the world. Tourists will be wowed by the charming crystal water, smooth white sand, and the rows of green casuarina.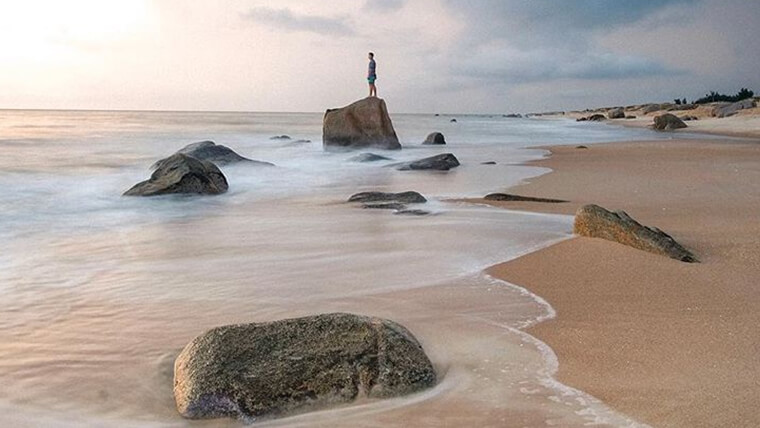 Ho Tram Beach - the best beach in Vung Tau - Source: Javycang
Spending time sitting at leaf huts with a cocktail while listening to the sound of the sea is a great way to appreciate life. Aside from the beach, Phuoc Buu botanical garden is a nice place to visit.
Location: Phuoc Thuan Commune, Xuyen Moc District, Ba Ria - Vung Tau Province -15 km from Vung Tau City Center.
II - How to get to these Vung Tau beaches?
The distance from Vung Tau city center to these beaches is within 20-40km, you can take a taxi with costs of 150,000 - 300,000 VND.
1 - By taxi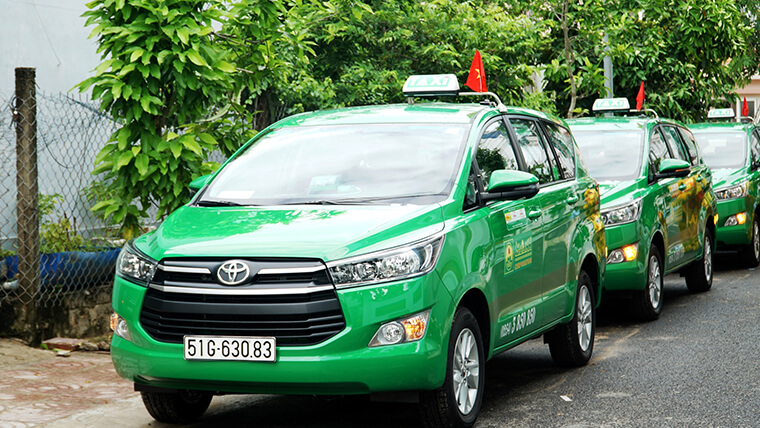 Source: Internet
Some famous taxi agencies in Vung Tau city:
- Mai Linh Taxi: 0254 3 56 56 56
- Ba Ria Taxi: 0254 3 82 82 82
- Vinasun Taxi: 0254 38 27 27 27
2 - Travel by motorbike to the beaches in Vung Tau
Motorbike rental fee in Vung Tau is about 150,000 - 200,000 VND/ day ($6.5 - 8.6). Some motorbike rental shops in Vung Tau City:
Minh Duc motorbike rental shop
- Address: No.119 Hoang Hoa Tham Street or No.16 Xo Viet Nghe Tinh Street, Vung Tau City.
- Phone number: 0908 191 134 or 0772 627 117.
Thanh Hai motorbike for rent
- Address: No.119/7 Hoang Hoa Tham Street, Thang Tam Ward, Vung Tau City.
- Phone number: 0989 177 044 or 0939 215 039.
Le No motorbike rental shop
- Address:No.24, Le Ngoc Han Street, Ward 1, Vung Tau City.
- Phone number: 0643 832 912
Above is a list of Top 5 most beautiful Vung Tau beaches. Wishing you the most amazing experience here.