Mui Ne Vietnam is luckily bestowed with a number of scenic spots, crystal clear blue seawater, amazing sand dunes, delectable specialities together with favorable weather with more than 300 days of bright sunshine, which is currently considered as a huge potential for the development of tourism industry in the locality. Among these factors, charming beaches in Mui Ne play an important part that contributes to promoting the number of tourists to this area. The best time to visit Mui Ne is from April to August when it is in the dry season here. Let's take a look at the top 5 most beautiful beaches in the article below to find their exceptional attractiveness.
1 - Top 5 beaches in Mui Ne: Bai Rang beach
Bai Rang (Rang beach) - Source: Dũng Huỳnh
Bai Rang beach used to be a coastal fishing village, but now it has become a very popular tourist attraction. Therefore, this beach in Mui Ne features both the modern and rustic, simple vibe with the system of luxurious resorts next to an ancient traditional fishing village that has been closely associated with locals' lives over the past many years.
There are many dead coral reefs turning into rock and underwater reefs, which is considered the typical feature of this Mui Ne beach. The stretching soft white-golden sand embraces cool clear seawater glittering under the sunlight. Along Bai Rang beach are rows of green coconut trees, which make it even more colorful, stunning and one of the best beaches in Mui Ne.
It would be a great experience to stroll around the airy beach in tranquil atmosphere and charming scenery of small boats and basket boats near the shore filled up with fish, squid, and crabs or the simple "picture" of fishermen pushing the boats to the shore in the early morning. Once traveling to this Mui Ne Vietnam beach, the very first activity you must try is swimming in the fresh & clean water to have a full sense of relaxation and comfort deep inside your body. Relaxing lying on soft sand and listening to the sound of waves lapping against the beach gives you a soothing moment amidst the vast space. One of the most exhilarating activities in the fishing village is kayaking at dawn and dusk, which makes you immerse in the subtle quiet space, watch the splendid sunrise and "touch" the daily life of fishermen who are dragging a fishing net right in front of you.
- Address: Nguyen Dinh Chieu street, Ham Tien ward - about 22km to the Northeast of Phan Thiet city.
2 - Top 5 Mui Ne beaches: Hon Rom beach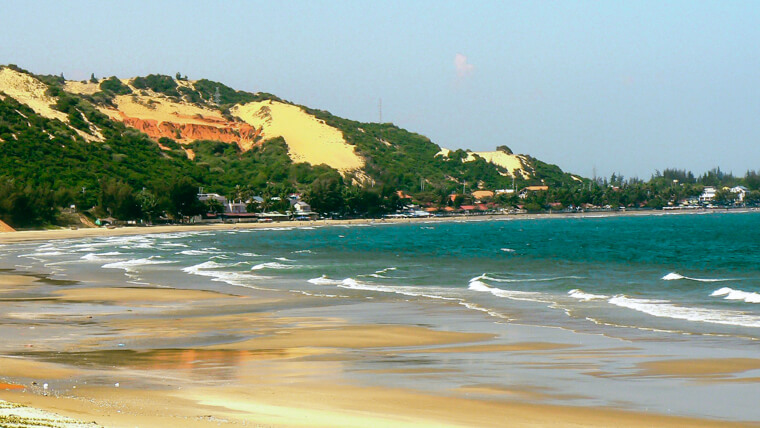 Hon Rom is definitely one of the best beaches in Mui Ne - Source: sites.google.com
Hon Rom beach is located in Mui Ne ward, near some modern resorts such as Hon Rom 1, Hon Rom 2, and Song Bien Xanh. The best time to visit the beach is from January to June, when the weather is favorable with cool wind, less rain and the sea is transparent blue and extremely calm, suitable for beach activities. Because this beach in Mui Ne has been exploited for tourism activity, it still retains the pristine untouched beauty with gentle long silvery white sand surrounded by bushes of wild trees, flowers and lined green coconut trees.
Apart from luxurious hotels and resorts, there are many other types of affordable accommodation that provide tables, chairs with umbrellas for you and your travel mates to take a rest and play on this Mui Ne beach all day. The beach is famous for its crystal clear blue water, calm waves and long beach, making it one of the best beaches in Mui Ne for bathing in the cool water and holding team building activities. If you want to experience thrilling feelings, joining a water motor or Jetski is ideal, which gives you amazing moments of sitting on a high-speed motor on the sea surface.
- Fare for water motor: 400,000 VND/15 minutes ($17.35)
- You can contact Mui Ne water sport center (My Tam Travel) via +84 252 3500 286 or +84 939 790 983
3 - Ganh Son beach - an impressive beach in Mui Ne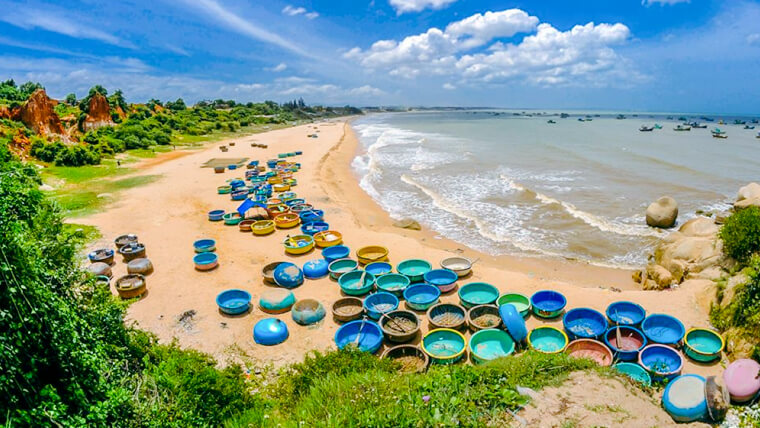 Pristine Ganh Son beach - Source: truyenhinhdulich.vn
Ganh Son, also known as Ghenh Son, is impressive with ranges of red - orange rocky mountains and blue sea, creating a miraculous scenery. This is one of the most gorgeous beaches in Mui Ne that is loved by a number of visitors by its wild and rustic beauty, which has yet to be affected by tourist activities.
In the early morning and late afternoon, the entire beach seems to be dyed in red and bright yellow sunlight, which reflects on the water surface, making it like a silver carpet. Laying down at this Vietnam Mui Ne beach, listening to the "breath" of nature and immersing in the quiet space will make you comfortable and "kick off" all stress of the hectic life. You and your travel companion can set a campsite overnight at this beach in Mui Ne or pay a visit to Guong fishing village, where you can find peace through locals' daily lives. Don't forget to check-in with unique, red blocks of rocks in various sizes and shapes to save memorable moments.
- Address: Chi Cong commune, Tuy Phong district, Binh Thuan province, about 80km to the North of Phan Thiet city center
4 - Ham Tien beach - top #5 beaches in Mui Ne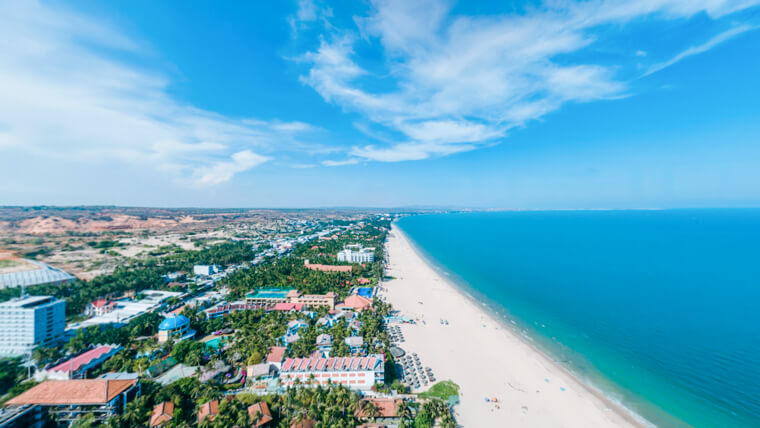 Ham Tien beach - Source: @Virtual World Vietnam
The beach of Ham Tien is a popular tourist spot in Phan Thiet city with clear seawater and fine, ivory white sand which mirrors the shade of long lines of green coconut trees. The cool, clean water together with relatively calm waves make this Mui Ne beach perfect for swimming. In addition, the large, stretching beach is also an ideal place for beach activities such as soccer, volleyball, tug of war, etc. At dawn, this beach in Mui Ne is most beautiful and glorious when the sun rays shine through branches of trees and reflect on the sea surface. The entire area appears to wake up after a long, cold night to start a new energetic day. There are small stalls or small restaurants selling cooked seafood which is undoubtedly fresh, tasty, and of course much cheaper than in seafood restaurants. That wide variety of dishes here are skillfully processed and cooked will definitely blow you away.
5 - Doi Duong beach - one of the best beaches in Mui Ne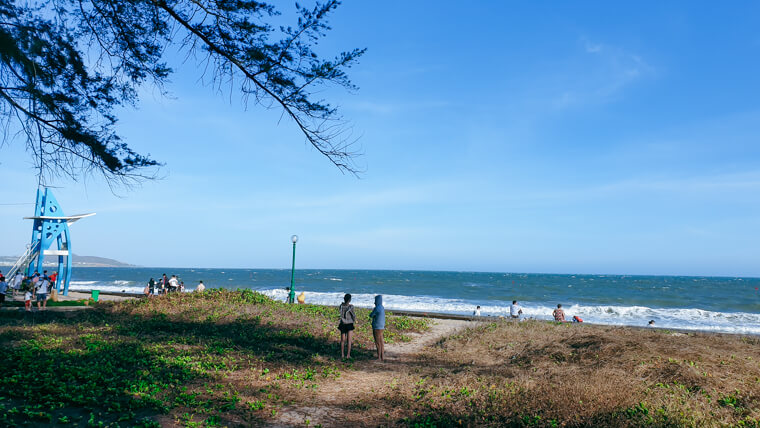 Doi Duong beach - Source: Phan Thanh Trung
Its name originated from the fact that it used to be a strip of undulating land along the coast with a length of more than 5km with casuarina forests. In the past, this Mui Ne beach was covered by countless casuarinas which created shade for the whole area.
This beach is situated in Phan Thiet city center, stunning with stretching white sand beach, transparent blue water, which is ideal for swimming and other recreational activities at the beach. The way leading to this beach in Mui Ne is pretty cool with lined casuarina trees.
As one of the most interesting Mui Ne beaches, there are tons of worth-try experiences here. A should-not-miss experience is watching sparkling sunrise at dawn when the very first sunlights of a new day shine and wake the entire area up. That moment seems to make people's souls warmer and calmer. This is the reason why this is a favorite destination of many couples for their wedding photo locations.
Hopefully, after reading the article, you have a more thorough understanding about top 5 most gorgeous beaches in Mui Ne, which is absolutely worth a visit on your coming trip to this poetic destination.