In Mui Ne, there are two distinct seasons which are the rainy season and the dry season with an average temperature of 26 to 27 degrees celsius. Accordingly, you can travel to Mui Ne at any time of the year to admire the distinctive beauty of this place in different periods of time.
I - Mui Ne weather in the rainy season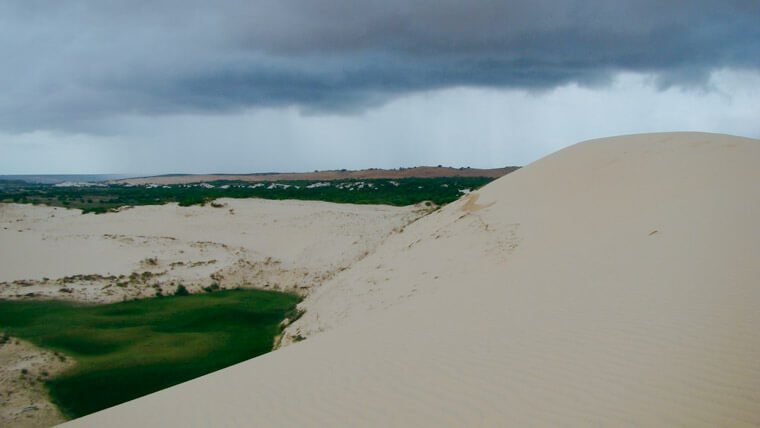 Mui Ne in rainy season - Source: Mapio
The rainy season lasts from May to September with an average temperature of about 27 - 28°C, and the highest of 30°C and the comparatively low rainfall with an average rainfall from 890mm to 1335mm. The best weather in Mui Ne is in May and June, characterized by clear blue sky and almost no rain.
From July to September, the rainfall is the heaviest and this is also the seaweed season when the water is not clear, sometimes turning into red, which creates the popular phenomenon of red tide.
So in what way Mui Ne weather in the rainy season affects the local tourism? Although seafood in the rainy season is not diverse, you still can enjoy detectable dishes such as Quang duck noodles, Tha hotpot, rice paper with fish sauce (banh trang mam ruoc), and Vietnamese mini pancake (Banh can), etc. Weather in Mui Ne Vietnam in the rainy season is also ideal to pay a visit to Tien stream (Fairy stream), well-known as the fairy land with pristine and fresh scenery. Next to the crystal clear stream are a majestic mountain range, unique caves, rugged rock-tops, the red soil, and sparkling white sand. Besides, you also can visit several attractions such as Duc Thanh school, Van Thuy Tu temple, Ong Hoang's palace, and Poshanư Cham tower, etc.
II - Mui Ne weather in the dry season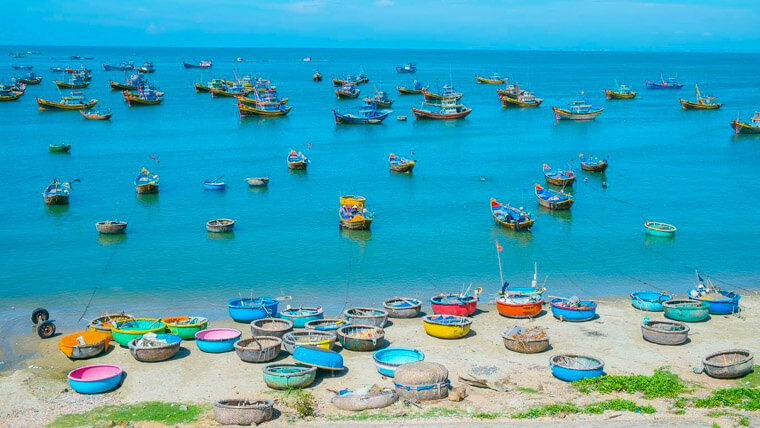 Mui Ne in the dry season - Source: Mapio
The dry season in Mui Ne lasts from October to April of the following year, featuring favorable weather. The average Mui Ne temperature in the dry season is about 26°C. In October and November, it is sunny but not sultry with little rain. With the rows of stretching beach, transparent sea water, and few rock reefs, you can enjoy the cool fresh air, lying under the shade of green coconut trees. When the weather in Mui Ne is dry, the most attractive destinations are Hon Rom beach, Hon Ghenh beach, Rang beach, Ke Ga Cape, and Co Thach beach, etc. Other exciting activities you can join in Mui Ne can be mentioned as paragliding, snorkeling, canoe riding, trekking, sand gliding, etc.
From December to the following March, Mui Ne weather is a bit chilly, and the hustling atmosphere of the coming Tet holiday makes Mui Ne more poetic. The cool weather in Mui Ne this time is partially the same as that in Dalat, suitable for sightseeing and experiencing the sand dunes, which is a tourist magnet in Mui Ne, typical of stretching glittering golden sand like gentle silk dotted with a couple of clear lakes, and charming lotus flowers. Besides, sand gliding and watching the sunset on the sandy beach are also interesting experiences you should give a try.
It is obvious that Mui Ne weather is nice all year round. Mui Ne has attracted a considerably increasing number of both domestic and international tourists to come so as to gain the most memorable experiences such as sightseeing, partaking outdoor activities, and discovering the culture of locals, etc.