I - Are there floods in Vietnam?
Vietnam is a country that often faces severe floods, especially from July to December every year. This is partly because Vietnam is located near the equator and is affected by the tropical monsoon climate zone with a large average annual rainfall. As a country with a long coastline of above 3,000 km, Vietnam is also right on the path of many tropical storms forming in the Pacific Ocean (one of the 5 world's biggest makers), suffering from direct impacts.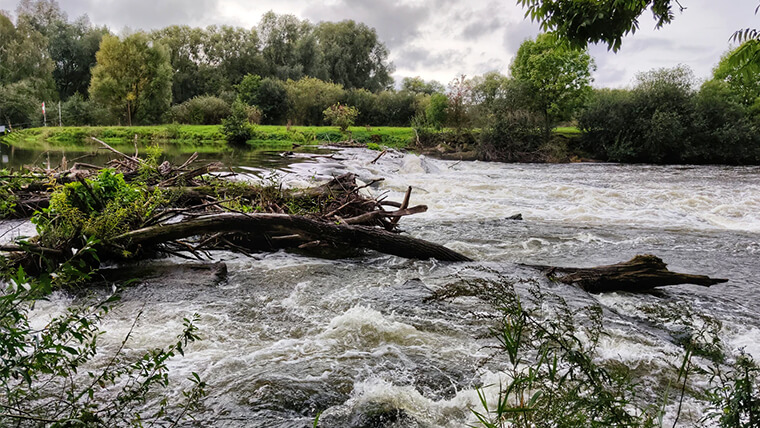 Storm and flood in Vietnam - Source: Nazrin B-va
It is estimated that there are five to six storms and two to three tropical depressions hitting Vietnam every year. Bombarded with a series of big and small storms plus negative effects from climate change and deforestation of its residents, Vietnam is supposed to be one of the countries most affected by floods.
Recently, floods in Vietnam seem to remain in number but remarkably increase in intensity and their tendency is more unpredictable. It is noticed that, from 2017 to now, floods occur on a large scale and randomly. While in the past, floods seemed to be a specialty of Central and Southern Vietnam, nowadays, even the North mountainous areas can experience huge floods. They happen to be more serious, unexpected, and leave negative consequences for the residents and the authorities.
II - How do the floods in Vietnam affect tourism?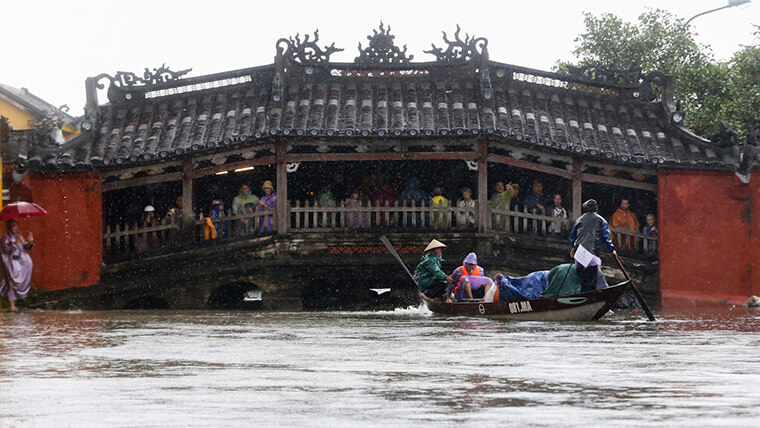 Hoi An Vietnam in the storm season - Source: Vnexpress
Types of natural disasters in Vietnam, especially floods, have a great impact on the tourism industry. Floods have caused damage to tourism infrastructure, affecting travel and risking the lives of tourists.
During this challenging time, tourism and travel companies will be afraid to organize tours. Extreme weather disasters are unpredictable and tourists' safety will not be ensured.
When the Vietnam floods appear, tourism constructions may be damaged and degraded. For example, the Japanese Bridge in Hoi An, as the rainy season passes, is increasingly seriously damaged. Without timely restoration and protection activities, this tourist spot will collapse soon.
For these reasons, during the rainy season, the tourism market in Vietnam is very sluggish, affecting the revenue of companies and individuals who earn their living on tourism.
III - Advice for travelers in Vietnam flooding season
International tourists who are not familiar with Vietnam's weather and climate issues should thoroughly consider them before traveling. The flood season usually starts in July and ends in December, particularly the most powerful storms are in August, September, and October.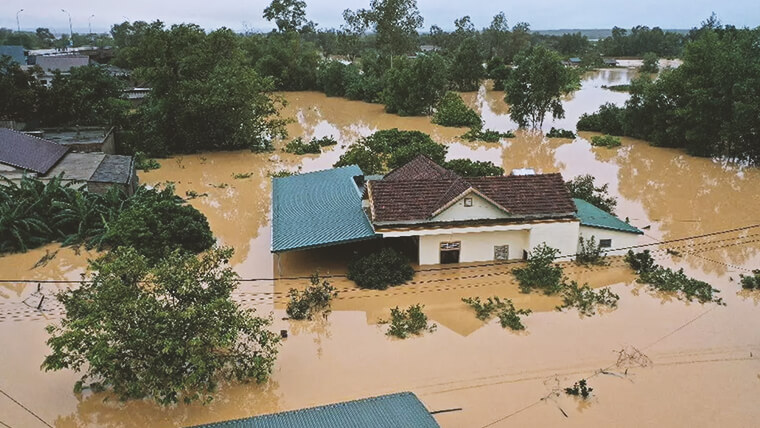 Severe flooding - Source: Rfi.fr
If you go to Vietnam during the typhoon season, look for an experienced person who can advise you on places where you will be less likely to be affected by floods (because not all places in Vietnam are flood-prone).
And don't forget to equip yourself with some soft skills in self-protection, always check the weather forecast before leaving the accommodation. Always put safety above all, don't endanger yourself for an impulsive moment.
IV - The most serious floods in Vietnam in recent years
Throughout its history, Vietnam has experienced many terrible floods, causing enormous damage. The following are some of the most terrible floods: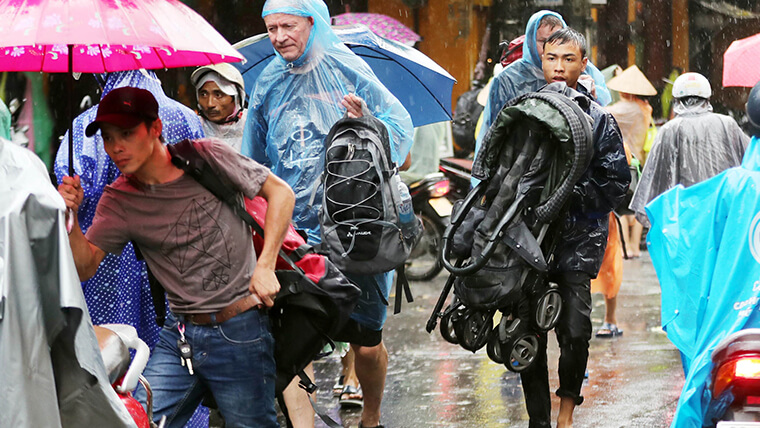 Flooding in Vietnam - Source: Vnexpress
1 - Floods in Central Vietnam in 2020
Central Vietnam was already struggling with massive floods in 2020. In just over a month from October 7 to November 17, central Vietnam was heavily affected by two tropical depressions and more than five major storms. Provinces affected heavily by floods include Quang Binh, Quang Tri, Thua Thien Hue, Quang Nam, Binh Dinh, Phu Yen, Nghe An, Ha Tinh, ... severe landslides and floods on a large scale, causing severe impacts on people and property.
These historic floods in Central Vietnam not only caused damage to people and property but also left people in the central region many losses, pain, and obsession. By the end of October 31 in 2020, natural disasters such as storms, floods, and landslides left 152 people dead and missing, 222 got injured; and 111,900 houses collapsed, swept away, or damaged, more than 3,000 cattle and 600,500 poultry died, about 45,000 hectares of rice and 22,300 hectares of other crops destroyed.
2 - Vietnam floods in Quang Binh province in 2019
On September 4, 2019, a tropical depression caused floods in many districts of Quang Binh province, causing alarmingly high water levels in many rivers and streams. The consequence was 4 people dead, 29 injured, more than 11,000 houses flooded and nearly 1,500-hectare crops were destroyed. Traffic in the province was congested, impossible to circulate while the dam system crashed, etc, getting many people to evacuate and students to leave school. The total damage: 400 billion VND ($17.4 million)
3 - Floods in Vietnam: flash floods and landslides in Lai Chau in 2018
Heavy rains in Lai Chau province started from the evening of June 23th until the afternoon of June 24th, 2018, causing flash floods and serious landslides in the province.
By June 28th, 2018, according to the statistics published by the Lai Chau Province People's Committee, there were 16 deaths, 9 missings and 15 wounded, 339 houses partly damaged, 104 houses swept away, more than 5,000 poultry animals losing, 676 hectares of rice field flooded and dozens of national routes buried, causing transport paralysis. The total damage value: 338 billion VND ($14.7 million)
4 - Historical flood in North Vietnam in 2017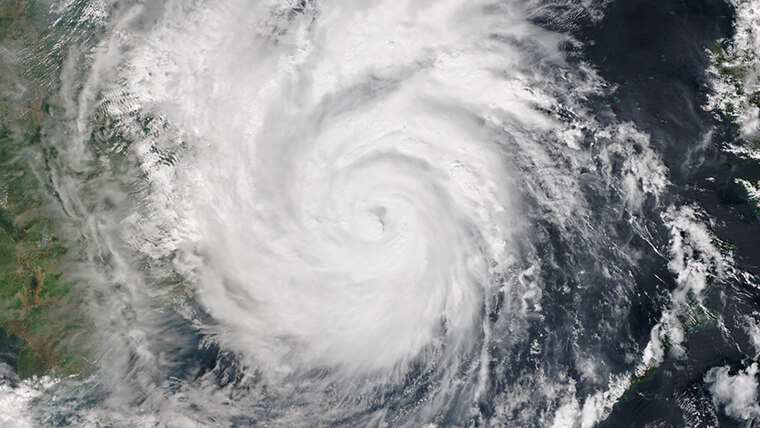 Tropical storm - Source: Wikipedia
These historical floods occurred from August 1st to August 6th, 2017 in the Northern mountainous provinces of Vietnam. Many provinces suffered from heavy losses of people and properties such as Yen Bai, Son La, Lai Chau, Dien Bien, and Cao Bang. Regarding human losses, the floods cost 26 lives, leaving 12 15 injured and 24 27 still missing. 231 houses were swept away and collapsed completely, 425 had to be repaired when the floods finished.
In terms of infrastructure, the storm and this Vietnam flooding also caused landslides to 25.141m3 of national highways, 117.706m3 of the district and provincial roads, broke 145 irrigation works, destroyed 2.072m of stream embankment. The crops also suffered no less than that. 338.5 hectares of rice were washed away and buried by sand and soil. The total damage: 940 billion VND ($40.8 million)
5 - Flood in Central Vietnam hit a historic milestone in 2017
In November 2017, after the Damrey storm struck Vietnam, in the central provinces such as Thanh Hoa, Nghe An, Thua Thien Hue, Quang Ngai, Quang Nam,.. flood peaks on rivers rose alarmingly, nearly hitting the record. In some areas, water reached about 1-2m.
Rising floods got people living in flooded areas in trouble in all aspects because they were deeply separated and made it difficult to transport food. In addition, crops, rice, and corn owned by rural people were seriously affected. The dikes in many provinces were broken or had trouble regulating water. In particular, the storm and floods following robbed central Vietnam 123 lives, 342 injured, 3,550 houses,...
The total damage: more than 22,600 billion VND ($1 billion)
It can be seen that the floods in Vietnam normally coincide with the low tourist season. Therefore, it will be much easier for tourists to arrange and plan for a perfect trip without any flood from November to April of the following year.