The Vietnam embassy in Canada provides services including visa issuance, visa exemption, passport renewal or passport exchange, travel document issuance, Vietnamese and Canadian documents legalization, issue authorization papers, issuance of Vietnamese driving licenses, marriage registration for foreigners with Vietnamese nationality, registration of birth certificates. In addition, depending on the workload at each specific time, the embassy of Vietnam in Canada can receive and provide several services such as translation, notarization, and signature certification,...
I - Procedures at the Vietnam embassy in Canada for Canadian tourists
1 - Vietnam embassy in Canada visa application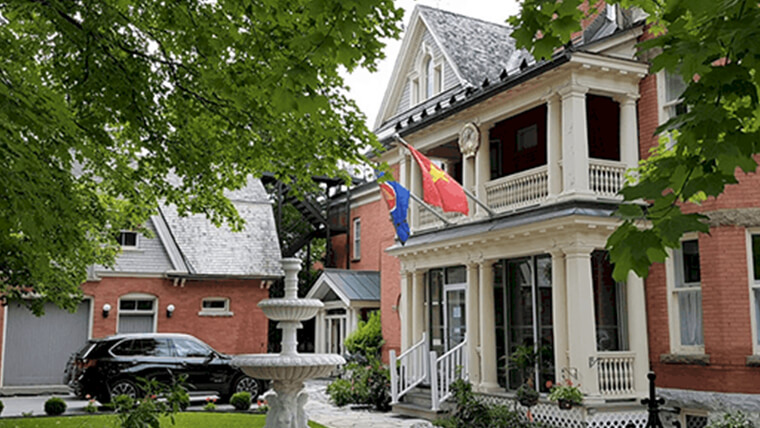 Source: Visana
Canadian tourists wishing to visit Vietnam are required to have a valid visa for business or tourism purposes. There are two ways for you to apply for a Vietnam visa:
Option 1
You must apply for a visa at the Vietnamese embassy in Ottawa the capital or the Vietnamese consulate general in Vancouver to have the visa stamped on your passports before departing for Vietnam. This is for tourists who live near an embassy or consulate-general office and Canadian tourists must prepare at least the following documents:
- A completed visa application form, attached with a photo.
- Passport valid for at least 6 months from the entry date into Vietnam.
- 1 color photo according to Canadian passport photo size.
- Other documents if required by the embassy.
- Visa fee must be paid, transferred, or bill of exchange in USD to the Vietnam embassy.
Option 2
Besides directly applying for a visa at the Vietnam embassy in Canada, applying online is also currently recommended. Tourists living not near the aforementioned locations can apply online by sending an email to visa@vietnamembassy.ca, including:
- Copy of passport (ID page only)
- Visa application form, photo attached
- Digital photo or color scan
- Credit card form, complete form
- Copy of an invitation letter (for business visas)
- Your mailing address in Canada (with postal code and unit number if applicable)
In addition to mailing, you can fill out the visa form online
Then you just need to wait 2 - 7 working days to receive your approval letter by email from the embassy of Vietnam in Canada and when you enter Vietnam airports, you will receive the visa stamp and pay the visa fee there.
2 - Applying for visa exemption at the Vietnam embassy in Canada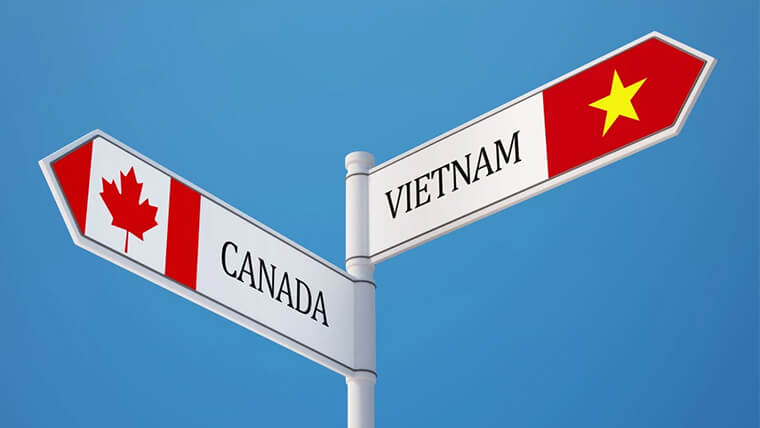 Source: Internet
Those who are spouses, children of Vietnamese citizens or Overseas Vietnamese will be exempted from the Vietnamese visa. The longest visa exemption certificate is 5 years to 6 months shorter than the validity of the passport or foreign identity document, so Canadian citizens' passports requested for visa exemption must be valid for more than 6 months.
An application for a visa exemption certificate should include:
- An application form for issuance of the visa exemption certificate, completed in the form and printed out to be sent with other documents to the Vietnamese embassy in Ottawa the capital. You should save it to your computer in case you need to reprint it.
- Valid foreign passports for 12 months or more.
- A copy of Canadian residence papers, notarized or authenticated by Canada's Department of Foreign Affairs, this copy is necessary to keep on file.
- 2 color photos glued to the declaration form, recently taken, size 4cmx6cm or photo of a Canadian passport, white background, straight face, no colored glasses, no hat.
- 1 notarized copy of one of the documents proving the relationship with the Vietnamese citizen: marriage certificate, birth certificate, proof of paternity, mother and child, other valuable papers as prescribed by Vietnamese law, adoption decision.
A visa exemption application will be processed within 5 - 7 working days of the Vietnam embassy in Canada from receipt of a valid application.
3 - Translation, and notarization at the Vietnamese embassy in Canada
Translation
The embassy of Vietnam in Canada translates many types of documents with different times and fees.
- Type of civil status documents (birth certificate, marriage registration certificate, documents, identity card, passport, household registration) will return after 7 working days with a fee of $45/page.
- Types of documents are diplomas-certificates (diploma, transcript, graduation certificate, driver's license) and administrative legal documents (criminal record certificate, court ruling, power of attorney, business registration, celibacy certificate, local certificate, medical certificate, land / real estate right certificate, will) will return results after 7 working days but with a higher fee of $50/page.
- Regarding commercial documents (sale and purchase contract, capital contribution contract, lease contract), the results will be returned after 10 working days at a cost of 20 cents/word or 25 cents/word.
- You can go directly to the Vietnam embassy in Canada to receive the result after the above deadline or by mail. If courier via registered mail (Xpress Post), the price is $25, if delivered via express mail (FedEx, Canada Post priority), the price is more expensive at $35 (812,000 VND).
Notarized
The Vietnamese embassy in Canada supports notarization and legalization of documents issued by Canada according to the requirements of identity papers (passport, civil status paper, residence, marriage,…). Notarization price is $20, and authentication is $40.
II - Other information about the Vietnam embassy in Canada
1 - Contact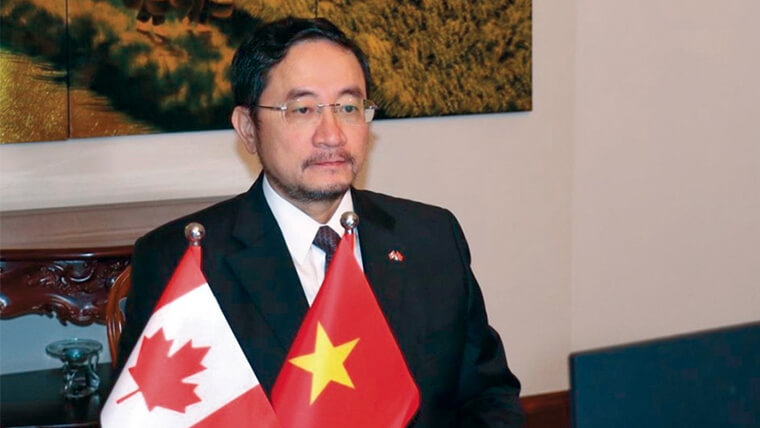 Source: Baoquocte
- Head: Mr. Pham Cao Phong - Ambassador Extraordinary and Plenipotentiary of the Socialist Republic of Vietnam in Canada.
- Address: No.55 Mackay Street, Ottawa Capital, Ontario State, K1M2B2
- Phone: 613-236-0772
- Hotline: 343-777-4999/ 343-777-8384/ 613-882-6699
- Fax: 613-236-2704
- Email: vietnamembassy@rogers.com/ visa@vietnamembassy.ca
- Website: https://vietnamembassy.ca/vi/
2 - Working days of the embassy of Vietnam in Canada
The Vietnam embassy in Ottawa Capital works every Monday, Wednesday, and Friday (except on public holidays). In which Monday works from 13:30 to 16:30, Wednesday and Friday from 09:30 to 12:30 and 13:30 to 16:30.
It is all the information about the Vietnam embassy in Canada that we - Localtravelidea would like to share with you.