This is a list of top 10 best Vietnam beach resorts stretching from north to south beaches.
I - Vietnam best beach resorts in the North
1 - Vinpearl resort & Spa Ha Long
The resort is located on Reu Island - the largest man-made island of Quang Ninh province. Staying at this resort, you can easily admire the majestic moments of sunrise, the vibrant city scene and the stunning scenery of Halong Bay.
There are lots of relaxing things to experience such as swimming at the private beach, or at outdoor-indoor swimming pools, savoring the delicious Vietnamese dishes, buffet with seafood, enjoying luxury spa services, playing tennis…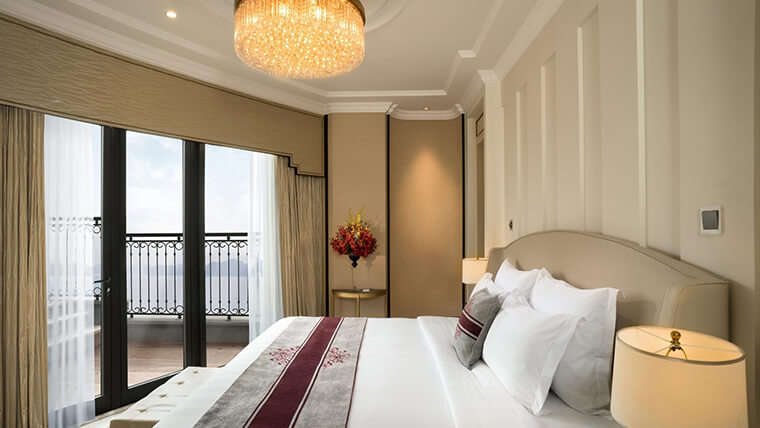 Source: Vinpearl
- Location: Reu Island, Do Si Hoa Street, Halong City, Quang Ninh Province
- Room rate: 3,300,000 - 7,200,000 VND / room / night (~ $142 - 310)
- Contact: 0302 3 556 868.
2 - Flamingo Cat Ba island Beach Resort
This resort is one of the greatest Vietnam 5 star beach resorts which is built on the Cat Ba island. Staying here is a way to appreciate life when you can totally immerse in the freshness of the sea breeze and the green atmosphere created by the evergreen mountains and forests. The highlights of Flamingo Cat Ba Beach Resort are the impressive promenade connecting the two towers built in the resort's campus and the simple rooms with plush amenities. Other services that are offered to guests are family fun activities, spa & beauty services, and an infinity pool. From here, you should not miss to visit the great tourist attractions such as Cat Ba National Park, Lan Ha Bay, Viet Hai fishing village.
- Location: Cat Co beach 1 & 2 at Cat Ba town, Cat Ba island
- Room rate: 2,000,000 - 5,450,000 VND / room / night (~ $86 - 234)
- Contact: 032 902 9669
II - Best Vietnam beach resorts in Central
3 - Banyan Tree Lang Co Resort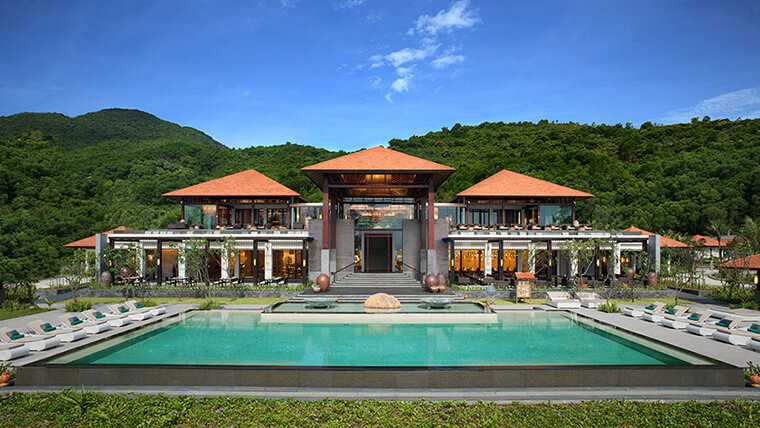 Source: Banyantree
Banyan Tree Lang Co Resort is a private resort paradise nestled near the majestic Truong Son mountain range, which has a great location to obtain the fresh sea breezes from Lang Co Bay.
The resort is inspired by the Vietnamese artistic heritage reflecting in every small detail & element from out-inside architecture. The impression of this gorgeous Vietnam beach resort is the architectural style of buildings and rooms which are designed in the concept of the local Hue's house with clay tiled pitched roofs, open courtyards and wood rafter ceilings. Staying here, you can learn to make Vietnamese dishes with the chef, enjoy a romantic beach meal, experience classy spa services and visit Hue imperial city. .
- Location: Cu Du village, Loc Vinh commune, Phu Loc district, Lang Co, Hue city
- Room rate: 8,500,000 - 15,400,000 VND / villa / night (~ $366 - 664)
- Contact: 0234 3695 888.
4 - Intercontinental Sun Peninsula Da Nang
This is highly recommended as one of the Vietnam luxury beach resorts which is located entirely on Son Tra peninsula - one of the most beautiful islands in Da Nang. The villas of Intercontinental Sun Peninsula Danang resort are designed alternately on the hillside of the peninsula in the concept of "leaning on the mountain, overlooking the sea". The luxury services that are offered to all guests including enjoying outdoor luxury meals on the beach, Montgomerie golf services.
- Location: Bai Bac, Son Tra peninsula, Son Tra, Da Nang city
- Room price: 10,000,000 - 25,000,000 VND / villa / night (~ $431 - 1077)
- Contact: 0236 3938 888.
5 - Four Seasons The Nam Hai Resort - one of the Vietnam beach resorts for families
You can not miss out the Four Seasons The Nam Hai Resort which stands out with a green space, diverse villa types with unique designs combining elements of traditional local architecture and modern. Along with that are classy, convenient and experienced services such as Hoi An ancient town tour, enjoying local cuisine, visiting Cua Dai coastal fishing village, participating in basket boat racing,...
- Location: Ha My Dong B area, Dien Duong ward, Dien Ban town, Quang Nam province.
- Room price: 8,000,0000 - 17,000,000 VND / villa / night (~ $345 - 733)
- Contact: 0235 3940 000.
6 - Six Senses Ninh Van Bay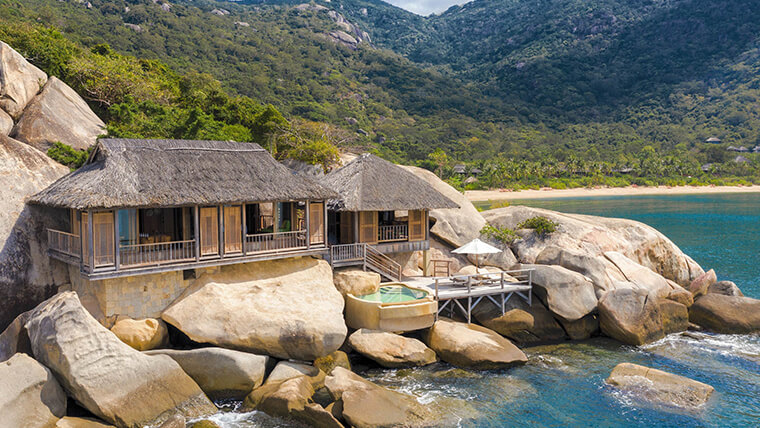 Source: Sixsenses
Six Senses Ninh Van Bay is the best luxury beach resort in Vietnam. Located on a remote island at which each villa has a panorama view of the deep blue sea where you can enjoy the beautiful scene of sunrise or sunset.
All spacious villas offer panoramic ocean views whether it is on a garden terrace or sundeck, directly on the beach, on the rocks or on a mountain slope.
Services and facilities to enhance guests's experience include: delicate dishes from various cuisines, luxury spa services & yoga class, infinity swimming pools, cooking classes, sports and fun games on the sea.
- Location: Ninh Van Bay, Ninh Van, Nha Trang City, Khanh Hoa Province.
- Room price: 10,000,000 - 23,000,000 VND / villa / night (~ $431 - 991)
- Contact: 0258 3524 268.
7 - Amanoi Ninh Thuan - Vietnam beach resorts for families and couples
Located in Nui Chua National Park, staying at Amanoi Ninh Thuan Resort, you can enjoy the fresh sea breezes, pristine and magnificent natural scenery with a lake, crystal sea and wild jungle. The resort owns a charming private golden sand beach with winding coastline, deep blue sea for limitless outdoor activities.
Amanoi offers guests a great opportunity to explore the biodiversity of colorful coral reefs, wildlife at Nui Chua National Park, to immerse in the culture of Cham people, to explore daily life at fishing villages. You will be offered lots of eye-opening experiences & fantastic outdoor activities with cycling, hiking, and snorkeling.
- Location: Vinh Hy village, Vinh Hai commune, Ninh Hai district, Ninh Thuan province
- Room price: 33,000,000 - 37,500,000 VND / villa / night (~ $1422 - 1616)
- Contact: 0259 3770 777
III - Best south Vietnam beach resorts near Ho Chi Minh city
8 - Six Senses Con Dao Resort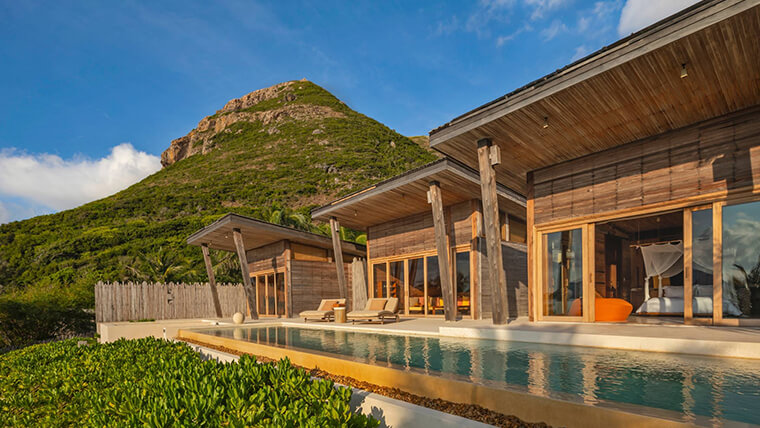 Source: Sixsensescondao
The resort's design is inspired by the essence of Vietnamese coastal fishing villages, using natural materials from wood & bamboo, combined with modern facilities creating a wonderful place to rest. Located in an isolated island and surrounded by majestic mountains & jungle, Six Senses Con Dao Resort looks like a green paradise in the heart of the ocean.
Resting here, you can easily walk to the beach and experience the unspoiled natural beauty of Con Dao island. Participate in activities such as snorkeling, trekking along the coastline, clam collecting, seeing turtles hatchling, fishing, climbing and cycling.
- Location: Dat Doc beach, Con Dao town, Con Dao island
- Room price: 15,000,000 - 44,000,000 VND / villa / night (~ $47 - 1896)
- Contact: 028 3823 2229
9 - Salinda Resort - top beach resorts in Vietnam Phu Quoc island
Salinda Resort Resort is a harmonious blend between indigenous elements and unique contemporary architecture. The resort also owns the most pristine and peaceful beach in Duong Dong town.
All rooms & villas are blended with luxury amenities, high-end food service offers guests hundreds of delicate dishes from Vietnamese, Indian, Italian cuisine. Other special offers from food to tour are provided at the resort at the highest quality in delivery.
- Location: No. 1, Tran Hung Dao Street, Duong To Commune, Phu Quoc District
- Room price: 3,330,000 VND - 5,900,000 VND / room / night (~ $142 - 251)
- Contact: 0297 399 00 11
10 - JW Marriott Phu Quoc Emerald Bay - top beach resort in Vietnam islands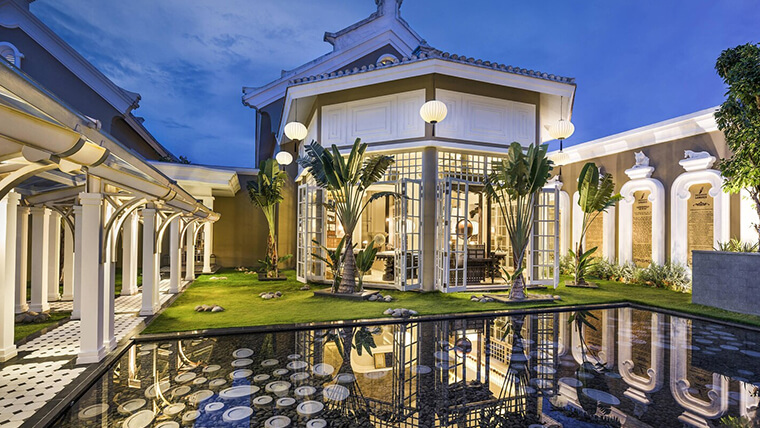 Source: Marriott
JW Marriott Phu Quoc Emerald Bay Resort, located next to Khem Beach is a top resort in Phu Quoc. Designed by famous architect Bill Bensley, all the rooms and utilities possess a sophisticated, luxurious and classy space. The classy services that you can experience here include: cycling, experiencing spa services, relaxing in a swimming pool, experiencing services at restaurants - bars with a full menu of Asian, European or Vietnamese dishes. This place is well-known as the paradise that arouses all human senses and is often the top destination in Phu Quoc pearl island for tourists to relax.
- Location: Khem beach, An Thoi town, Phu Quoc district, Kien Giang province
- Room price: 5,940,000 VND - 29,100,000 VND / room / night (~ $234 - 1238)
- Contact: 0297 3779 999
With the information of the best Vietnam beach resorts all inclusive that the localtravelidea.com recommend, we hope that you can easily choose the ideal place to rest and experience.