When will Vietnam open borders for tourism 2022? During the past 2 years of fighting with COVID-19, many activities of Vietnam have been severely and negatively affected, especially the tourism industry. The majority of the flight routes had to be shut down, not accepting tourists from abroad to enter the country, numerous businesses closed and went bankrupt. But all of that changed on March 15, Vietnam opened for tourism once again.
I - Vietnam open for tourism: Vietnam's Number of Covid-19 cases up to March 15, 2022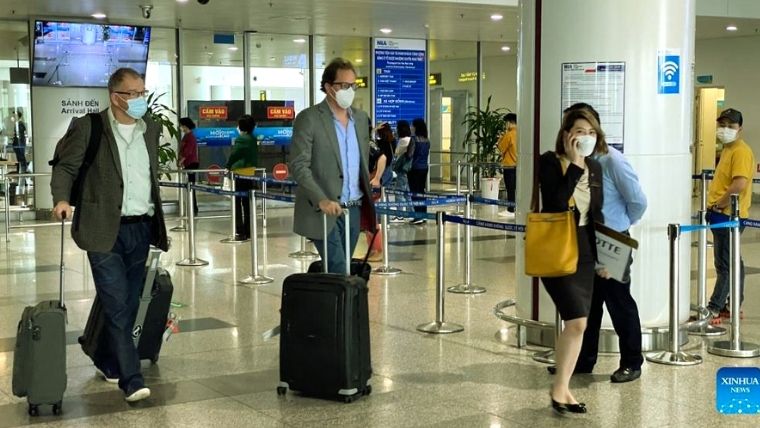 Is Vietnam open to tourists? - Source: Xinhua
As of March 15, 2022, the number of new COVID-19 cases within Vietnam has shown signs of slowing down, especially, up to 108,407 people were cured in the previous day. Severe and critical patients were also less than before, disease progression was milder, patient mortality was reduced, and a total of 200,516,229 doses of vaccine had been administered. The Government, relevant ministries and agencies have partly controlled the epidemic, demanding to revive the country and return to the life before the pandemic broke out.
Therefore, the Ministry of Culture, Sports and Tourism of Vietnam has consulted the Government, then sent a request to localities to make plans, finally letting Vietnam open for tourism activities.. In order to successfully deploy, ministries and branches according to their functions have actively coordinated, implemented and built welcome procedures. They focus on reopening tourism in a safe and effective manner, in line with regulations on prevention and control of COVID-19. They also support tourism businesses in improving the quality of services and develop new products to meet demand after 2 years of the epidemic.
In addition to the tasks above, the Ministry also requested provincial / city agencies to issue policies to attract tourists such as reducing ticket prices, other fees, offering more services, etc. Tourist sites, attractions, tourist business establishments and services have actively developed plans to open tourism, including preventing and controlling the COVID-19 epidemic, and handling cases of infection. Finally, the most important thing they did was to ensure the quality of facilities and the quantity of human resources to meet the demand when Vietnam opened for tourism on March 15.
II - Vietnam open for tourism: Entry regulations for international tourists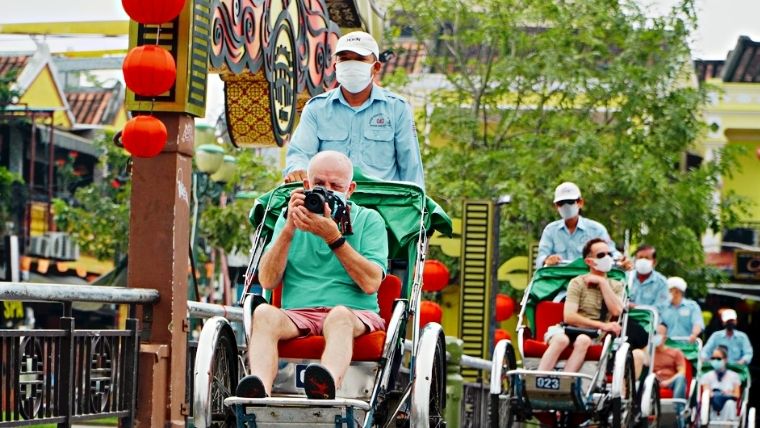 When will tourism resume in Vietnam? - Source: Le Trung / Tuoi Tre
There have been many preparations for Vietnam to open for tourism, but the epidemic situation still requires entry regulations to ensure the health of everyone. People entering Vietnam via air need to have a negative test result before boarding the plane (within 24 hours for rapid test method, 72 hours for RT-PCR method). It's the same for people entering by other ways if the travel time is short, but if the journey is long, the testing must be done again at the border gate. Visitors will also have to download and use at least one medical declaration application during their stay in Vietnam.
As of now, travelers will have to stay at their accommodation for 24 hours and test negative again to be free to travel. However, the Ministry of Health also proposed new requirements such as increasing the time to 72 hours, testing once a day if you move to another place, etc. But the test only needs to be done twice - on the first and third day, if you stay for the full 72 hours. For children under 12 years old and people at high risk such as the elderly, pregnant, and have underlying medical conditions, they must have a certificate of full vaccination before entering Vietnam.
The Government has also resumed the process of issuing visas, visa exemption certificates under the Law and implementing documents, including electronic visas. Vietnam has reopened its E-visa website, allowing citizens from 80 countries to apply for a 30-day tourist visa (single entry). At the same time, Vietnam exempts visas for foreigners from 13 countries, according to international treaties to which this country is a member, or on a reciprocal basis.
Those 13 countries are: Germany, France, Italy, Spain, United Kingdom of Great Britain and Northern Ireland, Russia, Japan, Korea, Denmark, Sweden, Norway, Finland and Belarus. They are allowed to enter with a temporary stay of 15 days, regardless of passport type or entry purpose, as long as following Vietnamese law.
III - Vietnam open for tourism: Why is Vietnam worth visiting?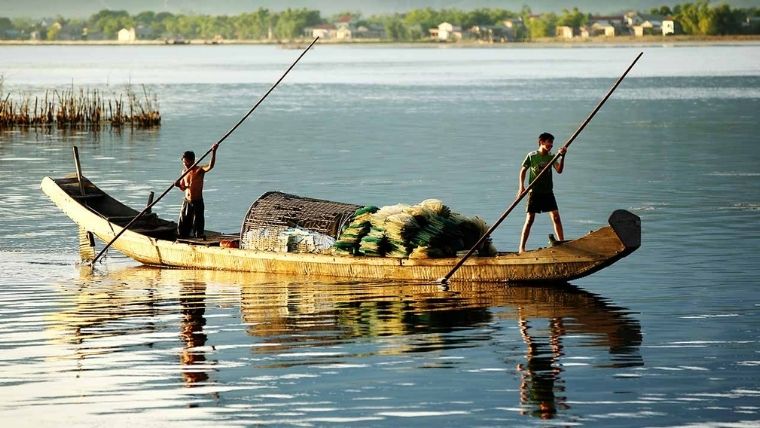 Vietnam is open for tourism from March 15, 2022 - Source: lagunalangco
In recent years, Vietnam has gradually become one of the world famous tourist destinations, with countless attractive places and beautiful landscapes. In addition, this is also a country with a long history - more than 4000 years, a unique culture with diverse cuisine, many types of activities, festivals, and traditional crafts. That's why despite having spent nearly 2 years temporarily closing the border due to the COVID-19 pandemic, many international press sites still consider this an attractive destination, especially when Vietnam allow tourists on March 15.
The Travel Off Path believes that Vietnam's open entry policy is considered to be the easiest entry conditions among countries in Southeast Asia. Tourists only need to follow fairly minimal regulations such as having a negative test result, not even having to undergo a quarantine period beside not leaving their staying area for 24 hours. Vietnam has also resumed a visa-free program for citizens from 13 countries, including some like the UK, France, Germany, Italy, and so on.
Meanwhile, thenationalnews.com not only mentioned Vietnam's open entry policy, but also added a few other reasons worth coming to Vietnam. For example, although cities here have modernized rapidly, visitors won't have to travel too far from the urban areas to enjoy traditional communities. This site also introduces the famous tourist attraction Tam Coc - Bich Dong as a perfect combination of underground river systems, amazingly fascinating caves, along with valleys and fields. Besides, Vietnam also has peaceful and romantic beaches, notably My Khe beach in Danang city or Ninh Chu beach in Ninh Thuan province,...
Vietnam opening for tourism on March 15 is an idea that has been planned and prepared for a long time, by the Government, ministries and agencies. Therefore, after it was put into practice, all aspects have operated smoothly, meeting the requirements set forth. After Vietnam reopens for tourism and welcomes international visitors, the economy is expected to prosper and life would return to pre-epidemic time.
The article above is to answer the following questions: Is Vietnam open for tourism now? Is Vietnam open for tourists now? When will Vietnam open to tourism? Is Vietnam open for international travel? When will Vietnam open for tourism? When will Vietnam open for travel?