I - How is Vaccination in Vietnam rolled out?
1 - Vaccines approved for use in Vietnam
As of August 2, 2021, Vietnam has received more than 17.6 million doses of Covid-19 vaccines, including vaccines from AstraZeneca, Pfizer, Moderna, Sputnik-V, Sinopharm.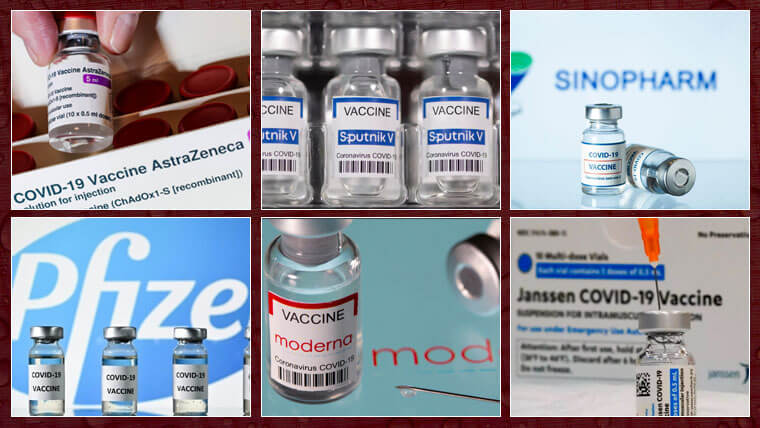 Vaccines for Vietnam - Source: moh.gov.vn
There are 6 vaccines against COVID-19 have been approved in Vietnam (Source: Vietnamese Ministry of Health).
Vaccine COVID-19 Vaccine AstraZeneca
- Supplier: AstraZeneca Corporation
- Vietnam has received a total of 8,716,290 doses after 15 deliveries of the vaccine. AstraZeneca vaccine has been used for vaccination in Vietnam since March 2021, currently used most in Vietnam.
Vaccine Gam-COVID-Vac (also known as SPUTNIK V)
- Supplier: Gamaleya Research Institute of Russia.
- By August 1, 2021, Vietnam had received 12,000 doses of Sputnik V vaccine donated by the Government of the Russian Federation.
Sinopharm's Vero Cell Vaccine
- Supplier: Beijing Institute of Biological Products Co., Ltd, China
- Vietnam has received 500,000 doses of Sinopharm vaccine donated by the Chinese Government and is implementing vaccination from July 2021.
Pfizer/BioNTech's Comirnaty Vaccine
- Supplier: Pfizer/BioNTech
- Vietnam has received a total of 746,460 doses of Pfizer vaccine and is implementing vaccination for Vietnam.
Spike Vax Vaccine (Also known as: Covid-19 Vaccine Moderna)
- Supplier: Moderna
- Vietnam has received a total of 5,000,100 doses of Moderna vaccine donated by the US Government through COVAX Facility and is implementing vaccination.
COVID-19 Vaccine Janssen
- Supplier: Janssen Pharmaceutica NV (Belgium) and Janssen Biologics B.V (Netherlands).
- Currently, Vietnam has not received this vaccine.
2 - Vietnam vaccine rollout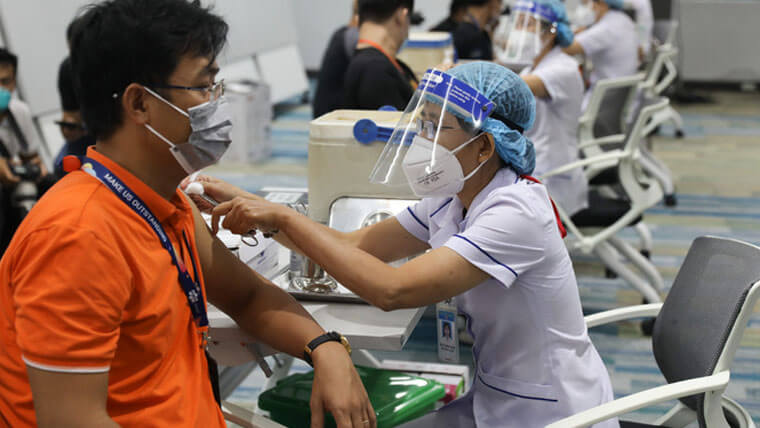 Source: VnExpress
By the end of August 7, 2021, the total number of doses of vaccine injected was 8,896,615 doses, of which the 1 dose was 8,008,156 doses, and the 2nd dose was 888,459 doses. (Source: Vietnamese Ministry of Health)
- Vietnam's population: 97.58 million people
- Vaccinated population (one dose): 8,008,156
- Vaccination rate (one dose): 8.2%
Priority groups for vaccination in Vietnam
- Medical workers, people participating in COVID-19 prevention and control work
- Military personnel
- Police force
- Vietnamese diplomats, people working in international organizations in Viet Nam
- People working in the customs and immigration offices
- People working in the supply of essential services such as aviation, transportation, tourism, electricity and water supply
- Teachers, students, people working in agencies and administrative units, law, notaries and auctioneers organizations
- People with chronic diseases, people aged 65 and above
- People in pandemic areas
- Poor people & citizens with social policy beneficiaries
- Foreign experts in Vietnam
- Factory workers
- Freelance workers
3 - How to register for covid vaccine in Vietnam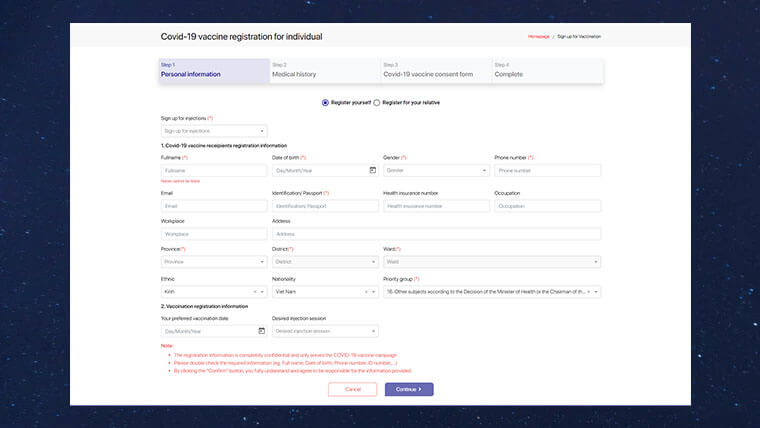 Register form - Source: Internet
From July 10, all foreigners living and working in Vietnam can contact the embassy or register for vaccination online in 2 ways below: (Source: Vietnamese Ministry of Health)
- Register for COVID-19 vaccination by accessing the link below and register directly on the website.
https://tiemchungcovid19.gov.vn/portal/register-person
- Register for COVID-19 vaccination in Vietnam by accessing the link below to download the mobile app, register, sign up and fill necessary information under the guideline.
Note - Vietnam vaccine requirements: To register for vaccination, people must provide personal information, information about health, select the kind of vaccine and select the place to get vaccination in Vietnam.
II - Vietnam travel restrictions 2021 & policy for vaccinated tourists
1 - When will Vietnam open for tourism & commercial international flights?
On March 22, 2020, Vietnam temporarily suspended the entry of all foreigners into Vietnam (does not apply to diplomats, officials, foreign investors, professionals and skilled workers). International flights are limited due to the complicated epidemic situation in Vietnam. Up to August 08, 2021, Vietnam has not yet opened to welcome international tourists.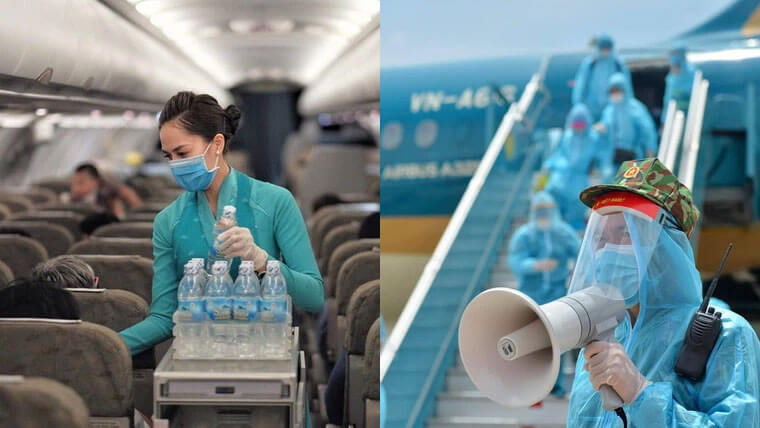 Vietnam Airlines in Covid-19 time - Source: Kenh14
According to Vietnam Airlines, from July to October 2021, Vietnam Airlines has reopened international flight routes between Vietnam and a number of destinations in Asia, Australia, Europe and Asia. Flights from Ho Chi Minh City to Sydney and Melbourne, from Hanoi to Frankfurt and London, from Hanoi to Tokyo and Bangkok have been open in July and August (Source: Vnexpress).
2 - Tourism policy & vaccinations for travel to Vietnam in covid-19 time
The COVID-19 vaccine passport and visa policy for international visitors to Vietnam are being implemented. According to VOV, Phu Quoc will be the first place in Vietnam to implement the necessary conditions for the approval of visas for tourists with "Vaccine Passport".
Pilot time: 6 months from October 2021.
Periods
The pilot plan and process to welcome international tourists to Phu Quoc (Kien Giang) is being consulted by the Ministry of Culture, Sports and Tourism. Accordingly, Vietnam plans to welcome international tourists from October, 2021. The plan will be piloted within 6 months, including 2 periods:
- In the first 3 months, Phu Quoc is expected to welcome from 2,000-3,000 visitors each month, through charter flights, only deploying to serve visitors within a limited range and locations selected by the locality.
- In the next 3 months, if the requirements are met, the scale of welcome will be expanded from 5,000-10,000 visitors each month. Phu Quoc can welcome visitors via commercial flights and expand the scope and locations to serve international tourists.
Scale: Expected to welcome 25,000 - 40,000 international tourists within 6 months from October 2021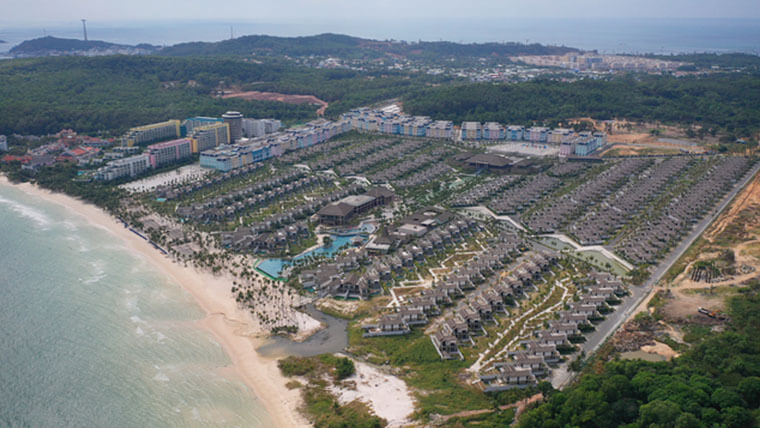 Phu Quoc Island is the pilot point for "travel vaccines to Vietnam" - Source: Ngoc Thanh
Visa policy
Conditions for visa approval for tourists who have vaccine passports:
- Having a certificate of having received 2 full doses of the covid-19 vaccine and recognized by a Vietnamese competent authority, the time for the second injection is at least 14 days and not more than 12 months by the time of entry, or has had certified to have recovered from Covid-19, the time to be discharged from the hospital is not more than 12 months.
- Having a certificate of testing for SARS-CoV-2 by RT-PCR/RT-LAMP method within 72 hours before departure and certified by the competent authority of the country where the test was performed (in English) with a negative result.
- Having reservation and package tour booking from a travel agency.
Vietnam vaccination for residents on Phu Quoc island
Phu Quoc has implemented a vaccination campaign for about 60,000 people (out of a total of 127,000 people who need to be vaccinated on the island) operating in tourism-related fields (accommodation, dining, entertainment services). The first dose has been administered from July 15, 2021, and the second dose is expected to be administered from September 1, 2021. (Source: VOV)
Here is information about vaccination in Vietnam & policy for vaccinated tourists in the future.