About 20km from Quy Nhon City Center, Ky Co Beach is located in a tourist area of the same name, under the management and maintenance of Hoang Dat Tourism & Trading Joint Stock Company. Because this place possesses many large spaces and interesting activities, the ideal visit time is 2 days and 1 night, enough for you to explore the beach and surrounding areas. Whether you are traveling with your family and young children, with your spouse or lover, with a group of friends or traveling alone, you will achieve satisfaction when traveling to Ky Co Quy Nhon.
I - How to get to Ky Co Beach Quy Nhon?
Located at the foot of Phuong Mai Mountain, the beach of Ky Co is surrounded by rock mountains on three sides, so traveling here is also different from the vast majority of other beaches in Vietnam. On the road there are signposts written in Vietnamese but not too difficult to figure it out - you only need to notice the letter "KỲ CO", the rest are just arrows and numbers. But if you don't want to travel and find the way at the same time, you can also refer to the detailed information below:
1 - Traveling by waterway to Ky Co Beach Quy Nhon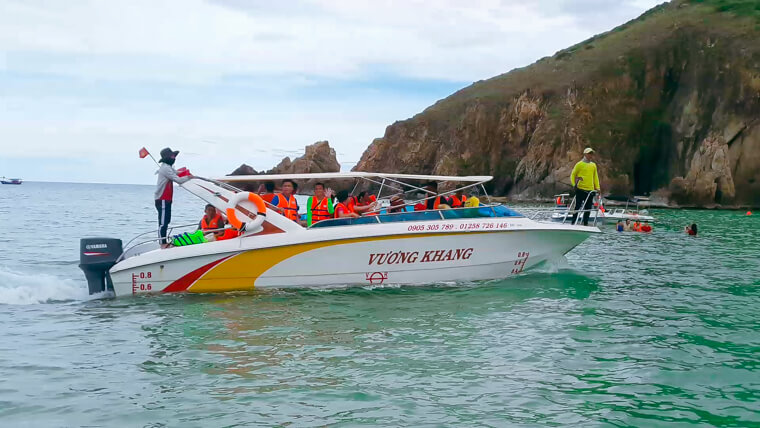 Source: vuongkhangtravel
The canoe departs from Nhon Ly wharf and reaches the beach of Ky Co in about 10 minutes, during which you can immerse yourself in the wonderful nature, enjoy the sun and wind of the sea. This trip combined with visiting Nhon Ly fishing village, Quan Am Pagoda, looking at Eo Gio, passing by Hon Seo Island, Yen Cave, and so on. Traveling by canoe is usually a part of a package of services, priced at 350,000 - 450,000 VND / person ($15.24 - 19.6), from some reliable units such as:
Ky Co - Eo Gio Duc Phuc tour
- Price: 400,000 VND / person ($17.42)
- Contact: 0934 8181 77
- Fanpage: https://www.facebook.com/ducphucnhonly/
Ky Co - Eo Gio Tien Khang tourist
- Contact: 0333 730 369
- Fanpage: https://www.facebook.com/dulichquynhonphuyentienkhang/
Quy Nhon Go Travel
- Price: 430,000 VND / person ($18.72)
- Contact: 0899 0899 40 - 0655 5959
- Website: https://tourkyco.com/
Self-sufficient travel or a package tour to Ky Co Beach all have their own good things depending on each person, the former has more freedom, but the latter is more convenient. The price of a package tour usually includes the cost of a two-way canoe, a Ky Co ticket and a meal - most tour providers have their own restaurant in this area. After the canoe docked, you give the ticket to the staff and can comfortably go in to visit and swim. You will not need to worry about finding the way or where to eat, in addition to being accompanied by a guide and able to participate in numerous other activities.
2 - Traveling by road to Ky Co Beach Quy Nhon City
Going by road is not only more economical but also gives you the opportunity to admire many beautiful scenes, although the road is a bit difficult. Starting from Suoi Ca Bridge and going along the Phuong Mai Mountainside to the South, this road is short but passes many interesting places. It goes through Nhon Hoi industrial park, a 2.5km long sea bridge on Vo Nguyen Giap Boulevard, wind power field,… You can also stop by Phuong Mai Sand Dune of stretching white slopes, Nhon Ly Fishing Village with Eo Gio, Thi Nai Lagoon with endless mangrove forests,...
After passing FLC Quy Nhon, you will see the gate to Ky Co Beach tourist area to the right, not far from the Park of Lights - EVERLAND PARK. After buying a ticket here for 60,000 VND / person ($2.6), you will have 2 options, with the first being to park your personal vehicle and walk, or travel by a tram. The distance from the entrance to Ky Co is just about 1.5km, and the cost of a tram is 90,000 VND / trip ($3.92).
Option 2 is to continue to travel by personal vehicle to get to the transit car park of the tourist area, then take a tram for 40,000 VND / trip ($1.74). Although concreted, the road to Ky Co Quy Nhon is still small, quite steep and deserted, often having goats passing or lying, quite difficult if you are not a stable driver / rider. After getting off the tram, you follow stone steps covered with flower beds to go down to the beach of Ky Co.
II - The unspoiled beauty of Ky Co Beach Quy Nhon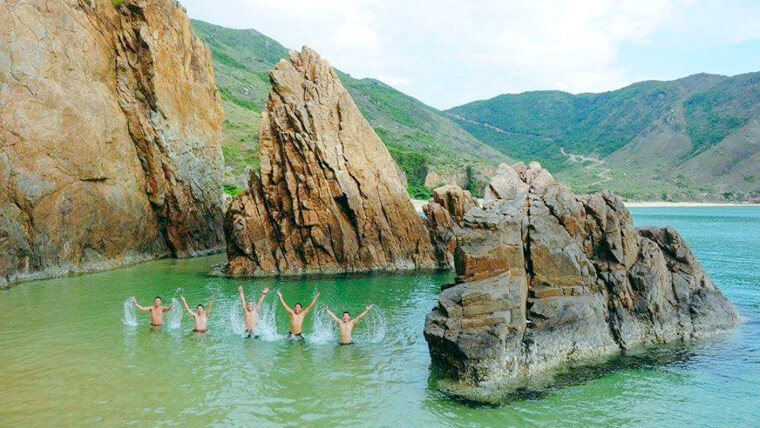 Source: landtourquynhon
Dubbed the "Maldives of Vietnam", the beach of Ky Co possesses a wild and magnificent beauty of sky, rocks and sea, captivating the hearts of people. Coming here, you will definitely be overwhelmed by the majestic mountains, airy atmosphere, and strong breezes carrying a characteristic saltiness. The spacious fine sand beach shapes like a crescent moon, dotted with shadows of coconut trees, embracing the sea so transparent that even the bottom were visible. From far to shore, the blue water is divided into different color bands, from dark blue to lighter colors, then to jade and turquoise.
Nature also favors Ky Co Beach Quy Nhon with a creative space, consisting of large and small rocks stacked together creating many crevices and rock pits. The high tide brings water rushing in between them, not drifting away, creating beautiful "pools" that can accommodate 5-7 people, suitable for families with young children. Meanwhile, when the tide recedes, a small road is revealed, weaving between the cliffs and the large rocks protrude like small towers. Surely you will enjoy playing with the waves, admiring the colorful coral reefs, or flipping the seaweed to catch small sea creatures.
But if you are tired of getting wet, you can also walk barefoot on Ky Co Beach, following the rows of coconut trees and watching the sunrise or sunset. Under the early morning sun, Ky Co becomes shimmering like a treasure chest full of precious stones, with iridescent sand grains looking like tiny diamonds. When the sun goes down, the crimson light gradually dyes the misty clouds red, highlighting the boats on the sea and creating an extremely peaceful atmosphere.
Every corner of this place can give you beautiful photos, even the nearly 1km wooden bridge for ships to dock is also a lovely place to check-in. Another favorite place to take pictures in Ky Co Beach is the Yen Bridge, with a design consisting of eye-catching hot colors and a big, bright pink heart. In addition, you can also find many rustic, simple but still beautiful and modern miniatures such as boats, swings, paths of umbrellas, and so on.
Ky Co Quy Nhon has no islands to slow down and reduce intensity of the water from faraway, you may have to face furious ocean waves, even though normally the sea surface is as smooth as a mirror. In addition, the bay is quite deep and doesn't have lifeguards in more remote areas, so you need to pay attention and be careful, wearing a full life jacket and avoid swimming too far from the shore.
III - Top 5 best things to do in Ky Co Beach Quy Nhon
1 - Diving or snorkeling to see corals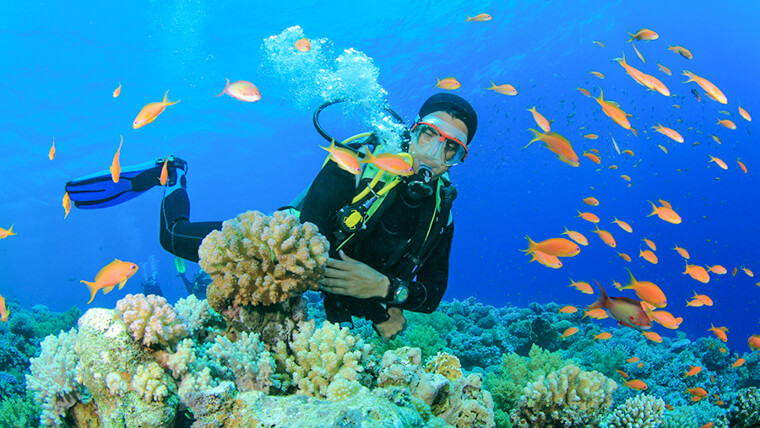 Source: culaoxanhtourism
For those who love to explore, immersing under the water to see the colorful coral reefs in Ky Co is not to be missed, often already combined in a package tour with canoe trip. The clear water will also let you observe the schools of small fish hiding underneath, watching the colorful marine ecosystem with your own eyes. If you are on a self-sufficient trip, there are a number of boat owners in the beach area that you can contact to go see the coral, and experience being a fisherman.
Snorkeling to see corals in Ky Co Beach is priced at about 250,000 VND / person / 20 minutes ($10.88). In addition, there is also a service of walking under the sea, also accompanied with a helmet, photo taking and a guide. The price for 20 minutes is about 1,000,000 VND / person ($43.54), but you should contact the organizer first to see if there is a change or discount.
2 - Teambuilding
The MC will lead and organize attractive activities for everyone to participate in, such as treasure hunting, speed racing, sports competitions, kite flying, photography,… If the group stays at Ky Co Resort, the playground is free and you can hire an MC if needed, otherwise, you will have to pay a "speakers fee":
- Pull speakers: 1,000,000 - 1,500,000 VND / time ($43.54 - 65.3)
- Large capacity speakers: 3,000,000 - 5,000,000 VND / time ($130.62 - 217.7)
3 - Campfire in Ky Co Beach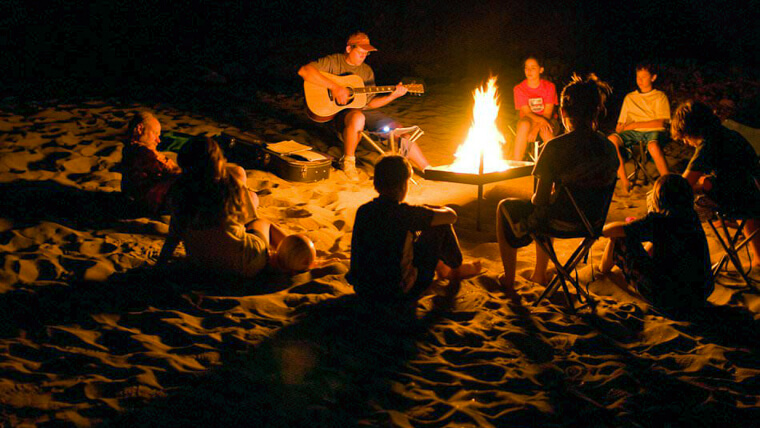 Source: quynhontrip
For those who love to experience and explore, camping overnight and organizing a campfire at Ky Co Quy Nhon will definitely be unforgettable memories. You can bring your own tents, some snacks or seafood.
By the bright red light of the campfire, you can share quality time with friends or loved ones, by telling interesting stories, playing guitar and singing along, or more. Those 2-days & 1-night tours to Ky Co often include camping, costing from 1,200,000 - 1,500,000 VND / person ($52.25 - 65.3).
4 - Water games
In addition to visiting the charming painting of Ky Co Beach Tourist Area, it will be a mistake if you do not experience interesting sea game services. You can explore the ocean with your own eyes, both the whole scenery on the surface and under the sea, or participate in adventurous and thrilling water sports. Below are just some of the estimated prices of the services, please contact the resort management for more specific information:
- Scuba diving & taking pictures (with guide): 700,000 VND / 20 minutes ($30.48)
- Filming or photographing: 300,000 - 500,000 VND / package ($13.06 - 21.77)
- Single parachute canoe: 500,000 VND / round / 1 person ($21.77)
- Double parachute canoe: 900,000 VND / round / 2 people ($39.2)
- Canoe pulling banana float: 900,000 VND / 10 minutes ($39.2)
- Water Motor - jestky 1: 400,000 VND / 10 minutes ($17.42)
- Water Motor - jestky 2: 700,000 VND / 20 minutes ($30.48)
5 - Night squid fishing in Ky Co Beach
Only emerging in recent years, this rustic activity has quickly attracted many people who want to explore the night sea and experience being a fisherman. Ky Co night squid fishing tour will give you the opportunity to learn about the lives of people who mainly live next to, and make a living from the sea. You can enjoy the fresh squid or seafood that has just been caught, processed immediately in different ways such as grilled, steamed, eaten with noodles, and so on.
- Reference price: 400,000 - 450,000 VND / tour ($17.42 - 19.6)
IV - Other information for travelers to Ky Co Beach
1 - When is the best time to visit Ky Co Quy Nhon?
To have the most beautiful moments on the beach of Ky Co, the best time for you to travel is around February, March, or in the dry season from May to September. At these times, the weather is not affected by rainstorms, full of beautiful sunshine and the temperature is quite pleasant, averaging about 26 - 28°C.
2 - Ky Co Beach accommodation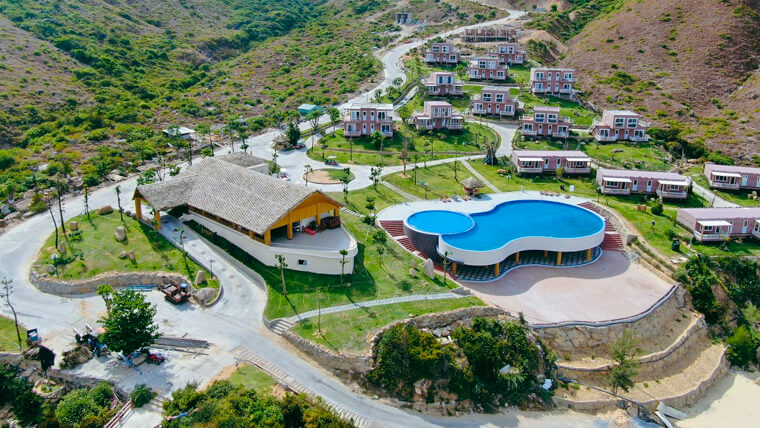 Ky Co Resort - Source: tripadvisor
Located in a prime location, Ky Co Resort has a total area of 50ha with 15 Villa clusters including 59 3-star standard rooms, all fully equipped with modern facilities, with beautiful views overlooking the mountains and sea. There are also many other entertainment places such as a children's play area, a poolside bar,… and the Infinity Pool facing the sea. Reference prices:
- Superior sea view: 1,800,000 VND / room / night ($78.37)
- Double sea view: 2,100,000 VND / room / night ($91.43)
- Family sea view: 2,500,000 VND / room / night ($108.85)
- Family pool sea view: 3,200,000 VND / room / night ($139.33)
- Website: https://hoangdatkyco.vn
3 - Cuisine at Ky Co Beach Quy Nhon
In addition to being immersed in the beautiful natural scenery of Ky Co, do not miss the opportunity to enjoy delicious seafood dishes. At popular seafood restaurants, you will be able to choose your favorite dishes from fried, grilled, to steamed,… The dishes are simply prepared from fresh, freshly caught ingredients so they are all very safe, having a naturally delicious taste from the sea.
In addition to the famous specialties at Ky Co Beach such as sea snails and blood cockles, you definitely have to try attractive dishes such as grilled abalone, crab, steamed squid, firm and chewy grilled sea urchin with onion fat… Sea snails can be processed in a variety of ways; while abalone porridge is a warm and nutritious dish. If you're bored of eating seafood, don't forget to try out Banh beo, a snack that anyone who comes here will be fascinated by its strangely rich flavor.
4 - Ky Co Beach map
It is obvious that Ky Co Beach Vietnam is an attractive tourist destination in Quy Nhon City, Binh Dinh Province, suitable for going with family or friends. This place possesses a beauty that is still unspoiled with clear blue sea, smooth white sand, and lively coconut trees. Visiting Ky Co Quy Nhon, you will surely have great memories when immersing yourself in the sea, participating in many interesting fun activities, and enjoying delicious seafood dishes.
#ky_co_beach
#localtravelidea