To Vietnamese people, Ninh Thuan province is the land of sun and wind. Harsh climate makes it challenging for agriculture but potential for tourism. There are a variety of attractive destinations such as Vinh Hy bay, Ninh Chu beach, An Hoa sheep field, Ba Moi vineyard, Nam Cuong sand dunes, Phuong Cuu salt field,… amongst which Ca Na beach is a visit-worthy one. Moreover, Ca Na coastal road is particularly known as one of the most beautiful coastal roads in Vietnam. Without further ado, let's zoom in this stopover to see what the special is.
1 - The road to Ca Na beach - Top 5 beautiful Vietnam coastal roads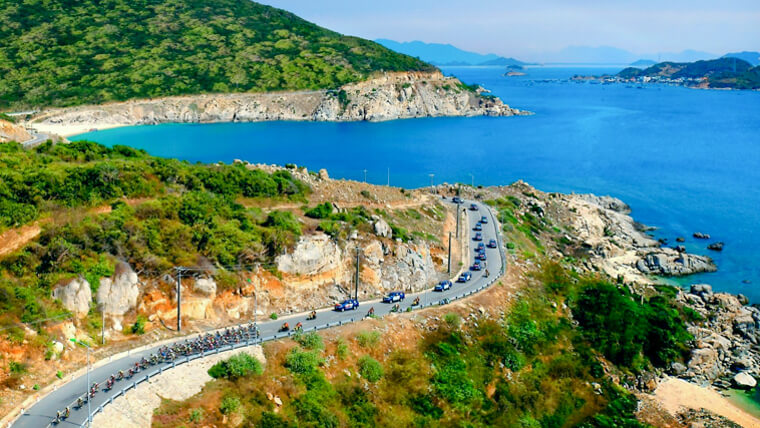 Stunning coastal road in Ca Na - Source: truyenhinhdulich.vn
Ca Na Vietnam is about 50 km from Phan Rang - Thap Cham city to the South. This road is not simply a connection between two places but a journey full of experiences and breathtaking sceneries. One side of the road is rocky, towering mountains while the other is a navy blue seawater. The view constantly changes following the wheels of your tire, now overwhelming ocean now consecutive rocky ranges. Smoothly lining the winding cliffs, this road has long been a dream of every Vietnamese traveler.
Because of the sparse traffic, it is unobstructed for you to leisurely drive while contemplating the picturesque nature.
This road is a line linking a handful of tourist attractions in Ninh Thuan province including Ca Na beach, Ninh Chu beach, Son Hai fishing village, which means transporting to the beach is a way paved by what is the most beautiful of the land. What makes it interesting is that it is the meeting point of the National Highway 1A and the Thong Nhat railroad, which seems to be an implication for a gathering of natural quintessence.
2 - Spectacular scenery at Ca Na Vietnam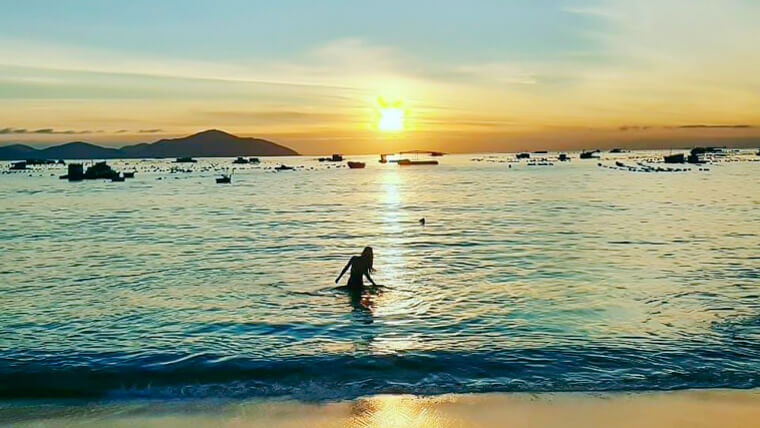 Sunrise on the beach - Source: vietnamembassy-mongolia.org
The beach of Ca Na with stretching beach, creamy and clean sand will steal your soul right from the first glance. White granite boulders dotted the shore is a signature of Ca Na beach. They are also the origin of several mysterious terrains like Ong Phat cave, Ong Nong cape, Duc well,... Moreover, several underground rocks are hidden by the deep blue sea. The sea here is relatively calm so you can feel free to jump into it, bathe and play sea sports no matter whether you know how to swim. The salinity of Ca Na seawater is about 3 to 4% higher than others, which is a favorable condition for the thriving of numerous coral reefs. Just walking about 20 m offshore, at the depth of 1.5 to 2 m, you can observe a colorful and vivid world sparkling under the transparent water and the brilliant sun arrays.
From Ca Na beach in Ninh Thuan, you can catch sight of the beautiful Hon Lao island protruding from the ocean. Hon Lao is likened as a precious gem that the majority of tourists are in love with when they come here. Once approaching the island, you can visit tourist sites such as Tien well, a 7-colored rocky cave, which are sure to present you with amazing things that you have never witnessed before. The most suitable time to visit the beach is from August to September when the possibility of a storm or heavy rain is the faintest. Without the interference of rains, the nature of Ca Na is given the chance to fully show off its charm.
3 - High quality residences along the Ca Na beach Vietnam
Hon Co Ca Na resort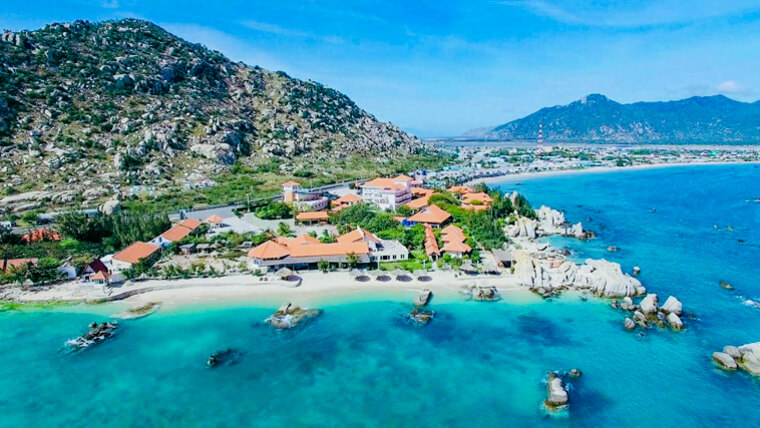 Hon Co Ca Na resort - Source: booking
Hon Co Ca Na totally reserves the very first position because of its can't-be-better location, right on the National Highway 1A, capturing a long strip of the beach. It is not too much to say, this is the best accommodation for your trip to this serene beach. The property exudes the plainity and simplicity like Ninh Thuan folk. However, customers can still feel the luxury because it is the combination of tradition and modernity. The prime location gives it a right to have both mountain view and Ca Na beach view. The resort is wrapped by a green vegetation which can cool your mind right at the first look. Each room type in this retreat has a different decoration to make sure it can meet all tastes.
- Address: National Highway 1A, Ca Na commune, Thuan Nam district, Ninh Thuan province
- Contact: 02577.777.777 – 0943.333.333
- Website: https://honcocana.com
Ca Na Hotel
The architecture of Ca Na hotel is more traditional style with a bright red tilt roof, light-colored walls, and a lot of lush trees surrounding. The hotel is also nestled on the shore of Ca Na beach which offers a wonderful view for rooms here. Meeting 2 star international standard, the accommodation with 30 guest rooms aims at providing a high quality but at an affordable price for tourists. Each room has a distinct design and decoration so that customers can find the most suitable one.
The most loved ones are those with a sea view which is a wonderful space for watching the sun set or sun dawn everyday. Besides, Ca Na hotel offers customers facilities such as a tennis court, outdoor swimming pool, coffee house on the Ca Na beach,... The highlights are 2 restaurants with a capacity of 1000 people right on the beach, serving fresh seafood catched in Ca Na sea and Asian and European foods processed by top-notch chefs.
- Address: Ca Na commune, Thuan Nam district, Ninh Thuan province
- Contact: (0259) 3 761 616 - 3 761 321
- Room rate: 350,000 - 450,000 VND/night
- Website: http://canahotel.com.vn/
Ca Na bay
Ca Na Bay is a new face in the accommodation network in the neighborhood of Ca Na beach. The resort stretches on a large area of 7,000 m2 with 24 modern and stylish apartments and bungalows. The room system is divided into different types in order to better serve a diversity of need and residence purpose. Rooms have either garden or swimming pool view, bringing the most pleasant and comfortable atmosphere for tourists. Besides, the retreat is integrated with ideal facilities such as outdoor pool, seafood restaurant, coffee shop,..., all of which are to make your holiday fulfilled and memorable when visiting Ca Na beach Vietnam.
- Address: National Highway 1A. Lac Son hamlet, Ca Na commune, Thuan Nam district, Ninh Thuan province
- Contact: 02596 270 279
- Room rate: 900,000 VND/night
4 - Ca Na fishing village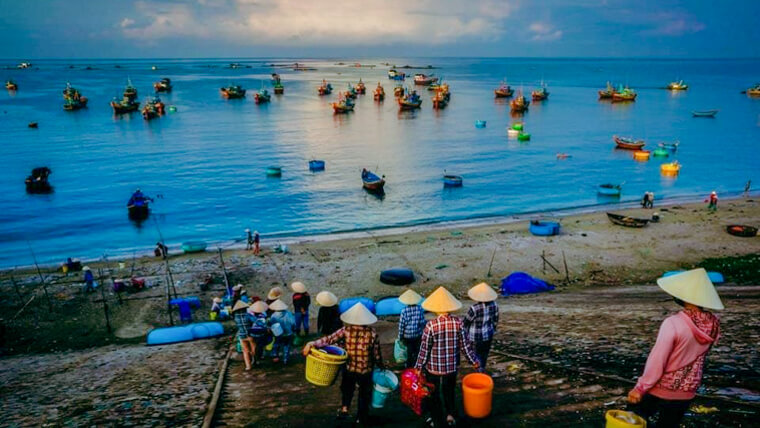 Ca Na fishing village - Source: pharatravel
Ca Na fishing village is nestled deep in a strait, protected by Dinh mountain and Dien Ban mountain. The nature of geography is a shield saving the village and its people from storms and strong winds. Therefore, life in Ca Na fishing village is always tranquil, safe and sound. Known as a reliable shelter, the shore of Ca Na beach is commonly crowded with dozens to hundreds ships and boats belonging to not only the villagers but also fishermen from adjacent areas. From the beach of Ca Na, you can capture the scene of colorful ships and boats set sail and head to the sea and as well as the overview of the peaceful houses clustering into the fishing village. The village is featured by a busy wharf, a bustling market and Ca Na swamp, where you are advised to visit and understand more about the culture of the land.
5 - Salt field in Ca Na beach Ninh Thuan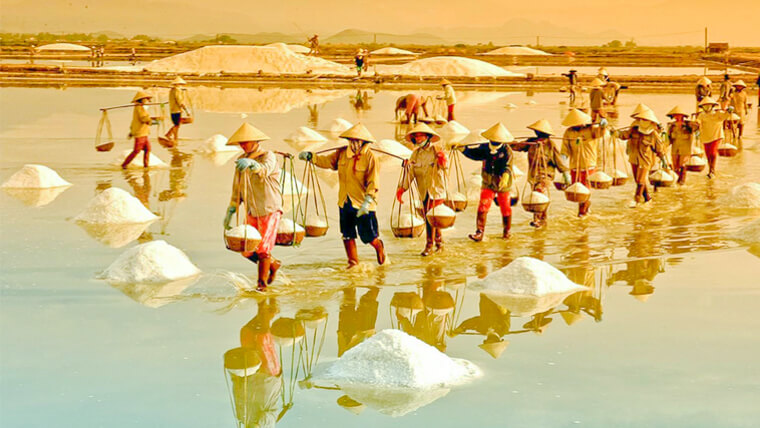 Salt field - Source: cafebiz
In a land said to have nothing but sun and wind, it is hard for you to think of snow. However, once you bump into huge snow mountains in Ca Na, don't be bewildered because they, in fact, are made of sea salt. The quality of salt here is honored as the best in Vietnam with purity and richness, the main ingredient to produce the notorious Ca Na fish sauce. This is an interesting destination for tourists to check-in with salt dunes and learn about the process of salt making. With the characteristics of the work, the scenery is much more magnificent when it comes to the dry season (December to August).
6 - Nightlife in Ca Na beach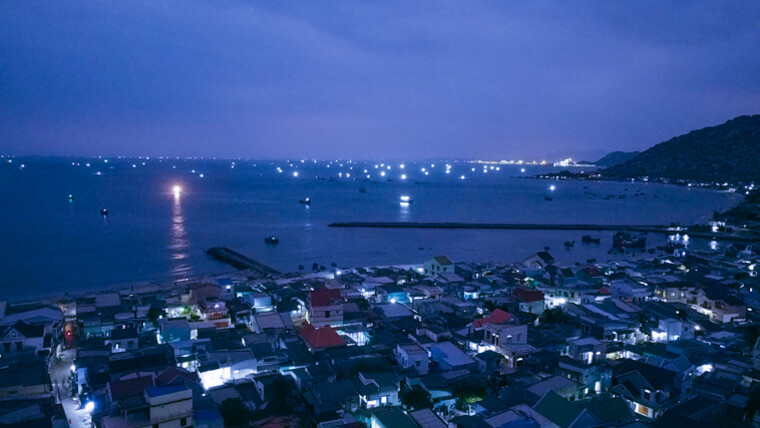 Night scenery - Source: @TuoiTreCana
Nightlife is a word associated with noisy space in bars, pubs and clubs. However, nightlife in Ca Na is much more gentle and "healthy". You can scroll along the beach to admire the beauty of the beach at night, letting the cool breezes mess up your hair, listening to the sound of waving tapping the shore. Moreover, you can follow local fishermen boarding on a ship to go squid fishing.
Ca Na beach Vietnam with the beauty combined between nature and culture is a heaven for travel lovers, living up to the expectation of every subject both domestically and internationally. This is sure to be one of the wonderful tourist destinations in Ninh Thuan that you shouldn't skip.