Cua Lo beach possesses clear turquoise water, stunning glittering white sand beach and poetic surrounding landscapes, making it a popular tourist spot for relaxation and entertainment. It is possible to spend one day discovering this beautiful beach, but a one-night two-day tour is ideal to visit many other interesting places near the beach.
I - How to get to Cua Lo beach?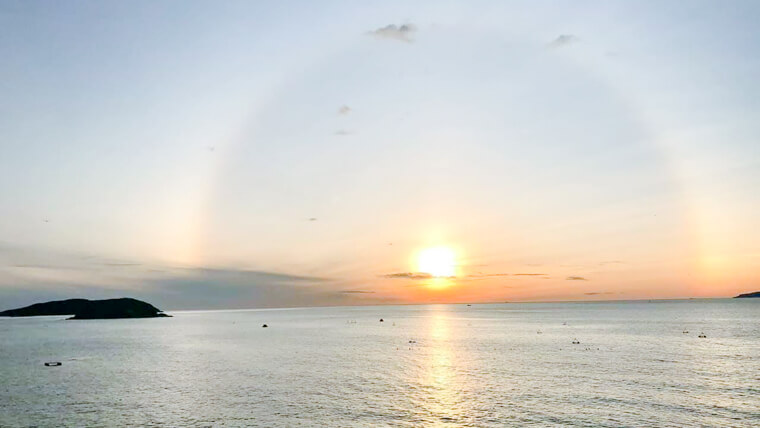 Sunrise on the beach - Source: @Đạt Lê
The beach of Cua Lo is located along Binh Minh street in Nghi Huong ward, Cua Lo district-level town, Nghe An province - about 16km from Vinh city center, and about 300km from Hanoi capital. There are three popular ways to get to the beach from Vinh city center:
By taxi: You can refer to the following taxis in Vinh city:
- Mai Linh Nghe An Taxi: +84 238 357 5757 or +84 238 378 8788
- Vinaxu Nghe An Taxi: +84 238 3699 699
- Vinh Taxi: +84 238 384 8484
By self-drive car rental: The way to Cua Lo beach Vietnam is pretty easy to go and all the routes to the beach are fully updated, and you can use Google map to search for the ultimate destination.
By boat:
Getting on a cruise along the Lam river from Vinh city center to Cua Lo would give you a lot of fun and amazement. From Vinh city, you contact tourism agencies/ operators to book tickets. (We will update the details later).
II - Why is Cua Lo beach so appealing?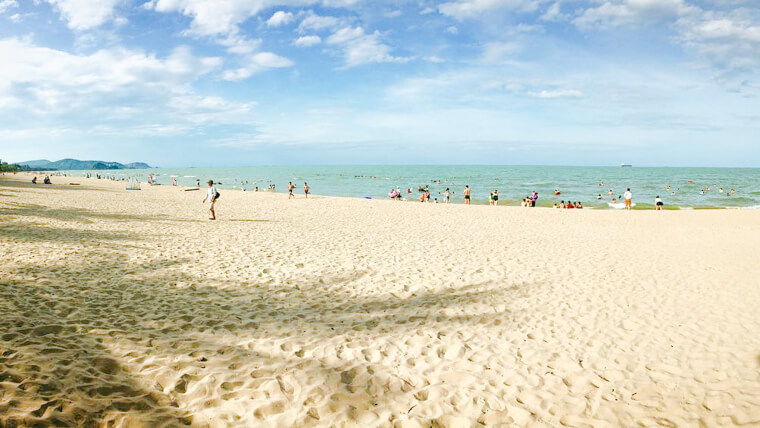 One of the top beaches in northern central Vietnam - Source: @thomas_xavier89
Cua Lo Nghe An is well - known as the most beautiful beach of the North Central Coast, stretching around 10km with transparent, turquoise water all year round and undulating waves crashing against the calm, silvery beach. Along the beach are rows of coconut trees, pine trees, and casuarina, mirroring their shades on the long, gentle beach. With a special location, Lan Chau island divides the beach into two distinctive areas. From the top of the island, you have a panorama of the immense Cua Lo beach Vietnam. When the tide rises, the island appears to gradually sink in the vast water surface, otherwise, in the low tide, the west of the island connects with the mainland to create a peninsula. The island features various, unique rock blocks formed by the abrasion of waves and wind.
If you come to Cua Lo beach at dawn, you will see the basket boats of local fishermen carrying fresh squids, crabs, etc. at the beach. You get to enjoy delicious seafood right at the beach or in the restaurants near the beach at an amazingly affordable price, specially the dish of "mực nháy" - a species of squid whose skin is flashing like a glitter. You can go to the seafood market to buy fresh and sun-dried seafood. Cua Lo beach is also famous for being more mysterious and romantic in the late afternoon and at night. It would be a great experience to take a stroll around the smooth sand under the shimmering light and take a deep breath to inhale the cool fresh air from the sea.
III - Good to know when traveling to Cua Lo beach
1 - Tourist attractions near Cua Lo Vietnam
Lan Chau island, Cua Lo golf resort, Hon Ngu island and Binh Minh square are top 4 best attractions near Cua Lo that should not be missed.
Lan Chau island
Lan Chau island - Source: @quan_reu
Lan Chau island, also known as Ru Coc island, is located right at the beach of Cua Lo. The West of this island connects with the mainland, the East features stretching cliffs with various eye-catching shapes. At the top of the island is a lighthouse and Nghinh Phong palace of Emperor Bao Dai (1913 - 1997). This is considered the most ideal place to watch the charming sunrise and glorious sunset at Cua Lo beach. In addition, you can join in different fascinating beach activities such as swimming, playing water motor, and fishing.
Cua Lo golf resort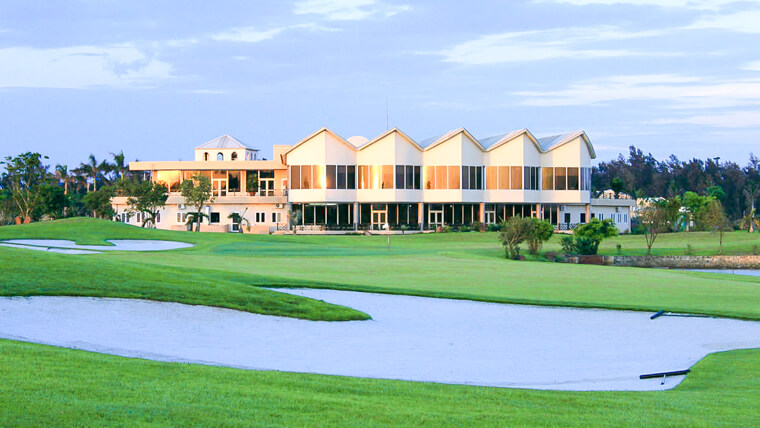 The golf course and entertainment center - Source: cualogolfresort.com.vn
This is the complex of high-end resorts, three-star and five-star hotels, accompanied with an entertainment area near the beach. It has a total area of 133ha at Binh Minh street stretching more than 1.2km along Cua Lo beach Vietnam. The most outstanding feature of Cua Lo golf resort is the golf course which is perfectly designed by a global leader in the design and development of a world class golf course which attracts both amateurs and skilled golfers. The extraordinary scenery of winding golf course with palm trees interspersed with waterfalls and artificial lakes combined with vast green grass which is 100% of Paspalum and Bermuda grass varieties, the most beautiful grass in the world used for top golf courses. Besides, the golf resort features more than 700 suites equipped with modern, luxury amenities accompanied with ungraded facilities such as swimming pool, tennis court, spa, hardware store, and restaurants, etc.
- Location: Binh Minh street, Nghi Huong ward, Cua Lo district-level town, 600m from Cua Lo beach
- Website: https://cualogolfresort.com.vn
Hon Ngu island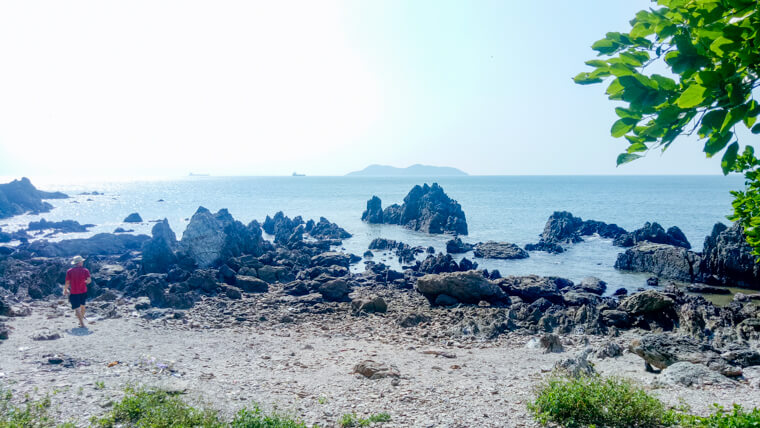 Hon Ngu is a rustic island - Source: @Lâm Nguyễn Ngọc
Hon Ngu island or Song Ngu island is about 4km from the mainland. The island has a very small area of 2.5km2, including two islands: the larger one 133m high and smaller one 88m above sea level. Hon Ngu island is considered the highlight in the tourism of Cua Lo beach thanks to its pristine untouched beauty and the extremely impressive colorful pebble beach stretching for kilometers, making it the best background for check-in. There are numerous interesting activities here, and the most worth-trying one is soaking up and relaxing in the clear blue sea water among the vast space and breath-taking natural landscapes. Another alluring one must be squid fishing on basket boats. Besides, you also have an opportunity to pay a visit to Cobia farming area and Hon Ngu ancient pagoda with a well-known freshwater well.
Binh Minh square on Cua Lo beach
The large square of Binh Minh is located right next to the white sand beach of Cua Lo Nghe An, surrounded by lined green trees, so the atmosphere is very cool and fresh. The very first thing that impresses visitors is a huge almost-round-shaped gate installed with light systems around the frame so that the gate will be shining and shimmering at night. The large cement walls on both sides of the gate simulate the sails of fishermen's boats when going offshore. On the walls are colorful ceramic tiles put together to create an extremely vivid and attractive picture. Embossed motifs combined with ceramic mosaics made of porcelain enamel, which glitters at night under the electric light, looking like the shining stars.
2 - Cua Lo beach hotels & resorts
Because of the thriving development in the tourism industry in the locality, the infrastructure near the beach of Cua Lo has also been paid close attention to, including the accommodation. Here is a list of the most high-end hotels and resorts near the beach for your reference.
Vinpearl Discovery Cua Hoi
Vinpearl Discovery Cua Hoi resort, Located right at Cua Lo beach Vietnam, has an area of nearly 40ha, featuring 218 luxurious villas and spacious rooms which is inspired by the unique Cham architecture with classic French style. The modern facilities that can satisfy even the most fastidious guests, namely swimming pool, gymnasium, spa, bar, restaurant, and Kid's club.
- Rate: from 1,287,900 VND/ room/ night (for 2 adults + 2 kids) ($55.5)
- Website: https://vinpearl.com/en
- Contact: +84 238 876 4888
Muong Thanh Grand Cua Lo
Located about 200m from Cua Lo beach, the 4-star luxurious hotel of Muong Thanh Grand Cua Lo consists of 249 rooms of various types, all of which have broad, extraordinary seaview. All rooms are fully equipped with modern furniture, especially the Presidential Suite featuring a mini bar and a sauna. The hotel provides a myriad of high-quality conveniences, particularly Cat Spa & Massage, outdoor swimming pool, Fitness Center, royal Karaoke, large tennis court, and a system of restaurants. In addition, you can hold the wedding party here with a diverse space accompanied with a wide array of scrumptious dishes.
- Location: No.232 Binh Minh street, Cua Lo town - about 200m from Cua Lo beach
- Rate: from 750,000 VND/ room/ night (2 adults) ($32)
- Website: http://grandcualo.muongthanh.com/
- Contact: +84 238 395 7567
Summer Cua Lo
The 4-star hotel of Summer Cua Lo has 250 rooms with airy seaview and balconies, especially the infinity swimming pool on the rooftop of the hotel from which you can have a comfortable rest space with a panoramic view of Cua Lo beach. It also features 4 restaurants and 2 glitzy bars, typically Sky Bar lying at the top of the hotel as well. In addition, the hotel has 4 conference rooms and other amenities including an outdoor observation elevator with a unique 3-sided glass design, a summer spa, a 24-hour summer fitness gyms, and a playground for kids.
- Location: No.268 Binh Minh street, Nghi Huong ward, Cua Lo town - about 400m from Cua Lo Vietnam
- Rate: from 650,000 VND/ room/ night ($28)
- Website: http://hotel1.summercualo.com/
- Contact: +84 914 108 822
Holiday Cua Lo
The 4-star Holiday Cua Lo features 151 fancy, top-notch rooms, well-equipped with all modern infrastructure as well as full amenity. The highlight of the hotel is an outdoor smart swimming pool with impressive cafes. The large restaurant of A La Carte on the 2nd floor has a capacity of up to 400-500 diners, and also offers the service of Gala dinner.
- Location: Street 04, Group 1, Thu Thuy ward, Cua Lo town - about 100m from Cua Lo beach
- Rate: from 600,000 VND/ room/ night ($26)
- Fanpage: https://www.facebook.com/Holidaycualo/
- Contact: +84 238 382 4988
Tuan Anh Cua Lo Hotel
The hotel of Tuan Anh comprises 32 spacious, airy, clean rooms, each room has 2 beds and is equipped with basic amenities. It features a restaurant with a capacity of 250 people, which serves fresh seafood made by skilled chiefs. The hotel also makes attractive tours such as Cua Lo beach - Ho Chi Minh square - Uncle Ho's hometown - Ong Hoang Muoi temple, Quang Trung King temple, homeland of great poet Nguyen Du, etc.
- Location: Nguyen Nang Tinh street, Thu Thuy ward, Cua Lo town, about 240 Cua Lo Nghe An beach
- Rate: from 200,000 VND/ room/ night ($8.6)
- Fanpage: https://www.facebook.com/vietalber/
- Contact: +84 123 425 5668
3 - Specialities
Cua Lo beach is also famous for many tasty specialities, some of that can be mentioned as: Steamed crab with tamarind, Moc cua be, 7 dishes from cobia fish, Eel porridge, eel soup,...
Steamed crab with tamarind
Steamed crab with tamarind or Ghẹ rang me is a rustic seafood dish that is loved by many diners by its mild sour taste of tamarind blended with the sweet delicious crab meat. The sophisticated cooking process, eye-catching garnish on plates and wonderful flavor make the allure of this dish. Besides, there are many dishes made from crabs such as grilled crab, fried crab with tamarind, roasted crab with salt, etc.
Moc cua be (crab meat balls)
Moc cua be is one of the best foods at Cua Lo beach Vietnam. The ingredients to make this speciality are chopped crab meat, pounded pork, mushrooms, pepper, and, egg yolk, fish sauce. The mixture after meticulously processed then is placed in a very unique crab shell.
Eel porridge & eel soup
These two delicacies are made from fragrant, sweet, tough eel meat, combined with hot pepper and dried onions, which creates unforgettable flavors.
7 dishes from cobia fish
This is another must-try dish at Cua Lo beach. Cobia fish is imported from Nauy, then bred in the locality. The high nutrition of fish meat and various ways of processing and cooking from this special species of fish are attractive to diners. Many delectable dishes made from cobia can be mentioned as: steamed cobia with lemongrass, cobia salad, cobia hotspot, cobia porridge, fried fish rectum, fried cobin, and deep fried cobin.
4 - When is the best time to visit Cua Lo beach?
There are two distinct seasons in Nghe An province in general and Cua Lo in particular: the dry season and the rainy season. The former lasts from May to October with the highest temperature of more than 42°C, which is very hot and dry. The latter from November to April next year featuring cold weather with a little amount of rain.
The best time to travel to Cua Lo Vietnam is in the dry season when you can freely enjoy amazing beach activities. Particularly, if you come here on April 30th and May 1st takes place the Cua Lo festival, you have a chance to enjoy many folklore activities and special firework displays.
V - Cua Lo beach map
The poetic natural scenery along the way to Cua Lo beach Vietnam and the gorgeous beach itself have created an incredible magnet to a large number of both domestic and international tourists, especially every scorching hot summer. Hopefully, you will have a memorable trip to this stunning beach in the near future