Until now, electricity of Vietnam has still been a monopoly industry managed & supplied by the EVN Group. Electricity is now available in 63 provinces and cities across Vietnam. However, a few remote villages and communes continue to be without electric power. The Vietnamese government is currently in the process of implementing a plan to supply electricity to every household in the country.
I - Information for tourists about electricity of Vietnam
EVN, with over 25 years of development, has brought the national grid to all mountainous areas and islands, etc. To tourists, no matter where you go, you won't have to worry about lack of electricity.
1 - Vietnam electricity voltage & hertz
At present, the national grid of Vietnam uses 220 voltage (v) with a frequency of 50 Hertz (Hz).
In some remote or countryside regions, in peak hours from 10am-12pm and from 6pm-8pm, the poor quality of electricity supply can affect some electronics's usage.
2 - What are popular types of Vietnamese plugs & sockets?
Most plug-in devices in Vietnam use a 2 or 3-pin round, with a 2-round pin plug being the most popular and commonly seen. However, at some hotels in Vietnam, you can see the 3-pin square or 2-flat blade sockets still in use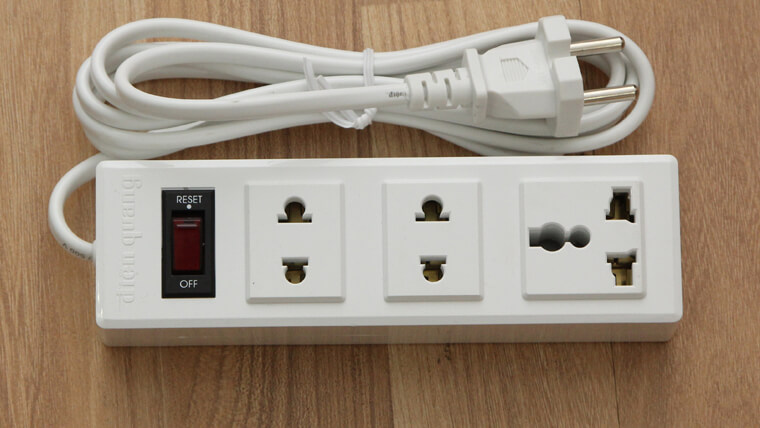 The popular power plugs in Vietnam - Source: Internet
- Plug type A: 2 flat vertical pins - fit in plug type A & C socket.
- Plug type C: 2 round pins - only fit in plug type C socket
- Plug type B: 2 flat vertical pín and 1 round pin - only fit in plug type B socket
- Plug type D: 3 rectangular pins - only fit in plug type D socket
- Plug type G: 3 flat vertical pins - only fit in plug type G socket
II - Other information and facts about electricity of Vietnam
1 - Vietnam electric company (EVN)
EVN is a Vietnamese state-owned special-purpose enterprise. The EVN Corporation, established on October 10, 1994; under Decision No.562/QD-TTG; then on June 22, 2006; it was renamed as Vietnam Electricity according to Decision No.148/2006/QD-TTG.
Up to now, the company has the following subsidiaries:
- 24 units under EVN
- 9 Subsidiaries held by EVN with 100% charter capital
- 6 Subsidiaries held by EVN over 50% of charter capital or other dominant rights
- 1 EVN Company holds less than 50% of charter capital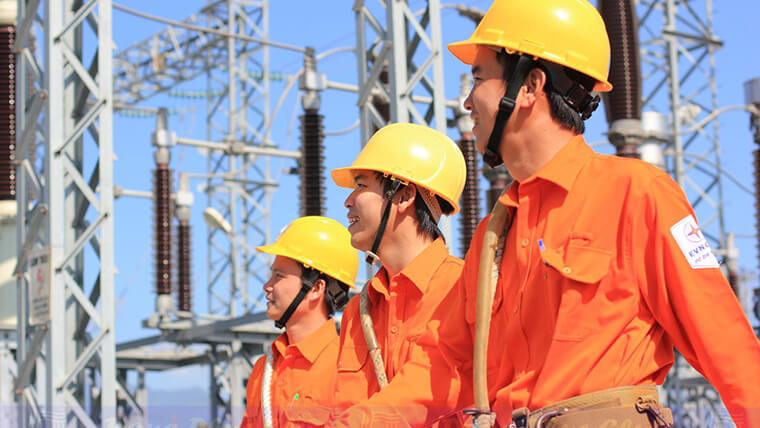 Source: Internet
2 - Production of electricity of Vietnam
Annual electricity output has increased more than 20 times, from 8.6 TWh in 1990 to 240.1 TWh in 2019. During this period, the annual growth rate is around 12-15%, almost double the GDP growth rate. Hydropower, natural gas, and coal are the main sources of energy for Vietnam electricity production. Coal accounted for the highest proportion of energy sources with 41.6%, followed by hydropower with 37.7% and gas with 18.8%. In addition to large hydro, including small hydro, renewable energy accounts for a very small portion of total energy (0.5%).
However, since the beginning of 2019, the market share of renewables in the energy system has grown significantly, owing primarily to solar energy; however, wind energy is also being invested in and developed.
3 - Vietnam electricity consumption
The total amount of electricity produced and purchased in 2019 is estimated to be 226.4 billion kWh, with commercial electricity output in 2019 estimated at 211.4 billion kWh, a 9.9% increase over 2018.
In 2019, China's electricity imports were estimated to be 2.1 billion kWh, while imports from Laos were estimated to be 1.1 billion kWh. Imported electricity output is expected to remain at the same amount in 2020 as it was in 2019.
4 - Cost of electricity in Vietnam
No

Group of customers

Electricity price
(VND / kWh)

1

Electricity selling price for daily use

Level 1: For kWh of 0 - 50

1.678

Level 2: For kWh of 51 - 100

1.734

Level 3: For kWh of 101 - 200

2.014

Level 4: For kWh of 201 - 300

2.536

Level 5: For kWh of 301 - 400

2.834

Level 6: For kWh of 401 or higher

2.927

2

Retail price of electricity for daily life using prepaid electricity card meter

2.461
Note: Electricity selling prices are inclusive of Value Added Tax, Excise Tax (if any).
The general information about electricity of Vietnam provided above is intended to assist you in grasping the fundamentals and preparing the necessary electrical connection equipment such as adapters, converters, which would assure a fun and safe trip while experiencing Vietnam.