Located in the Northern Tropic of Cancer, belonging to the Northeast of Vietnam, weather in Cat Ba island is influenced by tropical monsoon climate and southwest monsoon. The annual average temperature is 23 - 24°C, the average relative humidity of the whole year is 85%, and the average rainfall is about 1700mm - 1800mm / year. The two seasons, hot and cold, have quite distinct characteristics, suitable for different tourism activities, specifically as follows:
1 - The weather in Cat Ba island in hot season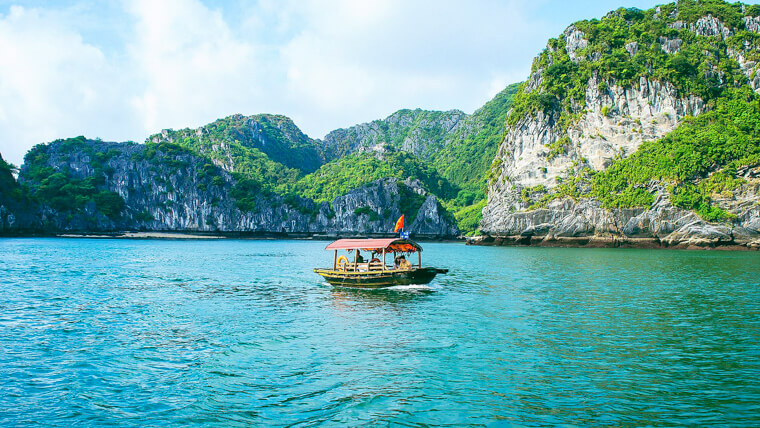 Lan Ha bay in Cat Ba island - Source: wowweekend.vn
In the hot season (May - September), the Cat Ba island weather is still quite pleasant, the sun is warm but not too harsh. However, August - September is also the time with the most rain of the year, accompanied by humidity. From June to August is the time with the highest average temperature of the year, prevailing southeast and southerly winds, storms may appear. More details about Cat Ba weather forecast in terms of average temperature and rainfall of each month during the hot season.
- May: 27°C - 126.2mm
- June: 29°C - 182.1mm
- July: 29°C - 243.6mm
- August: 29°C - 265.2mm
- September: 28°C - 207.9mm
With this kind of weather in Cat Ba Island, you should not miss the opportunity to immerse yourself in the beautiful natural scenery, or in the clear blue water of beautiful beaches like paradise such as Cat Dua, Tung Lam, Cat Co,… In addition to that, you can also participate in many other interesting activities such as surfing, enjoying food at a floating restaurant, riding a tram or cycling around the city at night, making a campfire, and so on. One of the outstanding geographical features of the Cat Ba Islands that you can explore while kayaking is more than 20 caves, including ancient underground caves, ancient karst caves and cleft caves.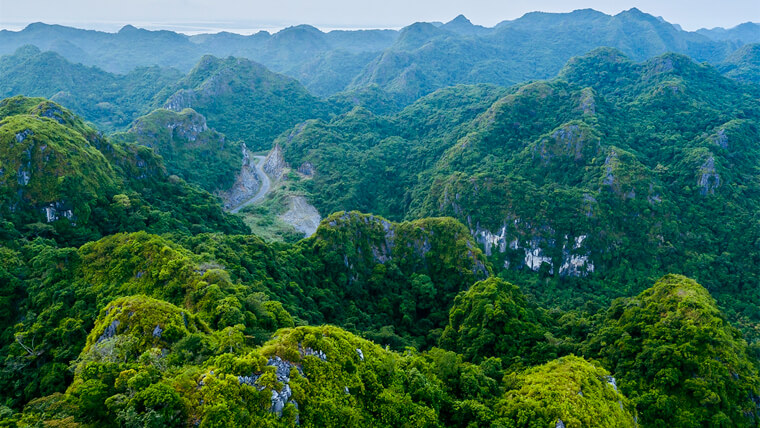 Cat Ba national park - Source: nha.tv
The weather in Cat Ba Island this season is ideal to visit some interesting places such as Lan Ha Bay, Monkey Island (Dua Island), or Cat Ba National Park - a World Biosphere Reserve. Currently, this place is conserving a lot of marine ecosystems, terrestrial forests, flooded forests, and rare species of flora and fauna. Thanks to favorable climate and environment conditions, along with beautiful natural landscapes, this place has become an ideal place to visit. Not only that, Cat Ba National Park also attracts a large number of tourists because the archaeological relics of important value are still preserved here.
2 - The weather in Cat Ba island in cold season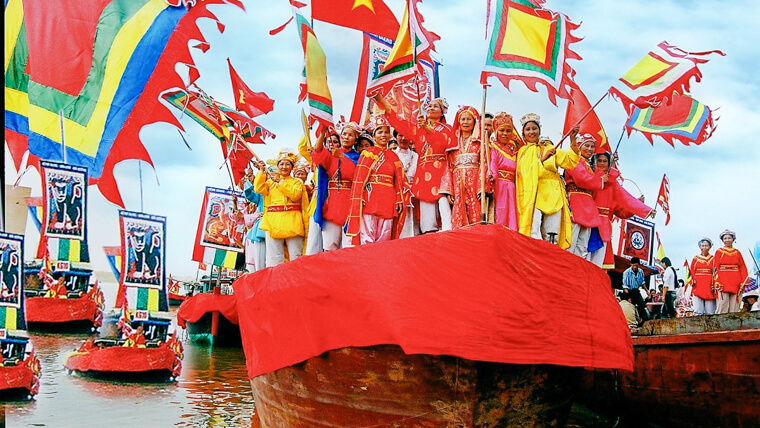 Boat racing festival - Source: thoibaonganhang.vn
From October to April, Cat Ba weather is somewhat colder, but still quite pleasant and airy, especially suitable for relaxing and enjoying the fresh air. From December to February next year is the coldest time, with the average temperature below 20°C, and the East - Northeast winds predominating. Around April, there are many wet drizzly days, so although there is no heavy rain, the humidity of this month is still relatively high. The detailed Cat Ba island weather information about the monthly average temperature and precipitation is below:
- October: 26°C - 97mm
- November: 23°C - 45.1mm
- December: 19°C - 15.5mm
- January: 17°C - 15.8mm
- February: 18°C - 12.8mm
- March: 21°C - 24.2mm
- April: 24°C - 42.2mm
Despite the hot weather in Cat Ba island, this is still the peak tourist season, so there are often crowded situations, fires from homestays to hotels, high prices and poor service quality. Therefore, traveling in low season - from October to November is the ideal time for visitors to enjoy the scenery without worrying about being crowded.
Thanks to the nice Cat Ba weather around this time, you will feel a unique autumn atmosphere and the romantic nature, making it the top destination chosen by many couples for dating or honeymoon. Moreover, the sea around the hot weather in Cat Ba island is extremely calm, so the seafood is especially fatter and more delicious than at other times of the year.
In particular, if you come here on April 1, you can participate in the Cau Ngu Festival, also known as the Dragon Boat Sea Racing Festival. This occasion is to celebrate the day Uncle Ho visited the island in 1959, and is considered a traditional festival of Vietnam's seafood industry. Held mainly in Cat Ba town, Cat Ba district, Hai Phong city, this festival inherits and promotes the quintessence of traditional features, spiritual life and cultural activities of the locals.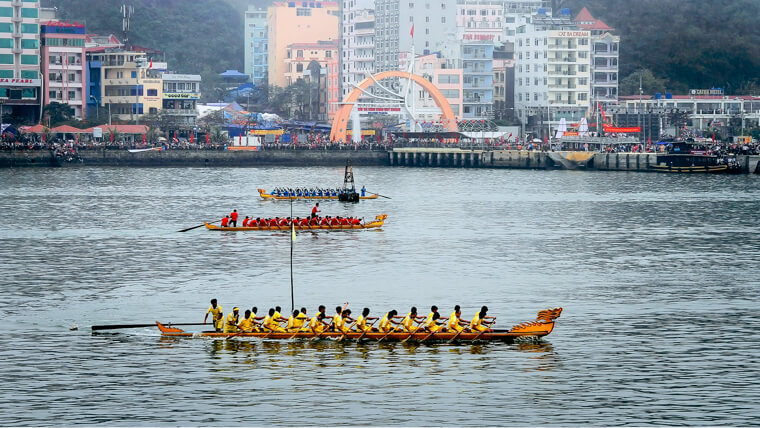 Weather in Cat Ba island & top thigns to see - Source: catba.com.vn
Including spiritual rituals and various exciting water games, Cau Ngu Festival is a harmonious combination of cultural and sports exchanges, between this island and the suburban districts of Hai Phong, and the neighboring Quang Ninh Province. Starting the program is a ceremony to worship gods, offerings ceremony and tuong singing, to express gratitude to the sea, and at the same time, to wish for a peaceful year, calm waves, good harvesting, and safe sailing for fishermen.
Right after that, there was a ceremony to release aquatic species into the sea, with more than 330,000 animals of various types of fish, shrimp, crab, sea bass, grouper, and so on. This is a very meaningful activity, contributing to the regeneration of resources, and launching a movement to protect the sea environment, creating a foundation for sustainable development.
The weather in Cat Ba island at this time also very well supports the organization of the Dragon boat race between the Cat Ba host team and the visiting delegations. The competitors are from the coastal areas of Quang Ninh Province, the North Central region or even from the rice agriculture areas of Vinh Bao, Thuy Nguyen, Tien Lang, etc. Dragon boats on Cat Ba sea stretch in a flying dragon posture, showing the glorious future of the nation and aiming for the connection of all regions of the country.
The weather in Cat Ba island at each time of the year has different features and beauties, which is convenient for your travel planning. If you come in the hot season, you can enjoy the cool water and visit various tourist attractions. Meanwhile, the cold season is suitable for relaxation, with interesting traditional Cau Ngu festival activities.