Cat Ba Island is located in Cat Hai district, Hai Phong city and is known as the pearl of the Gulf of Tonkin of Vietnam. Cat Ba Island has long attracted many tourists because of the cool climate during the four seasons, with many pristine, clear beaches and beautiful, green and deep bays like Lan Ha Bay.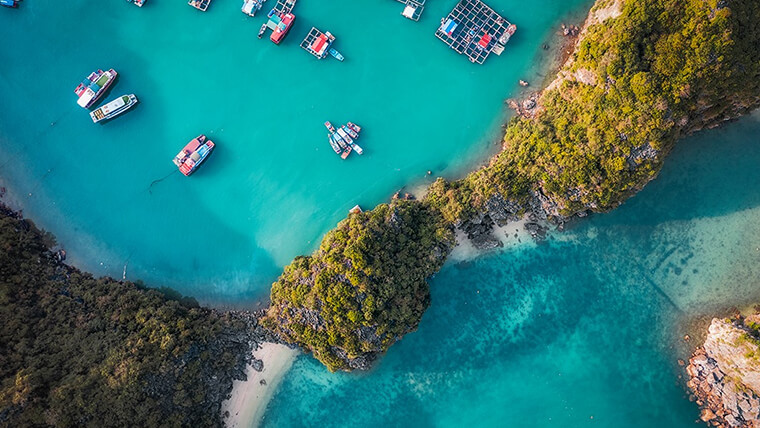 Lan Ha Bay (Source: Fantasea)
To meet the needs of visiting, staying and relaxation for tourists, and to contribute to enhancing the experience for guests, we would like to introduce and recommend 7 resorts with diverse locations and prices.
I - 5 stars Cat Ba island resorts
Flamingo Cat Ba Resort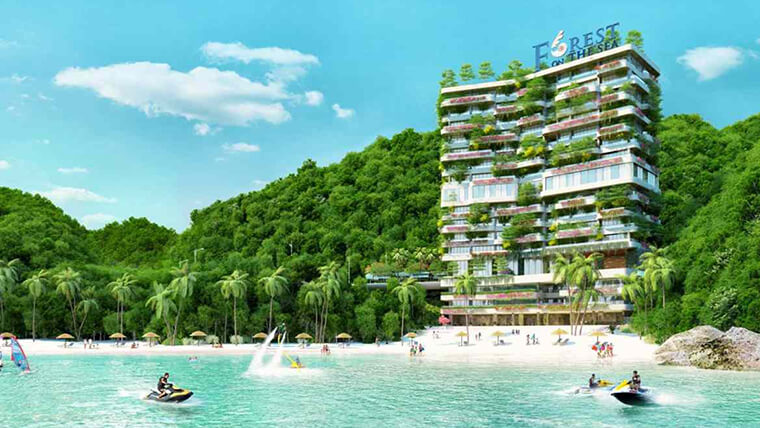 Flamingo Cat Ba Resort (Source: Onlinebooking)
Flamingo Cat Ba Resort has a prime location, from here visitors can enjoy a panoramic view of Lan Ha Bay. The resort is a harmonious combination between wild nature (sea and forest) and a combination of high-class services. Flamingo Cat Ba Resort has a unique architecture of a green villa between the sky and a unique view of Lan Ha Bay.
- Price: 2,000,000 - 5,450,000 VND / room / night (~ 86.2 $ - 234.9 $)
- Website: flamingoresorts.vn/vi/cat-ba-beach-resort
- Phone: +84 98 600 9393
- Email: sales@flamingogroup.vn
- Address: Beach Cat Co 1 & 2, Cat Hai, Hai Phong
II - 4-star resorts in Cat Ba island
1 - Cat Ba Island Resort and Spa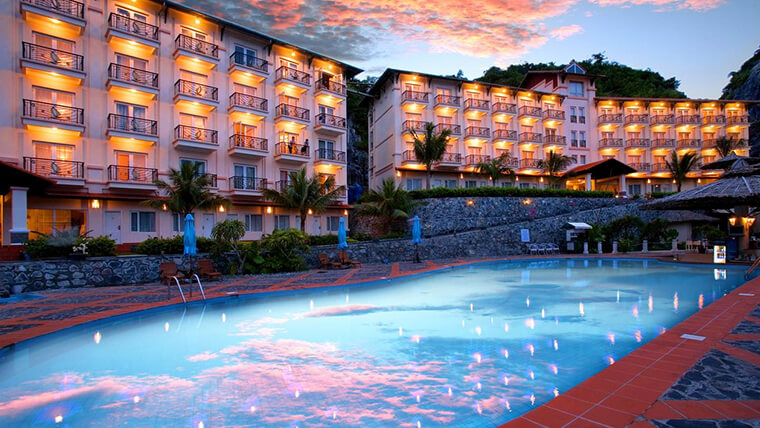 Cat Ba Island Resort & Spa (Source: Booking)
This resort has a great location right next to Cat Co 1 beach just 500m from the center of Cat Ba town. Cat Ba Island Resort & Spa is a 4-star resort with a variety of rooms, all fully equipped with advanced equipment and enthusiastic and attentive service staff.
Price: 1,780,000 VND = 2,100,000 VND / room / night (~ 76.7 $ - 90.5 $)
- Website: catbaislandresort.com/?lang=en
- Phone: 0225 3688 686
- Email: sales@catbaislandresort-spa.com
- Address: Cat Co 1, TT. Cat Ba, Hai Phong
2 - Nam Cat Island Resort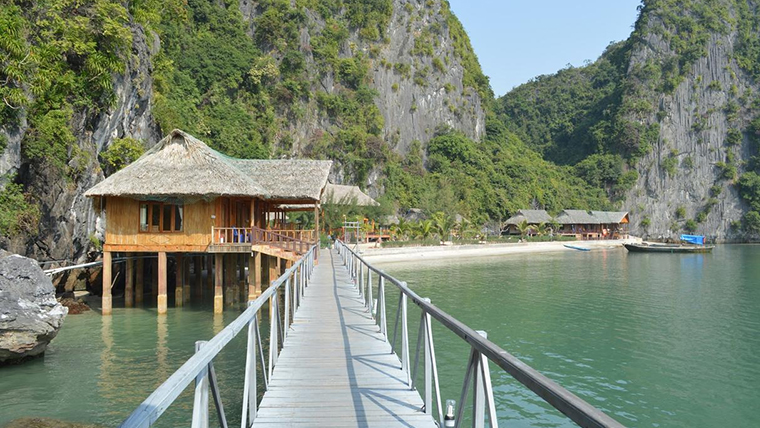 Nam Cat Island Resort (Source: Booking)
Nam Cat Island Resort is located on a private island on Cat Ba Island with a beautiful sea view, about 10km from Sung Sot cave and 8km from Dau Be island. Visitors here can watch the majestic sea and mountains and enjoy accompanying services such as billiards, fishing or windsurfing.
- Price: 1.300.000d - 1.500.000d / room / night (~ 56 $ - 64.7 $)
- Phone: 098 955 58 11
- Address: Cat Hai Island, Hai Phong
3 - Sunrise Resort Cat Ba Island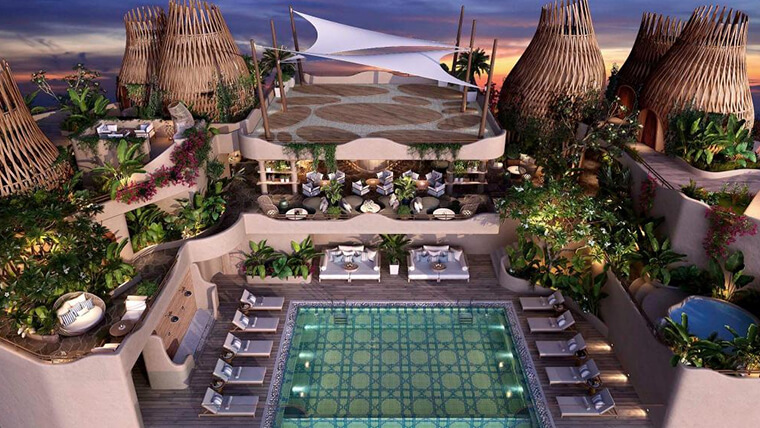 Sunrise Resort Cat Ba Island (Source: Agoda)
Sunrise Resort Cat Ba Island is a secluded 4-star resort, surrounded by a limestone arc creating the quietest and purest space for visitors. The resort features luxurious rooms, a clamshell restaurant and a popular bar area. The resort owns an 800m long private beach, guests can comfortably relax.
- Price: 1,100,000 VND - 1,400,000 VND / room / night (~ 47.4 $ - 60.3 $)
- Website: hotel84.com/cat-ba/cat-ba-sunrise-resort.html
- Phone: 02253887366
- Email: info@catbasunriseresort.com
- Address: Cat Co 3 Beach, Cat Ba Island, Hai Phong
III - 3-star Cat Ba island resorts
1 - Cat Ba Sandy Beach Resort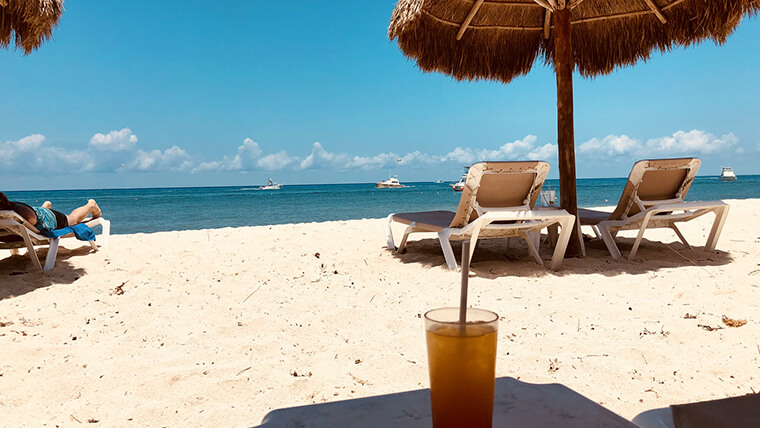 Cat Ba Sandy Beach Resort (Source: The Travel Nook)
It is about 30 minutes by boat from Cat Ba town and located on Nam Cat Island. This resort has unique wooden bungalows with classic and luxurious style. While staying here, guests can enjoy delicious meals and kayak around the bay or swim.
- Price: 900,000 - 1,200,000 VND / room / night (~ 38.7 $ - 51.7 $)
- Website: catbasandybeachresort.com
- Phone: 024 3926 2326
- Email: info@catbasandybeachresort.com
- Address: Nam Cat Island, Cat Hai, Cat Ba Island, Hai Phong
2 - Cat Ba Eco Lodge Resort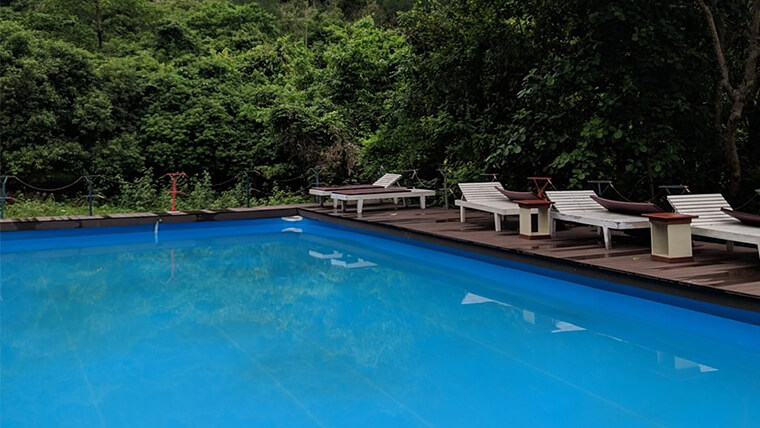 Cat Ba Eco Lodge Resort (Source: Tripadvisor)
Another reasonable Catba island beach resort that should be in your list of accommodation. This resort is located only about 15 minutes drive from Cat Ba National Park and impresses visitors with the natural elements surrounded by ecological forests. This resort is designed in combination with Thai ethnic culture, and offers wooden rooms with fully equipped, modern facilities and many convenient services. Besides, Cat Ba Eco Lodge also has its own restaurant with Vietnamese dishes.
- Price: 870,000 VND - 1,345,000 VND / room / night (~ 37.5 $ - 57.9 $)
- Website: catbaecolodge.com
- Phone: 0973 23 8686 or 0988 466 347
- Email: info@catbaecolodge.com
- Address: Xuan Dam, Cat Hai, Cat Ba Island, Hai Phong
3 - Cat Ba Monkey Island Resort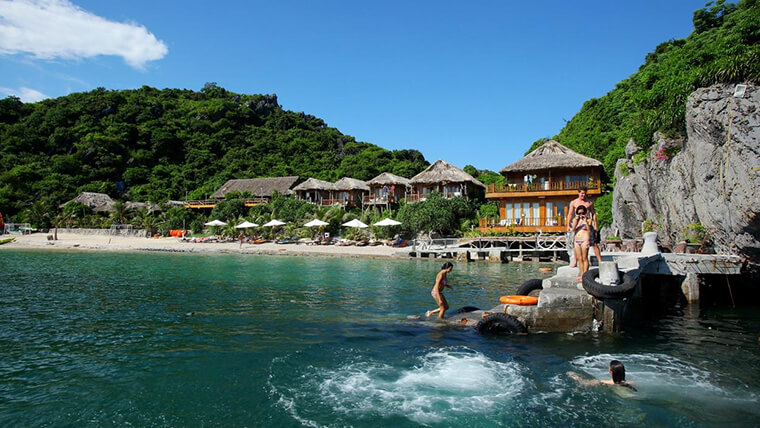 Cat Ba Monkey Island Resort (Source: Booking)
This Cat Ba beach resort is a 3-star resort with a private beach to provide guests the most comfortable and private holiday. It has a beachfront restaurant for guests to enjoy dinner shimmering in the resort's lights. It is only about 3km from Cat Ba town, with shuttle service and many other convenient services.
- Price: 950,000 VND - 1,540,000 VND / room / night (~ 40.9 $ - 66.3 $)
- Website: catbamonkeyislandresort.com
- Phone: 0968 156 859
- Email: sale@monkeyislandresort.com
- Address: Cat Dua 2 Beach, Cat Dua Island, Hai Phong
Cat Ba is an island favored by nature with beautiful landscapes and a variety of accommodation services to meet the needs of visitors. Hopefully with our suggestions of top Cat Ba island resorts, visitors have chosen for themselves an ideal stopover when visiting Cat Ba