With a coastline of 3,260km, Vietnam is the world's marine tourism paradise with countless beautiful beaches, majestic bays and unspoiled islands. Among them, Phu Quy Island (also known by the name of cu lao thu island) attracts visitors by its cool clear waters, smooth white sand and tranquil landscapes. Also known as cu lao Thu or Khoai Xu islet, this site has a population of 12 islands with many interesting things to do and see, waiting for you to explore.
I - How to get to Phu Quy Island Vietnam?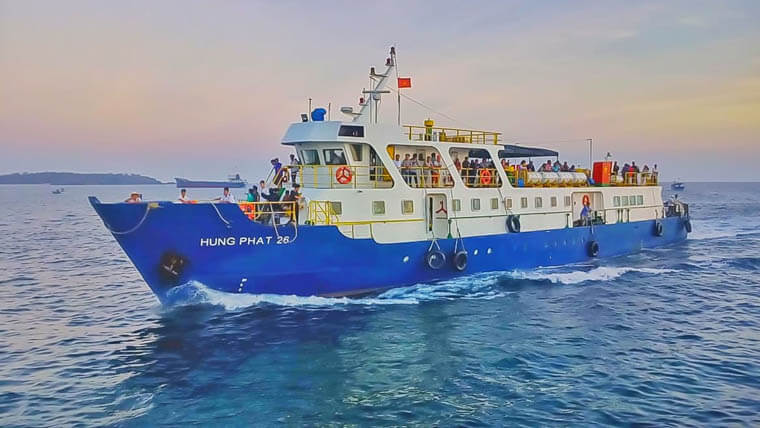 Ferry to get to island - Source: phanri.plus
Phu Quy (Cu Lao Thu) is the most remote island district of Binh Thuan province, located about 85km from the mainland and 105km east of Phan Thiet city. In the past, there were only wooden boats to the island and it took more than 6 hours, but now you can take a speedboat in about 2.5 - 3 hours, with a ticket price of 350,000 VND / person ($15). The departure wharf is next to Phan Thiet fishing port, to the right of Tran Hung Dao bridge, with only a few units currently operating this sea route daily.
Phu Quy Express, Phu Quy Island and SuperDong PQI boats depart at 6am - 7am, with an additional SuperDong PQII trip at 11:30am - 12pm running on the weekends (Friday, Saturday and Sunday). However, depending on the weather situation and rough sea, the actual running time changes and each month also has a different schedule, you can refer to the information at:
- The Port Management Board: https://www.facebook.com/nguoidtt/
- Phu Quy Express: http://www.phuquyexpress.vn/
- SuperDong: https://online.superdong.com.vn/Home/ScheduleBoat
II - Things to do & see in Phu Quy Island Vietnam
There is no taxi on the island, you can rent a motorbike right at your hotel or homestay, as well as contact the port in advance to rent it there. The rental price ranges from only 100,000 - 150,000 VND / motorbike / day ($4.28 - 6.42) depending on the model. The roads on the island of Phu Quy are quite spacious, with a main path connecting all attractions here, so it is extremely easy for you to travel on your own. You can check out the following places to go and things to do during your exploration:
1 - Trieu Duong Bay
Trieu Duong bay - Source: dulichchat
Coming to Phu Quy Island, the first place you can't miss is Trieu Duong Bay, located in Tam Thanh commune, only about 1km from the seaport. The scenery is as beautiful as a picture with rows of green casuarina trees, nearly 2km long white sandy beach and clear, calm sea. The white sand sparkles under the gentle sunlight, dotted by the row of green poplars whispering in the salty breeze from the sea, mixed with the sound of waves crashing on the shore. The turquoise water at Trieu Duong beach is cool and crystal clear that you can see the bottom, especially on sunny days.
The morning at Phu Quy island is quite deserted and peaceful, you can walk barefoot with your loved one on the soft sandy shore and watch the sunrise, breathe in the sea air and receive the first rays of the day. From midday to late afternoon, local families often gather here, organizing groups to sing and eat, inviting even tourists to join in and soak up the bustling atmosphere. You also shouldn't miss the opportunity to spend time relaxing in the romantic sunset, and having a night camping, campfire and barbecue right on the beach with fresh seafood.
2 - Phu Quy island rock beach
Rocky beach - Source: amazonaws
About 10km from the center of the island, this is a crescent-shaped beach bounded by rocky mountains jutting into the sea, also known as Small Beach. Although small, this area is very airy and quiet, with clear blue sea due to few boats mooring, making it one of the beautiful destinations not to be missed during your trip here. You can soak in the relaxing massage water, or simply sit on the cliffs admiring the beautiful natural surroundings, as well as lying on the white sand to enjoy the fresh air. Not too far away from the beach, there is also a Phu Quy flagpole marking Vietnam's sovereignty, located on the eastern tip of Chuoi hill in Trieu Duong village.
3 - Mo Thay (Master's Tomb)
According to legend, Master Sai Nai was a Chinese merchant with knowledge of medicines, accidentally washed up on Phu Quy island by a sea accident. Fascinated by the beauty of this place, he decided to stay and work as a doctor to help the islanders, and to commemorate his merits, they built the mausoleum in 1665 after his death. Thay's temple is located on a high hill in Ngu Phung Commune, while the palace is located in Dong Hai Village, Long Hai Commune. After more than 300 years, this place still retains many unique features, from the harmoniously combined Vietnamese - Chinese architecture, to the unique worshiping rituals. There is a ceremony for Thay on the 4th day of the 4th lunar month every year, and the islanders also often come to the palace to pray for a smooth and productive sailing.
4 - Ganh Hang - a small yet serene beach in Phu Quy island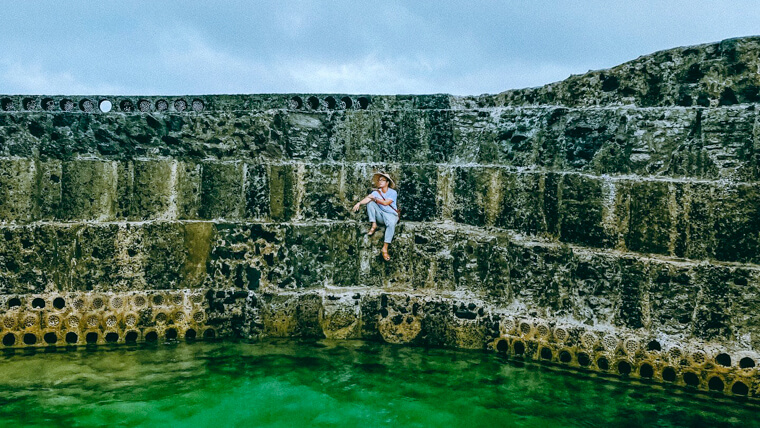 Ganh Hang beach - Source: vnecdn
Only about 650m from Small beach, Ganh Hang is a large cliff standing close to the sea, all year round welcoming the waves crashing, creating a majestic scene of white foam. Under the miraculous hand of nature, sea water overflows into large interconnected cliffs to form a shallow hole in the middle of the sea, known by many as a natural "infinity pool". This is a unique landscape of the island that is hard to find anywhere else, but you should also remember not to go near the edge to avoid being pulled into the deep sea by the waves, and should go with locals for safety.
5 - Phu Quy Lighthouse
Located about 3km west of the Phu Quy island port, Cam Mountain has a height of 108m above sea level with a panoramic view of the island district, distant boats, green trees, and so on. You can ride a motorbike up to the foot of the mountain, while on the top there is a specially designed 18m high lighthouse, which is one of the largest lighthouses in Vietnam with a lighting range of 22 nautical miles. Having existed for more than 25 years, this building still stands firmly, with a blocky black design, white light room, and a two-story building painted in dark yellow at the foot.
6 - Cao Cat Peak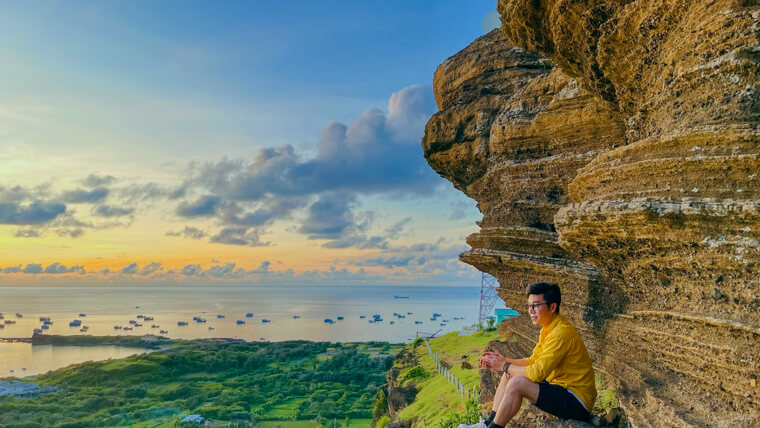 Cao Cat peak - Source: Huỳnh Minh Trọng
Located in the north of Phu Quy island, Cao Cat Peak is one of the highest mountains here with a height of 106m above sea level. It has extremely unique cascading cliffs and undulating horizontal trenches due to weathering, likened to the Grand Canyon Geopark in the US. Cao Cat is also considered by the locals as a sacred mountain, because there is a majestic statue of Quan The m Bodhisattva standing on the top. In addition, you can also visit the famous and sacred Linh Son pagoda built in the 20th century nearby, but remember to dress politely and discreetly before going.
7 - Hon Tranh Island
Located about 800m from Phu Quy island to the southeast, this is the largest of more than 10 islands of this district, also attracting the most visitors. Hon Tranh has a special shape like the letter S, possesses beautiful landscapes and diverse ecosystems with colorful natural coral reef populations. Surrounded by high mountains blocking the wind, the sea here is extremely calm and peaceful all year round, giving you the opportunity to immerse yourself in the clear blue water and snorkel to see the coral. Coming here, you can also participate in boating, kayaking, fishing with fishermen, then processing and enjoying fresh seafood dishes right on the boat.
8 - Diving to see corals - one of the top exciting things to do in Phu Quy island
Previously, the island was only used by local people, who didn't do any harm to the marine environment, so the coral reef here still has its original beauty. Areas with beautiful and safe coral are concentrated in Hon Tranh, Hon Trung and Hon Den, you can dive for 30 minutes and to a depth of 2 - 5m, using a snorkel or an oxygen tank. The former is simpler as you only have to wear a life jacket, diving goggles and snorkel, while the latter is a bit more advanced, requiring you to wear a specialized suit and an oxygen tank. This service is quite popular in Phu Quy island, you can ask the hotel before booking, go for a package tour that has this activity included, ask locals for suggestions or contact this provider:
- Website: https://phuquyfourseasons.com/tour-dao-phu-quy/lan-bien-dao-phu-quy/
- Price: 700,000 VND / person ($30)
- Phone: 0789116456
- Email: phuquy4season@gmail.com
9 - SUP rowing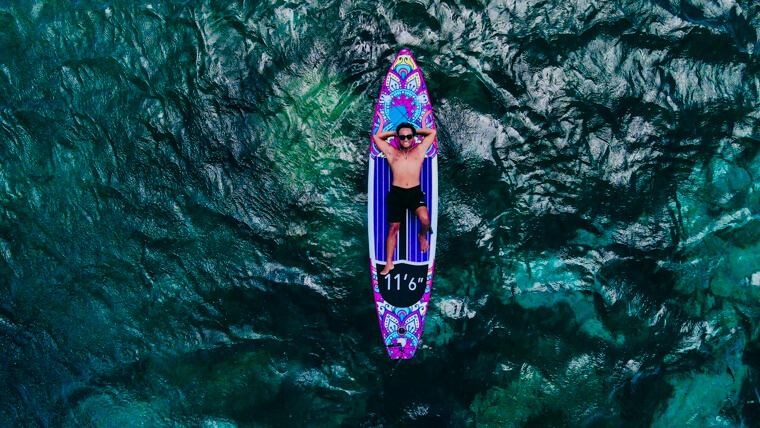 SUP rowing - Source: Cát Phú Quý
In addition to fishing and scuba diving to see corals, Phu Quy island also offers a new experience for visitors, which is SUP - stand-up paddle boarding. This island has many calm waters with not many waves, very convenient for you to participate in this sport originating from Hawaii. You can use SUP to paddle out in the middle of the sea to enjoy the view, pose and take amazing, impressive photos, but remember to wear a life jacket and don't go too far from the shore. The rental price is often 200,000 VND / hour / SUP board ($8.55), and similar to the diving service, you can rent it at the hotel, included in a tour, ask locals or book it separately with the following provider:
- Website: phuquyfourseasons.com
- Price: 250,000 VND / person ($10.7)
- Phone: 0789116456
- Email: phuquy4season@gmail.com
10 - Enjoying seafood at Phu Quy island
If you've been to the beach, you can't miss seafood, especially in the "seafood paradise", with loads of fresh ingredients prepared according to delicious local methods. There are no luxury restaurants on the island, most of them are family restaurants, pubs or fresh seafood shops in the village, with foods such as grouper, rock oysters, lobster, squid, snails, all of which are available at very cheap price. If you want to enjoy Phu Quy specialties such as king crab and moon crab, you must book a day in advance, and the hotel can help with that if you requested.
In addition to seafood, Phu Quy Island also has a famous specialty of "hot beef", which comes from the cows grazed on the coastal grassland, low in fat and still young. They are usually taken for meat when they are less than one year old, their skin is grilled with the wood of Vitex negundo, creating a characteristic aroma. In addition to eating at the restaurant, you can also visit rafts such as Dai Nam, Anh Sang, Hai Thien,… If you want to save more money, you can go to Long Hai fish market to buy seafood, then ask locals, homestay owners or hotel kitchens to process it for you.
Cot Buom Restaurant (Sails)
- Address: Tran Hung Dao Street, Tam Thanh Commune
- Price: 150,000 - 750,000 VND / serving ($6.42 - 32.08)
- Contact: 090 742 2567 - 0843 392 425
Loc Phat 68 Restaurant
- Address: Center of Phu Quy Island
- Price: 30,000 - 170,000 VND / serving ($1.28 - 7.27)
- Contact: 090 790 99 05
Ong Gia Restaurant (Old Man)
- Address: Ly Thuong Kiet Street, Tam Thanh Commune
- Price: 30,000 - 300,000 VND / serving ($1.28 - 12.83)
- Contact: 0385 550 961
III - Essential things to know before visiting Phu Quy island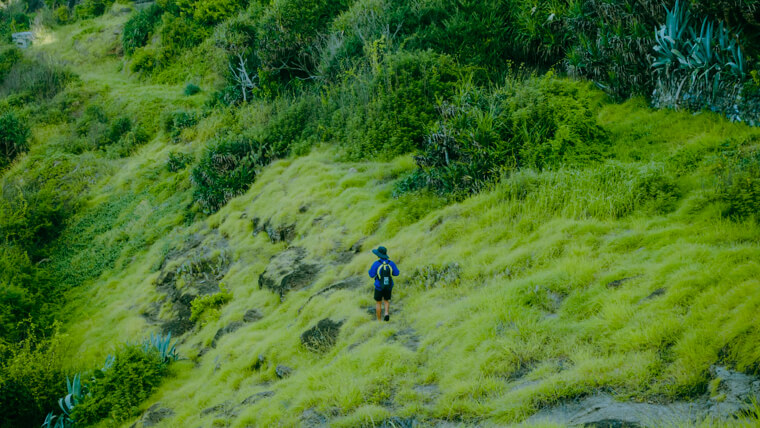 Natural beauty of the island - Source: Trần Thu Quỳnh
1 - Accommodation
As of June 2022, there are 78 hotels, motels, homestays and resorts on the island of Phu Quy with nearly 700 rooms, of which homestay is the most developed type. Places in Tam Thanh commune are close to the center, convenient for travel and easy to find eateries, but the minus point is that there aren't rooms with a view close to the sea. Here are some ideal Phu Quy island accommodation for considering:
Homestay LyTi Sea
- Address: No.80 Hung Vuong Street, Ngu Phung Commune
- Price: 390,000 - 720,000 VND / room / night ($16.68 - 30.8)
- Contact: 090 898 80 81
An Binh Hotel
- Address: No.402 Vo Van Kiet Street, Trieu Duong Hamlet, Tam Thanh Commune
- Price: 328,000 - 765,000 VND / room / night ($14.03 - 32.72)
- Contact: 0834 728 408
Hoang Phu Hotel
- Address: Road 27/4 Trieu Duong Hamlet, Tam Thanh Commune
- Price: 382,000 - 874,000 VND / room / night ($16.34 - 37.38)
- Contact: 093 597 95 00
2 - Best time to go to Phu Quy Island
The island has a monsoon climate with two distinct seasons: the South monsoon season from May to August, and the North from September to April next year. The weather here is relatively mild and cool all year round, with an average temperature of 22 - 28°C, and an average annual rainfall of about 1,000 - 1,100mm. For an island far from the shore, this area rarely has storms with a frequency of only 0.66 times / year, but it is often directly affected by tropical depressions causing heavy rain and high winds. Therefore, the right time to explore the island is from about December to June next year, avoiding the storm season from September to November. In spring and summer, the sea is calm and clear, the wind is light, making it easy for you to move to the small islands but you still should check the weather forecast in advance.
3 - Map of Phu Quy Island
Above is the information related to Phu Quy Island Vietnam that you need to know to prepare for the trip, from traveling, things to do, to where to stay and eat. Hopefully, through this article, you will have enough preparations to have good memories in this beautiful island off the coast of Binh Thuan Province.