Located in the south-central region, Phu Yen Vietnam is one of the top-rated travel destinations for beach lovers. With an area of more than 5,000 km2, it borders Binh Dinh province to the North, Khanh Hoa province to the South, Gia Lai province in the West and the South China Sea to the East. The distance between Phu Yen and Ho Chi Minh city is about 490km while that between Phu Yen and Hanoi is 1,190km. The natural landscape is very diverse, ranging from sea, forest, bay to damp, lagoon and cliff, which is a huge potential for tourism development.
- Phu Yen province has 9 administrative units at district levels including: Tuy Hoa city, Song Cau urban town, Dong Hoa urban town, and districts named Dong Xuan, Song Hinh, Son Hoa, Phu Hoa, Tay Hoa, and Tuy An.
- Postal code:: 56000
- The nearest airport to the city center: Tuy Hoa airport (IATA: TBB; ICAO: VVTH)
I - Top 10 attractions in Phu Yen Vietnam
1 - Xuan Dai bay - a scenic spot in Phu Yen province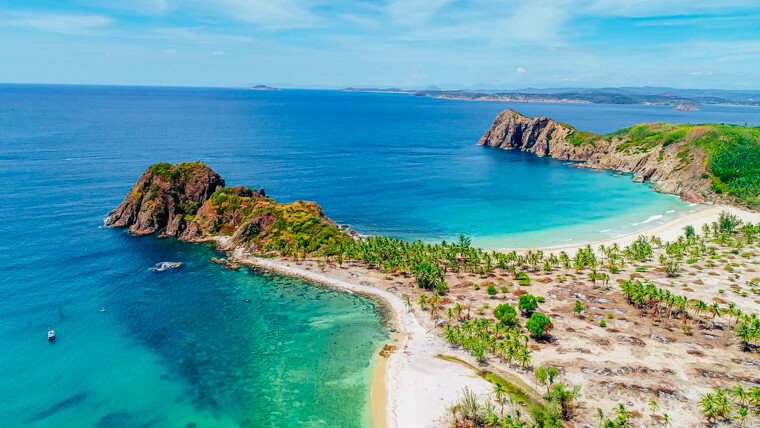 Xuan Dai bay - Source: mia
Xuan Dai bay was covered in 3 faces by majestic mountain ranges and the rest facing the vast sea. The contiguous section with the sea is eroded by waves, creating peculiar shapes. Hardly has a bay with a diverse mix of terraces like this: rapids after lagoons, lagoons after beaches, beaches after mountains.
When climbing Gang slope (Xuan Dai bay is located under this slope) you can admire the whole view of this bay with a coconut forest and the semi-circle shape of mountains lining the shore of the Xuan Dai bay in Phu Yen Vietnam. What you can feel the most clearly is a strange peace, the beauty that comes from nature, kindness and candid people in a not so crowded attraction.
There are a variety of beautiful stopovers in Xuan Dai bay such as Vinh Hoa beach, Tu Nham beach, Om beach, Rang beach, Nhat Tu Son island,...
Because it is situated to the Northeast of Phu Yen, near Binh Dinh province, Xuan Dai bay is both influenced by the climate of both areas. Therefore, the best time for you to visit it is from January to July. This time coincides with the dry season when there is abundance of sun and very little rain.
2 - Ong Cop wooden bridge - a nice check-in spot in Phu Yen Vietnam
Ong Cop is a wooden bridge crossing Phu Ngan river, connecting An Ninh Tay commune in Tuy Hoa district and Xuan Dai ward in Song Cau town, Phu Yen province. With a length of 800 m, Ong Cop is currently the longest wooden bridge in Vietnam. The main materials to build this construction are beefwood fibers and eucalyptus fibers. The parapet is formed by old bamboo.
Although the bridge is not so safe, over the past dozens of years, local folks still cross this bridge day by day because of its convenience. The Ong Cop wooden bridge in Phu Yen Vietnam features a plain and idyllic beauty which is especially impressive at sundown or sunset. Standing on the bridge, you can admire the whole vast space of the flat river, square shrimp farms and colorful rice paddy fields afar. Moreover, the mixed feeling when you drive or walk on a constantly swaying base is relatively exciting and worth a try.
3 - Da Dia Reef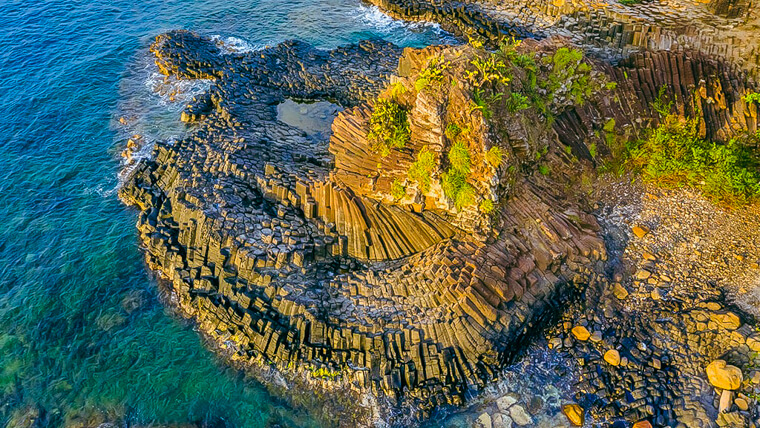 Da Dia reef - Source: vietnamtourism
This destination is located to the East of the province, by the side of Xuan Dai bay above mentioned. The beauty of Da Dia Reef (Plate Stone Reef) in Phu Yen Vietnam is truly a masterpiece of nature. The rock here was formed 200 million years ago, created by volcanic eruption. The lava flows erupting from the volcano when encountering cold water are frozen, combined with the phenomenon of stress transfer, causing these lava blocks to naturally crack into several dimensions, creating strangely beautiful and mysterious stone slabs, known as basalt columns as today.
What's special is that there are tens of thousands of hexagonal, circular or square stone columns, one layer on top of another, consecutively and closely like it is created by the hand of some god. Phu Yen Vietnam Da Dia reef is one of the 5 places in the world that reported this phenomenon, proving how much Mother Nature favors this province.
From a distance, it looks very much like a giant black beehive, standing out in the middle of the clear blue sea. You may notice that there are places where the rocks are stacked high and straight, then there are places where the rocks are stretched and tilted like a stack of dishes, maybe that's why the name Plate Stone Reef was born. Moreover, due to the waves of the sea caressed all year round, plus the misty mist of clouds or shimmering sunlight, making the place beautiful in a way that no words or pictures can describe.
4 - O Loan swamp - one of the most beautiful swamps in Vietnam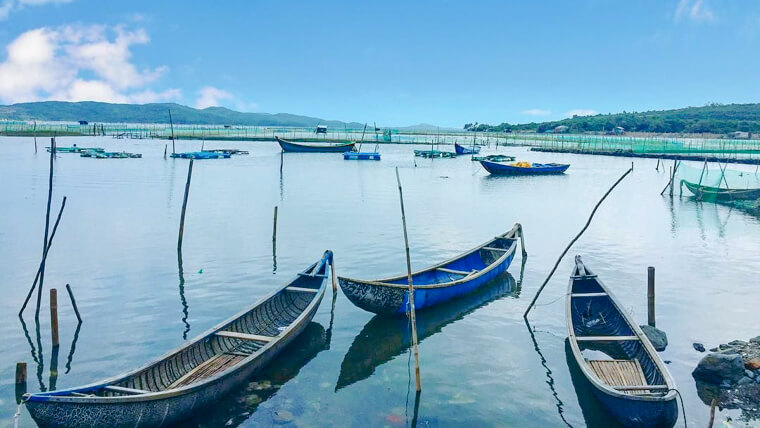 O Loan swamp - Source: indembassyhavana
O Loan is a large brackish lagoon located along National Highway 1A, at the foot of Quan Cau pass, in Chi Thanh town, Tuy An district, Phu Yen Vietnam, only about 22 km from Tuy Hoa city center to the North. The swamp has a total area of ​​nearly 18 square kilometers, the average depth is from 1.2 to 1.4 meters and is located at the mouth of the sea.
Looking down from above, O Loan lagoon appears like a giant phoenix spreading its wings to cover the whole area. O Loan lagoon is always beautiful but perhaps most shimmering and magical at dawn and dusk. Scattered on the calm lake are a few small and beautiful fishing boats, contributing to adorn the outstanding natural picture of O Loan lagoon. O Loan lagoon also attracts tourists by its delicious and delicious dishes since the lagoon environment of O Loan is the habitat of a wide variety of fresh and nutritious seafood.
5 - Mang Lng church in Phu Yen Vietnam
Mang Lang church is located about 35km to the North of Tuy Hoa city and is one of the oldest churches in Vietnam. The most prominent feature of the church is the unique Gothic architecture dating from about 1200 years BC. To be more specific, the Gothic architecture is reflected in the fact that the two sides of the church have two bell towers and a cross in the middle.
One of the interesting discoveries when coming to Mang Lang church is the church cave in the heart of an artificial hill on the left if you go through the main gate. A small square-shaped entrance leads into a rather large space, bringing a mysterious feeling with the cave dome and pillars that look like stalactites in Halong Bay (Quang Ninh province) or Phong Nha cave, Thien Duong cave (Quang Binh province). This is the traditional room of the church, containing objects and images about the life of Saint Andre Phu Yen (1625 – 1644).
6 - Bai Xep beach - best beach in Phu Yen Vietnam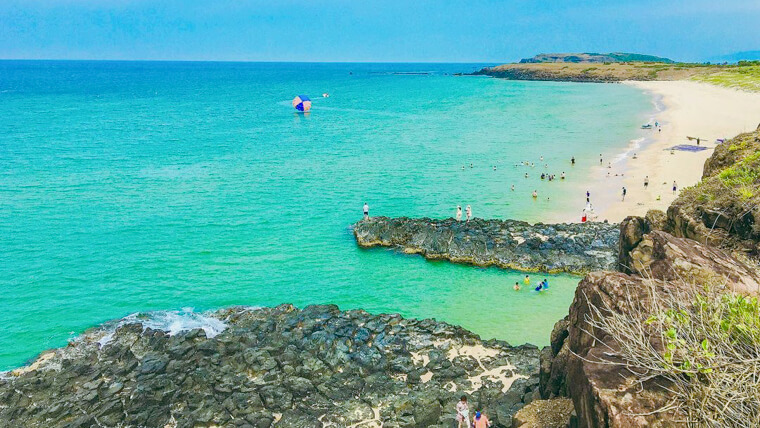 Bai Xep beach - Source: digiticket
Bai Xep is a beach in An Chan commune, Tuy Hoa city. The beach is only 500m long but possesses unique harmonious natural landscapes. The way to Bai Xep, from Le Duan street to Tuy An street is paved with beautiful blue poplars along both sides of the road. Bai Xep owns a brilliant golden sand beach embracing the clear jade green water. Along the smooth sandy shores are amazing black cliffs jutting out to the coast, causing white foams whenever waves tap into it.
Following the trails to go up the big cliffs, you can admire the immense beauty of Bai Xep - one of the best beaches to visit here with "green and blue water", captivating people's hearts. Right here in Phu Yen Vietnam, dense cactus fields protruding right in front of the sea mixed with dry grass soaked in rain and sun, coupled with the sound of the wind blowing and the sound of crashing waves, creating a poetic sea landscape.
The most impressive is perhaps the immense green lawn like a small steppe on the top of Ganh Xep. On summer afternoons, you will see innocent children roaming around, having fun and flying kites on the vast lawns, or people working hard on the beach of Phu Yen Province.
7 - Xom Ro breakwater
Xom Ro breakwater belongs to Ro hamlet in Dong Tac village, Phu Dong ward, Tuy Hoa city, Phu Yen Vietnam. This village is located close to the coast, so it is affected by high tides and storms. That is the reason why the local government built Xom Ro breakwater in 2014. The most special thing is the scene of green moss-covered on the concrete box filled with seawater.
From a random breakwater with inanimate rocks and concrete under the impact of nature, it suddenly becomes beautiful thanks to layers of green moss-covered. Each long moss stalk is like a green iridescent silk thread, feeling extremely soft and smooth to the touch. When the tide is low, the mosses drying in the sun turn silver and white, iridescent like silk. If you want to see the beauty of Xom Ro breakwater to the fullest, the most wonderful time is when the sun has just risen. The green color of moss resonates with the early morning sunlight to create an extremely eye-catching, fresh, and lively picture.
8 - Mui Dien cape - top check-in spot in Phu Yen Vietnam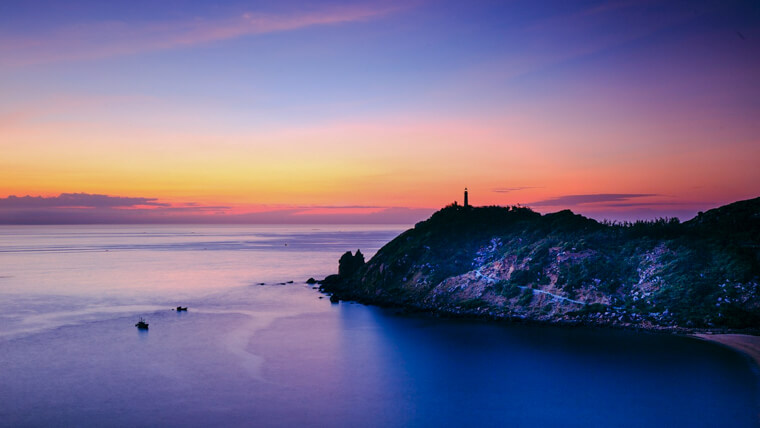 Mui Dien cape - Source: mia
Nestled to the Southeast of Phu Yen province, Mui Dien Cape, also known as Dai Lanh Cape, was one of the earliest sunrise spots in Vietnam. The focal point of the landscape of Mui Dien is the lighthouse built by the French in 1890 and is one of 45 national lighthouses today. Standing from the lighthouse, you can see the whole picture of the pristine charming painting of Hoa Tam commune, or admire the sea interwoven with the mountains.
It is a flaw to come to Mui Dien without immersing yourself in the clear blue water of Bai Mon beach. The fine sand beach is gently sloping, the sea water is quite shallow and clear, which is the ideal place to enjoy the full sea flavor of the tourist paradise of Phu Yen Vietnam, from swimming, camping overnight, boating… or even fresh water bathing in a nearby stream. Everything is so perfect, like a deliberate arrangement of Mother Nature.
9 - Vung Ro Bay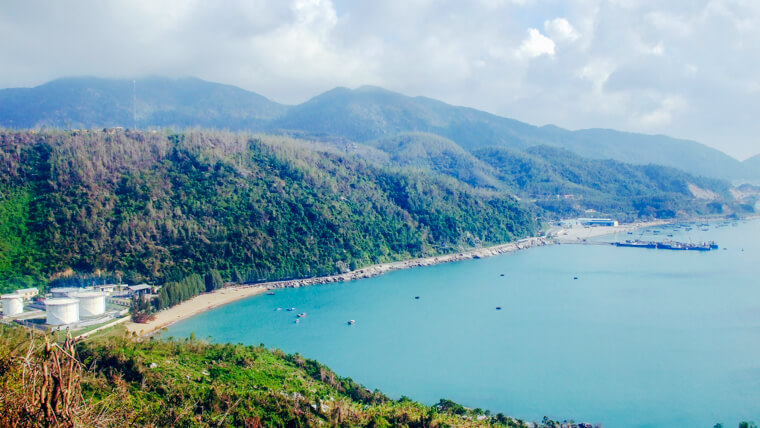 Vung Ro beach - Source: wikipedia
Vung Ro Bay is a beautiful and pristine bay lying in Xuan Hoa Nam commune, Dong Hoa district, Phu Yen province, stretching in an area of ​​about 16.4 km2 and surrounded by 3 majestic mountains including Deo Ca (in the North), Da Bia (in the Dong direction) and Hon Ba (in the West).
Vung Ro Bay is like a giant mirror reflecting everything on earth. The scenery here is like a landscape picture, created by the sky, land, mountain, sea and white clouds and green forests. Besides, coming to Vung Ro Bay of Phu Yen Vietnam, visitors can also enjoy relaxing moments with pristine and peaceful beaches such as Lach beach, Mu U beach, Chua beach, Chan Trau beach, Lau beach, etc. You will loll on the smooth sandy beaches stretching along the immense blue sea, dive in the cool water and enjoy playing in the quiet and peaceful space.
10 - Deo Ca pass - a spectacular pass in Phu Yen Province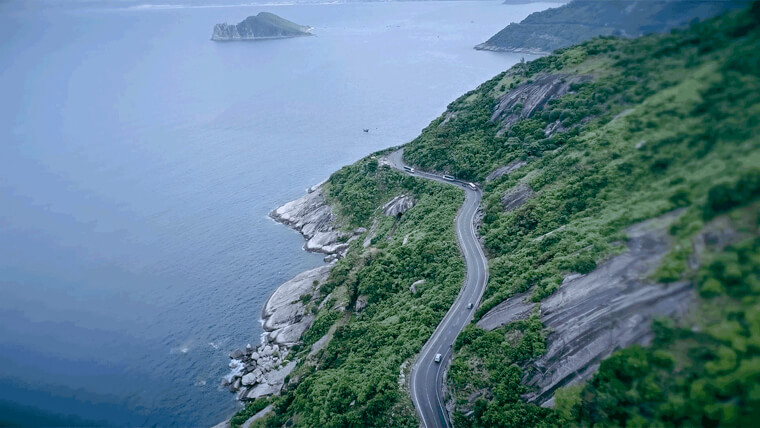 Ca Pass - Source: bds
Because the pass is adjacent to both the sea and the mountains, the scenery here is extremely green and unique. The climate is also very cool and fresh, creating conditions for plants to grow. In the Ca pass area, not only is there a rich flora with many precious woods but the fauna is equally diverse. Many kinds of rare and precious animals are found here such as: pangolins, porcupines, monkeys, leopards, bears, pheasants, etc. Due to the high terrain, when standing on the pass, you can easily zoom in and capture the full view of Phu Yen Vietnam which appears extremely peaceful and charming from the mountains, forests, plains to the sea, like an ink painting. In particular, if you come to the pass in the harvest (March of the lunar calendar), you also have the opportunity to see the ripe rice fields stretching like a golden cloth gently moving in the wind. The road to the pass is winding with unexpected turns and steep slopes requiring the riders to have good driving skills. Being somewhat dangerous, this is the very attractiveness of the pass.
Address: National Highway 1A, Hoa Xuan Nam commune, Dong Hoa district, Phu Yen province
11 - Thanh Luong pagoda
This pagoda associated with mysterious things is one of the most unique structures in Phu Yen Vietnam. The pagoda is located in My Quang village, An Chan commune, Tuy An district. What makes it outstanding is the materials from dead corals and coconut shells, which is very naturally-friendly. The coral is not only used as an alternative for bricks but also sharpened and cut into statues and decorative patterns.
Moreover, once entering its yard, you may notice right away a big statue of Buddhist Kwan Yin half hidden on the surface of a green lake. It is said to float in the South China Sea and cast ashore on Phu Yen beach. Since it was brought here, the life of local people has become more prosperous and safe and sound. Therefore, the pagoda has been known for its sacredness, attracting a lot of visitors every year.
12 - Van Hoa plateau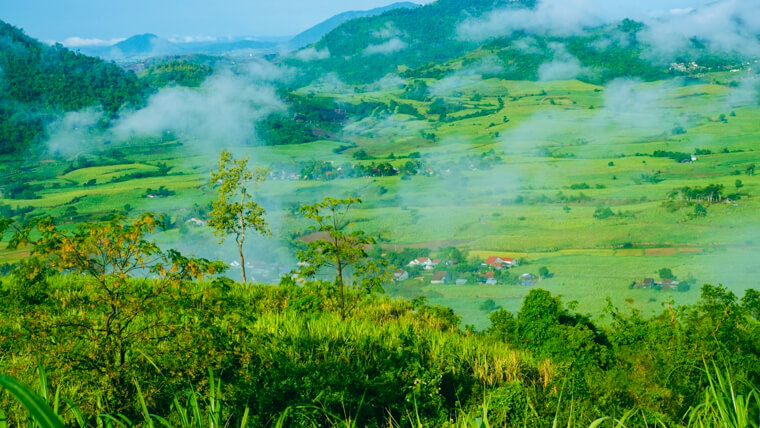 Van Hoa plateau - Source: vov
Van Hoa plateau is the heart of Phu Yen Vietnam, covering the area of Long Son commune, Son Dinh commune, Son Xuan commune of Son Hoa district and a part of Tuy Hoa district. With a lot of sun, wind and even misty fog, it is likened to Da Lat, the city of love. The land here is red basalt soil from the volcano eruption, containing a rich layer of minerals, favorable for the development of many plants and vegetables. Moreover, due to a high altitude, the atmosphere is always cool and pleasant here, suitable for leisure travel.
13 - Hon Yen island - one of the best islands in Phu Yen province
Hon Yen island is located in Nhon Hoi village, An Hoa commune, Tuy Hoa district, about 20km from Tuy Hoa city to the North. One you set foot in the Nhon Hoi village, you can easily see 2 islands, the one with a giant conical top and steep cliffs is Hon Yen island while the smaller one is called Hon Sun island. Because the islands stay close to each other and to the shore as well, you can easily approach them by boat or swimming (if you can). In the dry season, the water is lower, revealing a road that links them. Many people come there to check-in.
II - Travel tips to visit Phu Yen Vietnam
1 - When is the best time to visit?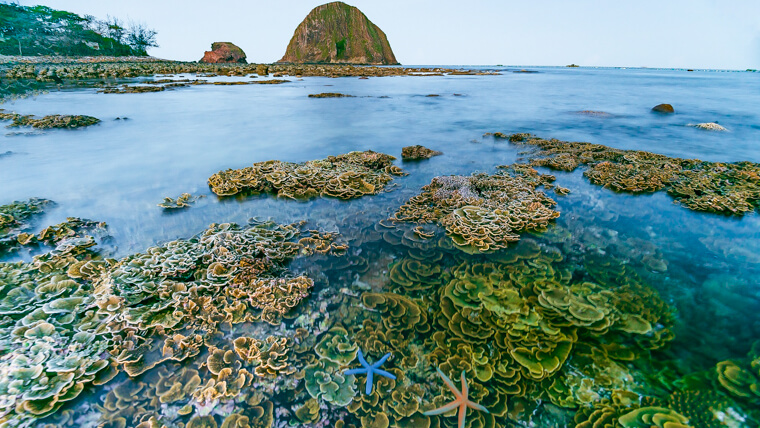 Yen cape - Source: Yên Yên
As a foreigner, you don't get used to the Phu Yen weather. Let Vietnamtrips give you a brief analysis. The province has a monsoon tropical climate influenced by oceanic climate. Therefore, it has 2 separate seasons: rainy season (September to December) and dry season (January to August). The annual temperature fluctuates from 24oC to 27oC while its annual average rainfall is about 1,600 - 1,700 mm.
From January to April is probably the best time for Phu Yen tourism. This period, it is lightly sunny, temperature fluctuates from 23 to 30oC, and rains occasionally occur. Transport from the city center to tourist destinations is very convenient under this weather. Moreover, a draw of visiting Phu Yen at the time is the chance to contemplate yellow flowers on green grass fields along the road to Da Dia reef, O Loan swamp. Moreover, the first months are when vibrant and interesting festivals are held.
2 - Phu Yen Vietnam specialties
Seafood at O Loan swamp
Seafoods at O Loan Swamp are delicious no less than any coastal areas along the S-shaped Vietnam. Dishes are made from fresh ingredients catched in the day so their quality is out of question. King crab is a must try. This type of crab is very rare and precious because it only lives in deep and cold water. Its meat is tough, naturally sweet and nutrition-rich. Other delicacies such as grilled oyster, blood cockle, shrimp and sea urchins are try-worthy as well.
Banh Beo (Beo cake - a specialty of Phu Yen cuisine)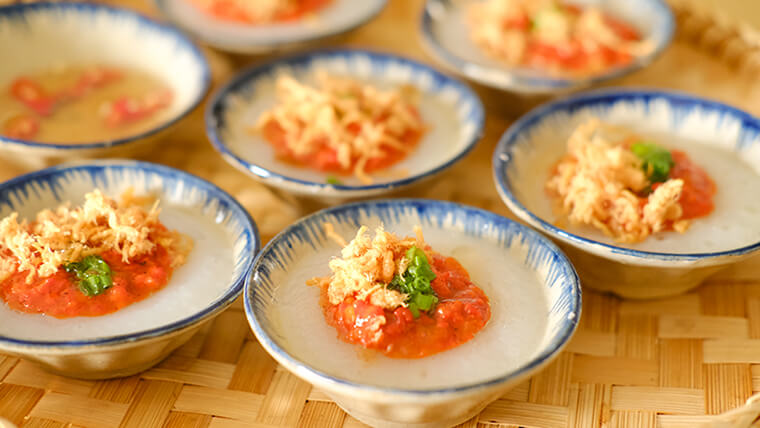 Beo cake - Source: wowweekend
This can be considered a type of "cake" served in small bowls and is very popular in many localities in the South of Vietnam. However, Banh Beo in Phu Yen province has some particular differences. Asides from the steamed flour made from sticky rice, the toppings include salted shredded meat, fried bread and scallion oil. The dish is best when it is hot. Restaurants here often offer this specialty in tray. Each tray features 10 small bowls. When guests come, the owner heats up the dish and couples them with a cup of dipping sauce.
White sardine salad
White sardine is found most in O Loan bay, Phu Yen Vietnam. White sardine is quite similar to anchovy but wider and less fishy. When processed, the fish is well washed and removed from bones and marinated with lemon juice for an hour. When eating, people wrap the fish in raw vegetable and rice paper and dip it with fish sauce mixed with lemon juice, sugar and chili. The sourness of lemon juice, the spiciness of chili and the sweetness of sugar combine to uphold the taste of the fish.
Tuna eyes
This dish is said to be a "monopoly" in Phu Yen province that most visitors would rather taste once. April is the peak time for the fishermen to go fishing for tuna. The meat is often manufactured for import while the eyes left are stewed with herbs to make foods. Because the weight of a normal tuna reaches up to 40 to 60 kg, their eyes are very big and bright like a couple of far lights of a car. Therefore, when it is served, many eaters have given in. However, if you can step out of the obsession, tuna eyes are especially mouth-watering. Moreover, the high content of DHA and Omega 3 that it contains is judged as good for human brains.
3 - Where to accomodate in Phu Yen Vietnam?
Tourists can find lots of hotels in Phu Yen province ranging from cheap to luxury located in Tuy Hoa city, and along the beaches and bays.
Bai Tram Hideaway Resort
- Address: Hoa Loi Hamlet, Xuan Canh Village, Song Cau Town, Tuy Hoa city
- Room rate: updated
- Contact: 862990890
Sao Mai Beach Resort
- Address: Le Duan street, An Phu ward, Tuy Hoa city
- Room rate: 2,340,000 VND/night
- Contact: 0257 379 6666
Cendeluxe hotel
- Address: No.2 Hai Duong street, Binh Ngoc commune, Tuy Hoa city
- Room rate: 1,670,000 VND/night
- Contact: 0573 818 818
Marina Hotel
- Address: No.343 Le Loi street, Tuy Hoa city
- Room rate: 600,000 - 840,000 VND/night
- Contact: 0257 6510 988
4 - Phu Yen province Vietnam map
Possessing a diversity of wonderful landscapes, from serene bay, peaceful swamp to steep cliffs and unique reefs, Phu Yen Vietnam is likened to a raw gem of tourism. Its untouched beauty is said to be the advantage that magnetizes people to explore over those places having been overexploited. For travelers kind of off the beaten track, this is a good option for your next holiday.