As an increasingly popular tourist destination in the Central region, Quang Ngai Vietnam is attractive with its somewhat wild and unspoiled beauty, not yet changed too much by humans. Quang Ngai Province is home to many beautiful beaches, wonderful landscapes, ancient relics, and peaceful countryside villages, contributing to the emergence of ecotourism areas. If you are interested but still do not know well about this land, you can refer to the information below to have the most convenient and satisfying trip.
- Administrative units: Quang Ngai City, Duc Pho District-Level Town, Ba To District, Binh Son District, Ly Son District, Nghia Hanh District, Son Ha District, Son Tay District, Son Tinh District, Tra Bong District, Tu Nghia District, Minh Long District, Mo Duc District.
- Postal code: 530000
- Quang Ngai airport: There is no airport in the province. The nearest one is Chu Lai Airport in Quang Nam Province
I - How is Quang Ngai weather all year round?
Quang Ngai Vietnam is located in the tropic of cancer with a tropical monsoon climate, so the temperature is high almost all year round with two distinct seasons. The average temperature in a year is from 25.6 - 26.9ºC, the highest is up to 41ºC; the average annual rainfall reaches 2,504mm, with humidity of 84.3%. The dry season lasts from April to August and the rainy one lasts from September to December, while the transition duration from January to March is the coldest.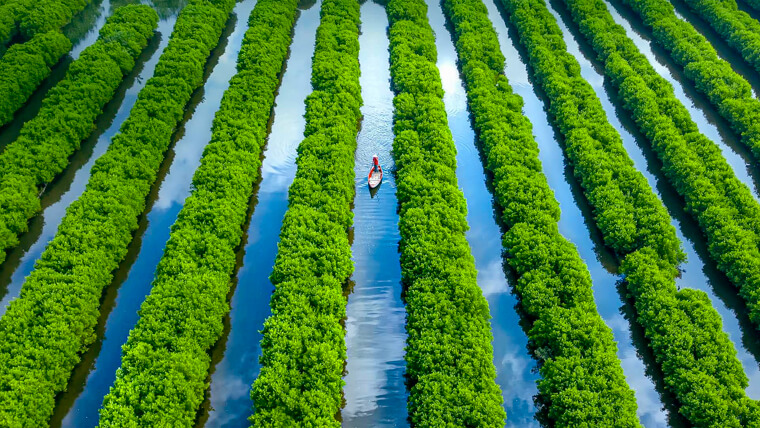 Quang Ngai weather may be a minor hindrance to your trips - Source: peapix
Located in the central coastal region and having a long coastline of over 150km, the province suffers from many types of severe natural disasters, which seriously affect locals' lives and tourism activities. That's why you should avoid visiting Quang Ngai Vietnam in September to December because there is a lot of rain, storms, floods, and tornadoes,… extremely dangerous and difficult to sightsee.
Meanwhile, in the dry season, the weather is sunny and hot, with beautiful scenery of blooming flowers and green rows of trees. This is an ideal time for you to visit and explore Quang Ngai Province. In particular, around April - May the sea waves won't be too strong, so if you intend to visit Ly Son island, the boat ride will be more stable. Another time that you can pay attention to is around 18 - 20 of the third lunar month when the Hoang Sa Soldiers ceremony takes place on the island. There will be a lot of interesting activities, performances and folk games for you to participate in.
II - Top 10 attractions in Quang Ngai Vietnam
1 - Ly Son Island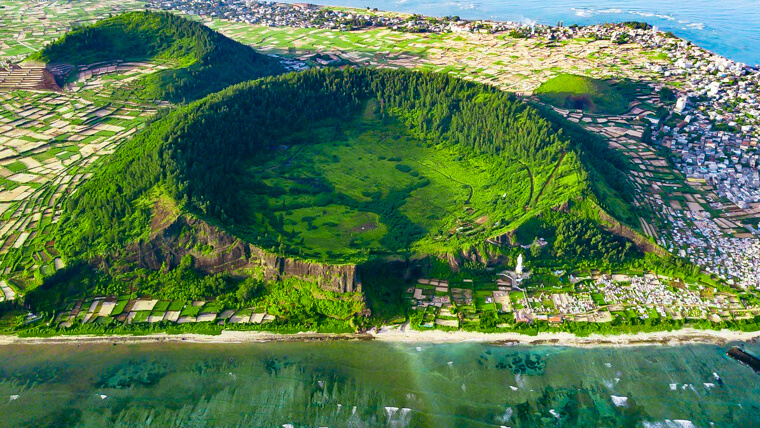 Ly Son Island is always one of the best islands in Vietnam - Source: vnexpress
Located about 30km from the mainland, Ly Son Island is known by many as the "garlic kingdom" because of the green garlic fields stretching to the horizon. Coming here, you are captivated by the clear and calming sea, the poetic and surprisingly beautiful scenery of the mountains jutting out endlessly between sky and earth. It's also your chance to freely dive to see the coral and enjoy the specialties of the land such as sea urchin, black grouper, Huynh De crab, garlic salad, jellyfish salad, and so on. In addition, Ly Son Island is also a famous spiritual tourist place with many sacred ancient temples and pagodas such as Hang Pagoda, Duc Pagoda,…
Travel to Ly Son Island:
From Sa Ky Port in Binh Son District, Quang Ngai Vietnam
- Travel time: 1 hour
- Fares: 160,000 - 180,000 VND / person ($7 - 8)
- Frequency: 6 trips from 7:30am to 3:30pm
From Danang City
- Distance: 135km
- Travel time: 2.5 hours
- Fares: 590,000 - 900,000 VND / person ($26 - 40)
2 - Suoi Chi Ecotourism Area
Located in the south of Quang Ngai Province, the 15ha Suoi Chi Ecotourism Area is hidden under a​​​ 1,012ha primeval forest, inside of which is a more than 4km long peaceful stream of the same name. The atmosphere and scenery here are not affected too much by the weather, so you can visit at any time of the year. However, the most ideal occasion is probably during summer (April - September), when there is beautiful sunshine.
Overall, the Suoi Chi Area is a beautiful landscape, considered to be of great value for eco-tourism development. Currently, Suoi Chi Ecotourism Area in Quang Ngai Vietnam is being invested to standardize the service system, so that you can have a natural experience in addition to modern facilities. You will surely enjoy the vast green forest space, with white waterfalls, sparkling stone streams, natural swimming pools, artificial miniatures, thatched-roof houses, colorful windmills, and a suspension bridge.
For active young people, they can participate in many interesting games inside the Suoi Chi eco-tourism area such as duck pedaling, kayaking, water bicycling,... You can also experience sauna and massage services at the villa while letting your accompanying children enjoy playing in the mini water park area. For a large group, you can camp, bring food and organize your own barbecue parties by the stream. Meanwhile, there are also countless idyllic restaurants that are made of bamboo and palm leaves, convenient for you to rest and eat.
- Location: Khanh Giang and Truong Le Villages, Hanh Tin Dong Commune, Nghia Hanh District
- Ticket price for reference: 200,000 VND / adult ($8.7) & 150,000 VND / child ($6.53)
3 - Community tourism in Binh Thanh Village, Quang Ngai Province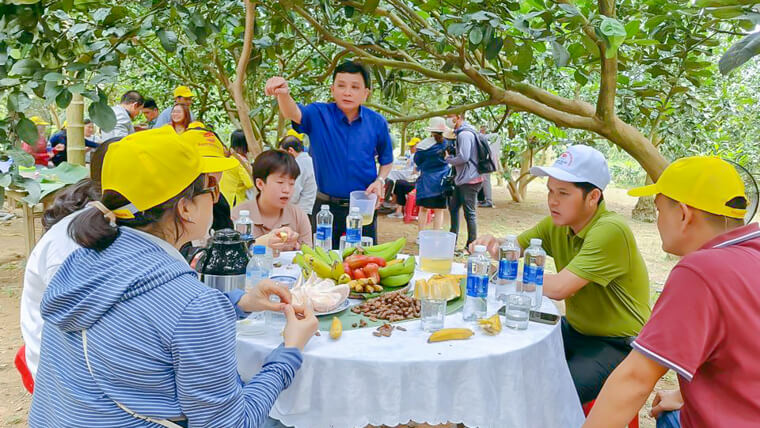 This is a peaceful village in Quang Ngai Vietnam - Source: kinhtedothi
Here you can find countless medium-sized fruit-laden orchards: pomelos, rambutans, durians, bananas, sugarcane, and many others with quality not inferior to those in the Mekong Delta Vietnam. This place is also favored by nature for hot mineral springs, endless rice fields surrounding the village, straight rows of areca trees and numerous colorful flower roads.
In addition to fruit and landscape products, Binh Thanh village is home to simple, friendly locals and interesting experiential activities. People here still keep the traditional mulberry farming, which has existed for more than 100 years. Most families also participate in making cakes for sale, each family makes a different kind such as xu xe cake, pork skin cake, bo cake, tet cake, chung cake, and so on. You can freely participate in learning how to make fillings, wrapping cakes, and enjoying these delicious specialties.
Location: Binh Thanh Village, Hanh Nhan Commune, Nghia Hanh District
4 - Tourist route Thien An - Chau Sa - Son My - Tinh Khe - My Khe - Thach Ky Dieu Tau
Quang Ngai Vietnam is a province with a long-standing culture with many valuable historical relics, and there is no shortage of stunningly beautiful landscapes. That is why planning a trip where you can have as many diverse experiences as possible is not too easy. Therefore, we would like to recommend this sightseeing route below, which will bring you the full experience of cultural tourism, ecotourism, sea tourism, etc.
Thien An Temple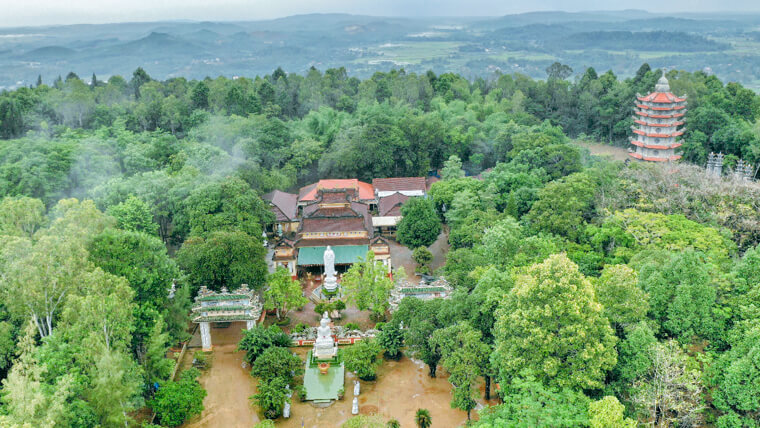 Thien An Temple was built in 1694 - Source: vnexpress
This pagoda is located at the top of Thien An Mountain, Tinh An Commune, Son Tinh District, Quang Ngai Province. It is surrounded by quite wild and majestic scenery of mountains and forests, with a slightly winding road up, but quite suitable for those who love to explore and to experience.
One of the most interesting things here is the 21m deep "Buddha Well", dug from the time the mountain was opened to the temple, having cool and clear water all year round. There is also a "divine bell" nearly 200 years old.
Chau Sa ancient citadel
Chau Sa Citadel in Quang Ngai Vietnam is a large-scale and complete extant citadel of the Cham people, located in Tinh Chau Commune, Son Tinh District, about 6km from Thien An Temple. Currently, there is only 3km of vestiges left with an earthen wall of 4m wide and 6m high, and the dense surrounding moats. Preserving the cultural heritage of ancient Champa people, the lyrical scene and untouched architecture here make it an ideal place for everyone to explore.
Son My memorial monument
More than 4km from Chau Sa Ancient Citadel, these ruins are located in Tu Cung Village, Tinh Khe Commune, Son Tinh District. Son My memorail monument was built in 1978, to preserve painful memories of the Quang Ngai Province Vietnam war, including an area of evidence, images, and artifacts. This is also the place to place a memorial to the 504 victims of the Son My massacre (or My Lai massacre), carried out by US Army forces on the morning of March 16, 1968.
Tinh Khe Coconut Forest in Quang Ngai Vietnam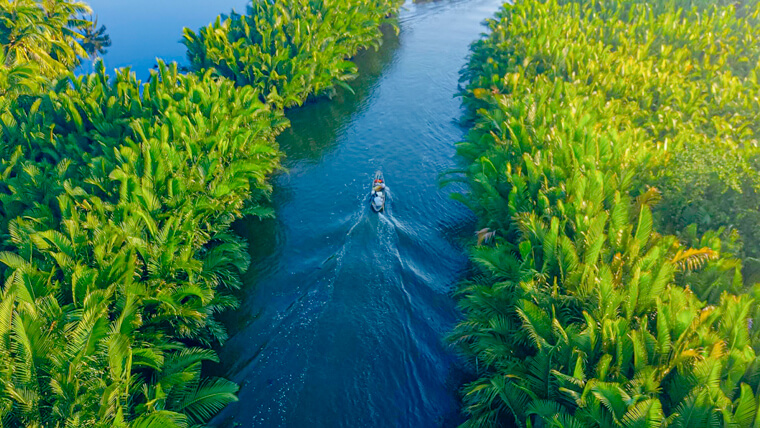 Tinh Khe Coconut Forest was formed hundreds of years ago - Source: vnexpress
Located about 3.6km from Son My memorial monument is Tinh Khe Commune, where there is a forest of more than 9ha of water coconuts. This used to be the shelter of Vietnamese armed forces during the years of the resistance war, in order to fight the raids of the French and American armies. This place is famous for its wild and poetic beauty, with flooded terrain. You can cruise on a boat and fully enjoy the fresh atmosphere here.
My Khe Beach
Prominent by its poetic beauty, My Khe Beach is located in Co Luy Village, Tinh Khe Commune, Son Tinh District - only 2.3km from Tinh Khe Coconut Forest. This place has a long smooth sand beach running about 7km, behind is a green poplar forest, next to the gentle Kinh River, the blue sea is dotted by the locals' unique basket boats. Today, there are more entertainment areas and a system of quality hotels with sea views.
Thach Ky Dieu Tau Rock Rapids in Quang Ngai Vietnam
About 16km northeast of Quang Ngai City and 3km from My Khe Beach, this is a charming area in An Vinh Village, Tinh Ky Commune, Son Tinh District, Quang Ngai Province. It possesses the charming natural beauty of rocks stacked on top of each other, in harmony with blue waves, green willow forest, and golden sunshine. The rocky beach stretches for kilometers, hidden under the crystal clear water, year-round splashed with white foam by the waves, creating a picture that is both wild and peaceful.
About 15-20m from the shore, there is a rock protruding between the waves like an old man sitting fishing, nearby is a rock with two giant footprints. If you happen to visit in the moss season, you will see a Thach Ky Dieu Tau with lively green colors. Coming here, you can experience many interesting activities such as camping, swimming in deep puddles, catching sea urchins, fishing, or learning about locals' lives,…
5 - Chau Tan Beach - an ideal beach in Quang Ngai Vietnam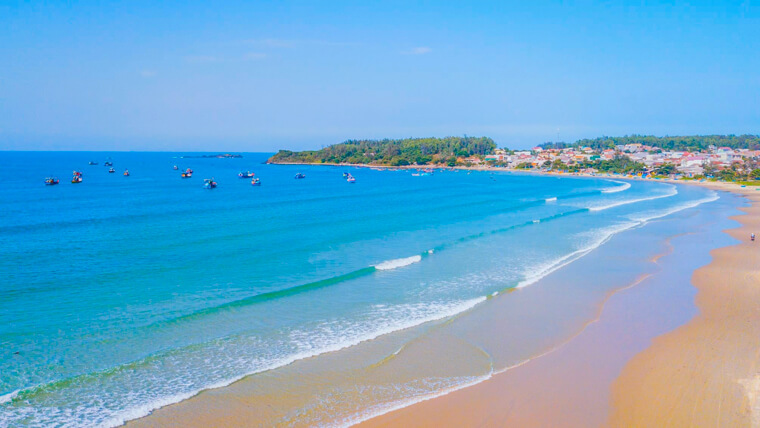 Chau Tan Beach is an extremely peaceful - Source: diaocquangngai
Located in Binh Chau Commune, Binh Son District, Chau Tan Beach has a white and smooth sand beach, embracing the clear sea stretching endlessly, becoming even more immense without surrounding mountains. Along the shore are beds of wild water spinach and rows of green pine trees, full of life even though no one cares, adding color to Chau Tan Beach. In particular, this place has not been touristed, so it still retains the wild and pristine features likened to a remote oasis.
About 13km from this beach is the scenic Ganh Yen, which consists of rough rocks that are cascaded, forming a towering cliff stretching out to the sea. On the cliffs, there are many small holes where birds live, including species like swiftlets, swallows, and starlings. Below the cliff are beautiful coral reefs like thousands of blooming flowers, appearing every time the tide is low.
6 - Sa Huynh Beach and surrounding areas in Quang Ngai Province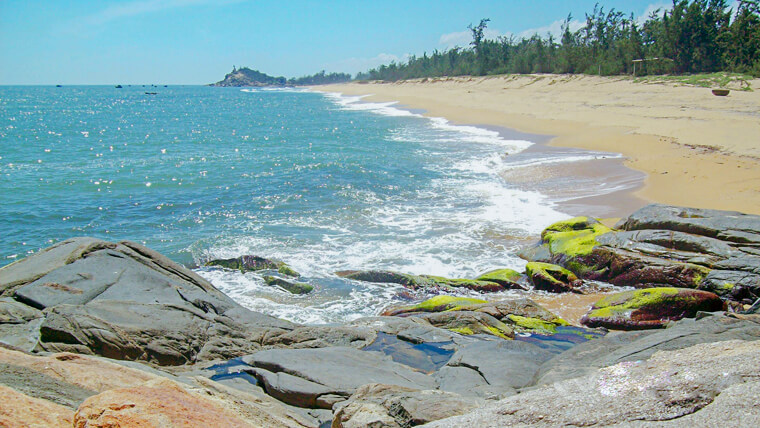 Sa Huynh Beach - Source: khamphaquangngai
Located in Pho Thanh Commune, Duc Pho District, Quang Ngai Vietnam, this is an ideal place for you to enjoy interesting activities, enjoy fresh seafood, and take impressive check-in photos. Sa Huynh Beach has a golden sandy beach stretching nearly 6km, curved in the shape of a crescent, embracing the mountains, forests, the sky, and the sea. Besides the peaceful and rustic landscape, you can also find here a rich and diverse ecosystem with a variety of colorful corals and marine life.
An Khe Lagoon
Located in the coastal area of Sa Huynh, An Khe lagoon has a water surface area of 347ha, full of water all year round with the deepest point in the lagoon being 4m. This is a suitable habitat for many aquatic species, mainly freshwater species but also a few marine fish. Around the area are also very valuable relics of the Sa Huynh culture with many relics discovered. This lagoon attracts many people not only because of its rustic beauty, but also the unmatched historical and cultural values.
Sa Huynh Museum in Quang Ngai Vietnam
Built in 2012 on an area of 20ha, this museum is located in the core area of the ancient Sa Huynh Culture, belonging to Go Ma Vuong, Long Thanh 2 Hamlet, Pho Thanh Commune, Duc Pho District, Quang Ngai Province. This place includes outdoor conservation items, along with a display of relics belonging to the Sa Huynh culture, which have been excavated by archaeologists in Quang Ngai for the past 100 years.
In the 400m2 area of the exhibition house are three collections of 122 objects, and 5 large tombstones - a typical symbol of the life of Sa Huynh residents. The artifacts of pots, copper bowls, ceramic vases, stone jewelry, shells, and beads are all placed in glass cabinets. In the middle of the large space of the Gallery, there are also 250 photos of various sizes and colors, displaying Sa Huynh cultural themes.
7 - Go Co Village Heritage Park - top spots in Quang Ngai Vietnam
Nearly 10km south of Sa Huynh beach, this village is where many imprints of Champa culture are still preserved, featuring 12 ancient stone wells that are unknown of age. Go Co Village Heritage Park possesses a strange beauty, with everything from mossy roads to fences all made of monolithic stone, and scattered thousand-year-old boulders. Located between two mountains, this village is separate from the outside world, retaining its inherent wildness, like an oasis trying to hide from the noise and bustle.
8 - Trang Waterfall Tourist Area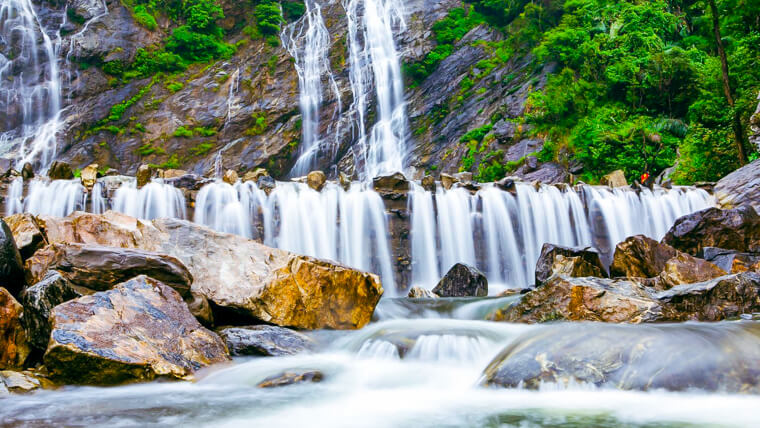 Trang Waterfall Tourist Area - Source: tradequangngai
More than 20km from the center of Quang Ngai City to the southwest, Trang Waterfall Tourist Area is located in Thanh An Commune, Minh Long District. As one of the most beautiful waterfalls in the province, Thac Trang falls from a height of over 40m, hidden in the middle of the Truong Son Mountain Range. Visiting this spot in Quang Ngai Vietnam, you also have the chance to admire a deep blue natural lake at the foot of the waterfall, a great place for you to swim and enjoy the cool air. You should not also miss the nearby village of Hre, which still has traditional houses with ancient features, but also is more modern and spacious.
9 - Ba To Uprising Museum
Ba To is a southwestern district of Quang Ngai Province, with cultural interference between regions creating its own unique cultural nuances. There are 14 relic sites related to the Ba To Uprising and Ba To Guerrilla Team. There is also the beautiful Lung O waterfall, cool all year round, originating from the towering mountains.
Coming here at the beginning of the year, you can also participate in the busiest festival in the area, filled with colors of traditional clothes and the bustling sound of music, gongs, singing,… Coming to this attraction of Quang Ngai Vietnam, you also should not forget to try out the cuisine of the Hre people, with attractive dishes made from rustic ingredients such as grilled buffalo meat with guise leaves, boiled ki pork or chicken re porridge, accompanied by a bit of can wine.
10 - Ca Ninh Nipa Palm Forest
Covering an area of more than 100ha, this is one of the two most famous nipa forests of Quang Ngai, not only helping to regulate the air, and maintain aquatic resources but also being a tourist destination. Coming here, you have the opportunity to sit on a boat cruising along the creeks and rivers, watch the people casting nets and fishing, enjoy special dishes, and so on.
11 - Bau Ca Cai Mangrove Forest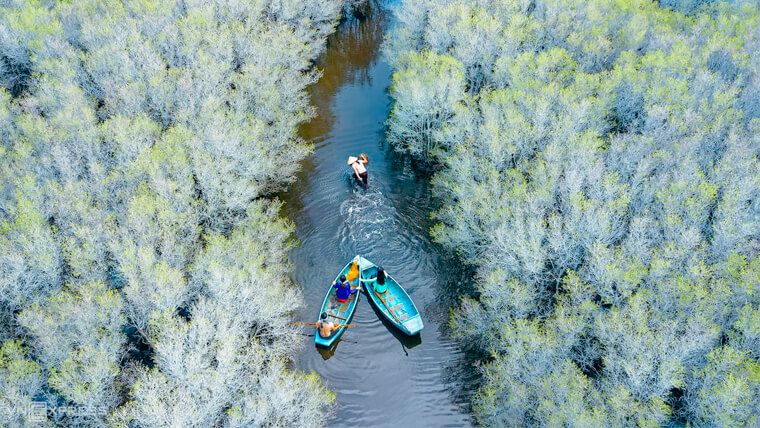 Bau Ca Cai Mangrove Forest - Source: fantasea
More than 30km from Quang Ngai City to the northeast, this is a saltwater basin with an area of ​​​​about 110ha, located in Thuan Phuoc Village, Binh Son District, Quang Ngai Vietnam. In the vast and poetic space is the immense water surface, dotted with plants planted in methodical beds, like a "vegetable garden on the water" stretching out. Coming here, you have the opportunity to see the green and wild nature, breathe in the fresh air and take lots of ravishing photos.
Another special feature here is that the landscape changes depending on different times of the year, showing unique and charming beauties. When the March sunshine arrives after cold days, the coc trees sprout to create an immense green scene, which turns to a prominent yellow as the season goes by. But this place is possibly most stunning in the tree deciduous season when the forest reveals a gray-white color like snow-covered, similar to a scene in a Western country. You can also encounter many animals, especially storks with their chirping songs
III - Good to know before visiting Quang Ngai Vietnam
1 - Where is Quang Ngai Province?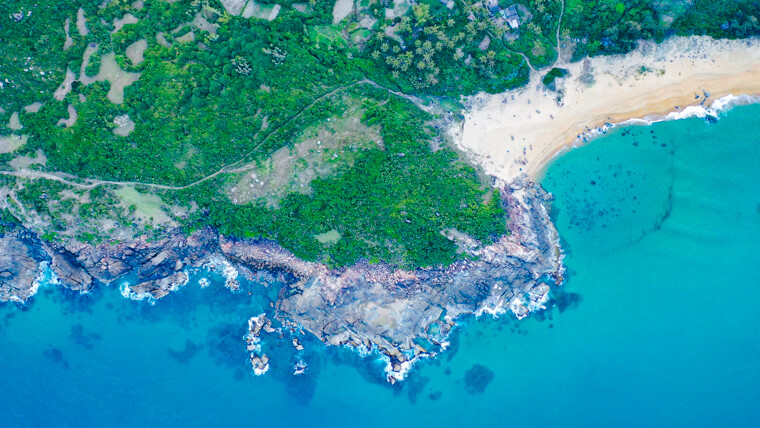 A corner of Go Co Village Heritage Park - Source: langgoco
Quang Ngai is located in the South Central Coast of Vietnam, 146km from Danang City to the North, 820km from Ho Chi Minh City, and 908km from Hanoi. Possessing a coastline of about 129 km, this province has a territorial sea area of ​​11,000 km2 and a mainland area of 5,135.2km2, including 1 city, 1 town and 11 districts. The nearest airports to Quang Ngai are in Danang City and in Quang Nam Province connecting regions in Vietnam and countries around the world. More than 40km away, there is also Chu Lai domestic airport, receiving flights from major tourist cities such as Saigon or Hanoi.
2 - Quang Ngai Province during Vietnam war
The land of Quang Ngai Vietnam was one of the fiercest battlefields in Vietnam during wartime, still retaining numerous historical relics of important value. They not only record the heroic feats of previous generations but also the sufferings in the struggle to keep national independence. There are also some outstanding figures associated with this land, such as Prime Minister Pham Van Dong, doctor Dang Thuy Tram with her diary, and so on.
Referring to the history of Quang Ngai, it is impossible to ignore the massacre of Son My village (also known as My Lai massacre), which took place on March 16, 1968. A team of American soldiers massacred a series of 504 unarmed civilians, most of them were elders, women and children. This place has now been built into a Relic site, regularly welcoming visitors, including scientists, historians and even Americans to pay their respects.
3 - Quang Ngai map
Quang Ngai Vietnam is favored by mother nature for its vast stretches of sea, unspoiled mountains, and beautiful landscapes. This place also has countless heroic historical sites and unmatched unique cuisine, even more, attractive with the simplicity and hospitality of the people here. Although not as famous as other tourist meccas in Vietnam, Quang Ngai Province has its own interesting features, full of potential promising to make it a prominent tourist destination in the near future.