Tra Vinh Vietnam is located between the Tien river and Hau river in the Mekong Delta River, bordering Ben Tre province, Vinh Long province, Soc Trang province, and the South China Sea. The provincial center area is 130km from Ho Chi Minh city, and 100 km from Can Tho city. With more than 2,300 km2 of territory, Tra Vinh province is divided into 1 city (Tra Vinh city), 1 urban town (Duyen Hai), and 7 districts (Cang Long, Chau Thanh, Tieu Can, Cau Ke, Tra Cu, Cau Ngang, Duyen Hai. The postal code of the province is 87000 and the nearest airport is named Can Tho International Airport in Can Tho city (90km).
I - How is Tra Vinh weather like?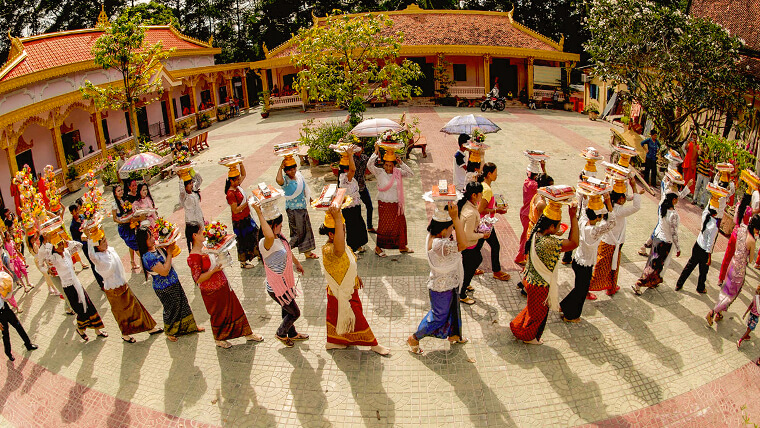 Source: khamphadisan
The province lies on the coastal monsoon tropical area. A year here has 2 seasons: the rainy (May to November) & the dry (December to April). The annual average temperature is 26 - 27oC while the annual average rainfall is about 1,520 mm. In general, the climate of the province is very mild. It is favorable for tourists to visit Tra Vinh Vietnam at any period of time because storms can hardly be found here.
One thing to note is that there is a thing called "floating season" in this province and in other Southwest provinces of Vietnam which is the time when water from the Mekong River rises significantly, flooding every rice field, and forcing people to travel by boat. However, it is not considered a disaster because it brings people a lot of rich sources of nutrition and alluvium. Moreover, floating season tourism is an emerging demand of tourists to Tra Vinh province recently.
II - Top 14 famous stopovers in Tra Vinh Vietnam
1 - Ba Dong beach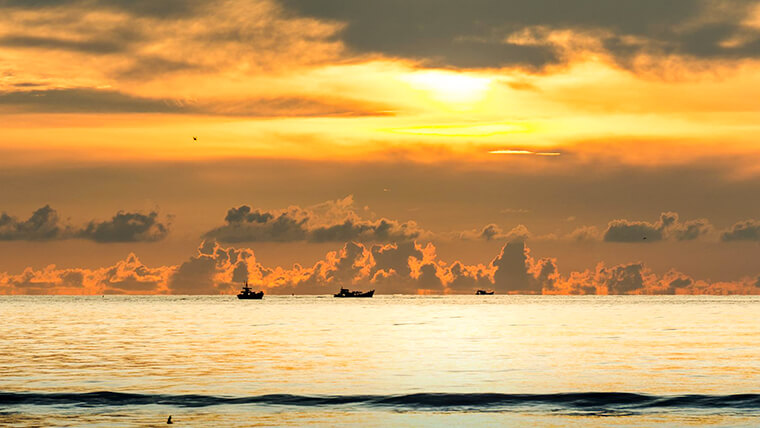 Ba Dong beach - Source: thamhiemmekong
Ba Dong means "three caves" in Vietnamese. This name is closely related to an interesting phenomenon. When the tide is down, the seashore reveals 3 sandy caves including a large cave and 2 small ones. During the French colonial time (1984 - 1945), the French realized the fact about this beach and exploited it to turn it into a tourist destination at the beginning of the 20th century.
Ba Dong beach is one of the very few beaches in Tra Vinh Vietnam that has stretching sand of 10km long. Because of the alluvium-rich sea, its sand is not white but golden; the water is not as crystal clear as those in Central Vietnam. Getting to Ba Dong beach, along with swimming, and sunbathing, you can get immersed in a number of sea sports, of which the prime example is jet skiing. This area is famous for its abundance of seafood; so, don't forget to have a taste.
Location: Truong Long Hoa commune, Duyen Hai urban town
2 - Tra Vinh Truc Lam Zen Monastery - a famous place in Tra Vinh Vietnam
Tra Vinh Truc Lam Zen Monastery with an enormous area of 10 ha is a part and parcel of the Ba Dong beach mangrove forest ecotourism site, near Ba Dong beach. It has an architecture of Buddhist pagodas in the Ly and Tran dynasties (11th - 14th century), which is characterized by a 2-floor roof gently curved at four ends. The main hall has a view of the ocean and the whole campus is wrapped by the lush poplar tree.
Location: Khoan Tieu village, Truong Long Hoa commune, Duyen Hai urban town, Tra Vinh province
3 - Ang pagoda - Ba Om pond - Khmer culture museum tourist complex
Ang pagoda in Tra Vinh Vietnam - Source: weddulich
Surrounded by a variety of old trees, Ba Om pond has a rectangle shape with the surface covered by elegant flowers such as lotus and water lilies. The peaceful and refreshing atmosphere and picturesque scenery make it a favorite campsite for the locals in summer and on holidays.
Believed to be built in 990, Ang Pagoda, located next to the Ba Om pond, is the very oldest Khmer pagoda in the province. You can catch sight of many symbols such as the Naga snake, flower, tree, and towers,... of which the tower with 5 peaks right in front of the main hall is one of a kind in this area. Over time, the pagoda is the pride of the Khmer people in Tra Vinh Vietnam due to its high value in architecture, art, and carving which is imbued with Khmer culture and somehow influenced by China, Thailand, and Vietnam. This is where Ok-on-bok, the most important festival of the Khmer, is held.
A building with 2 floors Khmer Cultural Museum is home to more than 800 artifacts, images, and documents reflecting the material as well as the spiritual life of the Khmer community in Tra Vinh province. Its design is a combination of conventional and modern styles. (Entrance fee: 20,000 VND ($0.9)/person).
Location of the 3 above spots: Nguyen Du street, Ward 8, Tra Vinh city
4 - Tra Vinh Khmer cultural tourism village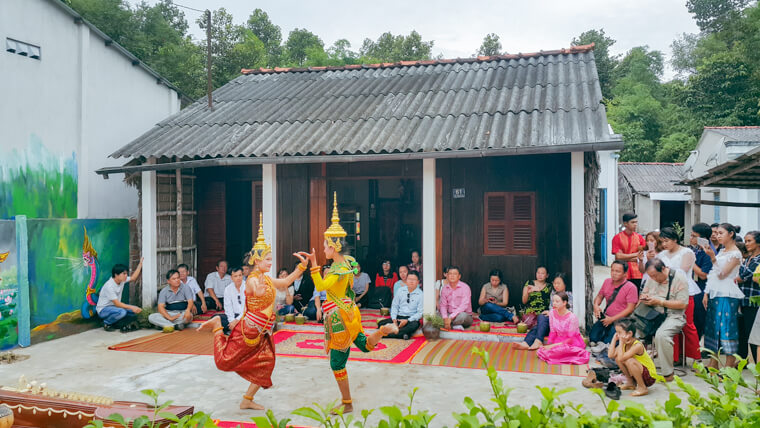 Tra Vinh Khmer cultural tourism village - Source: Mèo Ú Đáng Yêu
If Khmer culture is the major tourism product of Tra Vinh Vietnam, Khmer cultural tourism village is the manifestation. The village is imprinted with the whole Khmer culture in Southern Vietnam in general and Khmer culture in Tra Vinh in particular. Almost every traditional handicraft such as making hats, embroidering, and cake can be learned here.
Visiting here, you can taste and even learn how to make several specialties such as pipe cake, and cốm (Vietnamese green rice). You get immersed in the vibrant atmosphere formed by traditional songs and dances. Last but not least, the village stills preserve ancient pagodas which have high cultural values. Besides listening to the meaning of symbols on the main halls, each and every guest is given a wish string and instructed on how to praise.
Location: Nguyen Du street, Luong Hoa commune, Chau Thanh district, Tra Vinh Vietnam
5 - Pisesaram pagoda
Tra Vinh province is notorious with 140 pagodas in ancient Khmer style and Pisesaram, more than 500 years old, is an outstanding one. From a distance, you can see a construction so spectacular and magnificent. In general, the structure of the pagoda is characterized by traditional Khmer style mixed with modern Buddhism of Southeast Asia countries such as Thailand, Myanmar,...
Location: Binh Phu commune, Cang Long district
6 - The mansion of Huynh Ky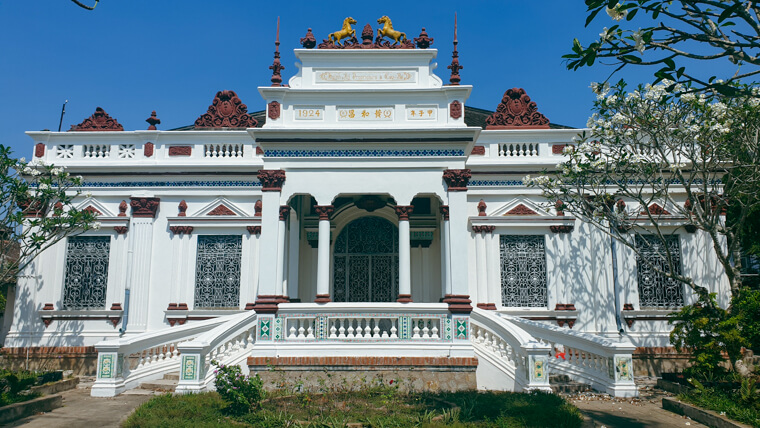 Huynh Ky Old House - Source: Phạm Đình Ngãi
The mansion of Huynh Ky, also known as Cau Ke ancient house is one of the most beautiful palaces in Tra Vinh Vietnam. It belonged to Mr. Huynh Ky who used to be a Cochinchinense district chief during the domination of French colonists over Vietnam. Although the design was heavily influenced by French architecture, family tradition, and Oriental culture, he paid a lot of attention to geomancy.
Therefore, the property had a prime location according to the ancient Vietnamese: in close proximity to a market, a river, and a road. Both the outer and the inner of the house were decorated with patterns and ornaments imported from France. However, the furniture was arranged in a pure Vietnamese style. Currently, the maison provides a few simple guest rooms for those who prefer to stay overnight.
Location: Group 2, Cau Ke town, Cau Ke district, Tra Vinh province
7 - Mac Bac Catholic church - the most impressive church in Tra Vinh Vietnam
Mac Bac Catholic church is considered the second largest church in Southern Vietnam, only after the Notre Dame Cathedral in Ho Chi Minh city. It has a great area with many facilities and hundreds-year-old trees, hence, really visit-worthy.
Asides from the parish, there is a memorial house with a dome in Oriental architecture. Next to it are many statues, stone caves, and outdoor worship places. Over more than 130 years of existence, the church is still firmly standing regardless of the wear and tear of time. The church is just 15km from Huynh Ky house, you can mainstream them into a journey.
Location: Cau Quan urban town, Tieu Can district, Tra Vinh Vietnam
8 - Con Chim islet community tourism area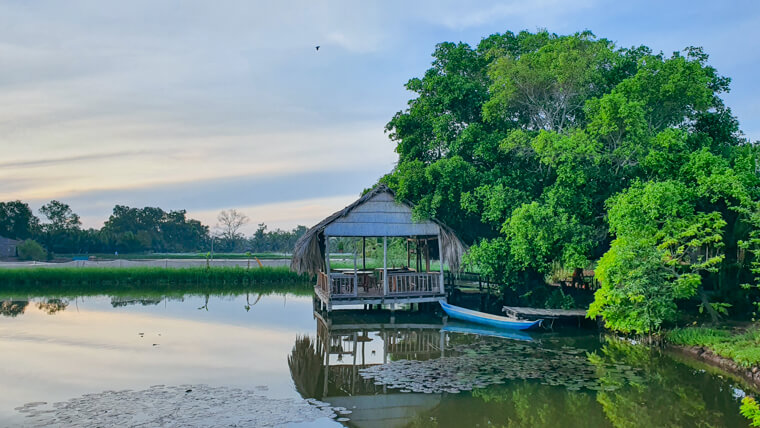 Bird islet - Source: TienDuy Luong
Con Chim islet (islet of birds)used to be an area attracting a myriad of birds. Every morning, they flew away to find food and came back at night, nesting on green trees. The motto of exploiting tourism of people here is no plastic, no small fishing net, no fishing in the breeding season, and no aquaculture posing threat to nature which achieves high consensus of the public.
Like an oasis in the middle of the Co Chien river in Tra Vinh province, the islet is cool and pleasant all year round. Staying at Con Chim islet of Tra Vinh Vietnam, you don't have to worry about security because even vehicles and luggage are never stolen even if they are put on the street. A trip to the Con Chim islet gives you many experiences such as fishing crab, fishing fish, grinding powder, making cake, and playing folk games. On Con Chim islet, there is a countryside market selling specialties where tourists can come and buy something to bring home as a gift to the family.
Location: Hoa Minh commune, Chau Thanh district
9 - Co pagoda
The origin of the name Co pagoda (Stork pagoda) takes roots in the fact that this is where thousands of storks of several kinds have concentrated and nested for hundreds of years. Co pagoda in Tra Vinh Vietnam has a Khmer Theravada structure, which often includes the gate, main hall, and tower to store dead bodies,... all exude the unique architectural features of Khmer culture. It draws the attention of people right from the decoration with many unique and outstanding patterns of the gate.
The main hall has an interesting design featuring the roof curved like dragon's tails and pointing towers and familiar symbols of Khmer residents such as the four-faced Mohabrom god, Kayano divine bird,... The internal space of the main hall is very solemn with the statue of Buddha in many sizes. The walls in the building are filled with spectacular pictures depicting different Buddhism topics. In Tra Vinh Vietnam, Vam Ray pagoda and Ca Sang pagoda nearby are visit-worthy, too.
Location: Dai An commune, Tra Cu district, Tra Vinh province Vietnam
10 - Hang pagoda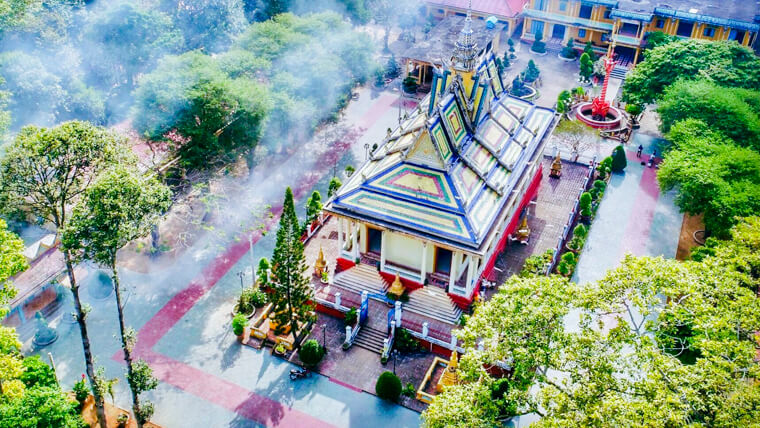 Hang pagoda - Source: dulichtravinh
Hang pagoda or Cave pagoda is attractive to visitors not only because of its antiquity but also for its wonderful nature. The side gate of this pagoda has a 12m wide wall shaped like 3 caves staying close to each other. A highlight of the architecture is the main hall with the roof consisting of a bundle of layers and a tower at the top.
Confronting the building is a complex of 12 zodiacs in Asian culture. Besides an important religious work, Hang Pagoda in Tra Vinh Vietnam is also a nature reserve since its 7 ha campus is a primeval forest home to a diversity of precious trees and birds.
Location: Hamlet 3, Chau Thanh town, Chau Thanh district
11 - Long Tri island
You can comfortably immerse yourself in the cozy atmosphere of the countryside. To fully explore the landscape, you must sit on a boat sailing along canals, slithering into fruitful orchards. Both sides of the canals are lush trees, the scent of flowers and fruits lingers, and bunches of juicy fruits are very eye-catching. Besides, you can join teeming activities such as going fishing, riding a tandem bike, and listening to Don Ca Tai Tu amateur folk songs,...
Location: Long Duc commune, Tra Vinh city, Tra Vinh province
12 - Con Ho islet ecotourism area in Tra Vinh Vietnam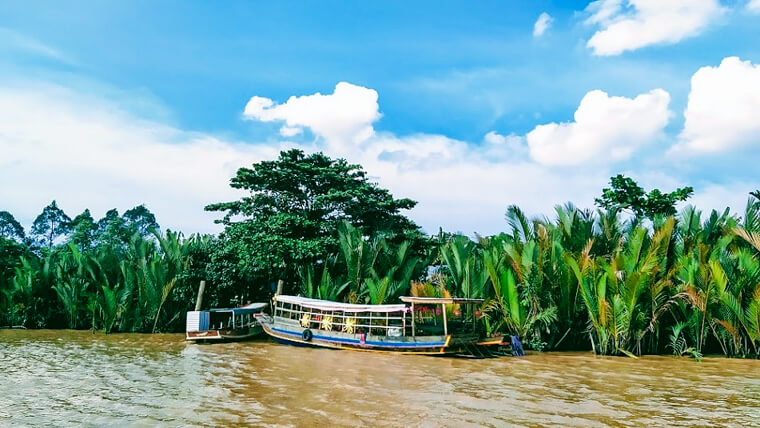 Con Ho islet ecotourism area - Source: dulichtoivaban
Lying on a flow from the river to the sea, the islet has rich biodiversity including special fruits such as pomelo, coconut, jackfruit, star apple; fresh fisheries like snail, shrimp, fish, and eel. The islet has a small area, the first end to the last end is just 1.2km. A soil road made by the locale running along the length is where people build houses on either side and move around.
With this condition, all residents travel on foot, there are no vehicles.The national grid hasn't reached here, that's why it is seen as a perfect destination for tourists who would like to come back to a life without modern technologies and pollution. This tourism area of Tra Vinh Vietnam is poor in facilities but rich in experience, for example enjoying specialties; hanging out at Hai Trai herbal garden, Vu Minh orchard, Tu Lap distillery;...
Location: Duc My commune, Cang Long district
13 - Ong Met pagoda
Ong Met pagoda is said to date back thousands of years ago and is one of the most ancient and largest religious constructions in Tra Vinh province. Like other Khmer pagodas in the province, it contains many sectors such as the main hall, gate, ash preserving tower, library, and dorm of monks,... of which the main hall and the library are considered to have high architectural and aesthetic values.
The main hall of Ong Met pagoda in Tra Vinh Vietnam is located to the West, heading to the East, in line with the notion that the Buddha stays to the West but always follows the East to take care of mankind. Behind the main hall is the library which is shaped like a stilt house with a wooden framework and symbolic details on walls and pillars.
Location: No.1 Le Loi street, Ward 1, Tra Vinh city
14 - Rung Duoc ecotourism site
Rung Duoc ecotourism site or Mangrove ecotourism site is a part of the Southern Vietnam coastal mangrove biodiversity. It is where wild and endangered animals and fisheries are protected and nourished. Surrounding it are mangrove forests with a lifespan of up to more than 20 years and an area of 200 ha. The mangrove is a species of tree featuring landscape and economic value for the locale. Besides, it protects the people from the invasion of seawater and feeds the precious faunas that live inside.
Location: District Road 81, Dan Thanh commune, Duyen Hai district
III - Other information for tourists to Tra Vinh Vietnam
1 - Top hotels in Tra Vinh province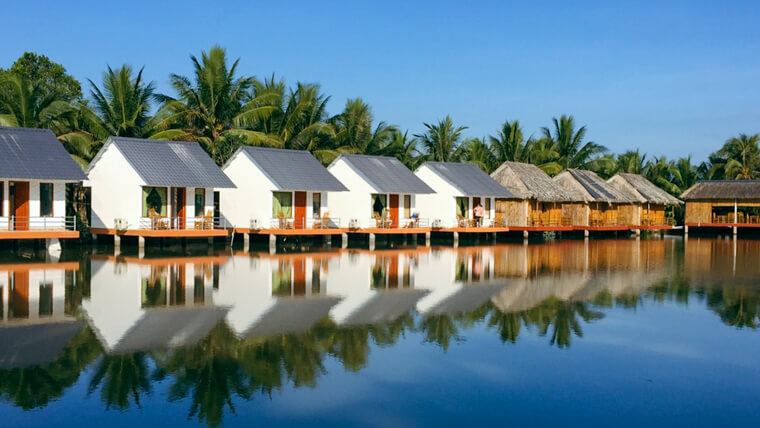 Source: @travinhlodge
Asides from community tourist areas, you can refer to the following hotels:
Tra Vinh Lodge
- Address: No.12/6 village, Nhi Long commune, Cang Long district
- Contact: 0866196878
- Website: travinhlodge.com
An Khang Hotel
- Address:No. 69 Vo Van Kiet street, Ward 7, Tra Vinh city
- Contact: 0972676499
- Website: hotel-an-khang.business.site
Villa Basi
- Address: District Road 7, Phuong Thanh commune, Cang Long district
- Contact: 0939632992
- Room rate: 467,00 VND ($20.1)/night
- Website: vi-vn.facebook.com/vilabasi
Ngoc Quy hotel
- Address: No.251 Nguyen Thi Minh Khai street, Ward 8, Tra Vinh city - 1.8km from Tra Vinh Khmer cultural tourism village
- Contact: 02943848171
- Website: khachsanngocquy.com
2 - Restaurants in Tra Vinh Vietnam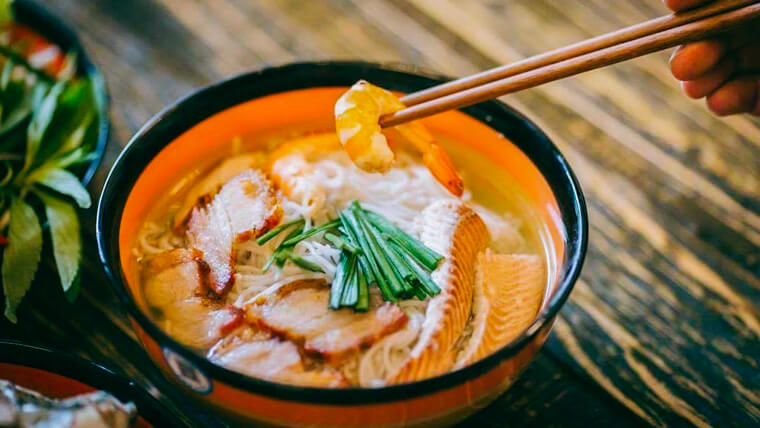 Leo soup noodle - Source: guuvivu
Not only famous for a wide range of tourist destinations, but this province is also known for its cuisine with a variety of delicious delicacies. Some of the popular dishes are: bun nuoc leo (noodle soup savory broth with fish, roast pork, and shrimp), chao am (a special porridge), banh canh Ben Co (Ben Co noodle soup), Chu u (an animal that looks like crab). If you are finding a restaurant in Tra Vinh province to have meals, let's take a look at the following address:
Ao Ba Om foods
- Address: Hamlet 50, Nguyen Du street, Block 5, Tra Vinh city
- Opening hour: 9am - 10 pm
- Contact: 02943 898 456
- Reference price: 10,000 - 30,000 VND ($0.4 - 1.3)/dish
Bay Mai restaurant
- Address: No.202 Street 19/5, Ward 1, Duyen Hai district, Tra Vinh Vietnam
- Contact: 03 7777 1142
Hai Que food
- Address: National Highway 53, Long Khanh commune, Duyen Hai district
- Opening hour: 10am - 10pm
- Contact: 02943900911
- Reference price: 30,000 - 250,000 VND ($1.3 - 10.8)/dish
3 - Getting around Tra Vinh province
Some motorbike rental shops in the province that you can refer to:
Vinh Motorbike
- Address: No.B3/12 Hong Luc apartment building, Ward 1, Tra Vinh city
- Contact: 096 477 34 56
- Reference price: 80,000 - 150,000 VND ($3.4 - 6.5)/day
Minh Nguyet Motel
- Address: No.60 Nguyen Thi Minh Khai street, Block 1, Ward 2, Tra Vinh city, Tra Vinh Vietnam
- Contact: 0913137741
- Reference price: 150,000 - 250,000 VND ($6.5 - 10.8)//day
Tuyet Linh hotel
Address: No.11 Nguyen Thi Minh Khai street, Ward 7, Tra Vinh city
- Contact: 0742 860 860
- Reference price: from 100,000 VND ($4.3)/day
Taxi company in Tra Vinh province
- Thanh Thuy taxi: 0294 3 86 86 86
- Mai Linh taxi: 0294 3 57 57 57
- Tra Vinh taxi: 0294 3 82 82 82
If you want to travel to islands on the Co Chien river, you should approach ferry stations namely Ba Tram - Long Hung ferry, Phuoc Vinh ferry, and Thu Truoc ferry.
4 - Tra Vinh Vietnam map
Tra Vinh tourism is drawing a lot of public concern and it promises to make it matter in the time to come. With a lot of amazing destinations as well as a rich cultural identity, the province is a good choice for those who have been to famous tourist hubs in Vietnam and are looking for a new place. Let's come and enjoy what incredible experiences Tra Vinh Vietnam brings to you.